Well, yes guys, it seems that today is the day that finally the two main Moving Averages, 50-Day MA and 200-Day MA, have decided to meet again and be the 50DMA that crosses over the other.
And this, dear friends, is usually VERY BULLISH.
You can think that it really is another indicator to play with and have a 50/50% chance that it indicates what we all expect, as usual, but no, a GOLDEN CROSS in the daily chart historically has more chances of Success than failure and I will show you now by doing the next:
Take the daily graph of BITCOIN from one of the most veteran exchanges, for example, BITSTAMP that offers us data since 2012.
Identify the crossing of the 50DMA with the 200DMA
Identify which of these crosses are GOLDEN (in yellow in sketch below)
Quantify the percentage of losses or gains of each Golden Cross from its indication to the maximum/minimum
Draw conclusions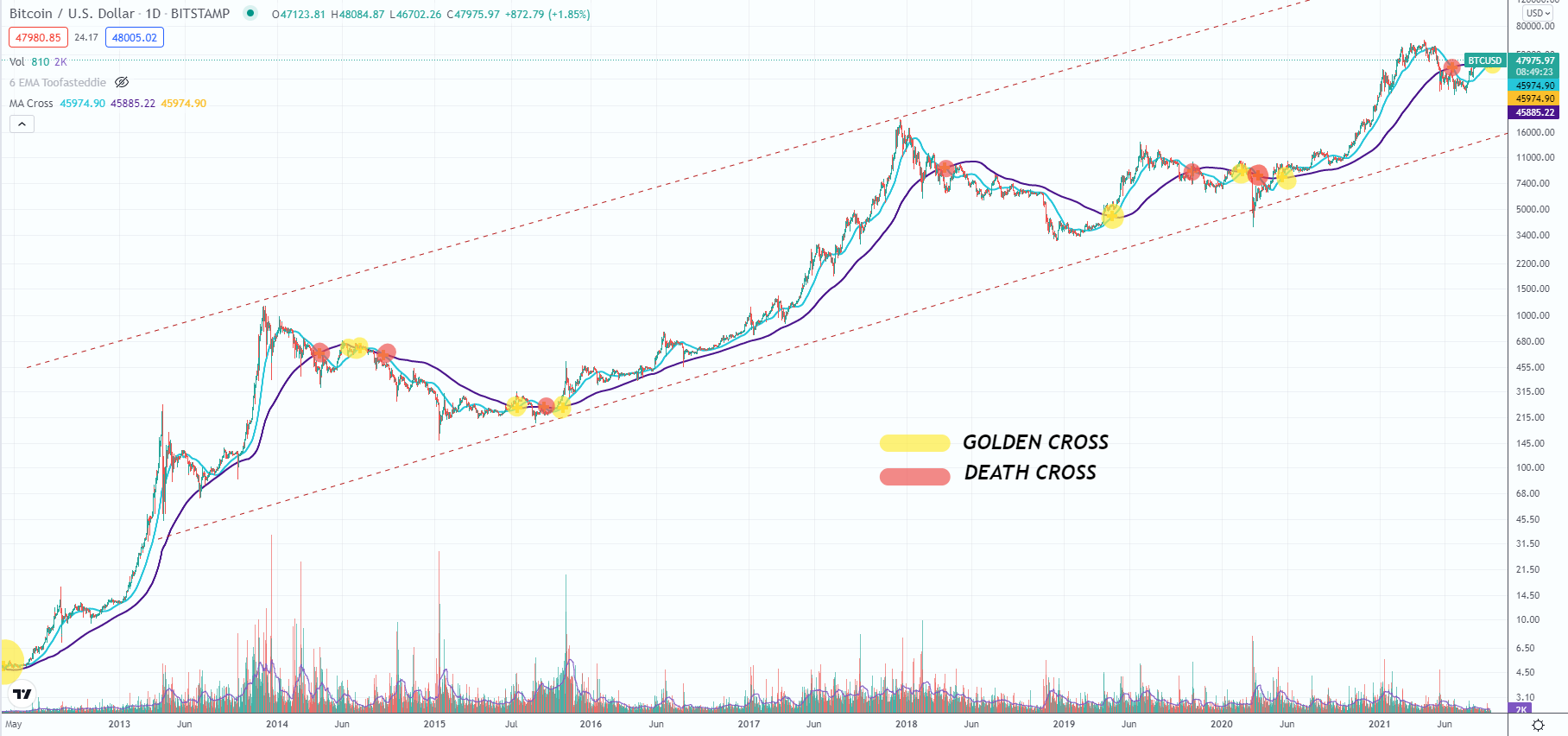 In my case, and to save you the analysis, I have detected 8 GOLDEN CROSS in the historical data offered by BITSTAMP and the data, let me tell you, is impressive:
Golden Cross April 2012: from the indication to the top, BTC went from $ 4.89 to $ 1189 (+24300%)
Golden Cross July 2014: Very little profit, only 5.5% before falling precipitously
Golden Cross July 2015: +20%
Golden Cross October 2015: the party starts at $ 247 and reaches $ 19,968 (+ 8000%)
Golden Cross April 2019: +203%
Golden Cross February 2020: FAILURE, BTC falls by - 54%
Golden Cross May 2020: from 8000 $ to 64k (+ 700%)
Golden Cross TODAY: + 4% ATM
Relevant points:
7 of the 8 indications were successful, that is, 87.5% accuracy of success
Only 3 times the success was less than +100%
There have been 3 GOLDEN CROSS with massive profits (if we consider the last one that way), + 24300%, + 8000% and + 700%. After the first two massive GOLDEN CROSS, the following GOLDEN CROSS has been of a lower entity although also important in one of them (+ 203%)
I do not want to get more excited than necessary, it is possible that we will remain in a kind of accumulation mode for some time but these data are spectacular and I trust that they will be so in the near future.
Posted Using LeoFinance Beta