Barely Barely 40 hours to the launch of Genesis League Goals packs presale, the SPlinterlands team have made some very important updates covering the operations of the presale and possible discounts. There is going to be a buzz in the sports, fantasy sports and play to earn game sectors as we welcme this new creation.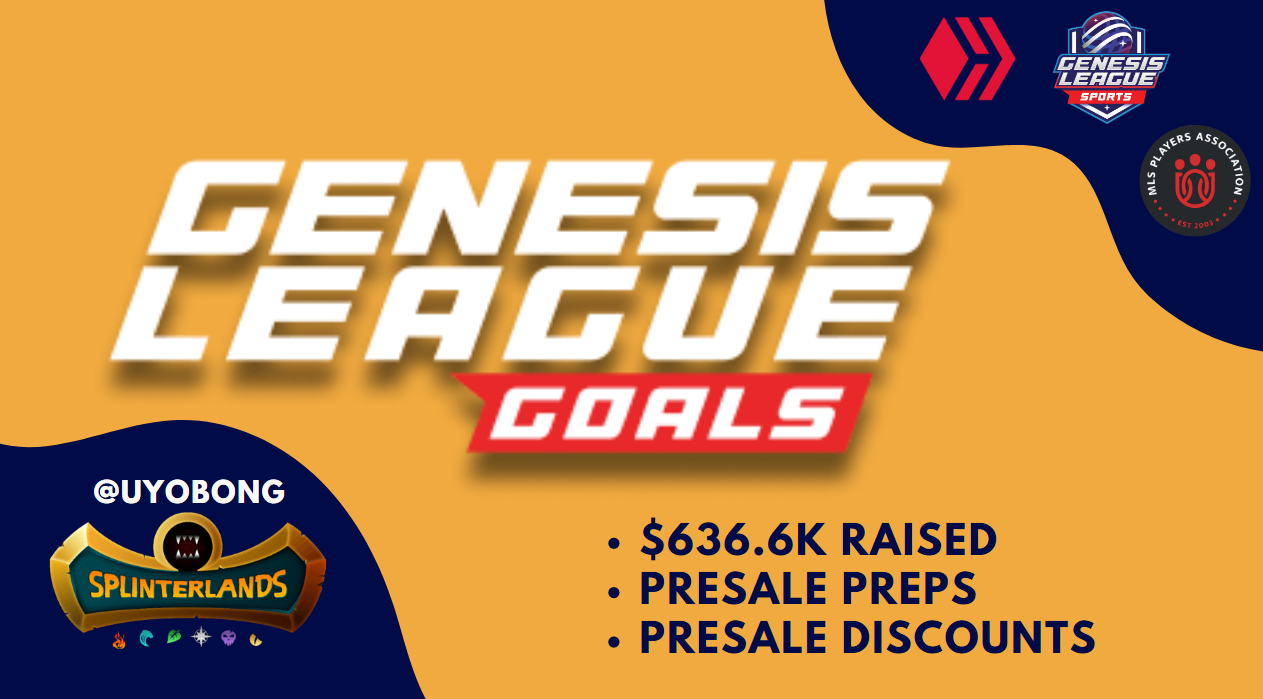 I am pleased to bring you with the latest update about Genesis League Sports. I am pumped that this project has the capacity to bring mass adoption to Hive and that would benefit all Hive users and projects on Hive. It's time for communities and tribes to buckle up their designs as a new set of investors and users will be joining hive via Splinterlands' Genesis league Sports (GLS).
In the GLS Discord, an update has been made some hours ago and I am sure many will miss it, hence the need for this post to keep you updated with the developments around the latest play to earn creation on Hive blockchain. There are indications that the buzz around the flagship project- Genesis league Goals would be massive. Already my yesterday's tweet has pooled a great deal of engagement so far and tat informs how many people are interested in the project.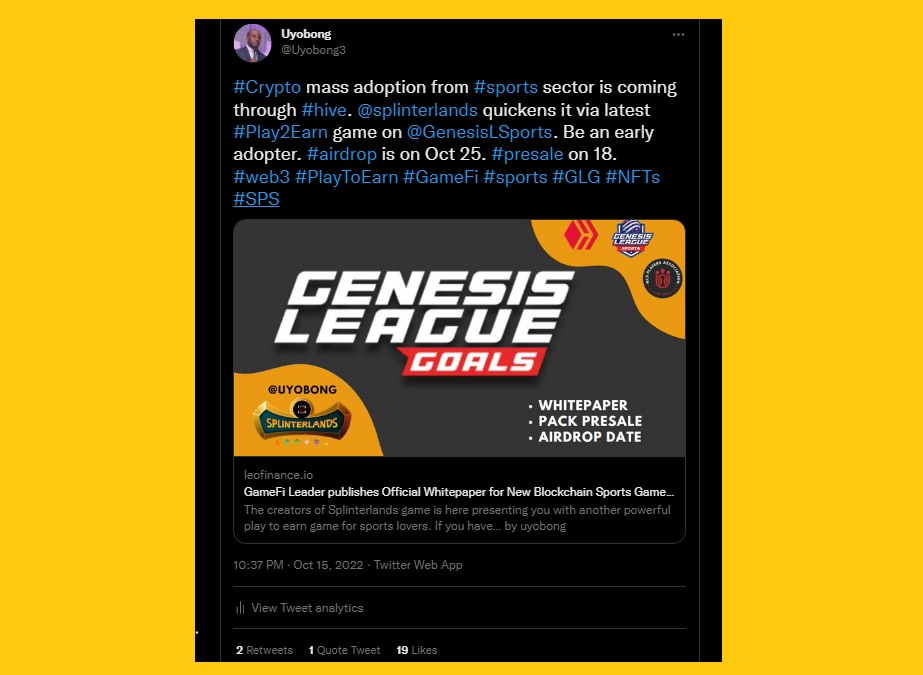 The Splinterlands team are all out to ensure that the Genesis League Goals (GLG) presale will go as smoothly as possible, taking a leap from what happened during the Riftwatchers presale. The team has added buffer packs to solve such a related issue.
We want to be able to deal with any potential issues with hitting the pack limit and be transparent about how we will deal with that. We will reserve up to 2,000 packs from the general sale as a buffer to deal with potential situations where we may run over 500,000 packs during the presale. We will cut off eligibility for these in the block where we hit our 500,000 pack limit.
Will GLG Presale Pump $HIVE
Anyone that is interested in Genesis League Goals Card NFTs would have to gather enough $Hive for it. There are two payment options for the presale - HIVE and PayPal. We all know that Paypal is a centralized payment system, specifically for the crypto newbies that will be joining from Major League Soccer Players Association (MLSPA) fanbase. Splinterlands players and those acquainted with the crypto environment will choose to use HIVE for the purchase.
This presale may likely put some pressure on the Hive price. I wouldn't know how far it would go. With the excitement around GLG, more Hive may be on demand to buy the presale packs. By my assessment, at least 300k packs would be bought with Hive and that would require about $1.5M worth of Hive.
You need to Create a GLG Account
I presume that just like Splinterlands, players would be requested to create accounts and that would be linked to Hive accounts in the future.
We will open GLG to the public for account creation and KYC purposes at 9AM EST on 10/18/2022 at the following link https://goals.genesisleaguesports.com/
To participate in the GLG presale, everyone will need first to create a GLS account.
$636.6k have been Raised Already
Congratulations to the Splinterlands team. Their marketing strategies has always been top notch. The idea of pre purchase as inspired a Splinterfest has yielding hugely as 127,320 GLG packs have out of the 500,000 packs have been sold. At $5 per pack, that has raised around $636,600 already.
Discounts! Discounts!! Discounts!!!
Splinterlands will always give you a reason to buy your NFT pack in bulk. Below are the discounts available for bulk purchases of GLG packs during the presale on October 18.
Purchase 100 packs and get 10% additional packs as a bonus
Purchase 500 packs and get 15% additional packs as a bonus
Purchase 2000 packs and get 20% additional packs as a bonus
Price per pack: $5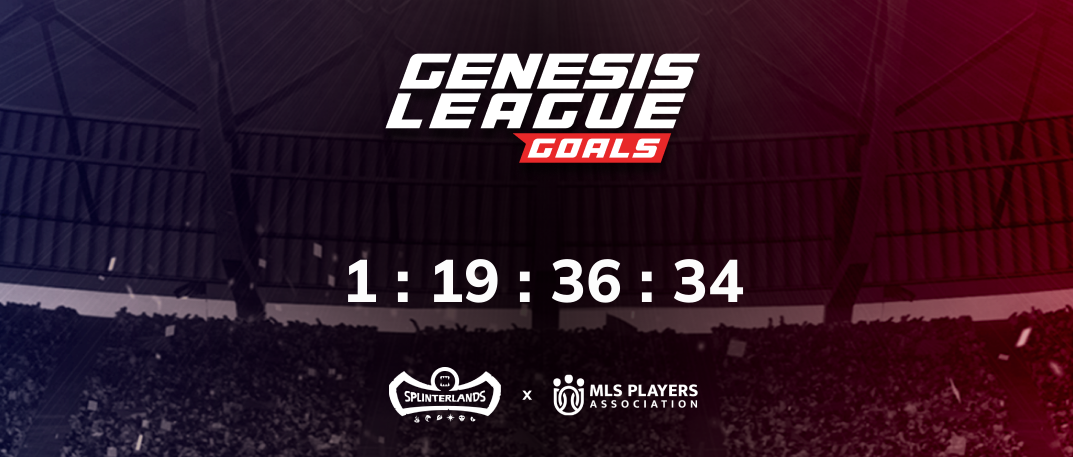 This new week would be another Splinterlands week as another record would be set in sports NFTs pack sale. The year 2022 remains the splinterlands year despite the long bear. The team keeps building and adding value to the play to earn ecosystem regardless.
---
---

Splinterlands game is termed the "next generation of collectible card games" in which allows players to collect, trade, and battle with provably scarce digital collectibles with real-world value. Battles on Splinterlands Unlike most trading card games, are fast and furious, and are usually completed within few minutes. The Splinterlands gameplay is simple and easy to learn viz: reviewing combat rules, making and submitting of the team and watching the battle unfold.

Let's Connect
Hive: https://leofinance.io/@uyobong
Twitter: https://twitter.com/Uyobong3
Discord: uyobong#5966
---
Posted Using LeoFinance Beta