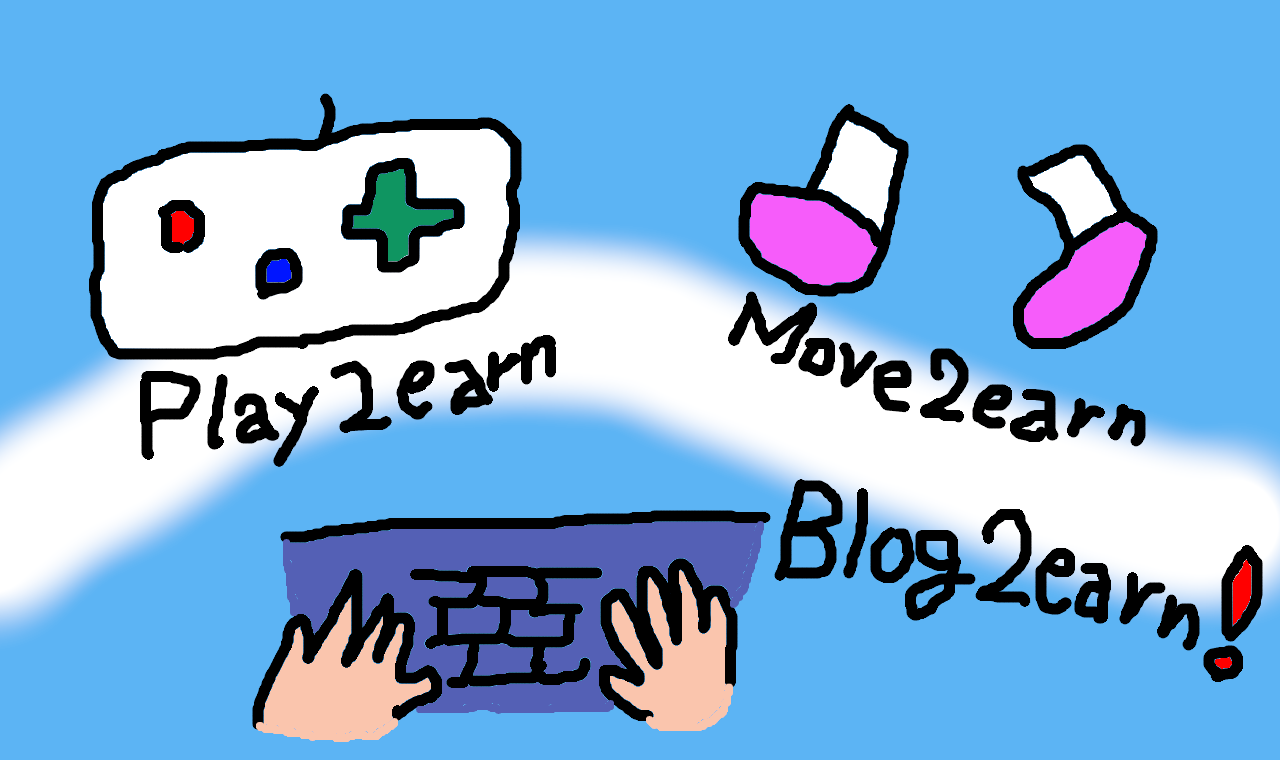 (Illustration by @yadamaniart)
(ENG)
Lately, I find myself saying less and less that I want more Japanese to come to Hive.
No, of course I still think there are too few Japanese blogging at Hive now, and I want more of them to come!!
But now there are many other ways to earn money besides blogging. For example, Play2earn like Splinterlands, Move2earn like STEPN, etc.
It's great to see more ways to make money, and it's great when people can make money in the way they are good at.
So I think part of it is that I don't ask people to come and visit Hive as much as I used to.
But I think this Hive is the best place for me to earn money. I think I am best suited to make money by drawing pictures and posting them, or by writing a diary and posting it.
So if possible, I would like to earn enough money on Hive to make it a side business.
I think one of the main reasons why Japanese people living in Japan do not come to Hive is because of the situation surrounding Japanese people today. Many people are busy. They work longer and longer hours because they don't make enough money for that. Prices are rising, so they have to work more and more. They don't have time to blog.
And if I were to reduce or quit my current job and do Hive, I would have to get paid at least enough to make a side job, preferably enough to make a living.
For people like me who do art, music, and other things that transcend language barriers, there are still ways to make it work, but if you want to get paid for writing only in Japanese, you need a larger audience of Japanese people or people who are fluent in Japanese. In that sense, it may be difficult for Japanese to participate in this event.
I went to Blurt, the little brother of Hive, for the first time in a while yesterday, and found that the posts from Actifit were being posted on Blurt at the same time. I decided to use Blurt along with Hive because I thought it was a waste of time and effort.
The price of BLURT is going up. I will write about the other differences betweenBlurt and Hive here.
1.No Reputation.
2.No Downvote.
3.Every time you post, VOTE, send someone a BLURT, etc., you will be charged a Transaction Fee.
4.The token BLURT of Blurt can be exchanged to Hive and so on by Hive-Engine. PancakeSwap also handles it.
5.There seems to be no community in Blurt.
6.The postings from Actifit are posted to Blurt as well as Steemit and Hive at the same time.
And it is like a simplified Hive.
I will continue to blog on Hive with the hope that I can make money and live off of Hive.
(JPN)
最近、Hiveにもっと日本人来てほしい、ってあまり言わなくなった自分がいます。
いや、もちろん今のHiveでブログ書いている日本人は少なすぎると今でも思いますし、もっと来てほしいんですけど!!
でも今は、ブログを書く以外の稼げる手段も色々出てきています。例えばSplinterlandsのようなPlay2earn,STEPNのようなMove2earnなどです。
稼げる手段が増えるのは喜ばしいことだし、それぞれが得意な方法で稼げたらそれは素晴らしいことです。
だから私は以前ほどHiveに来て来てと言わなくなったのもあると思います。
しかし私には稼ぐにはこのHiveが一番合っていると思うのです。絵を描いてそれを投稿する、日記を書いてそれを投稿する、これで稼ぐのが一番向いていると思っています。
だからできれば、Hiveで副業になる程度には稼ぎたいです。
日本に住む日本人がHiveに来ない大きな理由の一つは、今の日本人を取り巻く状況にあると思っています。多くの人は、忙しい。その割に稼げないからますます長時間労働になる。物価も上昇しているからますます仕事をしなければならない。ブログなんかやっている暇がないのです。
そしてもし今やっている仕事を減らして、あるいはやめてHiveをするならば、やはりせめて副業になるくらい、できれば生計を立てられるくらいの報酬が貰えないと来ないでしょう。
私みたいに美術とか、音楽とか、言葉の壁を越えられることをやっている人間にはまだ工夫のしようがありますが、普通に日本語だけでライティングして報酬を得ようと思うならもっと日本人、あるいは日本語が堪能な人のオーディエンスが多数必要です。そう考えると日本人は参加しづらいかもしれません。
私はきのう、久しぶりにHiveの弟分とも言えるBlurtを見に行きました。Actifitからの投稿はBlurtにも同時投稿されていました。なんかほったらかしでもったいないことしたな、ということでHiveと共にBlurtも活用することにしました。
Blurtは私はHiveのアカウントがそのまま使えますが、新しく作る必要がある人もあるかもしれません。BLURTの価格は上昇中です。その他Hiveとの違いをこちらに書いてみます。
1.Reputationがない。
2.Downvoteがない。
3.投稿、vote、誰かにBLURTを送るなど、そのたびにTransaction Feeがかかる。
4.BlurtのトークンBLURTはHive-EngineでHiveなどに交換できる。あとPancakeSwapでも扱っている。
5.Blurt内のコミュニティはないようです。
6.Actifitからの投稿はSteemit、Hiveに加えBlurtにも同時投稿される。
と、Hiveをシンプルにした感じです。
Hiveで稼いで生きていけたらな、と願いつつこれからもHiveでブログを書いていきたいと思います。
Posted Using LeoFinance Beta