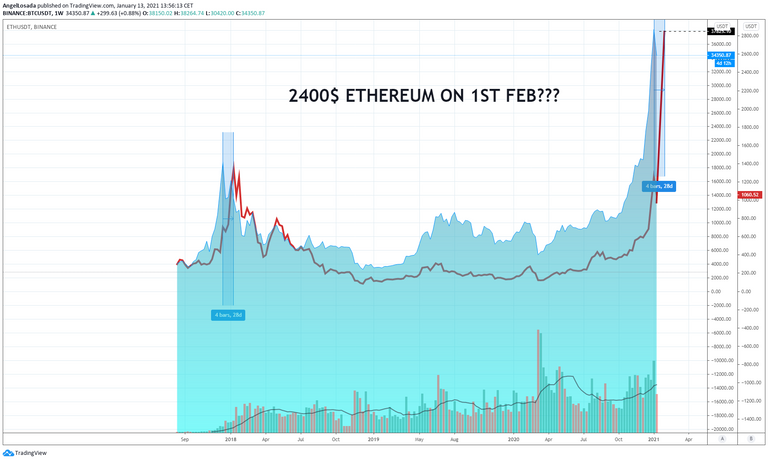 2400$ ETHEREUM ON 1ST FEBRUARY?? WTF
There are predictions that, posed in any way, seem very foolish, but when you look at them calmly they are not so crazy.
Today, seeing the BTC graph, I was able to introduce the Ethereum overlay graph. I know it's information that we can also consult in the BTCETH, but I think that in some way there is some information that is not well distinguished in this type of graph.
When comparing both graphs in dollars, we can see that the maximum ETH in the 2017 altseason was delayed 4 weeks since BTC marked its ATH in December.
In this graph I have simply made the same fractal, predicting what will happen based on what happened on those dates. After that, the permanence of ETH over the price of BTC was maintained for a few months, until July 2018, although on that occasion it was due to the tremendous drop in BTC, rather than the rise in ETH.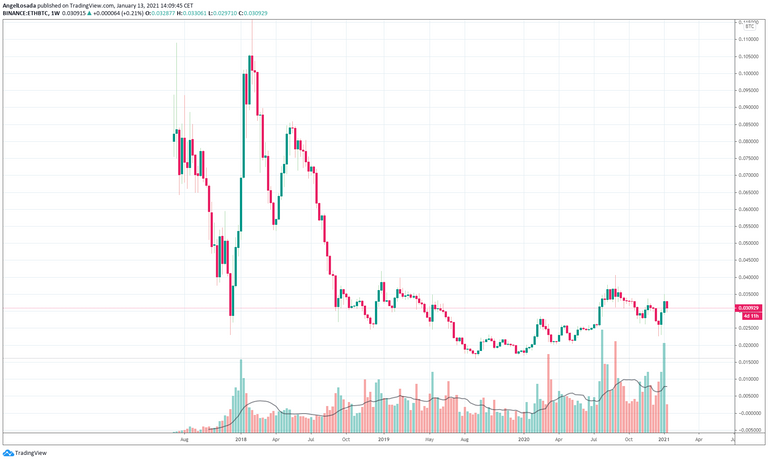 ETHEREUM A 2400$ EL 1 DE ENERO? QUE DICES!!
Hay predicciones que planteadas de cualquier manera parecen muy insensatas, pero que cuando las ves con calma no son tan locas.
Hoy viendo el gráfico de BTC se me dio por introducir el grafico de Ethereum superpuesto. Ya se que es una información que también podemos consultar en el BTCETH, pero creo que de alguna forma hay parte de la información que no se distingue bien en ese tipo de gráficos.
Al comparar ambos gráficos en dolares, podemos ver que el máximo de ETH en el altseason de 2017 se demoró 4 semanas desde que BTC marcó su ATH en diciembre.
En este gráfico yo simplemente he realizado el mismo fractal, prediciendo lo que pasará en base a lo que pasó en aquellas fechas. Después de aquello la permanencia del ETH sobre el precio de BTC se mantuvo durante unos meses, hasta julio de 2018, aunque en esa ocasion fue por la tremenda bajada de BTC, mas que por la subida de ETH.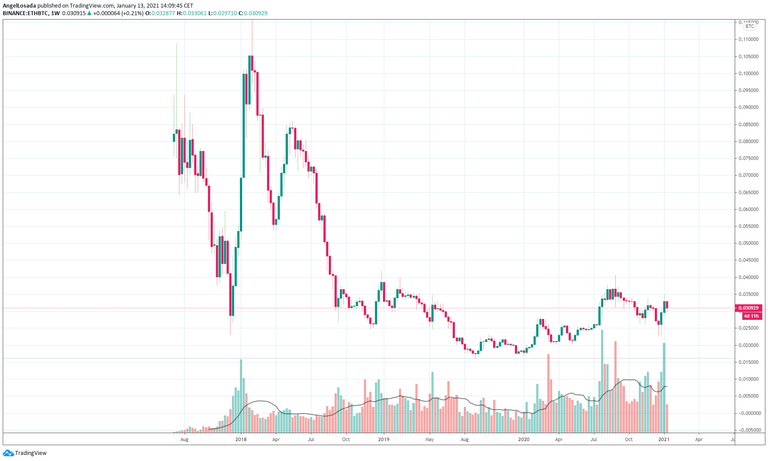 LeoFinance is a blockchain-based social media community for Crypto & Finance content creators. Our tokenized app allows users and creators to engage and share content on the blockchain while earning cryptocurrency rewards.
Follow @leofinance for official updates
Posted Using LeoFinance Beta