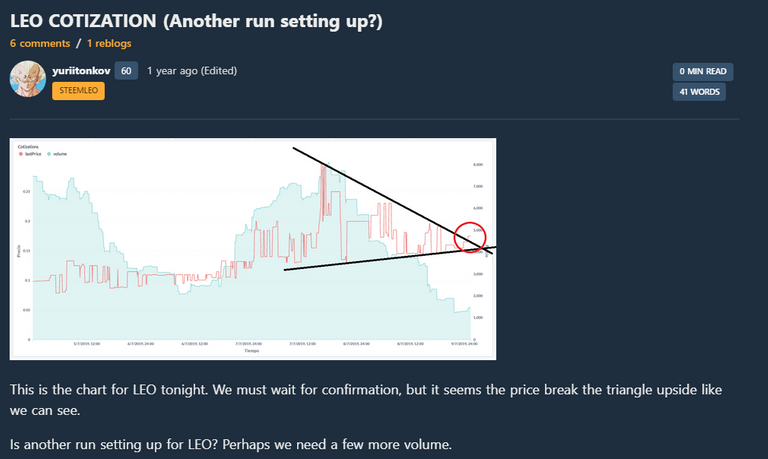 THE FIRST STEPS OF THE LEO TOKEN
Reviewing my blog today and comparing the rewards I received when I started here at HIVE (At that time it was STEEM), a month after I started my journey on this fantastic platform the tribes started, and one of them was STEEMLEO, it was one of the ones that caught my attention, since at that time I was already looking at technical analysis things and followed the crypto world a lot.
The post is from July 9th, 2019, I started in April, I think I remember. At that time LEO was only quoted on the steem-engine, and there was nothing like a graph. So I decided to make a graph, using an API that I found and that I could query and fill in a database table. Not only STEEMLEO could be queried, but also any other token of the steem-engine.
I think that at the time it was something interesting, in fact you can see that my publication has comments of iustres characters of our network (@gerber, @khaleelkazi), in fact one of the founding fathers wondered what would happen with the price, I think he never thought this would evolve so quickly... if you read this post it would be interesting to see if you remember when you saw it, and if at that moment you had confidence that this would evolve in such a positive way.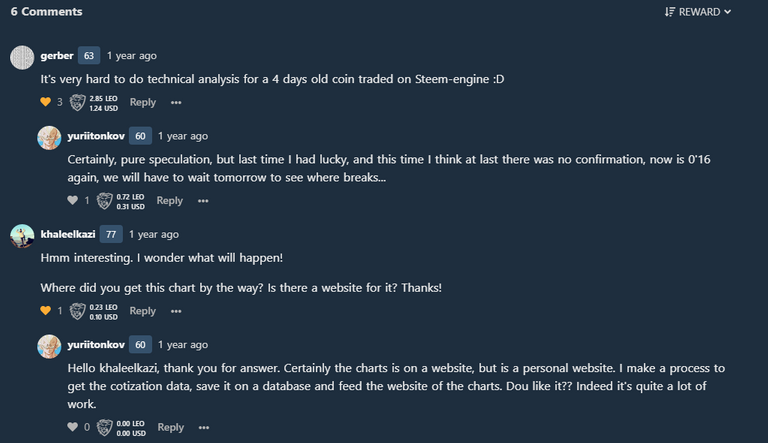 Some time later the graphics in the steem-engine appeared and I abandoned all that development, but I think they were the first graphics that can be found in our token.
At that time they were quoted at 0.1 Steem. I looked at the price of Steem in July 2019 and saw that it was 0.34$, so the value of LEO at that time was 0.034$. This can give us an idea of all the progress that has been made from that moment until now, seeing all that is left to do, this is not going to be more than the beginning, but it is nice to see what the beginnings were.

LOS PRIMEROS PASOS DEL TOKEN LEO
Revisando mi blog hoy y comparando las recompensas que recibía cuando empezaba aqui en HIVE (En aquel momento era STEEM), al mes de comenzar con mi andadura en esta fantástica plataforma comenzaron las tribus, y una de ellas fue STEEMLEO, fue una de las que me llamó la atención, ya que en aquella epoca ya miraba cosas de analisis técnico y seguia mucho el mundo crypto.
El post es del 9 de Julio de 2019, yo empecé en abril, creo recordar. En aquel momento LEO solo se cotizaba en el steem-engine, y no había nada parecido a una gráfica. Me propuse por tanto montar de alguna manera una gráfica para lo cual utilicé una API que encontré sobre la que hacia consultas y rellenaba una tabla de base de datos sobre la que hacia consultas. No solo se podia consultar STEEMLEO, sino también cualquier otro token del steem-engine.
Creo que en su momento fue algo interesante, de hecho se puede ver que mi publicación tiene comentarios de personajes iustres de nuestra red (@gerber, @khaleelkazi), de hecho uno de los padres fundadores se pregunta que pasara con el precio, creo que nunca penso que esto iba a evolucionar tan rapidamente... si lee este post sería interesante ver si se acuerda cuando lo vio, y si en aquel momento tenia confianza en que esto iba a evolucionar de manera tan positiva.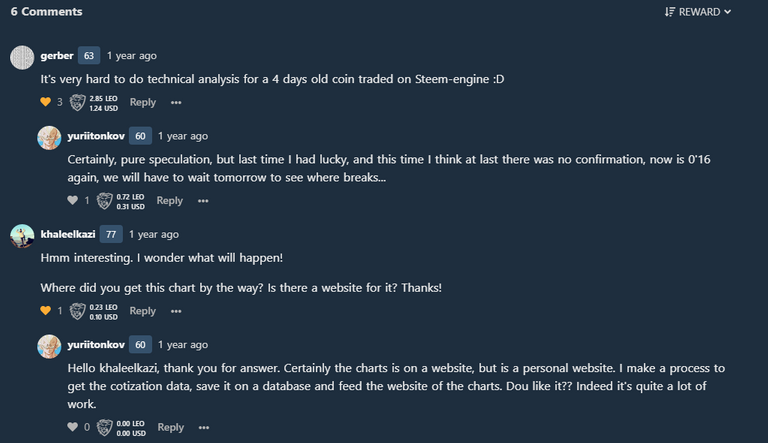 Un tiempo despues surgieron los gráficos en el steem-engine y abandoné todo aquel desarrollo, pero creo que fueron los primeros gráficos que se pueden encontrar de nuestro token.
En aquel momento se cotizaban a 0'1 Steem. He mirado el precio de Steem en julio de 2019 y he visto que estaba a 0,34$, por tanto el valor de LEO por aquel entonces era de 0'034$. Esto nos puede dar una idea de todo lo que se ha progresado desde aquel momento hasta ahora, viendo todo lo que queda por delante esto no va a ser mas que el principio, pero es bonito ver cuales fueron los comienzos.


LeoFinance is a blockchain-based social media community for Crypto & Finance content creators. Our tokenized app allows users and creators to engage and share content on the blockchain while earning cryptocurrency rewards.
Follow @leofinance for official updates
Posted Using LeoFinance Beta