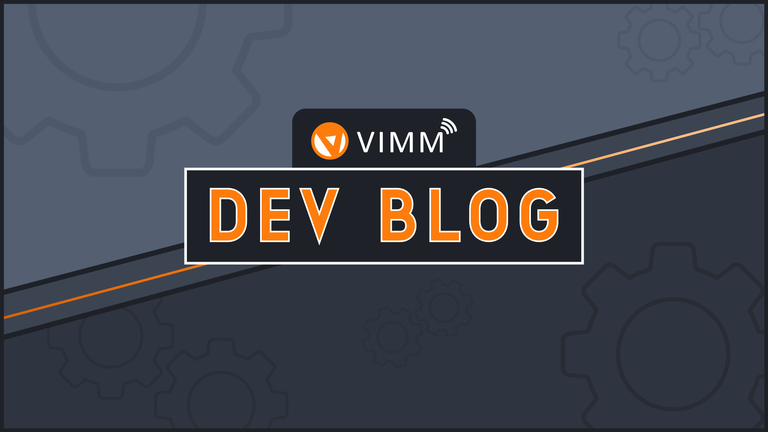 Hey there! It's @ddrfr33k and @chiren! This has been a long time coming. We've talked about it, we've dropped all sorts of hints, we've gotten way too excited, but it's finally here! Yes, it's true! We can say with little doubt:
Channels subscriptions are now available for every streamer on VIMM.
It's here! It's ready, and you can see it right now! If you go to any channel, you'll see this little button:
You see the little button? You wanna subscribe? Then you push the little button. You'll see this little box pop up: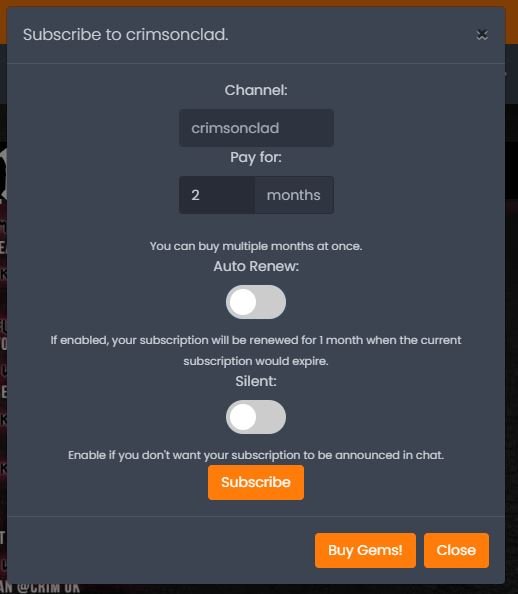 From here, you can opt to subscribe for a set number of months right away, or choose one month and set up automatic renewal. All subscriptions are 5 Gems, we will be adding custom tiers down the line for people who want to make multiple tiers of subscriptions. If you don't have enough Gems, hit the button below and you can purchase some to fill your balance. But once you're done, hit that subscribe button, and you should see the following message in chat: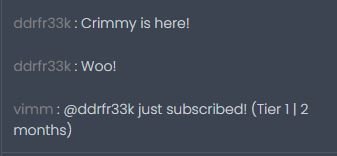 Once you see that, you're subscribed! If you turned on the "silent" toggle, that message will not appear. But if the window refreshed, it did indeed subscribe. And yes, I did subscribe to @crimsonclad for these screenshots. I'm putting my money where my mouth is and building up the awesome people who stream on this platform! Who knows, you just might find a sub from me in your channel if you're doing something awesome!
---
Some of you are wondering how this whole thing works from the streamer's perspective. So! here's the breakdown:
When the viewer subscribes to the stream, you will receive your Gems immediately.
Vimm takes a 10% cut of all subscription revenue. We take care of that, you don't have to worry about it.
Streamers can see their subscription details, including whether or not the viewer is on a recurring subscription from the go live page:

Gems are not locked for any amount of time, they can be used right away. Tip someone else, Subscribe to someone you like, or hold onto them.
Right now, the only features you get from subscribing are the ones determined by the streamer. We will be working with streamers to add the features they want to offer to subscribers, so definitely hit us up on our discord and let us know what you want us to add for your streams! Also, as always, this is a beta feature.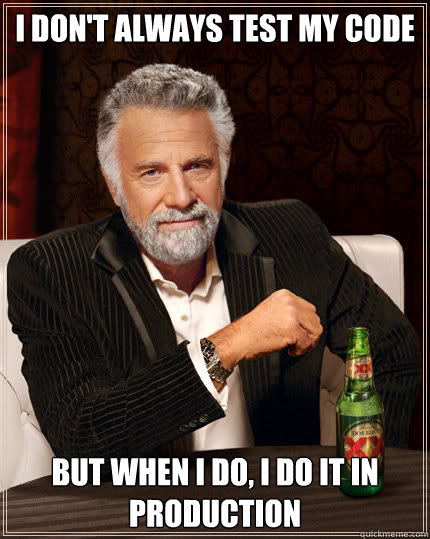 If you haven't figured that out by now, I don't know what to tell ya. That said, if you do run into problems, open a support ticket on our Discord. We're around, we'll help you out as problems arise.
---
What is VIMM?
VIMM is a Web3 video platform focused around live streaming for gamers and independent creators. Powered by Hive blockchain.
Get in touch!