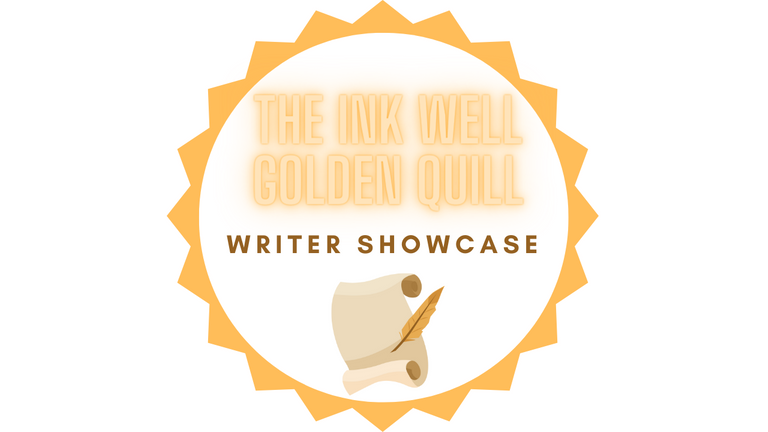 Image created in Canva
Welcome to The Ink Well Golden Quill Writer Showcase!
In this series, we are selecting one writer to showcase in each edition. The selected writer may be a rising star or an author whose work consistently demonstrates the writing skills we promote in our writing prompts and our catalog of fiction writing tips.

In all cases, The Ink Well Golden Quill will showcase a community member in good standing in The Ink Well who regularly publishes in our community and supports other community members by reading and commenting on their work.

In addition to showcasing one of the author's recent stories, we will also reward a Golden Quill badge to the writer.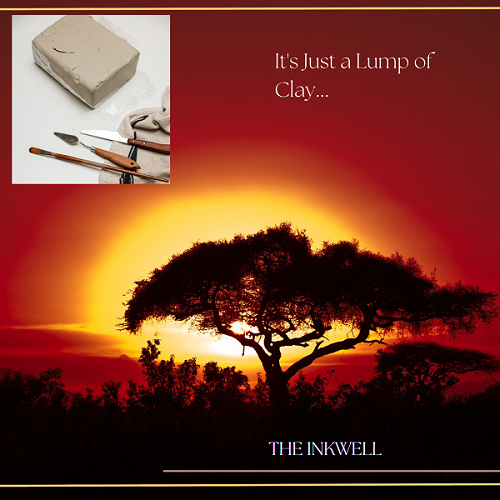 Image source: Canva Pro gallery
Doctor Lorne's eyes widened as he held the scene in his hand. "The little gazelle and cheetah are so lifelike," he gasped, looking in wonder at the tiny animals and the miniature world in which they were placed.
"I saw from the pictures on your wall that you'd been to Africa, so I thought you might like a sculpture of the African Plains."
"Like it? It's perfect, the best piece I could have hoped for! Thank you again," he said, extending his hand to the artist.
The next morning, Dr. Lorne looked fondly at the sculpture, as he drank his coffee.
"How strange. I could swear that the cheetah was chasing the gazelle. I remember how graceful the poses were. Now the gazelle is drinking from the stream, and the cheetah napping."
— @wrestlingdesires
What We Loved
In this story, @wrestlingdesires creates a magical little world within a very real world. The technique is called magical realism. When a writer spins a tale with realistic characters and
with authority, readers will follow them anywhere. In this case, we are willing to imagine that a sculpture of animals on the African plains can come to life.
Author Accolades
@wrestlingdesires' stories are sometimes serious, often playful, and always imaginative. He is one of the writers in the community who continually develops his craft, and it's wonderful to see that progression.
Well done, @wrestlingdesires. Keep writing!
To collect your badge, please pop into the #ask-theinkwell channel in our Discord server, and we'll send you your badge in DM.

Thank you for reading our Golden Quill post!

You can see past editions here:
Edition 1: @gabmr
Edition 2: @popurri
Edition 3: @lordtimoty
Edition 4: @idlemind
Edition 5: @kemmyb
Edition 6: @samsmith1971




@jayna, @agmoore, @gracielaacevedo, @yaziris and @itsostylish

Interested in joining our community? Start by joining Hive!
Join here at Hive Onboard
Already a Hive member? Click Subscribe at the top of The Ink Well community home page.
Questions? Ask The Ink Well on Discord.

We invite lovers of creative writing to visit The Ink Well, a Hive community started by @raj808 and @stormlight24 and run by @jayna, @agmoore, @gracielaacevedo, @yaziris and @itsostylish.

How to Follow Our Curation Trail
You can follow our curation trail by going to our hive.vote curation trail page and clicking the follow button.
How to Delegate to The Ink Well
We welcome delegations! These support our community in many ways, including helping us to provide support to quality content creators through curation and contests.
A big thank you to all of our delegators:
@jayna, @felt.buzz, @zeurich, @marcybetancourt, @agmoore, @marlyncabrera, @stormcharmer, @generikat, @iamraincrystal, @preparedwombat, @gracielaacevedo, @chocolatescorpi, @samsmith1971, @grindan, @stuartcturnbull, @arduilcelebren, @itsostylish, @josemalavem, @morey-lezama, @evagavilan2, @popurri, and @mrenglish.


Click banner to visit our community page

Find us on twitter by clicking the banner above.