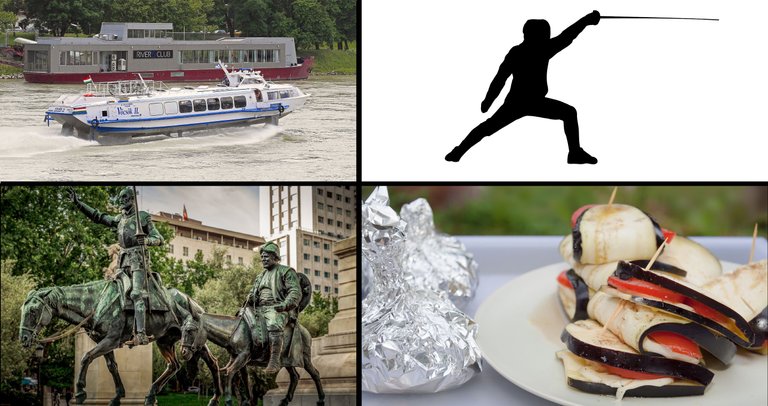 Sancho Panza DDZPhoto on Pixabay; Foil Sandwich Stux on Pixabay; Sword Clipart on Pixabay; Boat HPgruesen on Pixabay
Hello and welcome to the The Ink Well weekly fiction prompt and prize announcement! The Ink Well is a Hive blockchain-based social media community of creative writers. If you love to write short stories, we invite you to join us. Or peruse the work of our community members.
Note: We always launch our prompt posts with important information. So be sure to check it out first! Then we invite you to read on and see what we have in store for this week's prompt.
Important FAQs about The Ink Well!
Here are answers to some Frequently Asked Questions about The Ink Well.
What Is The Ink Well All About?
The Ink Well is a short story community. This means we only accept short fiction. (Fiction means stories that came from your imagination, not from real life.)
It also means:
No novels, chapter stories or multi-part stories
No poems
No introduction posts
No essays or other non-fiction
No memes
Just fictional short stories!
The Ink Well is all about creativity, quality, community, and engagement. As such, we ask the following:
Please take the time to get to know the community and read other writers' work. Everyone who posts in The Ink Well is expected to read and comment on at least two other stories for each piece you post.
See our catalog of fiction writing tips and make use of our resources. (Many of our writers are developing awesome skills, and you can too!)
Put effort into your posts. Review and edit your content for errors before publishing.
What are the community rules?
You can find our community rules at the top of The Ink Well community (right side of the page).
Please read the rules before posting in The Ink Well, as we outline the "do's and don'ts." If you can't find them, you can read them here.
Our community rules are designed to make our community a safe, welcoming, plagiarism-free space for self-publishing original short stories. We do not allow stories depicting violence, brutality, or abuse of women, children or animals. If you have questions, please read this article explaining our stance on violence.
What does it take to get rewards in The Ink Well??
We refer you to the above description of what The Ink Well is about. If you are not getting great rewards, it is likely for one of the following reasons:
Your story has many grammatical errors. (This is easily fixed with the tips in our post, Help for the Grammatically Challenged.)
Your story lacks some important elements of good fiction, such as character development, dialog, scene details or a story arc. (See our catalog of fiction writing tips for information on these important aspects of short stories.)
Your story lacks originality or does not follow our community rules.
Important tips!
Among the factors we look at is quality of engagement with others in the community
Please make sure your story is clearly inspired by the prompt.
Remember to link your story to the prompt post.
Weekly Challenge and Prize Announcement
Time for the prize announcement and new challenge!
Last week's prompt and the skill target was chatterbox and 'writing character descriptions'. This community really came through with many surprising, amazing stories!
Many of our writers created original, memorable stories in response to 'chatterbox'. Our selections of this week's winners and honorable mentions reflect how well writers dealt with this prompt and skill challenge.
Update! We are excited to share that in addition to our first place winner, we are awarding a second and third place, in addition to a few honorable mentions. For second and third place we are awarding Hive Basic Income (HBI). The third place winner receives 2 HBI and the second place winner receives 3 HBI.
Here are this week's honorable mentions, all of them written in response to the prompt and skill challenge.
Honorable Mentions
Anzoni with his box, suitcase on his shoulder, walks through the center of the city, he does not know where to go, he stops at the bridge, unexpectedly, he observes that under it, towards a sidewalk that borders the river, there is a space where he can live. He looks for wood from the trees, makes a palisade to serve as walls, finishes it and settles there. He eats fish and some wild tubers.
I realized how much she missed her husband and children the moment I became immersed in her hulky, awkward presence. She has been living alone for more than three years as of today. I leaned against the wall, staring at the ceiling while listening to stories I couldn't understand. She kept telling me stories, laughing, and hitting my thigh with the pillow she was holding.
I turned the cold water faucet on all the way while unfastening the clips that held the hair over my antennae. The water was perfectly cold when I stepped into the shower. I realized, as my hair became soaked, that I forgot my shower flip-flops. I
Kyra felt the urge to pounce on her when Femi placed his hand on hers, to Chi's disappointment. His eyes had turned weary and all its excitement had faded off.
"My dad has always been a workaholic, now, the fate of the world depended on him getting his machine running. I was never one for science but I believed in my father, if anybody could get us out of this, he could. The world leaders gather today to weigh our options, like we have any".
Third Place: Wins 2 HBI
Closing the door behind him, Mrs. Rose walked towards the window to see if he had gone, turning around she found her two daughters staring at her, unable to hold the laughs, they all bust into fits of laughter..
"He is truly a chatterbox" commented Mrs. Rosie which brought in more laughs from the children.
Second Place: Wins 3 HBI
"None of that now, you're free," she said in a gentle shooing voice.
In response, the baby squirrel moved over a few inches to let her pass. She opened the door, humming.
"Well... What do you think you're doing? You certainly don't want back in that cage," said Mom, looking at the sad animal waiting at the door to her son's empty room.
And the winner of the chatterbox/describe a character challenge is... @samsmith1971 with the story Love's Treasure. Congratulations, @samsmith1971. You will receive 5 Hive!
He made his way down to the kitchen, flicked on the light, and refilled the kettle. Then he settled down at the small table, always laid for three, to eat his dinner; reheated leftovers from the evening before. The place setting opposite him had remained untouched for a little over two weeks. The pricking in the corner of his eyes caught him off-guard, but he fought back. He probably had no tears left to cry anyway.
Okay, let's review fiction entries from last week's prompt and launch a new one.
Stories From the Previous Week
@mrenglish
@drstrings
@marynn
@fantom22
@justine619
@littlepiggies
@balikis95
@samsmith1971
@lordtimoty
@nelson-george
@diikaan
@seeger
@wrestlingdesires
@treasure-joshua
@buezor
@chincoculbert
@raymondpeter
@madamnaomi
@fibre1
@bornben
@mcaspectacular
@popurri
@diebitch
@dennmarc
Thank you to everyone who posted a story for last week's prompt!
This Week's Prompt
The Ink Well is fortunate to have many members who are eager to write. However, the curation team does not have infinite resources. In order to be fair to all writers, we have decided to ask our members to publish only one story per week. If members choose to publish more than that, they may. However, only one story will be curated.
It would be wise to use talent on the best story you can write so you can receive the optimal curation. Remember, Quality over Quantity. Moving forward the Ink Well Team believes this will provide a better experience for writers and curators.
At last, the prompt of the week!
This week's prompt is foil. This may seem like an odd word, at first, but it has so many definitions that it is actually a gift. Foil may mean to thwart, or stop someone from doing something. Foil can be bit of shiny wrapping. Foil can be something, or someone, that stands in contrast to something else (as, a foil in a story). Foil may be part of a building design. It may be a kind of sword, in fencing. It can even be a kind of sailing.
Here are some ideas about how this word might be used.
When Cynthia returned home earlier than expected she foiled the burglar's attempt to steal her cash box.
Martha's favorite character in the Sherlock Holmes series was Dr. Watson, who was a perfect foil for the title character.
Andrew opened the picnic basket and noted that every sandwich was wrapped neatly in tin foil.
When he showed up to his first fencing lesson, Andre was surprised that the instructor gave him a foil to practice with.
Michele wasn't interested in old-style sailing but preferred to hydrofoil.
Marie was stunned by the beauty of the mosque's multifoil arch.
Pierre raised his foil and prepared to fight.
Catherine thought that if she wore a foil-wrapped hat the aliens wouldn't be able to read her mind.
Many people think that foiling sailboats are new, but this type of sailboat has actually been around for a long time.
One of my favorite writers is Miguel de Cervantes, who created the most memorable character, Don Quijote de la Mancha and his foil, Sancho Panza.
These examples for the prompt are only suggestions. You can use one of these as a take-off point, or use your imagination and come up with a unique idea.
For the skill challenge this week we return to one of the most important skills a writer can develop: show don't tell. This simply means that instead of telling us, for example, that Mary is tired, show us how the fatigue is expressed. Are her eyes closing? Is she yawning? Is she dragging her feet? There are many ways you can show that Mary is tired. @jayna has a great essay in the Catalogue of Fiction Writing tips that discusses how writers can show and not tell.
A week from now, we will select a winning story that demonstrates this skill and utilizes the prompt. Of course we will also be looking for overall quality in the winning story. Good luck!
Note: As always, please avoid violent, gory, bloody, brutal, sexist or racist themes and language, erotica and other NSFW (not safe for work) content, and stories featuring abuse of women, children or animals. (We have a complete article about The Ink Well stance on violence and brutality for more information.)
If you don't feel inspired by this prompt or the featured image, feel free to peruse any of our past prompts or our collection of idea-generators:
Weekly Prompt Rules:
Deadline: You have a week to write for the prompt, until the next one is posted. (Note: You can write for any of the prompts anytime. This is just a guideline to be included in the weekly round-up in the next prompt post.)
Story link: Post your story in The Ink Well community, and post a link to your story in a comment on this post.
Hashtags: Please use these hashtags: #fiction #writing #inkwellprompt #theinkwell and #dreemport, if you are also posting your story to the DreemPort site.
COMMUNITY SUPPORT: Visit the work of at least two other community members and comment on their work.
Title: The title is up to you. You can come up with any title you wish. You do not need to name it after the prompt or include the prompt word.
Images: Please only use images from license free and creative commons sites, like Pixabay, Unsplash and Pexels. Images you find on the Internet are copyright protected and cannot be used. Be sure to provide the source link.
Length: We request that story word counts are a maximum of 1,500 words maximum length (preferably 750-1000 words). This is just a guideline. Longer stories are okay too, but they tend to get fewer readers. Additionally, The Ink Well admins appreciate keeping to that maximum story length for our time management. Thank you!
Reminder: Be sure to also read our community rules. The reason for the repeat reminder is that we see many stories describing brutality of women, children, or animals, or that have excessive gore or violence, and we must mute them. Please do not post these stories in The Ink Well. We want our community to be a safe and comfortable place for all readers.
Here are the past prompts if you would like to use them or refer back to them:
Thank you for being a part of The Ink Well!
@jayna, @agmoore, @gracielaacevedo, @yaziris and @itsostylish

Interested in joining our community? Start by joining Hive!
Join here at Hive Onboard
Already a Hive member? Click Subscribe at the top of The Ink Well community home page.
Questions? Ask The Ink Well on Discord.

We invite lovers of creative writing to visit The Ink Well, a Hive community started by @raj808 and @stormlight24 and run by @jayna, @agmoore, @gracielaacevedo, @yaziris and @itsostylish.

How to Follow Our Curation Trail
You can follow our curation trail by going to our hive.vote curation trail page and clicking the follow button.
How to Delegate to The Ink Well
We welcome delegations! These support our community in many ways, including helping us to provide support to quality content creators through curation and contests.
A big thank you to all of our delegators:
@jayna, @zeurich, @felt.buzz, @marcybetancourt, @marlyncabrera, @stormcharmer, @generikat, @agmoore, @iamraincrystal, @preparedwombat, @gracielaacevedo, @chocolatescorpi, @kirlos, @josemalavem, @morey-lezama, @sayury, @evagavilan2 and @popurri.


Click banner to visit our community page

Find us on twitter by clicking the banner above.