Michigan Attorney General, Dana Nessel, calls for disbarment of lawyers filing lawsuits challenging election results.
As Matt DePerno, introduced in yesterday's post, puts it:
We have Michigan executive officials who are now using the power of government to threaten those with whom they disagree with sanctions. They're threatening me, and others, with disbarment. Bringing forth evidence now, in our country, not only gets you the mockery of the mainstream media – who refuse to actually report on it or the truth – but it now gets you ethics complaints filed against you if you are a lawyer.
It gets worse. DePerno explains:
Around November 20th, Dana Nessel did an interview with the Washington Post, and in that interview she threatened every Michigan Legislator and she said that any Michigan Legislator with whom she disagreed, any of them who challenged these election results, she would investigate them and seek criminal sanctions against them.
Tyranny
Fascism

Two words that Matt DePerno uses to describe Dana Nessel's actions.
Yet more facts that are public record that, far from being the exception, represent the norm on the side of those who seem committed to doing whatever it takes to avoid investigations into election irregularities, even to the point, as in this case, of threatening people's livelihoods and basic freedoms.
I agree with DePerno. This is nothing short of tyranny and fascism.
------------ o ------------
There is a clear pattern of behavior here that should cause good people to take note, or even be alarmed when considered in conjunction with the recognized pattern of election anomalies and irregularities.
------------ o ------------
Source: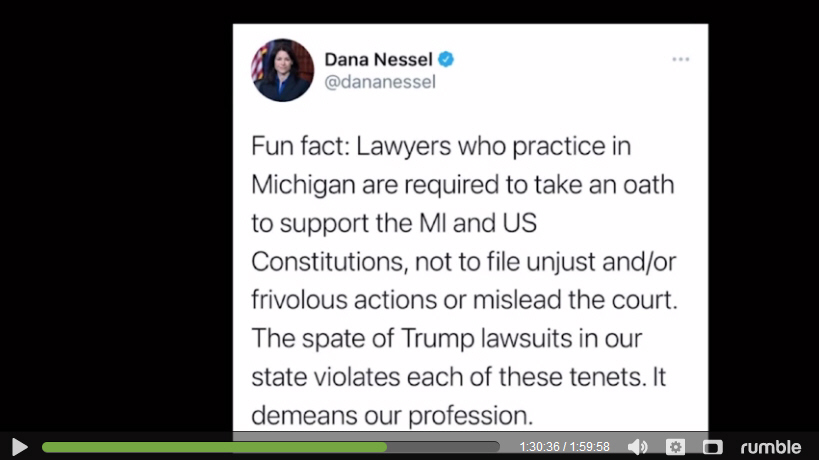 Absolute Proof
---

---
Please leave your comments, input and opinions below.
Your support is greatly appreciated.
If you value the work I do,
please upvote it!