Hola a todas las personas que hacen vida en esta comunidad, les confieso que modelar no es mi fuerte 😄😄😄 sin embargo desde que nació esta comunidad siempre le echo un ojo porque la moda y estilo es algo que desde siempre me ha llamado la atención y me gusta.
Hello to all the people who make life in this community, I confess that modeling is not my forte 😄😄😄 however since this community was born I always keep an eye on it because fashion and style is something that has always caught my attention and I like it.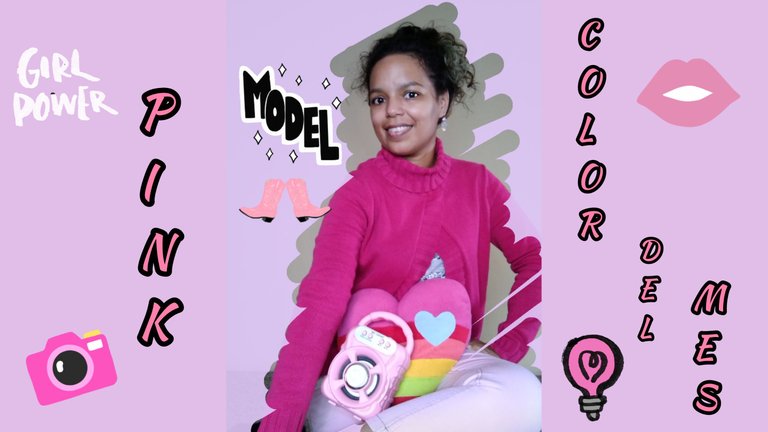 Edited with Inshot
---
Me encanta revisar y ver lo que está en tendencia, aún y cuando no soy de las que compra constantemente ropa, por ende no uso prendas de época o temporada. Me inclino hacia la moda sostenible esa donde puedo tener variedad de piezas clásicas que puedo combinar con diversidad de prendas.
I love to review and see what's in trend, even though I'm not one of those who constantly buys clothes, therefore I don't wear vintage or seasonal garments. I lean towards sustainable fashion where I can have a variety of classic pieces that I can combine with a variety of garments.
Soy fan de los colores, y disfruto combinarlos. No creo tener un color favorito, sin lugar a dudas el color rosado, fucsia y sus derivados para mí estos últimos años ha sido uno de los colores top, puedo jugar con diferentes combinaciones donde el protagonista sea él.
I'm a fan of colors, and I enjoy combining them. I don't think I have a favorite color, without a doubt pink, fuchsia and its derivatives for me these last years has been one of the top colors, I can play with different combinations where the protagonist is it.
Rosado - Rojo
Rosado - Verde Olivo
Rosado - Anaranjado
Rosado - Gris
Rosado - Amarillo Neón ( Mi combinación fav ever) anexo ejemplo 😄
Pink - Red
Pink - Olive Green
Pink - Orange
Pink - Gray
Pink - Neon Yellow (My fav combination ever) example attached 😄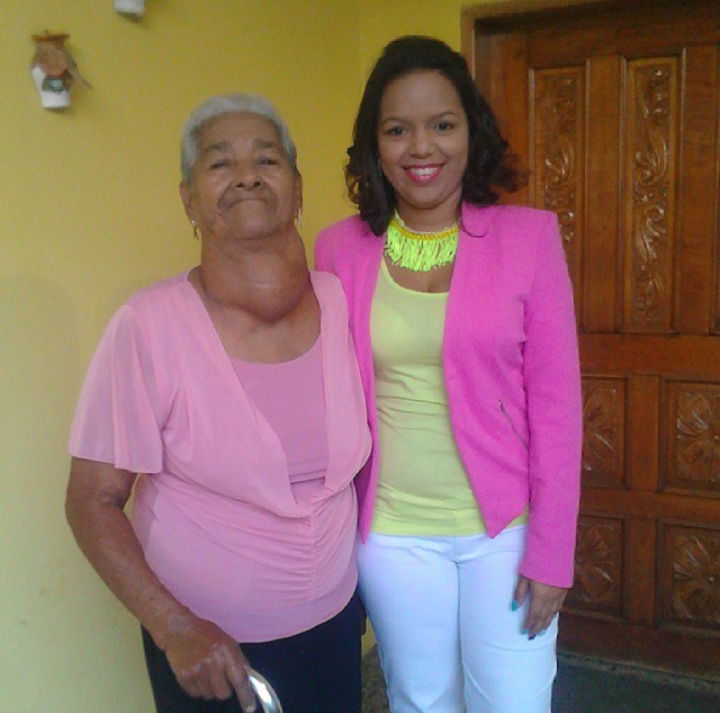 Unos cuantos kilos y años atrás. Tomada de mi cuenta personal de Instagram
Hoy me atrevo a mostrarles un poco de lo que hay en mi closet aprovechando de armar varios outfits según mi estilo y gustos.
Today I dare to show you a little of what's in my closet taking advantage of putting together several outfits according to my style and tastes.
---
Iniciando el desfile Tropicana 👠👠 | Starting the Tropicana 👠👠 fashion show.
---
Fuente
En esta primera presentación lucire:
Blazer fucsia, esta pieza tiene tiempo conmigo demás está decir que la amo, traía hombreras así la usé por mucho tiempo sin embargo se las quité.
Fuchsia blazer, this piece has been with me for a long time, I love it, it had shoulder pads so I wore it for a long time but I took them off.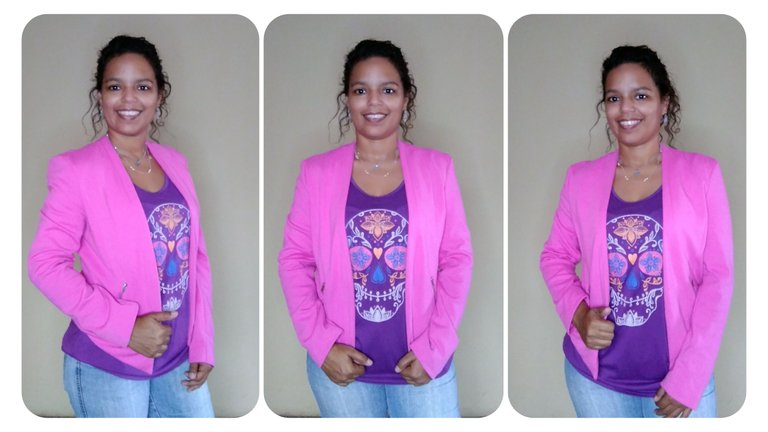 Este outfit lo arme con una bermuda de jeans, y lo acompañe con una franelilla morada que tiene una calavera en varios tonos. Este outfit me encanta, me idéntifico es sin duda mi estilo.
I put this outfit together with a pair of jeans shorts, and I paired it with a purple flannel that has a skull in various shades. I love this outfit, it's my style without any doubt.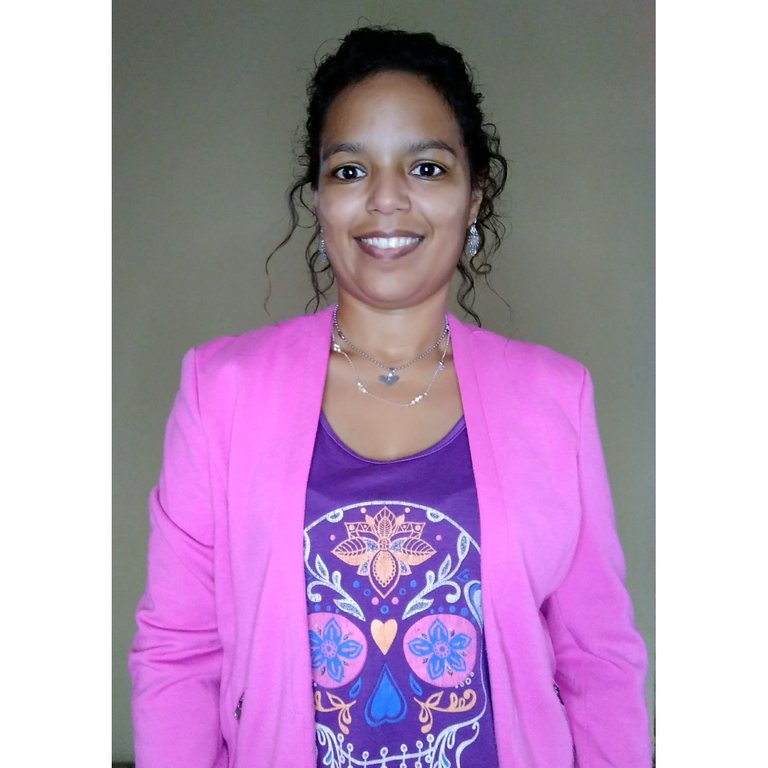 Para darle formalidad puedo acompañar este blazer con un jeans o pantalón blanco + franelilla básica y tacones.
To give it formality I can accompany this blazer with jeans or white pants + basic flannel and heels.
Ahora les muestro este Capri en tela de jeans, tono rosado pastel realmente muy suave. Este jeans lo compré hace tiempo lo vi y pensé que no me quedaría porque es talla 16 niña jajaja, logré entrar en él.
Now I show you this Capri in jeans fabric, pastel pink tone really very soft. I bought this jeans some time ago I saw it and I thought it wouldn't fit me because it's a size 16 girl hahaha, I managed to fit into it.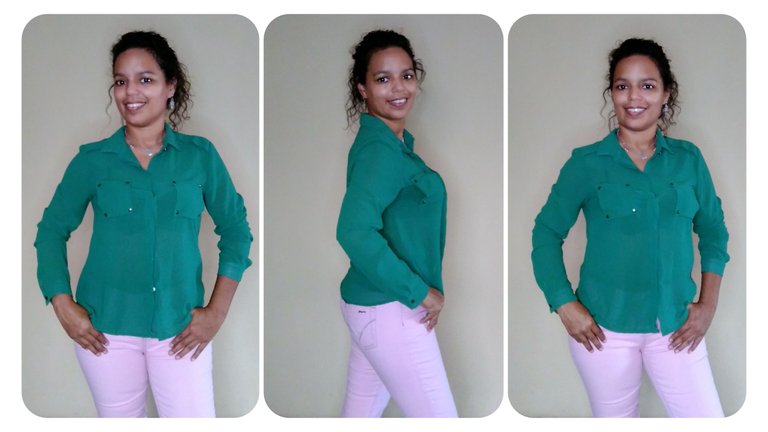 Este pantalón me encanta combinarlo con verde olivo, en este caso llevo una camisa en tela de chifón manga larga. Depende la ocasión lo complemento con zapatillas o tacones.
This pants I love to combine it with olive green, in this case I wear a shirt in chiffon fabric long sleeve. Depending on the occasion I complement it with sneakers or heels.
Esta camisa por detrás luce más larga, este corte le da un toque de elegancia, por lo general complemento este outfit con los zapatos. Aunque para mí esto es un tema, porque no me gustan mucho los tacones soy de las que puedo usar un hermoso vestido con calzado deportivo 😄😄😄 es que no se me da el estar en tacones, me canso muy rápido y me duelen horrores mis piecitos.
This shirt looks longer in the back, this cut gives it a touch of elegance, I usually complement this outfit with shoes. Although for me this is an issue, because I do not like heels, I am one of those who can wear a beautiful dress with sneakers 😄😄😄 is that I am not given to be in heels, I get tired very quickly and my little feet hurt horrors.
La pieza que no puede faltar.
Una franela básica que me salva la vida, esta me gusta por su diseño y frase motivacional 😄 la combino con jeans aunque por lo general la uso con un pantalón ochentoso de lino en color marrón. ¡La comodidad ante todo!
A basic flannel that saves my life, I like this one for its design and motivational phrase 😄 I combine it with jeans although I usually wear it with an eighties brown linen pants. Comfort first!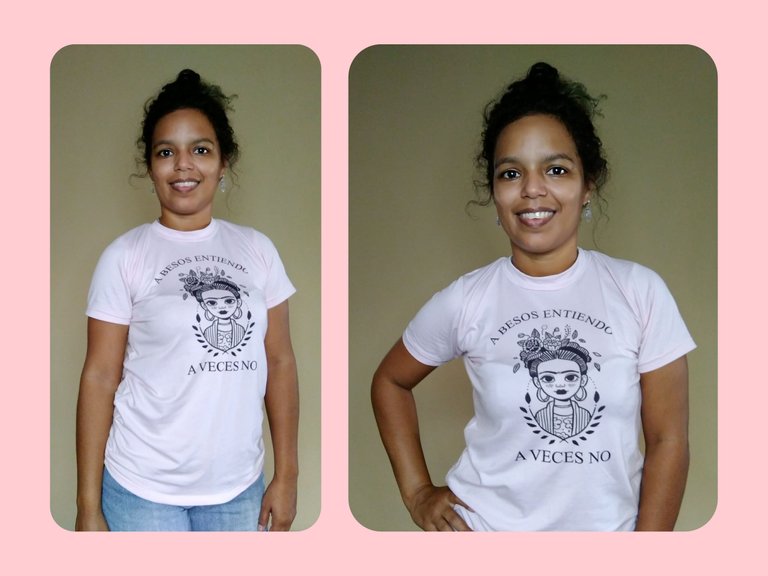 Este otro modelo es perfecto, puedo usarlo para ir a la oficina con un blue jeans y zapatos casuales, o para una ocasión relajada con una bermuda y unos tenis 👟. Esta franela es de tela suave, muy fresca y fue otra adquisición del departamento de niños 😄.
This model is perfect, I can wear it to work with a blue jeans and casual shoes, or for a relaxed occasion with a shorts and sneakers 👟. This flannel is made of soft fabric, very cool and was another acquisition from the kids department 😄.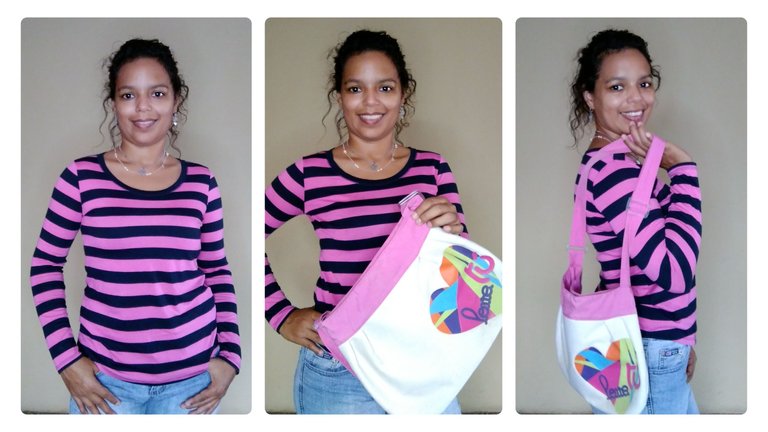 Ya finalizando, este sweter 😍 que puedo combinar con jeans y alguna franela básica debajo, el cuello tortuga y el corte frontal son todo en esta pieza. La manera top en la que disfruto llevarlo es con un blue jeans y tacones rojos. Siento que soy la hija perdida de Agatha Ruiz de la Prada.
Finishing, this sweater 😍 that I can combine with jeans and some basic flannel underneath, the turtleneck and the front cut are everything in this piece. The top way I enjoy wearing it is with blue jeans and red heels. I feel like I am the lost daughter of Agatha Ruiz de la Prada.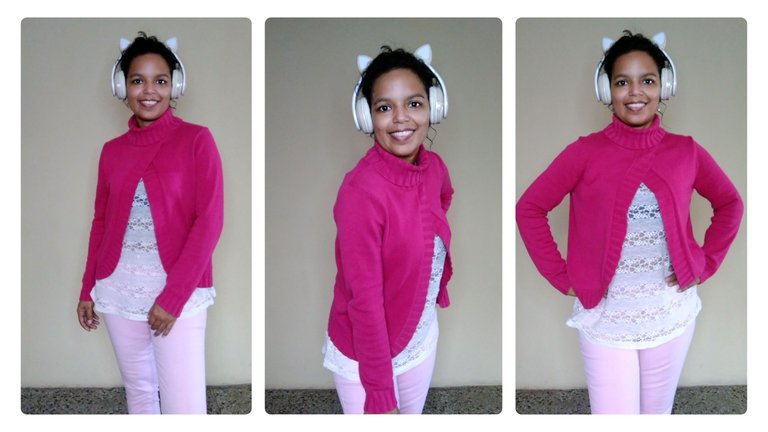 Para despedirme de esta pasarela está blusita que me encanta, en una tela muy fresca. Esta pieza es muy versátil creo que me la he puesto con todo. Y se presta para cualquier ocasión gracias a su diseño de mangas y cuello.
To say goodbye to this runway this little blouse that I love, in a very cool fabric. This piece is very versatile and I think I've worn it with everything. And it lends itself to any occasion thanks to its sleeves and neckline design.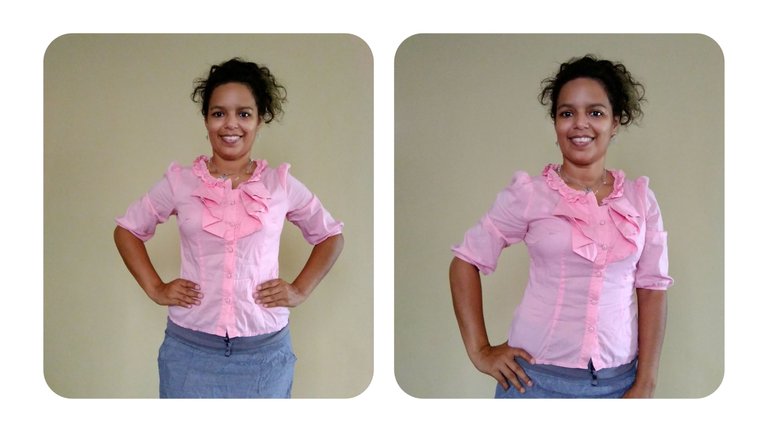 Con esto finalizó esta pasarela Pink.
This is the end of this Pink runway.
Como ven me encanta combinar colores, y si a mí me gusta eso basta para llevar puesta cualquier prenda. Mi mamá siempre me mira y me dice saldrás así y yo le respondo a mi me encanta claro que saldré así 😄😄😄
As you can see I love to combine colors, and if I like that it is enough to wear any garment. My mom always looks at me and tells me you will go out like this and I answer her I love it of course I will go out like this 😄😄😄.
Tengo prendas clásicas en colores negro, gris, celeste y esas por lo general las utilizo para darle un poco de formalidad a las combinaciones. ( Cuando por ejemplo debo asistir alguna reunión que deba parecer una persona adulta sería).
I have classic garments in black, gray, light blue colors and those I usually use them to give a little formality to the combinations (when for example I have to attend a meeting that I have to look like an adult person).
Me gusta la comodidad ante todo, mi preferencia serán las bermudas, faldas y zapatos deportivos. Esa es una línea a seguir mi marca personal, mi estilo.
I like comfort above all, my preference will be shorts, skirts and sneakers. That is a line to follow my personal brand, my style.
Espero más adelante mostrarles otras prendas de mi clóset, compartir ideas y estilos. Hasta una próxima entrega 💋
I hope later to show you other garments from my closet, share ideas and styles. Until next time 💋
Le extiendo la invitación a las chicas @helengutier2 y @alexa.art para que nos muestren todo lo pink que tengan en sus clósets.
---
¡Saludos mPB!
---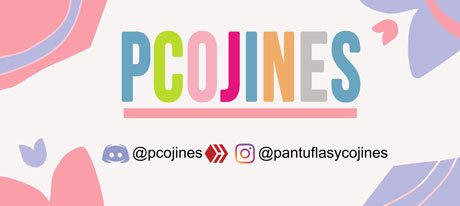 ---
Derechos Reservados®️ 2020
Traductor deepl
Imágenes propiedad de @pcojines
Banner y separadores diseñado con Photoshop
Fotos tomadas con teléfono Motorola Modelo E4