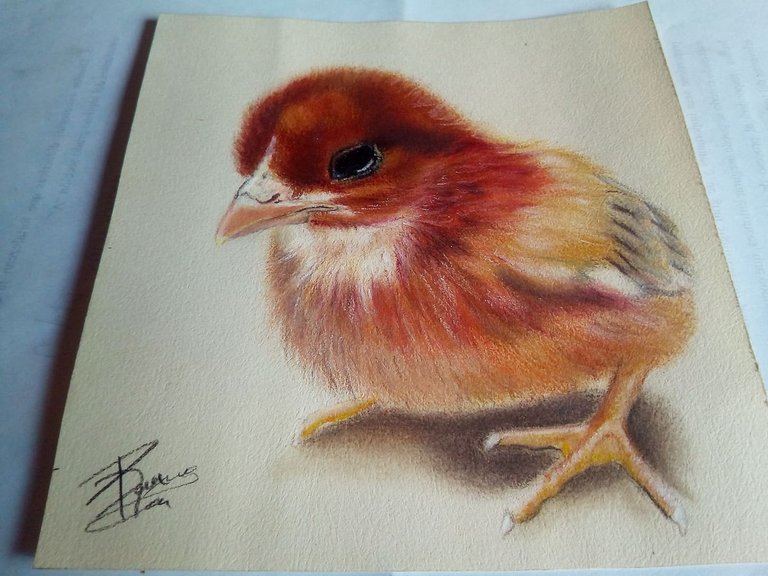 Hello friends, I hope you are very well. Today I want to show you a drawing that I made of a baby chicken that I have as a pet, it was born a few days ago and I wanted to draw it because I like its color and it was the only one that survived the incubation period. I hope you like how it turned out.
Hola amigos, espero que se encuentren muy bien. Hoy quiero mostrarles un dibujo que hice de un pollo bebé que tengo de mascota, nació hace pocos días y quise dibujarlo porque me gusta su color y fue el único que sobrevivió al período de incubación. Espero que les guste como quedó.

PROCESS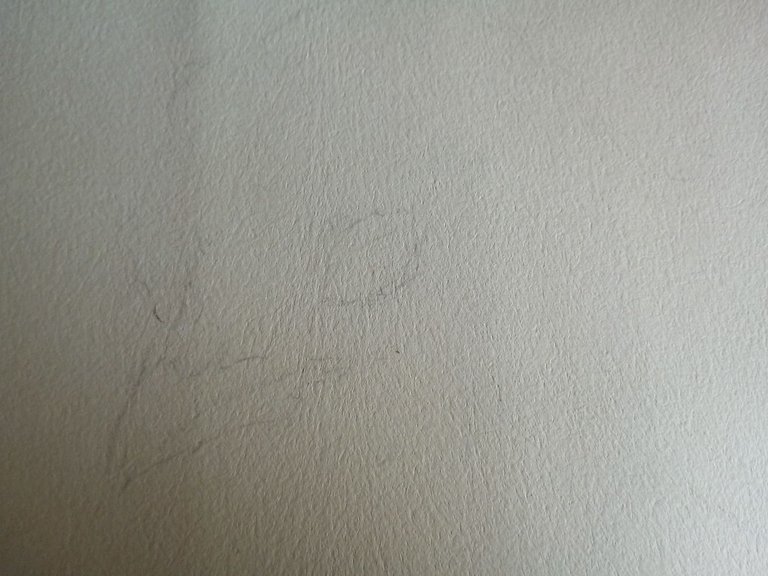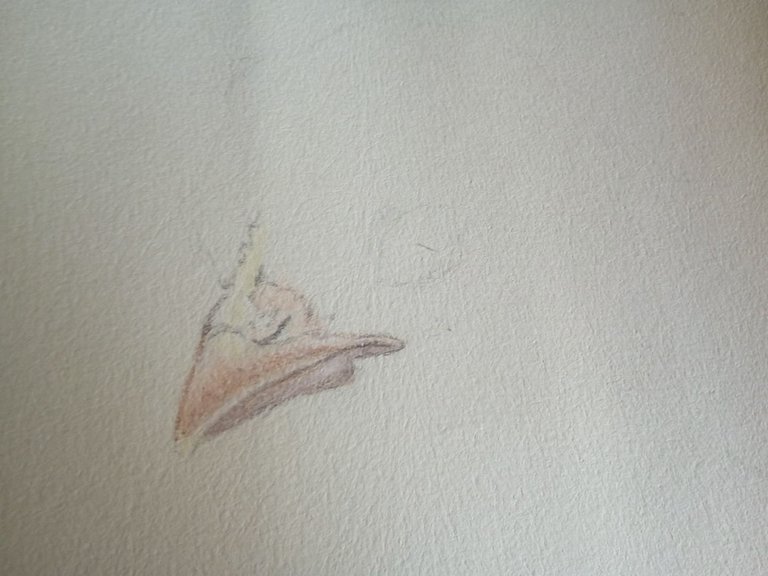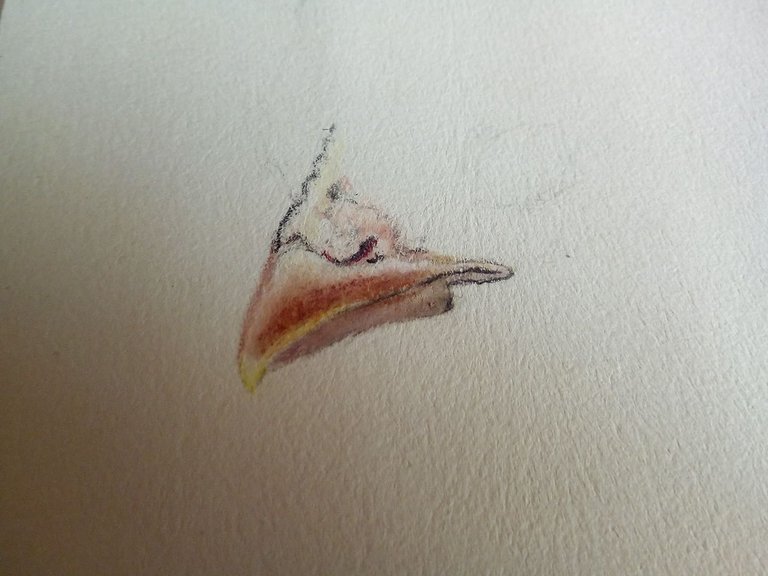 We start by drawing the silhouette with a soft pencil, we just have to make the line very soft since this paper is difficult to erase the trace of graphite because it tends to stain easily, so the lines we make must be very clear. We start by painting the beak of the chicken to have a guide to the size dimension.
Comenzamos dibujando la silueta con un lápiz suave, solo hay que hacer el trazo muy suave ya que este papel es difícil borrar el rastro de grafito porque suele mancharse con facilidad, así que las líneas que hagamos deben ser muy claras. Comenzamos pintando el pico del pollo para tener una guía de la dimensión del tamaño.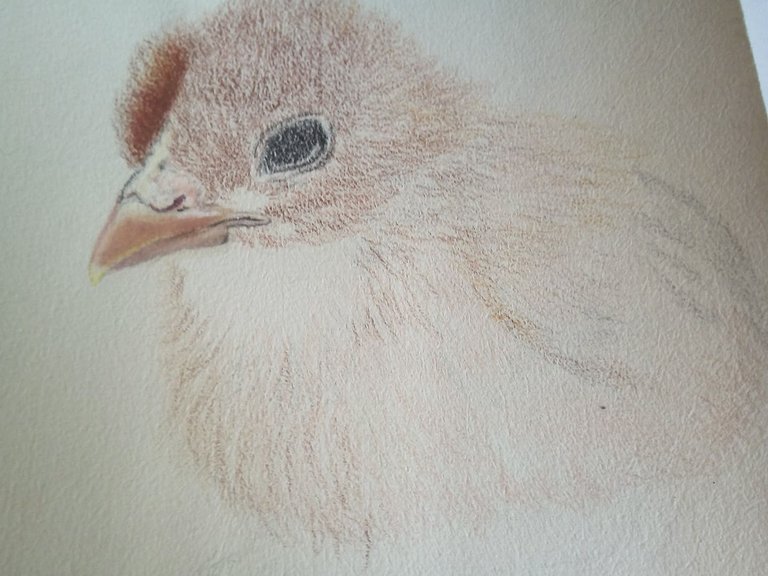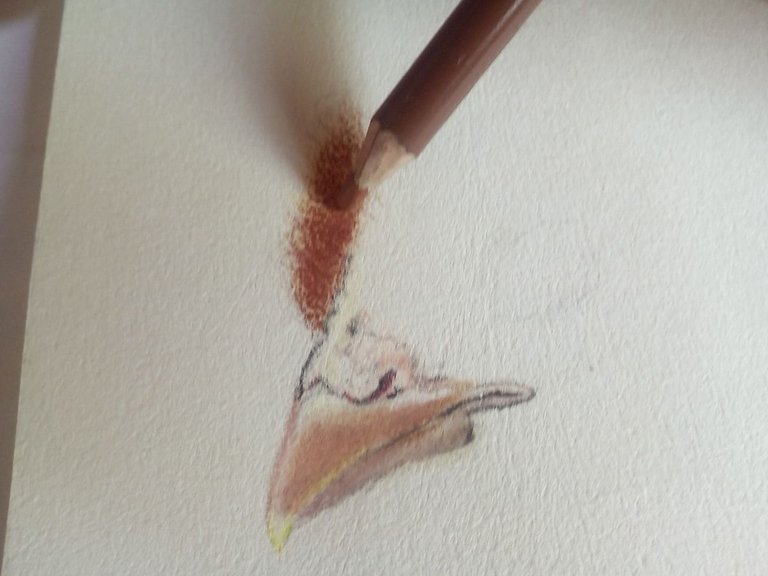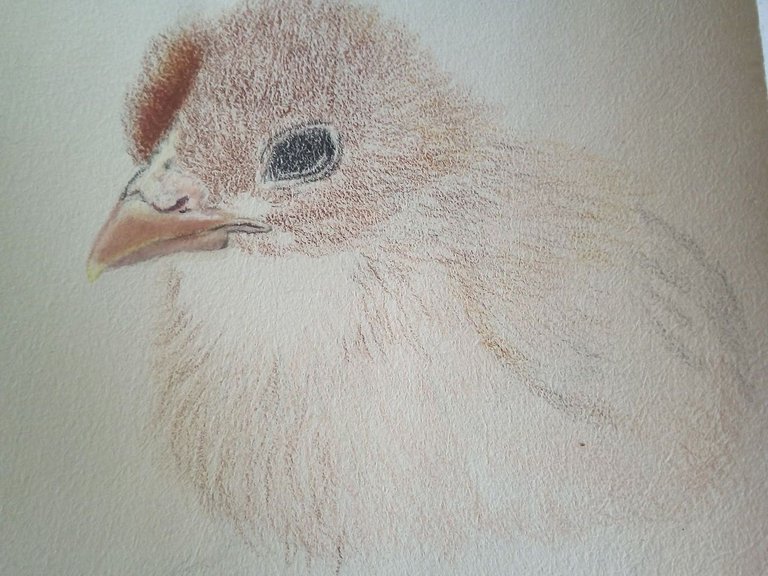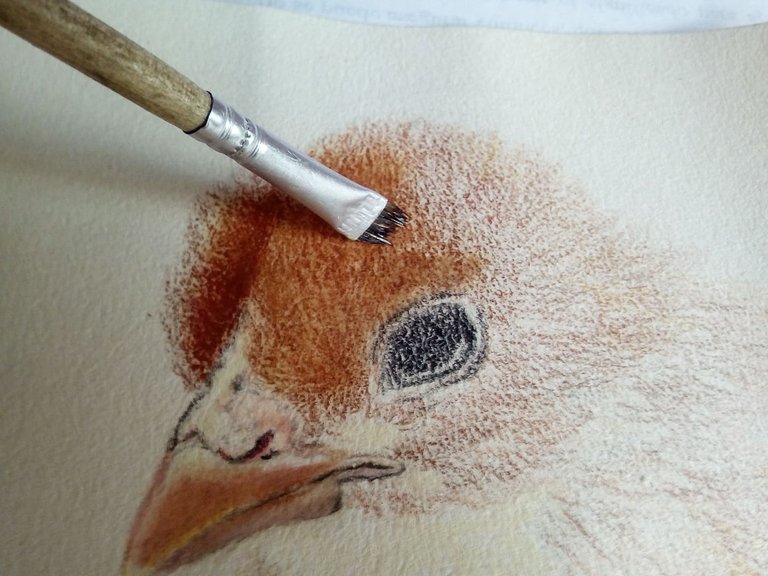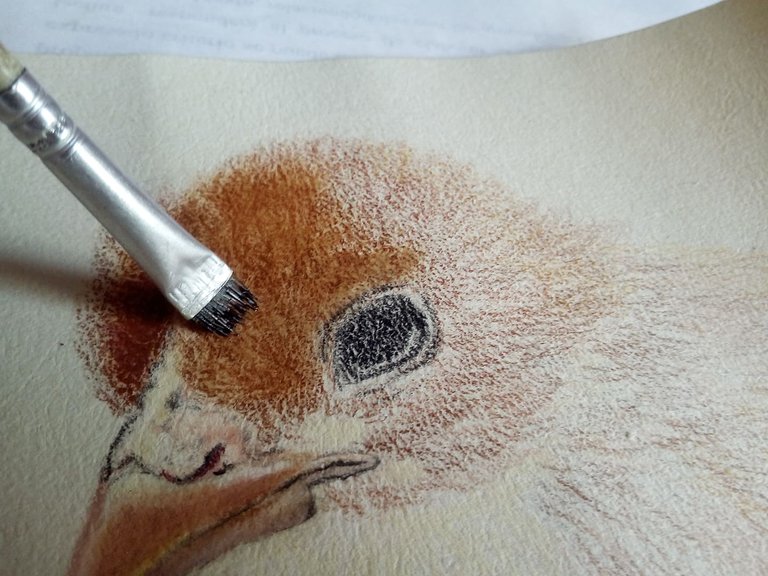 Once we start to draw the feathers we do it with soft strokes, never pressing the color too hard so as not to spoil the sheet and it will be easier to blur and blend. We use a light brown as a base color and change to an ocher tone and some light pastel, with a brush we blur the line and thus we can continue painting and improving the tonality of the feathers.
Una vez comenzamos a dibujar las plumas lo hacemos con trazos suavez, nunca presionando demasiado fuerte el color para no estropear la hoja y asi será mas facil difuminar y mezclar. Utilizamos como color base un marron claro y cambiamos a un tono ocre y algo de pastel claro, con un pincel difuminamos el trazo y así podemos seguir pintando y mejorando la tonalidad de las plumas.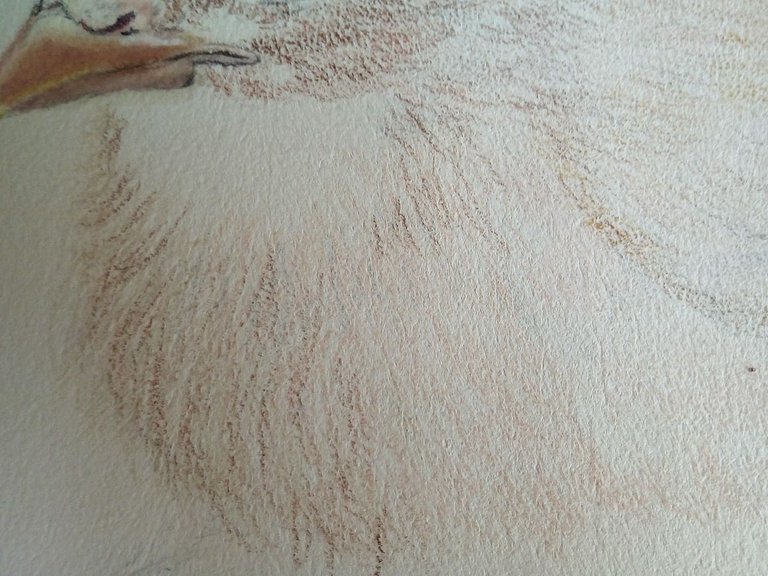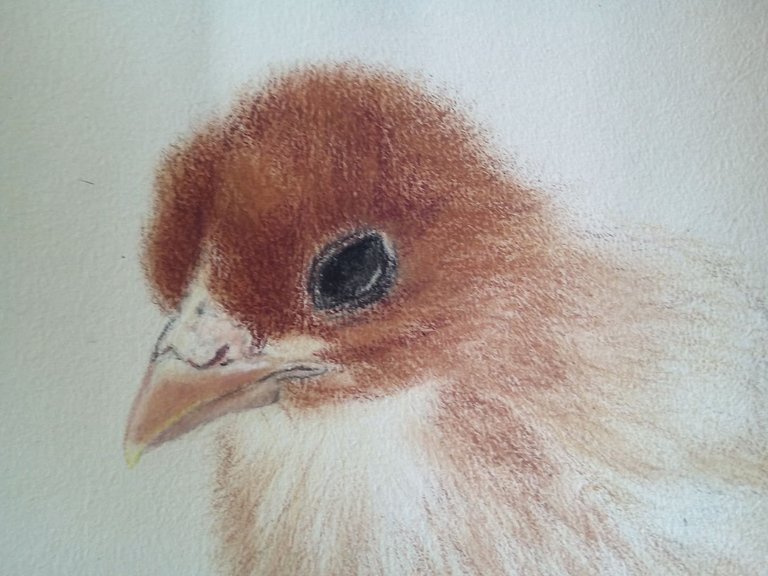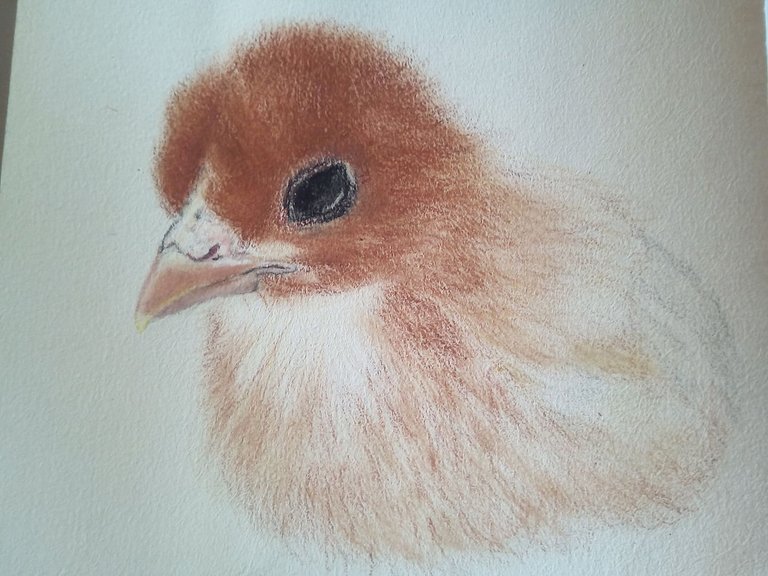 Then we begin the same process at the rest of the body to draw the feathers. We use a light base color and from there we are contrasting with other tones, as you can see in the image you can see short but quick strokes, because chickens when they are small do not yet develop plumage but have hair.
Después comenzamos el mismo proceso al restop del cuerpo para dibujar las plumas. Utilizamos un color base claro y de ahí vamos haciendo contraste con otros tonos, como pueden ver en la imagen se puede apreciar trazos cortos pero rápidos, porque los pollos cuando estan pequeños aún no desarrollan plumaje sino que tienen pelo.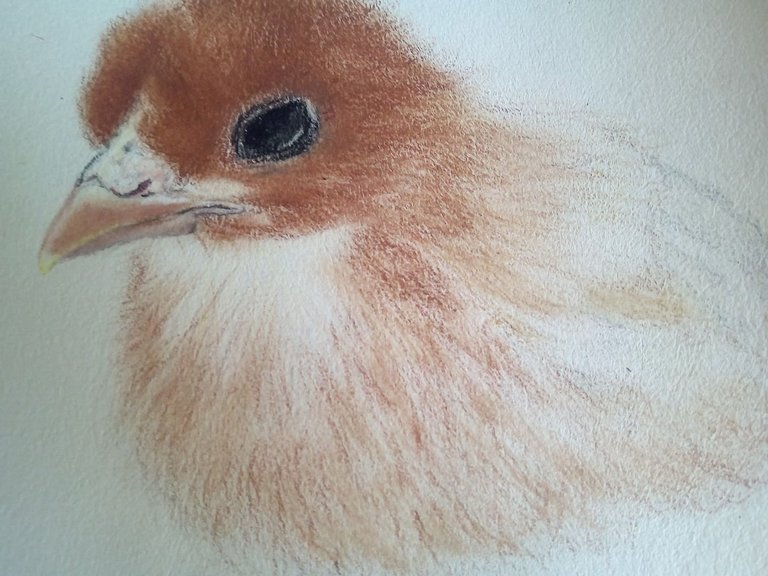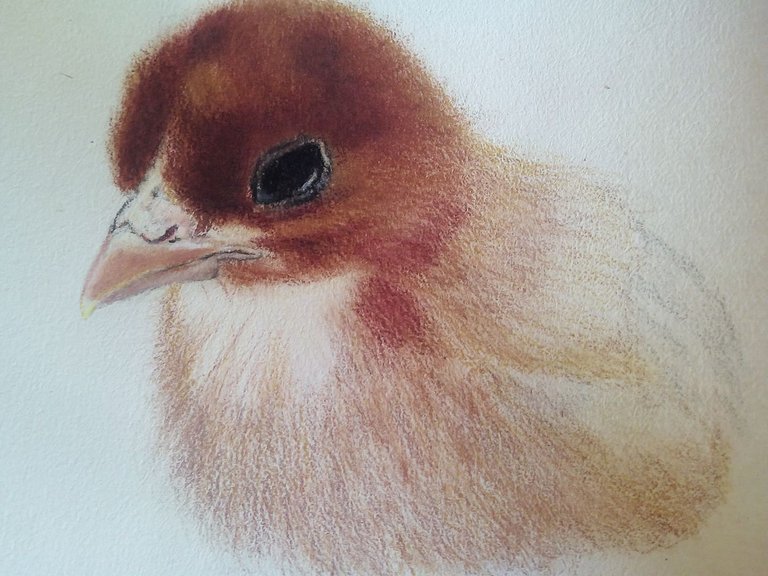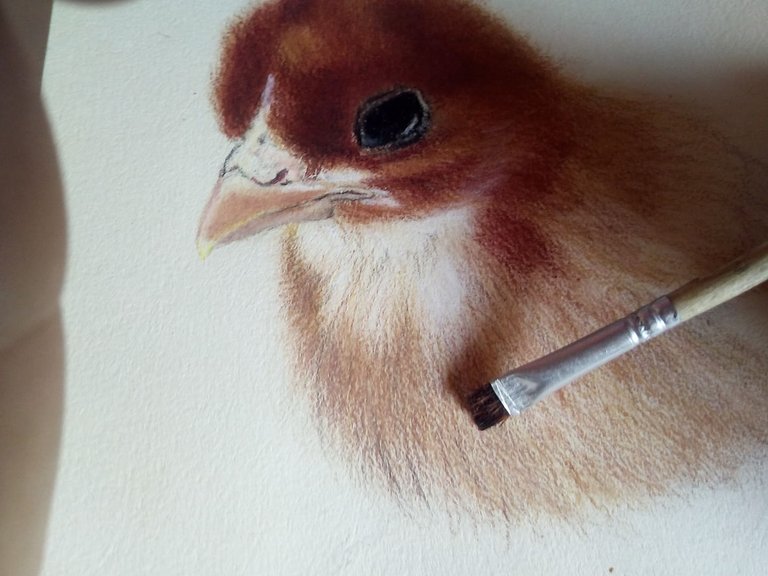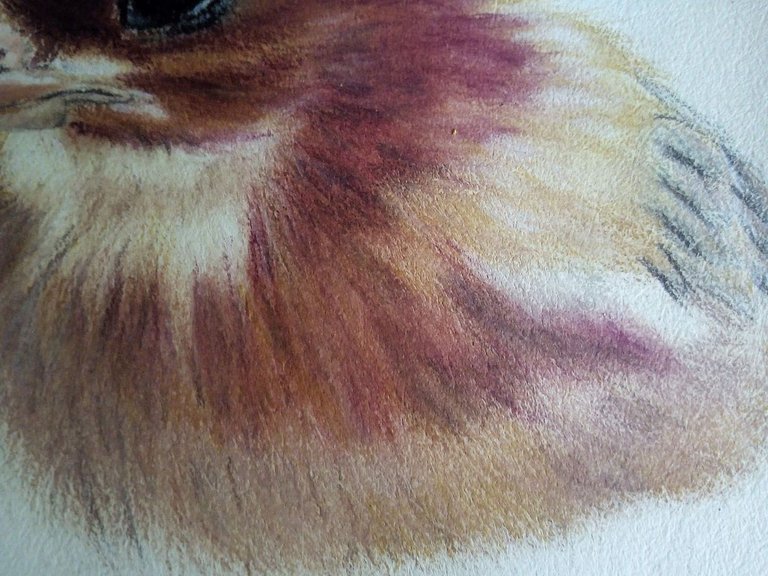 Once we have painted as we said before we begin to blur again with a brush. The objective is to be able to darken some parts and where it is illuminated to reinforce with other lighter tones.
Una vez hayamos pintado como dijimos anteriormente comenzamos a difuminar otra vez con un pincel. El objetivo es poder oscureces algunas partes y donde quede iluminado reforzar con otros tonos más claros.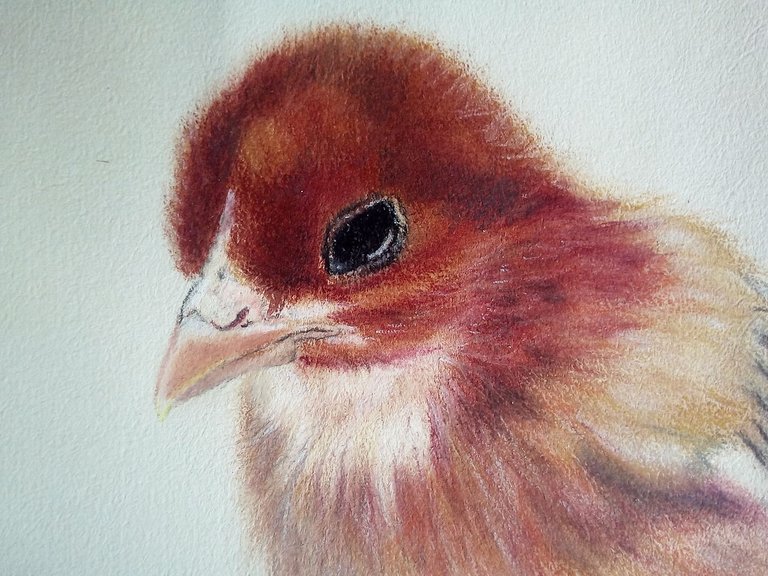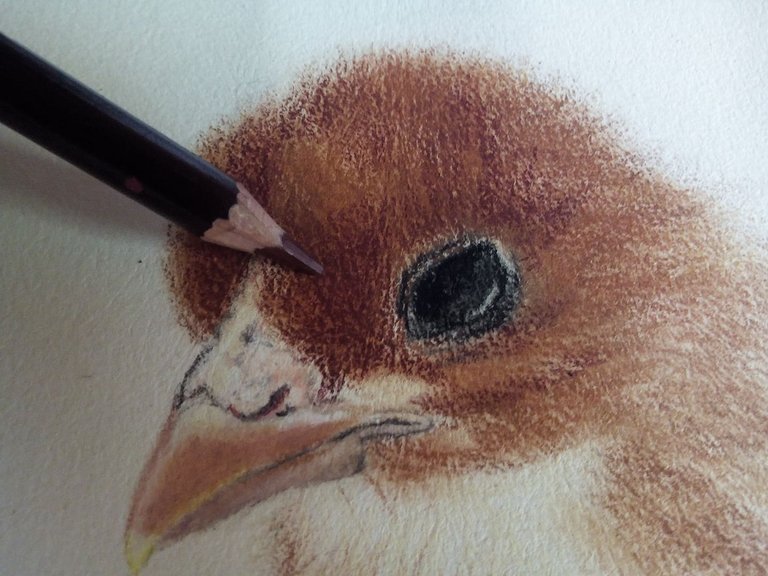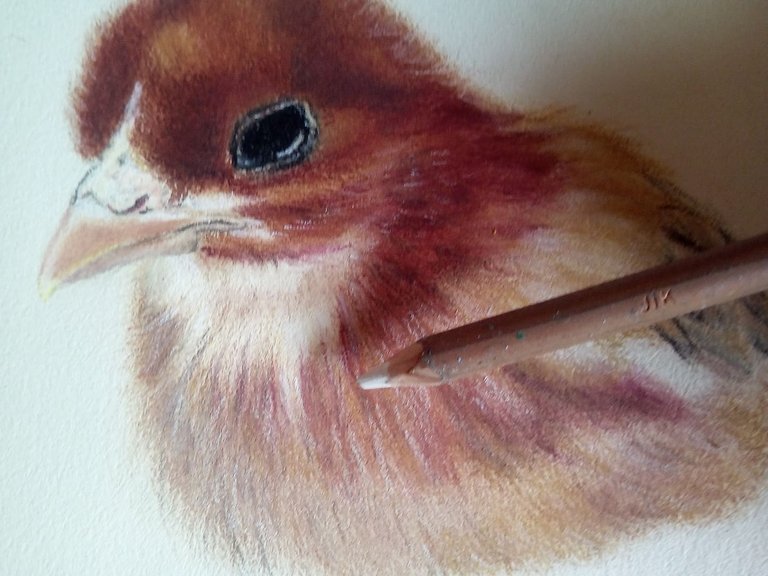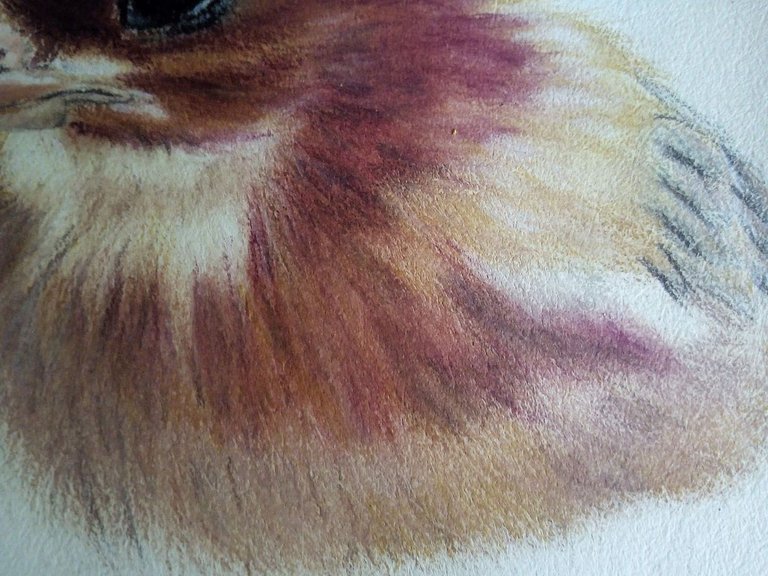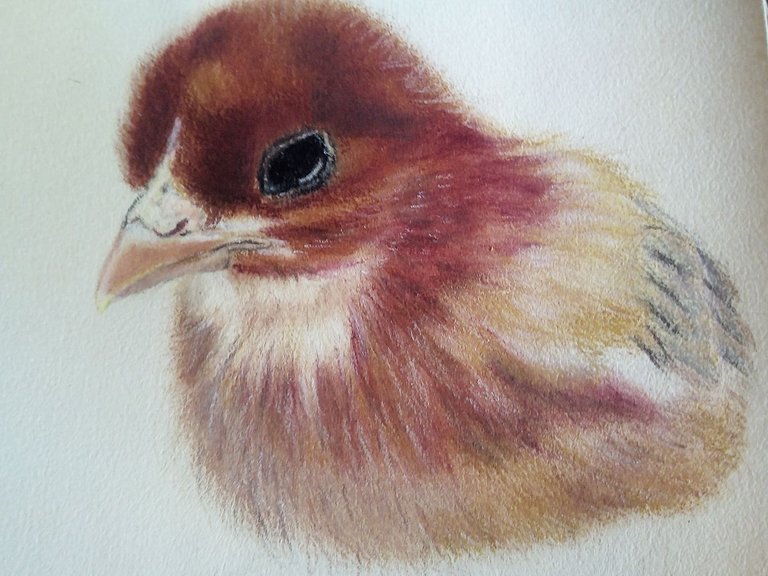 To finish we go back to review dark parts of the head and the plumage of the lower part. We blur and with a pastel white color we highlight the white feathers in the entire area where there is lighting and thus make a contrast between the colors of the feathers.
Para finalizar volvemos a repasar partes oscuras de la cabeza y del plumaje de la parte inferior. Difuminamos y con un color blanco pastel resaltamos las plumas de color blanco en toda la zona donde haya iluminación y así hacer contraste entre los colores de las plumas.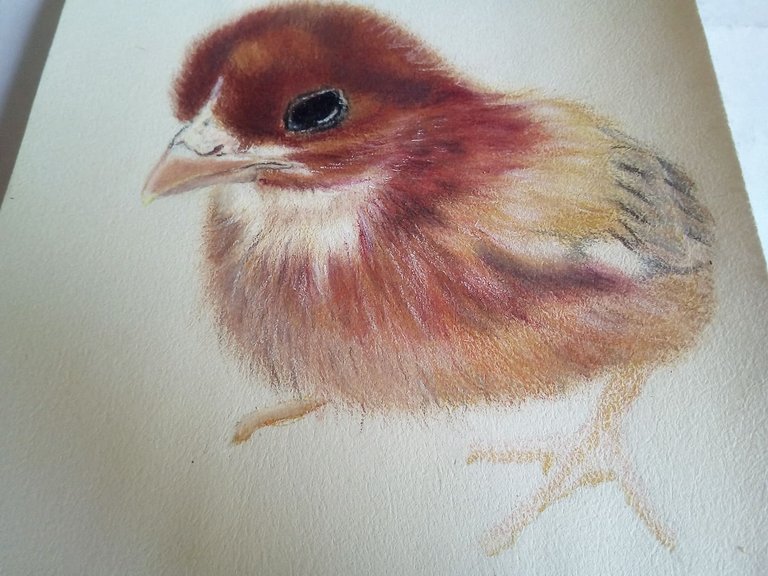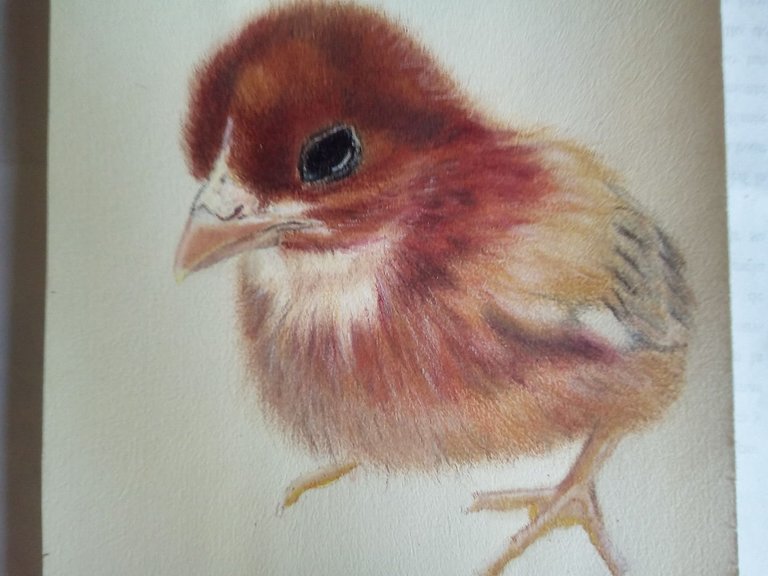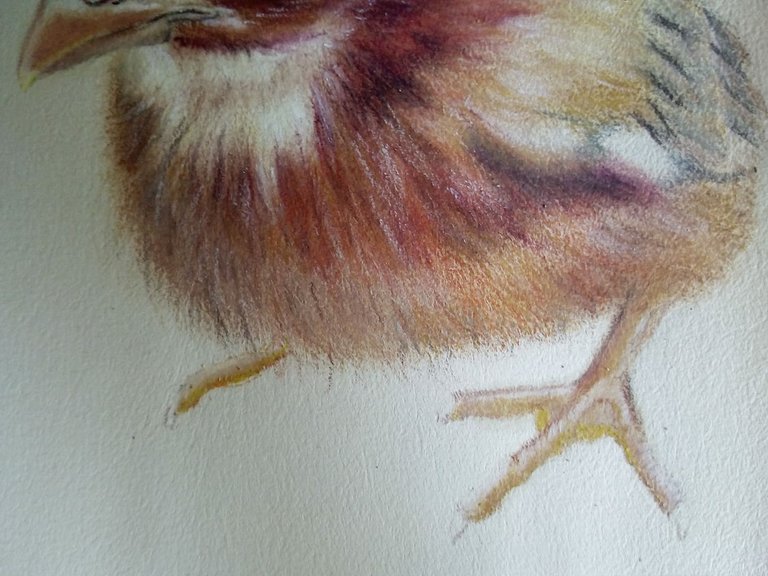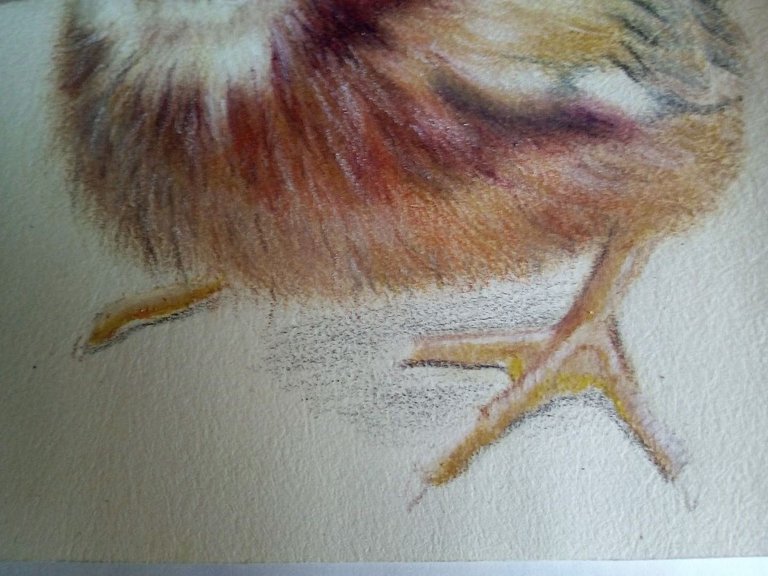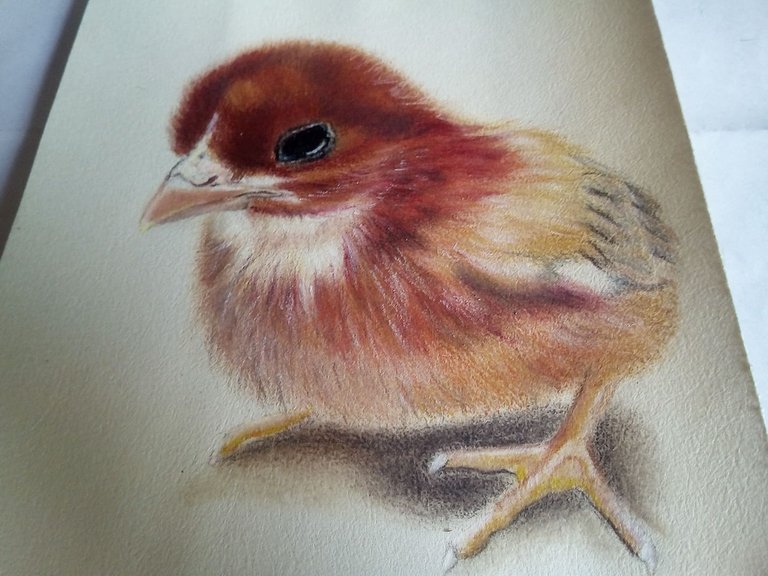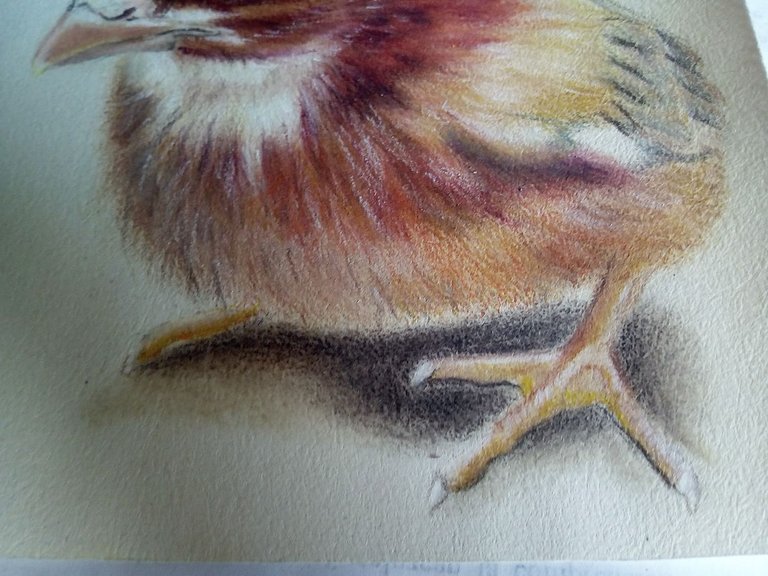 In the last place we draw the legs using yellow, orange and ocher tones, and some white pastel to make the illuminated parts, we finish our drawing by doing the rest with a dark brown and black pencil, then with the brush we blur the shadow and so on achieve a 3D effect.
En último lugar dibujamos las patas utilzamos tonos amarillos, naranjas y ocre, y algo de pastel blanco para hacer las partes iluminadas, finalizamos nuestro dibujo haciendo la sobra con lápiz de color marrón oscuro y color negro, luego con el pincel difuminamos la sombra y así lograr un efecto 3D.

FINAL WORK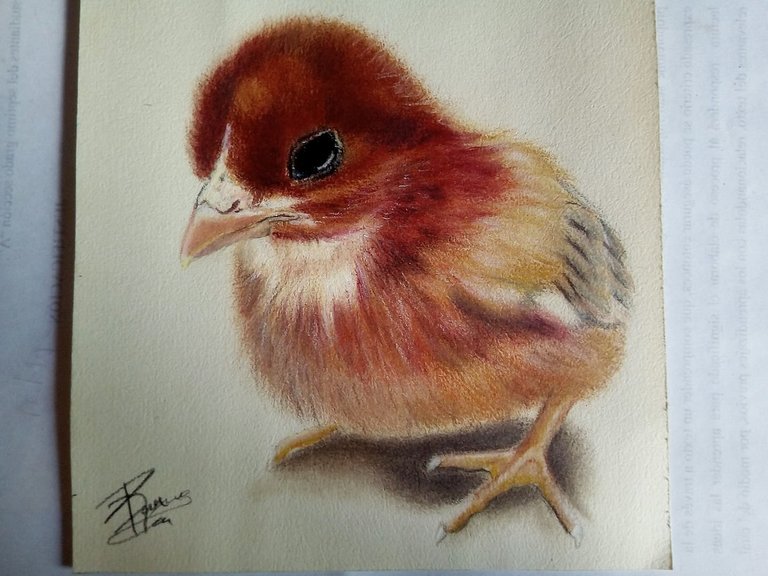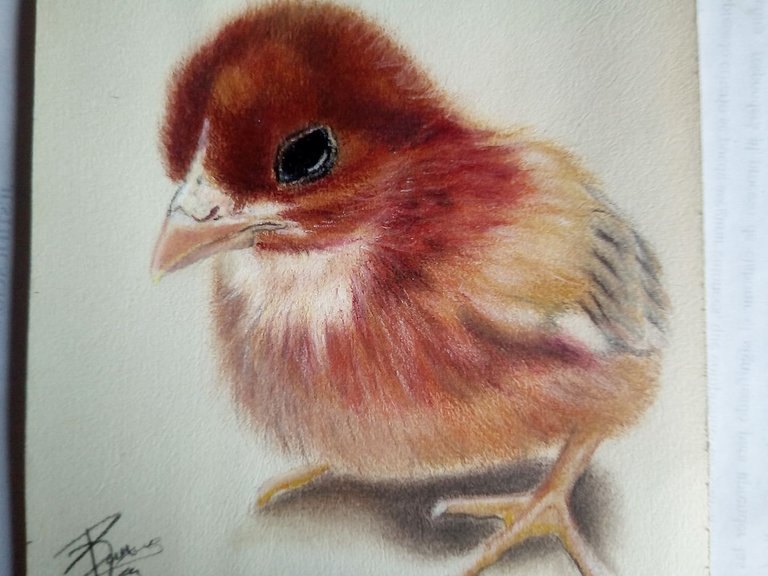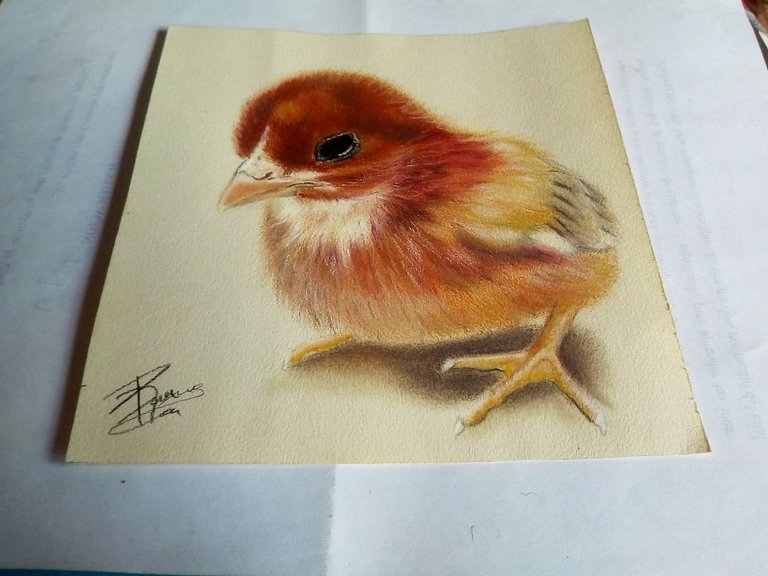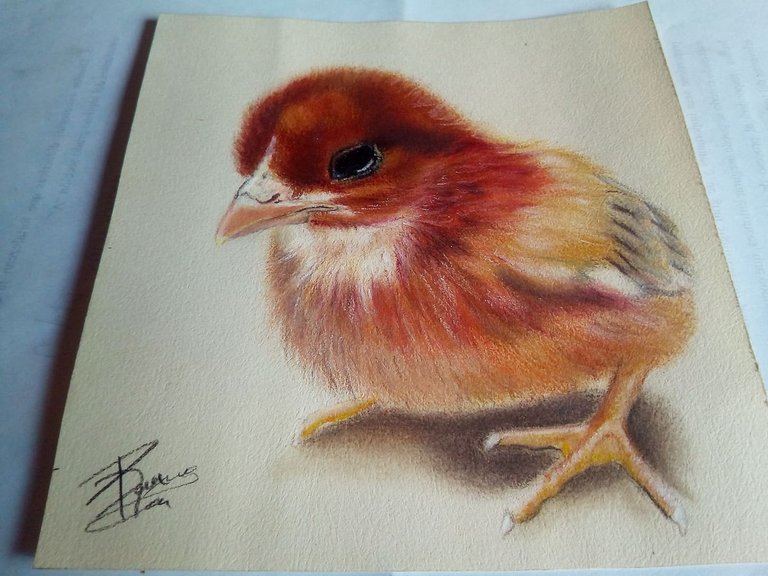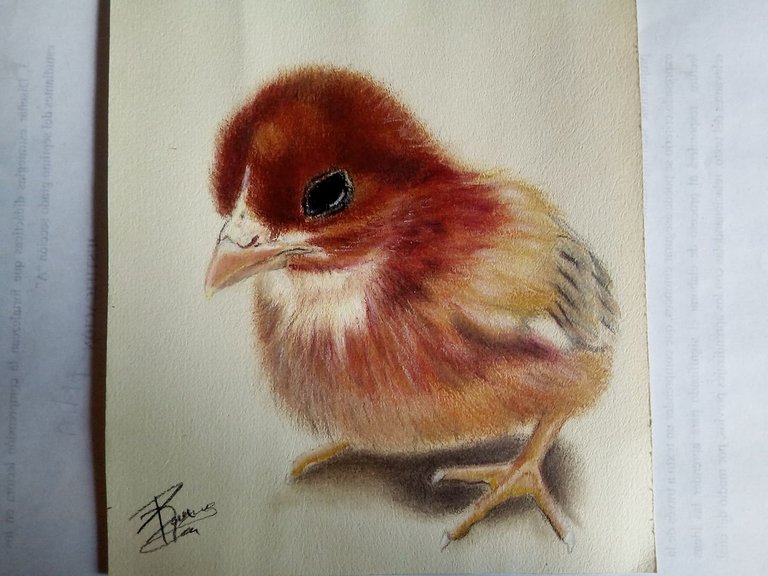 This is how the final drawing has been, as you can see thanks to the shadow I made and the orientation of the camera lens, the 3D effect can be achieved that gives more life to the realistic drawings. I took many photos of the model but he was very restless and did not allow himself to be photographed. I hope you liked this tutorial, I really like to draw animals especially my pets and those of my friends. Do not forget to comment how you found it or if you have any suggestions to make. I say goodbye to you soon.
Así ha quedado el dibujo final, como pueden observar gracias a la sombra que hice y la orientación del lente de la cámara se puede lograr el efecto 3D que le da más vida a los dibujos realistas. Le tomé muchas fotos al modelo pero era muy inquieto y no se dejaba fotografiar. Espero que les haya gustado este tutorial, me gusta mucho dibujar animales especialmente a mis mascotas y las de mis amigos. No olviden comentar que tal les ha parecido o si tienen alguna sugerencia que hacer. Me despido hasta pronto.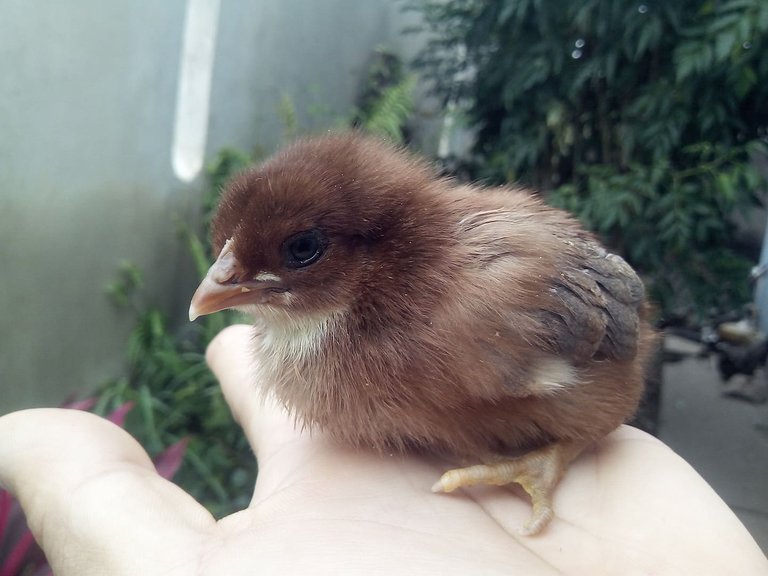 Here is the model, I named him Claudio, like the Looney Tunes hehe
Aquí esta el modelo, le puse de nombre Claudio, como el de los Looney Tunes jeje