¡Hola Hivers! ¡¡Feliz día de la amistad y del amor!! Todo lo reflejado en esta publicación son suposiciones, pero que pueden ser una verdad palpable para muchos enamorados, porque todo comienza por un inicio... ¿no? y así se puede dar en el amor. Y tú puedes ser testigo presencial de ese hermoso momento que marcará el futuro de dos seres.
¡Hi Hivers! Happy friendship and love day !! Everything reflected in this publication are assumptions, but that can be a palpable truth for many lovers, because everything begins with a beginning ... right? and so it can be given in love. And you can be an eyewitness of that beautiful moment that will mark the future of two beings.
EL CRUCE DE MIRADAS... ¿QUE PASA ENTRE ELLOS?
(DIBUJO ORIGINAL)
THE CROSSING OF LOOKS... ¿WHAT HAPPENS BETWEEN THEM?
(ORIGINAL DRAWING)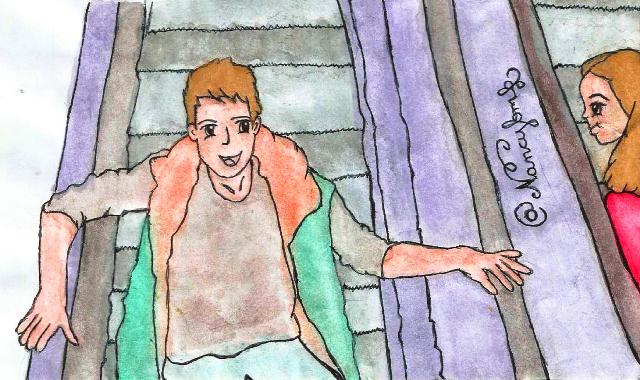 Ilustración hecha por @nancybmp.
(RELATO ORIGINAL)
(ORIGINAL STORY)
Si estuvieras dentro de un centro comercial (Entretenido para muchos... absorbido y estresante para pocos, entre las compras y las ofertas). Durante todo ese proceso caminas por los pasillos centrales y es casi inevitable ir contemplando el cursor de la vida en ese lugar: las risas de los niños comiendo un helado, las fabulas de los ancianos tomándose un rico café, los músicos tocando temas de promoción, recién casados viendo artefactos para el hogar, comerciantes serios negociando con los proveedores, novios agarrados de la mano y con ese brillo en los ojos.
If you were inside a shopping center (Entertaining for many... absorbed and stressful for few, between purchases and offers). During all this process you walk through the central corridors and it is almost inevitable to contemplate the cursor of life in that place: the laughter of children eating ice cream, the fables of the elderly having a delicious coffee, the musicians playing promotional songs, newlyweds looking at home appliances, serious merchants negotiating with suppliers, boyfriends holding hands and with that sparkle in their eyes.
Todo eso pasando en un mismo instante... pero en medio de todo este movimiento hay algo que llamó tu atención de una manera especial. Los ojos están puestos en la escalera eléctrica (literal). Un prospecto masculino va bajando a planta baja y un prospecto femenino va subiendo a los pisos más altos. Sus miradas se cruzan, pero se mantiene en el trayecto con sonrisa picarona y mejillas sonrojadas. como complemento.
All this happening in the same moment... but in the middle of all this movement there is something that caught your attention in a special way. Eyes are on the (literal) escalator. A male prospect moves down to the ground floor and a female prospect moves up to the higher floors. Their eyes meet, but he stays on the road with a mischievous smile and flushed cheeks. as a complement.
¿Qué les pasará estos tortolos? ¿Será esto el comienzo de un acercamiento más allá del ámbito de amistad?, Porque todo comienza con un inicio... ¿no? Así se puede dar en el amor. O ¿Todo quedará solo en un juego de miradas? La respuesta a todas estas interrogantes solo ellos la pueden responder con el tiempo, que es perfecto.
¿What will happen to these tortolos? ¿Is this the beginning of an approach beyond the scope of friendship ?, Because everything begins with a beginning... ¿right? So you can give in love. Or ¿will everything be just a game of looks? The answer to all these questions only they can answer in time, which is perfect.

Entre los materiales utilizados, tenemos:
- Lápiz de Grafito.
- bolígrafo
- Hoja de máquina.
- Sacapuntas
- Borrador.
-Acuarelas.
- Expresarme a través de los colores y el escrito.
- Afinidad por la diversión.
Among the materials used, we have:
- Graphite pencil.
- ballpoint.
- Machine sheet.
- Sharpener.
- Eraser.
- Watercolors.
- Express myself through colors and writing.
- Affinity for fun.

¡Acompáñame a conocer el proceso de realización de este dibujo!
Etapa 1; Me concentré en capturar el boceto de estos dos observadores empedernidos.
Join me to learn about the process of making this drawing!
Stage 1; I concentrated on capturing the sketch of these two inveterate observers.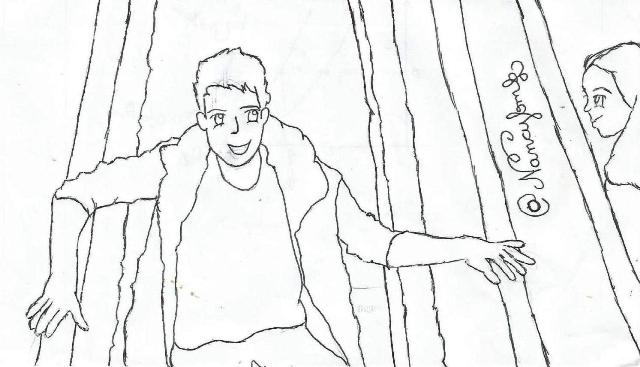 ilustración hecha por @nancybmp.
Etapa 2;Fui dando las características que quería, en su color de piel y de cabello.
Stage 2; I gave the characteristics that I wanted, in their skin and hair color.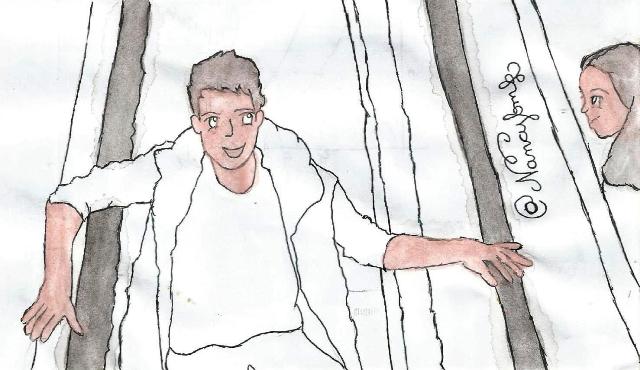 Ilustración hecha por @nancybmp.
Etapa 3; Ya va agarrando forma y color la vestimenta de ambos.
Stage 3; The clothing of both is already taking shape and color.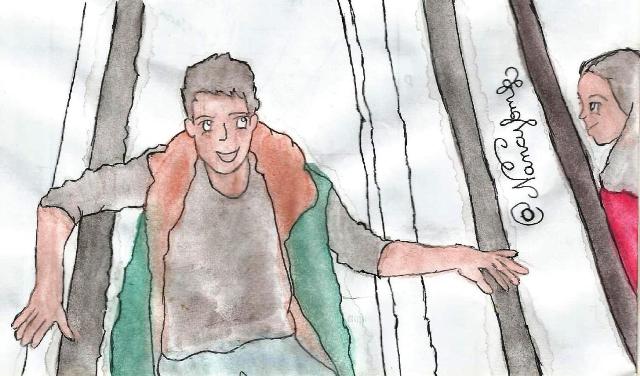 Ilustración hecha por @nancybmp.
Etapa 4, A medida que iba desarrollando el dibujo fue surgiendo el entorno por todo el espacio en blanco. Procedí a resaltar la estructura de la escalera eléctrica y con colores llamativos
Stage 4, As I developed the drawing, the environment emerged throughout the blank space. I proceeded to highlight the structure of the escalator and with bold colors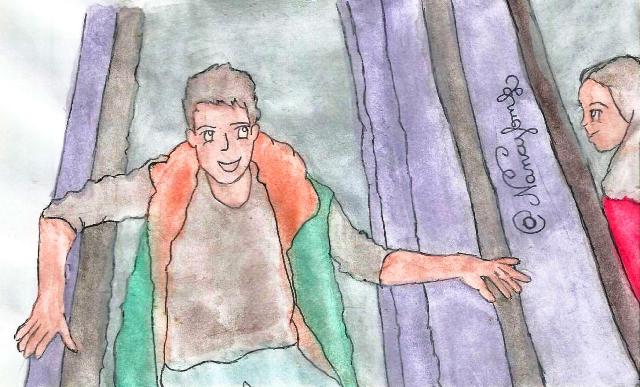 Ilustración hecha por @nancybmp.
Etapa 5; Los primeros retoques con acuarela de los escalones de la escalera eléctrica.
Stage 5; The first watercolor touch-ups of the escalator steps.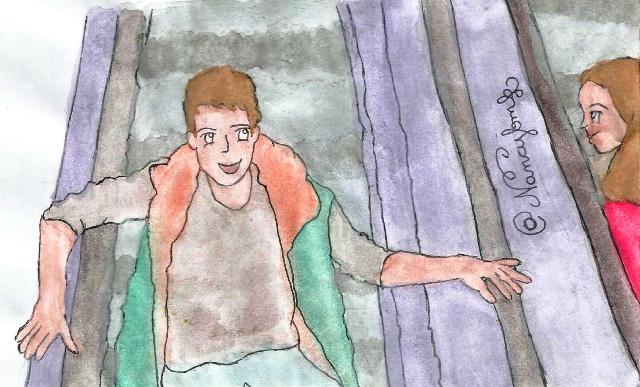 Ilustración hecha por @nancybmp.
Etapa 6; Juegue un poco resaltando con marcador negro los ojos. También puede servir el bolígrafo negro para marcar todas las lineas ya preestablecidas.
Stage 6; Play around by highlighting the eyes with black marker. The black pen can also be used to mark all the lines already established.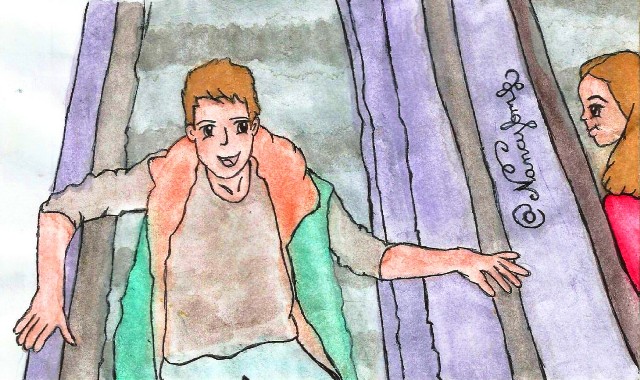 Ilustración hecha por @nancybmp.
Etapa 7, Aquí se puede apreciar más detenidamente los detalles en el dibujo de manera general.
Stage 7, Here you can see more carefully the details in the drawing in a general way.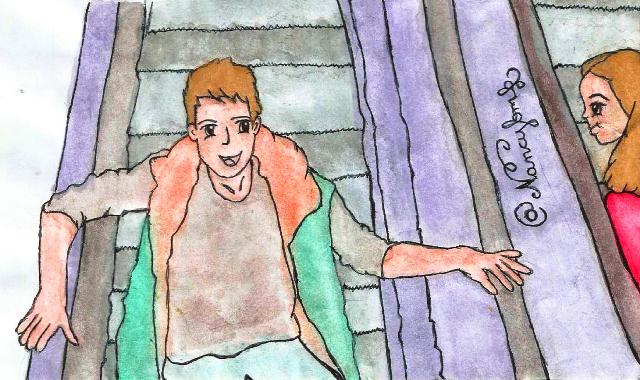 Ilustración hecha por @nancybmp.
Ahora si ¡Decretado por terminado el dibujo!
¡Muchas gracias por el apoyo a todas las comunidades presentes!
Copyright @nancybmp - All rights reserved
¡MI MOTIVACIÓN ES QUE DISFRUTES DE MI POST!.
¡GRACIAS POR SU APOYO!
¡NO TE OLVIDES DE SEGUIRME Y VOTARME!
¡UN FUERTE ABRAZO! @nancybmp