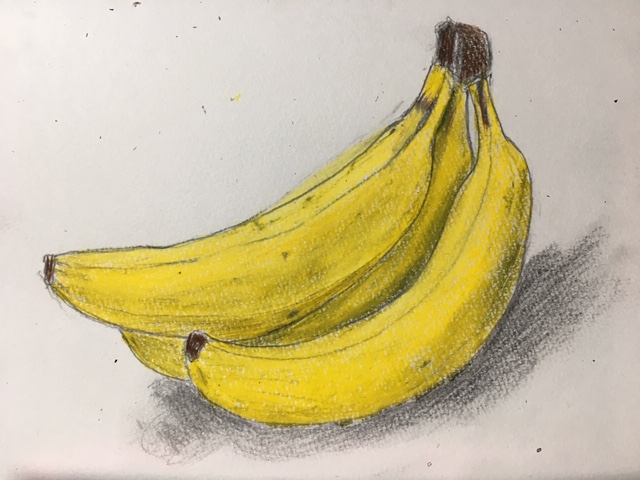 (ENG)
Today I did a sketch of a banana. Come to think of it, I love flowers.
I often do sketches of flowers, but not so much of fruits and vegetables.
I didn't do it. Some things are difficult, like leafy greens, but the bananas I painted today
I think something is perfect for the sketching beginner.
First I got the bite with a pencil, decided on a shape and shaded it. These things are three-dimensional.
It's important to put it on. And for coloring, I used a paper roll color pencil called Dermatograph. At the end, I was worried about the shape, so I fixed it, but I managed to draw a sketch of a banana.
(JPN)
今日はバナナのスケッチをしました。考えてみれば、私はお花が好きで
お花のスケッチはよくしますが、こういう果物や、野菜などのスケッチはあまり
やっていませんでした。葉物野菜など難しいのもありますが、今日描いたバナナ
なんかはスケッチ初心者にもぴったりだと思います。
最初に鉛筆でアタリを取り、形を決めて、陰影をつけました。こういうのは立体感を
つけるのが大事です。そして着色はダーマトグラフという紙巻の色鉛筆を使いました。最後に形がいびつなのが気になって修正しましたが、なんとかバナナのスケッチが描けました。