(A post in Spanish and English / Una publicación en Español e Inglés)
¡Hola, comunidad de HIVE! Si están leyendo esto es porque han llegado a mí y les causa curiosidad ver quién es esta persona que puso un titulo tan pop para un post introductorio, me llamo Jesús Abraham, y básicamente estoy aquí por las ganas de escribir sobre música y literatura en este sitio, tomando en cuenta que, ante todo, son mis opiniones, las cual muchas veces no tienen sentido.
Hello, HIVE community! If you're reading this it's because you have found this and you're curious to see who is this person that made such a basic pop title for an introductory post, I'm Jesús Abraham, and basically I'm here due to my desire to write about music and literature in this plataform, taking in consideration that, first of all, they're my opinions, which, most of the time, they don't make any sense.
Y es que en realidad la música y la literatura no tienen mucho sentido, incluso si les damos aquella aura mística de sus condiciones como artes. Nos olvidamos también que son entretenimiento, y el propósito detrás de mis reseñas y textos es eso, que entretengan y den risa, también que emocionen, pero sobre todo: qué me den dinero que me permitan compartir mi amor por estas dos cosas que llenan nuestra vida.
But it turns out that music and literature really don't make any sense, even if we give them that mystical aura about their condition as arts. We tend to forget that they're also entertainment, and the purpose behind my reviews and texts is precisely that, to entertain and get you to laugh, also to move you emotionally, but most of all: to give me money to allow me to share my love for these two subjects that fulfill our life.
Desde que era un adolescente con problemas de autoestima (menos mal ahora solo soy un adulto con problemas de autoimagen) siempre me llamaron la atención las reseñas musicales con toques de humor que no pierden el punto del tema. Leerlas era mi refugio y mi manera de pasar tiempo en internet para no lidiar con el aburrimiento. Luego, dos años más tarde, en un arrebato de ganas por entender aún más una canción, comencé a escribir cuentos para crear historias que me conmovieran como me conmovió aquel tema.
Ever since I was a teenager with self esteem issues (fortunately now I'm just an adult with self image issues) it always caught my eye those music reviews with glimpses of humor that don't miss the point they try to get. Reading them was my refuge and my way to pass time online to distract myself from boredom. Then, two years later, in an impulse to try to understand a song even more, I started to write short stories to create ideas and plots that moved me like that song did.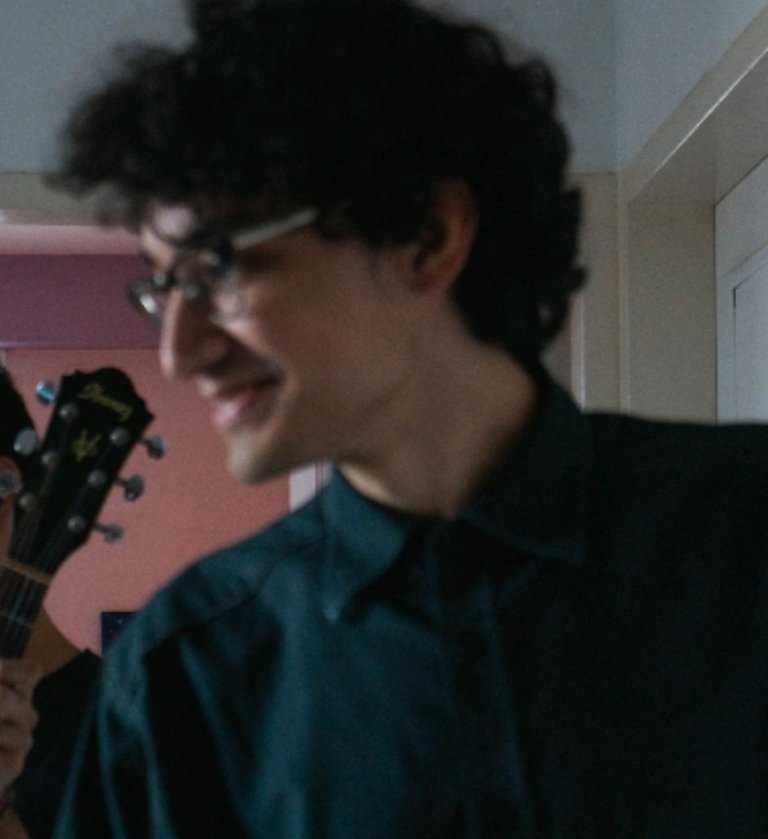 [ese soy yo en la foto. No la guitarra, el tipo borroso. / That's me in the picture. Not the guitar, the blurry guy.]
Por ello, tengo los planes de escribir aquí sobre cosas que me intrigarían como lector y espero que también ustedes sean parte de un viaje virtual hacia ficciones que los mantenga en vilo, y a reseñas sobre lanzamientos musicales conocidos y no-tan-conocidos, para que los lean, los comenten y den también su feedback, porque no es tan gracioso hablar solo (bueno, sí, pero depende del contexto).
That's why I have the plans of writing here about things that would intrigue me as a reader and I hope that you too will be part of a virtual trip to fictions that keep you interested, and to reviews about well known and not-too-known music releases, for you to read, to comment and give feedback, because it's not so funny to talk all alone (well, it is, but it depends on the context).
Esto es todo por ahora, ¡nos vemos luego!
This is all for now, see you later!