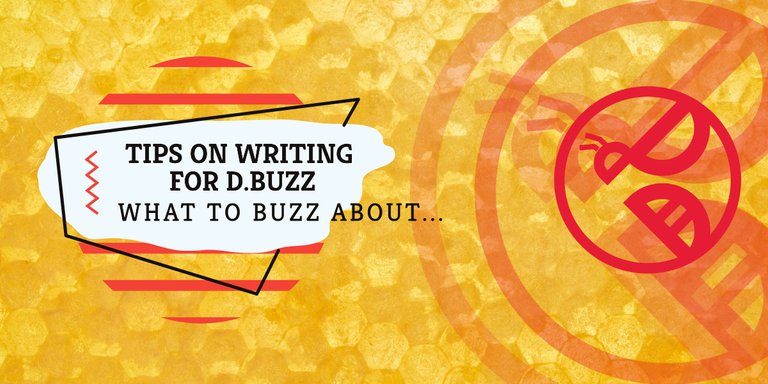 Tips on writing for D.Buzz, What to Buzz about...
We've all sat there and looked at a blank screen and said OMG, what to say. This is a writer's worst fear. However with a couple of starting ideas you'll be well on your way to typing out engaging content.
Below you'll find 18 ideas on topics you can post about on D.Buzz.
Lets Dive on in!
---
1 : Take a poll about something
This is a classic engagement method to allow you to ask your audience questions and get feedback from.
---
2 : Get a Testimonial from somebody
Are you posting about a Product or Service? Just Buzz that good recommendation you got. You can get a nice follow-up and help spread your message!
---
3 : Provide some tips and tricks
Chances are good you know something about something. Share that knowledge with the community and make a short buzz about it. It's a great way to help your fellow HIVE users and increases your engagement!
---
4 : Promote a product or service
Sometimes it's good to just say you like this thing or that thing, or these things. Perhaps even you'd like to say you like to use D.Buzz ;) . Seriously there's a whole industry based upon content marketing in this way.
---
5 : Talk about topics that are trending
D.Buzz is a great platform to Notify other users and people about recent news. From who won the Golden Globe awards, to breaking news that people should be aware about.
---
6 : It's a classic but motivational quotes.
Anytime I think of motivational quotes I think of that Hang on a telephone line with the phrase "hang in there". lol. everybody needs a pickup now and then, and a good motivational quote helps people keep going! Just be sure to add in your own thoughts about the quote in the Buzz, that will make sure it's #OriginalContent.
---
7 : Post about opening your company
Is the place that you are working looking for employees? Are you looking for a new employee or contract worker or remote worker? D.Buzz could be a perfect place to get that message out.
---
8 : Holidays on social media
There are lots of crazy holidays out there, sometimes two or three per day, some obscure like national talk on elevator day, some more known like Christmas. These make great posts in leading up to and after these holidays!
---
9 : Some upcoming event
We are always going out to do things, these make great conversational starters and perhaps a way to PRE network with someone, that later you can link up with at an event that you're going to as well. Buzz about it and find out.
---
10 : Prelaunch / Teaser launches
Perhaps you have a new service or product that is coming out soon, Get some buzz going for the big launch day by doing a teaser launch. This has been used with great success in the past.
---
11 : Exciting visual content
Perhaps an info graphic or picture you made, even branded content, imagery stands out and gets a lot of media attention. A couple of well-placed images and you can be well on your way to high engagement.
---
12 : Share excerpts from your blog
We know you are are a prolific blog Writer and your content hits 2000 words each time. Consider taking a few small excerpts from this and scheduling a couple of Buzz's for the future to help promote this killer content!
---
13 : Is there a flash sale or promo code
This could be a code that you used to get a discount on something you offer, or perhaps you found a good discount code online for a service that a lot of your readers use. Post this discount code online and help your readers save!
---
14 : Memes and animated GIFs
Lol, the Internet was almost made for these things (and cat photos). Posting a Meme could be a great way to make use of a Buzz and brighten someone's day.
---
15 : Announcements about your brand
Does your company or product have a big announcement that's coming up? Again this would make for a fantastic Buzz to put on D.Buzz!
---
16 : News that is related to your industry
Have you've stumbled across an interesting piece of news that is related to your industry? A fantastic read on something that revolves around what you do? This could be fantastic content to share with your readers and chances are they are interested in it to. :)
---
17 : Ask a Question to get response
This is a great way to gather information from your audience but also push your engagement up. Everyone likes to answer questions and feel important because well, their voice is important.
---
18 : Tell a joke
If people are smiling, they are happy, if they are happy they want to hear what you have to say. Tell a joke and get people smiling!
---
I hope you found these 18 ideas to you get buzzing useful and, that when stuck with a blank screen next time you will not find that blank screen so scary anymore. :D
D.Buzz over and out.
---
---
Do you know what D.Buzz is?
D.Buzz is a censorship-resistant short form micro blogging platform that empowers you to share your thoughts in 280 characters or fewer.
If you haven't tried it, give it a buzz today!
@jacuzzi is the content creator of the graphics and text in this article. We strive to have a fun and neutral stance on topics. If you have any concerns with the content, please contact @jacuzzi or us for clarification.
---

---