My fascination for the digital world has existed for as long as I can remember, I remember how at a very young age, as a child I used to take scientific calculators or even a cash register that my mother had and although I did not even know the numbers and much less the use of these devices I turned them into my favorite toys, I would press keys and things would appear on the screen, the rest was taken care of by my imagination.
Mi fascinación por el mundo digital existe desde que tengo memoria, recuerdo como a una edad muy corta, siendo muy niño tomaba calculadoras científicas o incluso una registradora que tenía mi madre y aunque no sabía los números siquiera y mucho menos el uso de estos artefactos los convertía en mis juguetes favoritos, yo presionaba teclas y aparecían cosas en la pantalla, de lo demás se encargaba mi imaginación.
That was a long time ago and there were no cell phones with screens. Time has been in charge of evolving everything and now it is difficult not to look at a display during the day, I would even dare to say that we spend most of the day looking at a display, mostly our phone or computer and these seem to immerse us in a new world and different from the real one, so I dare to say that we all have a life in the virtual world.
Eso fue hace mucho y no existían los teléfonos celulares con pantallas. El tiempo se ha encargado de evolucionar todo y ahora es difícil que no mires un display durante el día, incluso me atrevería a decir que pasamos la mayor parte el día mirando un display, mayormente nuestro teléfono o computadora y es que estos parece que nos sumergen en un mundo nuevo y distinto al real, por eso me atrevo a decir que todos tenemos una vida en el mundo virtual.
Thinking about all this I have reflected that my virtual life is a disaster!!! maybe it is the fault of that same fascination and the amount of things that are available, I get involved in so many that in the end I dedicate very little to all of them individually, among these things of course is HIVE, I always want to write at least one article at a time but I end up immersed in so many things that I barely manage to read some articles of my friends. Another thing that I like and I have in the abandonment is a game that I once dedicated a lot of time to but then I left in an almost abandoned state. This is Old Schoold RuneScape
Pensando en todo esto he reflexionado en que mi vida virtual es un desastre!! tal ves es culpa de esa misma fascinación y la cantidad de cosas que hay disponibles, me involucro en tantas que al final dedico muy poco a todas de forma individual, entre estas cosas por supuesto se encuentra HIVE, siempre quiero escribir al menos un artículo a la vez pero acabo sumergido en tantas cosas que apenas alcanzo leer algunos artículos de mis amigos. Otra cosa que me gusta y tengo en el abandono es un juego al que alguna vez dediqué mucho tiempo pero luego deje en un estado casi abandonado. Este es Old Schoold RuneScape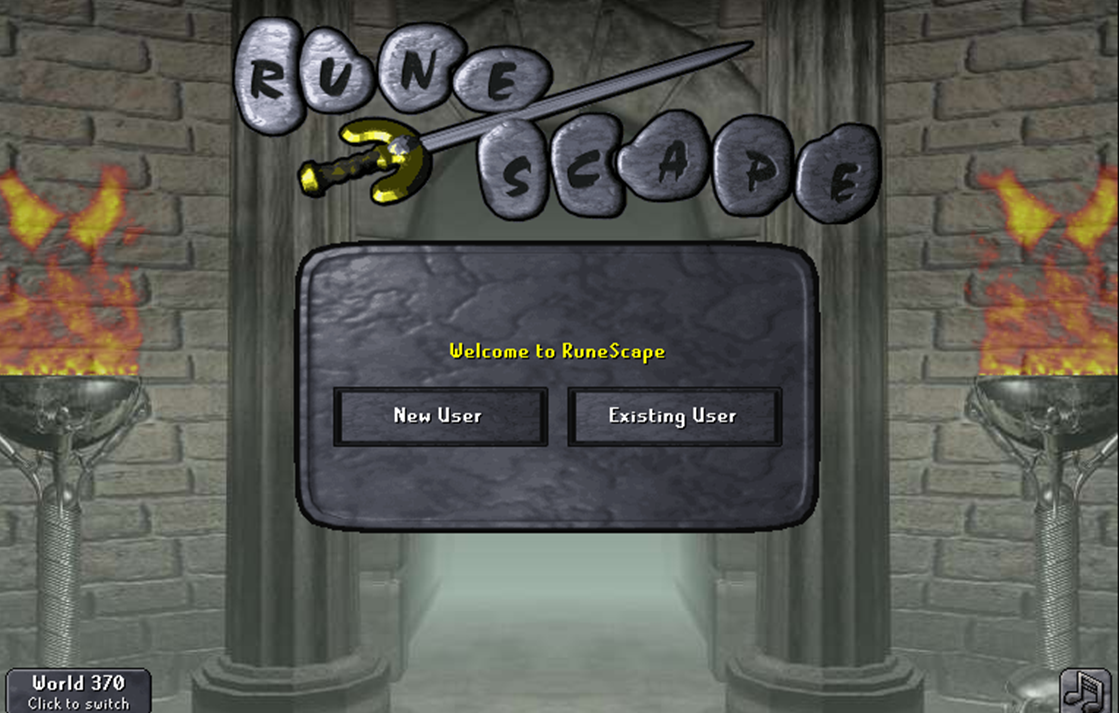 Screenshot
I was comparing how my virtual life has been between this game and HIVE finding a similarity of things that surprised me, in both I have a lot of time that I'm in but of all that time the time dedicated has been very little.
Comparaba como ha sido mi vida virtual entre este juego y HIVE encontrando una similitud de cosas que me sorprendieron, en ambos tengo bastante tiempo que estoy pero de todo ese tiempo el dedicado ha sido muy poco.

I think I should be more orderly with that, so I thought it might be a good idea to resume the game and share my experience with you here on HIVE, that way I can attend two fronts at the same time. Despite the time in the game I still have many goals to achieve, for example I show you my skill levels.
Creo que debería ser mas ordenado con eso, así que he pensado que tal vez sea buena idea retomar el juego y compartir mi experiencia con ustedes por aquí por HIVE, de esa forma atiendo dos frentes a la vez. A pesar del tiempo en el Juego aún me faltan muchas metas por lograr, por ejemplo les muestro mis niveles de habilidades.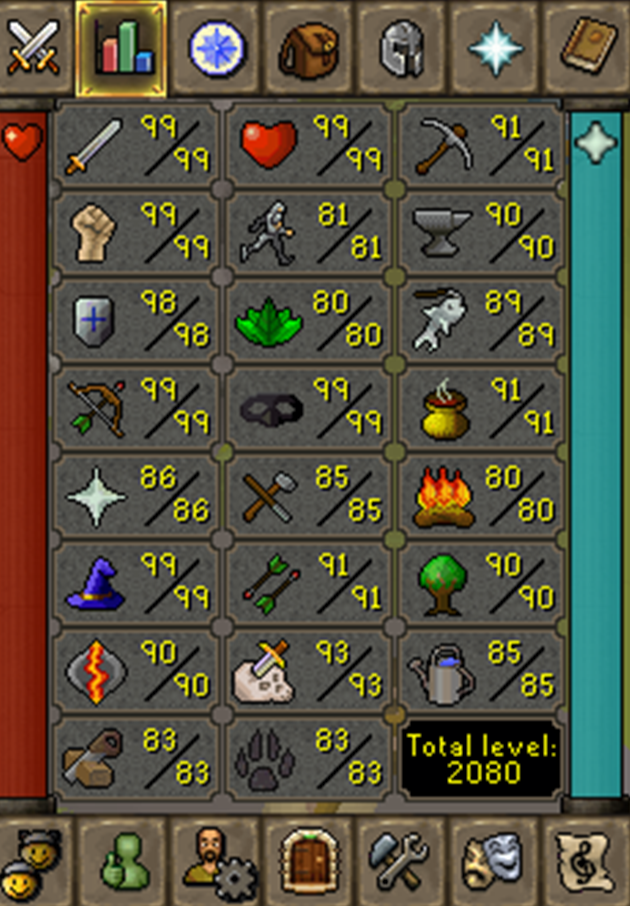 Each symbol represents a skill and the number corresponds to the level in which this skill is, being 1 the minimum level and 99 the maximum with an exponential difficulty to level up, that is to say, as you go up a level the next one becomes more difficult to reach than the previous one. As you can see I still need to take some levels to the maximum as well as complete some new adventures that have come out and many things in the game.
Cada símbolo representa una habilidad y el número corresponde al nivel en que se encuentra esta habilidad siendo 1 el nivel mínimo y 99 el máximo con una dificultad exponencial para subir de nivel, es decir, a medida que subes un nivel el siguiente se hace mas difícil de alcanzar que el anterior. Como ven aún me falta llevar algunos niveles al máximo así como completar algunas aventuras nuevas que han salido y muchas cosas en el juego.
Don't let the graphics of this game fool you, it is a classic version that has existed for more than two decades and has not been modified much in terms of graphics but in terms of gameplay it is a whole world in which thousands of people are immersed daily, but I will leave for a next article the presentation of the game and my achievements in it. If you have ever played it or know someone who plays it I would appreciate your comments, even if you are active in the game maybe we can go on an adventure together!!!!
No dejes que los gráficos de este juego te engañen, es una versión clásica que existe por mas de dos décadas y no ha sido modificado mucho a nivel de gráfico pero a nivel de jugabilidad es todo un mundo en el que a diario se sumergen miles de personas, pero dejaré para un siguiente artículo la presentación del juego y mis logros en él. Si lo has jugado alguna vez o conoces a alguien que lo juegue agradecería tus comentarios, incluso si estás activo en el juego tal vez podamos ir a una aventura juntos.!!
All images used in this article come from screenshots I have taken of the game exclusively for use here.
Todas las imágenes usadas en este artículo provienen de capturas de pantalla que he realizado del juego exclusivamente para ser usadas aquí.