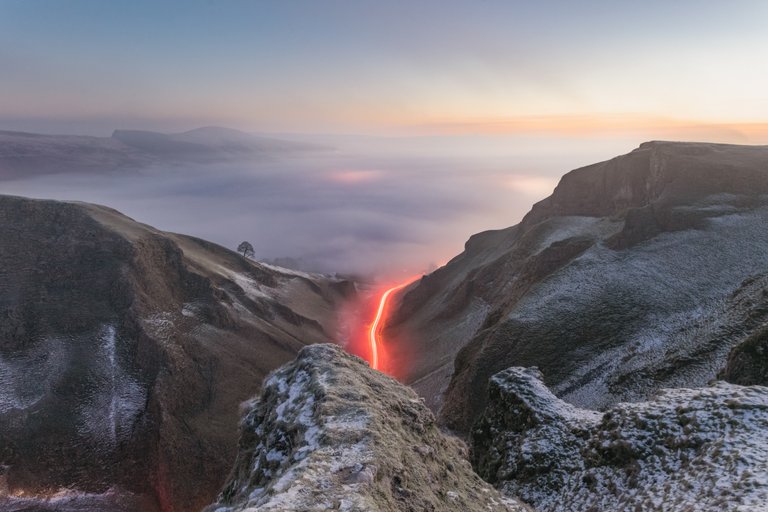 Good morning Hive world and I hope all is well. I was up bright and early yesterday morning to visit one of my favourite places. Here is my write up below with some bonus pictures of the morning.

I checked the weather Friday night and it gave mist and fog for Castleton, clear skies for Mam Tor and very little wind.
I've visited here after seeing such weather reports countless times before and never seen a temperature inversion. I always love Winnats Pass and during my previous visits I have nailed down my favourite pov, banked for a morning like this morning.
Not wanting to miss out on this spot I was up and out for 5.30. Less than an hour later I was stood in my spot, completely alone in the dark and never more excited as to what was in store.
The MET Office had come up trumps but I could only really appreciate the low lying mist in the valley after a long exposure. When the photo popped up for review I was absolutely ecstatic. Not because I'd nailed my shot first time but because the Inversion was actually there and so beautiful.
I stayed pretty much nailed to the spot until 10.30, freezing cold, hungry but captivated by the scene before me.
This one was pre sunrise and got the number one spot as I love how the lights from Castleton are shining through the thick blanket of fog draped over them. I waited until all the cars were going down the pass and none going up. Direct full beam headlights are a devil to expose for, whereas brake lights are easy and leave a beautiful orangey red haze as they disappear into the fog.
A great morning witnessing a phenomenon which has evaded me until now. I also feel rewarded for doing another 365 as we're I not doing one, I'd have stayed in bed and missed this spectacle completely.
Happy days.

Here are a few more shots from the cold but beautiful morning on a Peak District Hillside.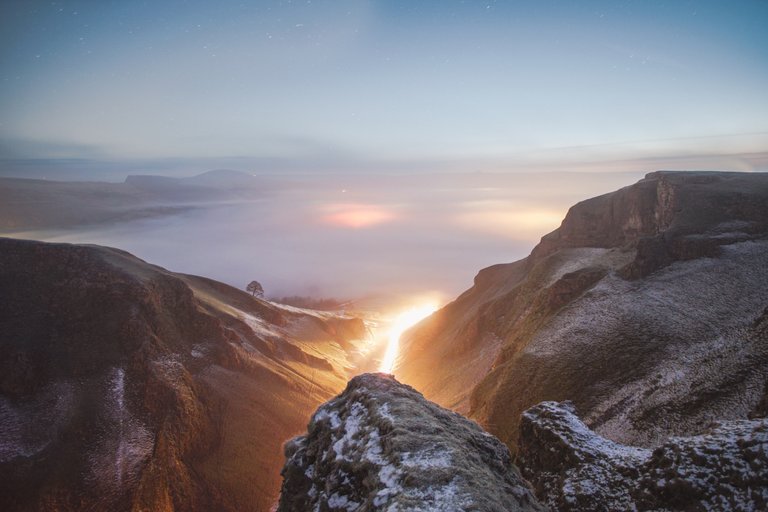 This one was utilising the headlights of the cars travelling up the Pass. A much harsher effect than using the tail lights but one I like all the same. I like the energy it converts like a river of light flowing down the valley.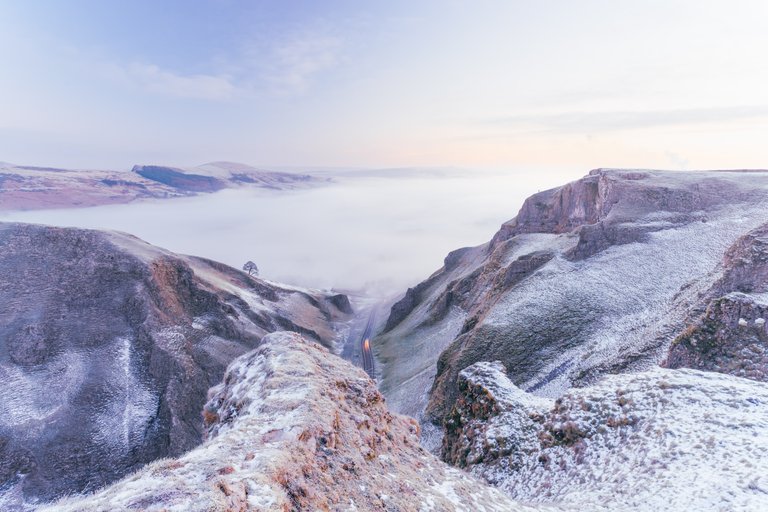 Another taken before the sun broke the horizon. I love the pastel shades of pre-dawn light. Much more forgiving, soft and easily exposed for than direct sunlight. Great for an even exposure across the frame.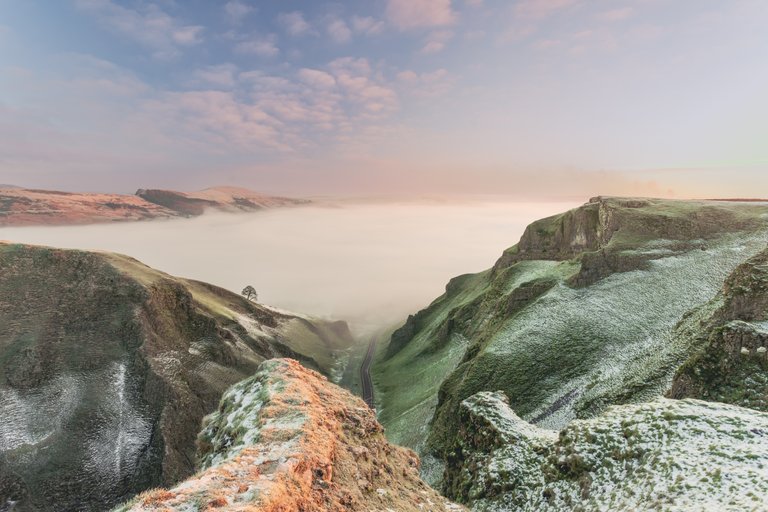 This is one of the last of the day for me and one after sunrise. The golden light hitting the foreground and illuminating the light cloud cover above was a sight to behold. Also the warm rays of light hitting my back were welcomed after a morning stiff in the same spot


I hope you enjoyed my morning's work from Winnats Pass. A truly perfect morning doing what relaxes me the most.
Happy days

I'm usually found out after the sun sets doing light painting. Below is some information and others to follow in the field of photography.

WHAT IS LIGHTPAINTING?


Lightpainting is a photographic technique in which exposures are made by moving a hand-held light source while taking a long exposure photograph, either to illuminate a subject or to shine a point of light directly at the camera, or by moving the camera itself during exposure. Nothing is added or removed in post processing.

Single exposure Light Art Photography
/nolayer /notricks /nophotoshop

YOU WOULD LIKE TO SEE MORE LIGHTPAINTING HERE?


Give the Lightpainters United Community a follow and you will be introduced into the world of light painting.


You will find innovative and original light painting from various artists from all over the world. Have a look at the profiles of some very active Lightpainter in the group:
Mafu Fuma - Oddballgraphics - Fade to Black - DAWN - Chris Thompson - Mart Barras - Stefan Stepke - Nikolay Trebukhin - Leetodd - Stabeu Light - Maxime Pateau - Stephen Sampson - lightandlense - Neil Rushby - L.A.C.E.

WOULD YOU LIKE TO GET IN CONTACT WITH US?
Join us at Discord


Thank U for your support and keep shining!
LIGHT, LOVE & UNITY!