Dear Hivers,
Look at all the posts published in the last 7 days here. Put them together. Sort them. And you will find some refreshing insights.
In fact, this is exactly what we saw recently. About 7000+ articles were published in a week using Peakd — right after the Hive.blog: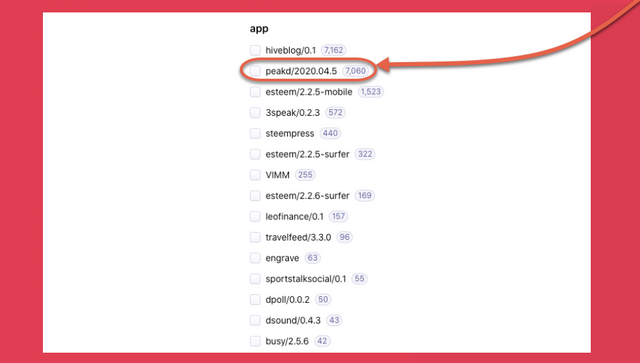 This shows how Peakd is quickly turning into one of the best front-end tool – allowing you to seamlessly interact with the Hive blockchain. It is truly converting Hive into a powerhouse. And this achievement calls for attention.
So what makes Peakd special?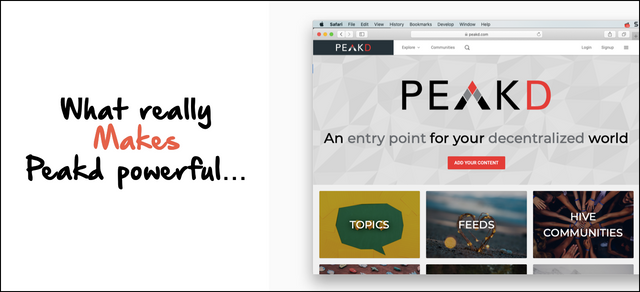 I am listing 13 of my favourite features that are worth discussing. Feel free to browse through them. Try them out. And see which one do you like the most.
Each one of them makes Peakd a special and a powerful tool while delivering a new level of pleasure to the end-users.
Here we go:
#1: The Advanced Editor
Unlike Hive.blog's simple editor, Peakd offers a full-fledged WYSIWYG editor allowing you to seamlessly upload multiple images, create tables, and even columns. It is a must-have for any blogger.
Through its side-by-side editor, you can also change the URL and undo changes.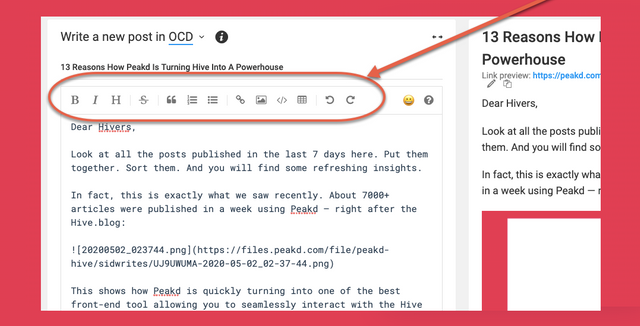 ---
#2: Detailed Analytics
From seeing your incoming votes, curation rewards, author rewards to also seeing the pageviews of your articles – the in-depth analytics within Peakd is a blessing. You can't see this anywhere else.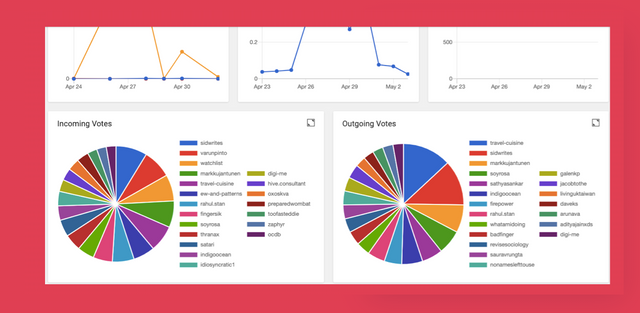 ---
#3 Can't vote? Then tip!
If you don't have enough voting power, or if you want to tip your favourite authors some Hive, then here's a simple way. Simply click on the "gift" box for the pop-up to appear and tip as much as you like.

---
#4: Know Your Connections Better
Peakd is displaying more than a name. It displays your connection's detail (follower + following) on a single page. From the rep score, last post, to HP owned, and the vote value – you can see it all.
To take it a step further, you can also move your connections to a separate list (like Friends).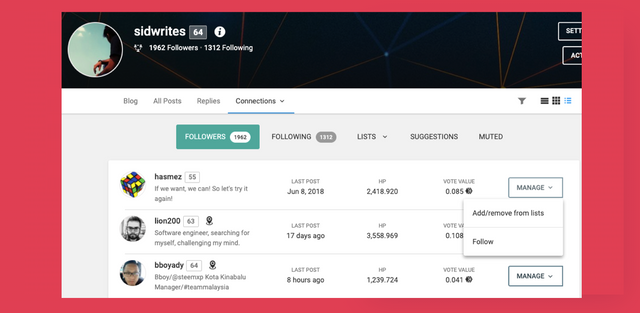 ---
#5: Save & Hide Easily
Save users. Save topics. Save articles (bookmark). And when you do this? You are creating your own curated experience. This leads to a much more enjoyable experience.
Plus, you can also hide certain tags (or mute people).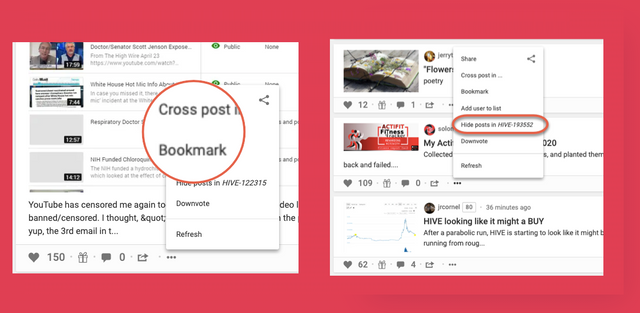 ---
#6: Blazingly fast With Better Notifications
From my experience, Peakd is really fast. (Maybe because we can switch the API nodes). On top of this, notifications (on the top-right corner) and blue pop-ups (to claim rewards) are very cool.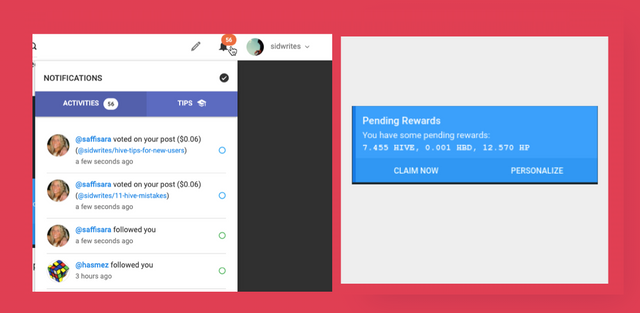 ---
#7: Enhanced Comment Box
As I continue to talk about engagement, I find the comment box on Peakd intuitive with all the bells and whistles. Not only do you have all the tools (to upload images - bold, italize text) but also emojis.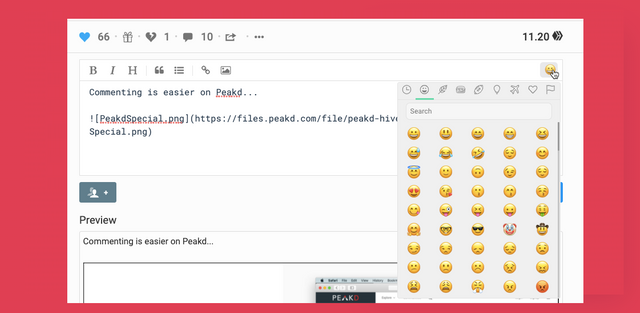 ---
#8: Drafts + Templates + Scheduling
As a blogger, I love these advanced features — the ability to autosave posts, create templates, and then schedule posts. These are addons that makes our life easier.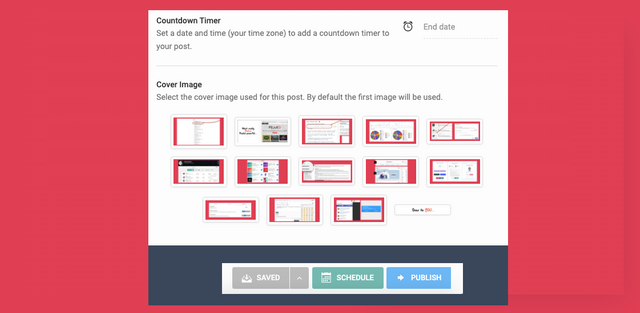 ---
#9: Enhanced Readability + Dark Mode
For better readability, you can change the display settings (so you can view your feed in either blog, grid, or list style)
You can switch from light to dark mode
You can also enable portfolio view (useful for photography/art blogs).

---
#10: Filtering 2.0
When you go to your feed, you can filter posts. Example: you can exclude reblogged posts, voted articles, or choose to read posts from your favourites.

When you go to a profile, you can also filter posts by tags (from the sidebar)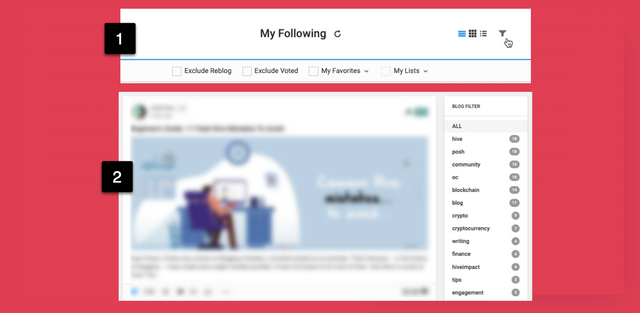 ---
#11: Secure With PeakLock
PeakLock is your login option that was recently updated to ensure your account is safe. It also doesn't store the "active" key anymore.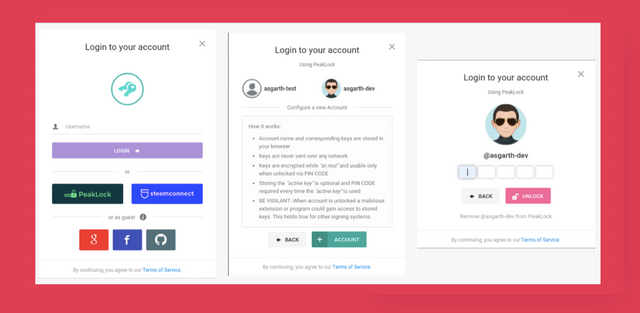 ---
#12: Check Out The badges
Badges are unique. It is Peakd's way of curating content based on a couple of factors. It considers list of users and a theme. Then it creates a badge around it. Think of it like "curated topics." This also helps in finding content of your interest.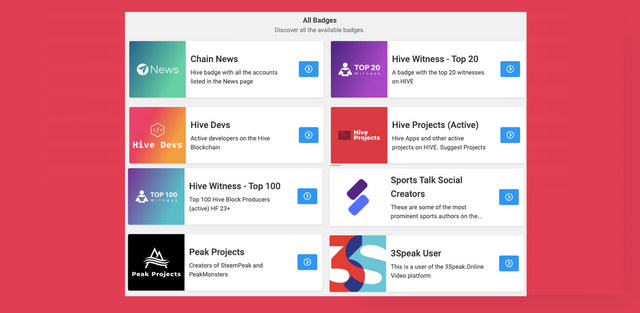 ---
#13: Extremely Feedback-Driven
Only through feedback we improve, said Bill Gates. And Peakd follows the same path — through its Discord channel. This channel has a support, suggestion, and a testing team (volunteers).
Everyone is involved to make Peakd better and better. With such a feedback-driven community, it is bound to grow, isn't it?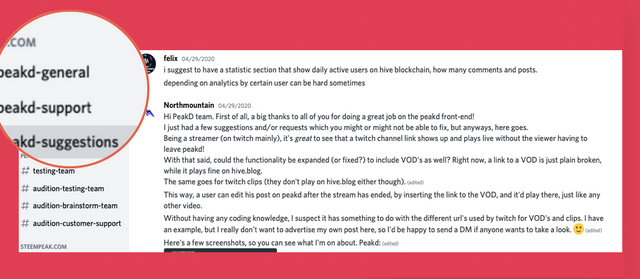 ---

---
So there you have it.
13 solid features.
Not only does it make Peakd a powerhouse but also shows you why the future is bright. Such front-end tools are upgrading your Hive experience. And it will be bringing more new users — retaining existing ones — while making Hive even more popular.
Peakd is, to put it mildly, cuddling Hive closer to a major victory.
It is boosting the platform's growth — and inviting new users with its intuitive interface, powerful features, and enhanced tools.
In this article, we have already 13 of them. And now, we move to you:
I would love to know what do you think of Peakd?
Have you used it yet? Do you use it regularly? Have you found anything that you love? What is it? Do let me know through the comment section below. Whatever it is, I would love to know! :)
Cheers,
Sid
---
Liked this article? Feel free to comment and upvote and reblog.