Dear Hivers,
I would like to take a moment to talk about Hive's future marketing. Future advertising. And future promotional campaigns. All these are instrumental for onboarding brand new users.
You see, there is a new wave of opportunity right here — that is worth paying attention to. And if done rightly, it can take the platform to a newer heights.
Let us explore this together.
First, as you are already familiar:
Hive depends on no one but the community for its growth.
Because of our decentralized nature, the members of this community are the only backbone.
Keeping this in mind:
The question is: How can we take it further?
Answer: By pushing the community members, isn't it? You see, someone has to push our buttons — so that we can take that extra step. So that we can create new ideas. Campaigns. Promotions. And overall, so that we can promote Hive outside of Hive.
And if this push has some sort of incentive? Even better, right? Because it is through incentives that we will start operating to our full potential. Without it, the motivation is dry. There's a lack of interest.
---

---
Recently, when I was reading Human Motivation, I discovered a formula designed by the American psychologist Hull.
It revolves around the potential within us. Our full potential — a strong response — is a combination of these three: our drive, our habit, and our incentives.

Meaning: To respond with absolute potential, we need all three to work together.
This is the foundation of human behaviour.
In fact, K (incentives) was added later in the revised principle because Hull saw its "multiplying" effect. Incentives drive us to do more. That's why sales folks are heavily incentivized.
Fortunately, Hive has been offering incentives in its own ways. One is the reward for posting and engaging.
But there's another incentive called the Decentralized Hive Fund.
If you are familiar with this, then you will know the funds are allocated to the developers. We have seen some jaw-dropping proposals on DHF – aiming towards product development of exiting and new ones.
But, for the first time, we are witnessing a shift in our direction. The funds are used for something else. And I was delighted to see this.
You see, recently Justine came up with a proof-of-work proposal. In summary, Justine worked behind-the-scenes for the launch of Hive. Then she continued with her ongoing effort. It was purely a non-development effort that was required.
In short, here's what was achieved:
Reaching out to media to cover stories
Handling social media channels
Handling exchange listings
Execution of AMA (Ask Me Anything)
You can read the article here. And you can also support her proposal here.
To summarize:
Because the product was ready, somebody had to invest time and effort to promote it through various channels, isn't it? Justine took the lead. After the work was done, Justine decided to create a proposal seeking funds from DHF.
This could be a game-changer.
Because, as you browse through the Decentralized Hive Fund, you will find every proposal revolves around technical achievements. If we add another layer of marketing, advertising, and promotional campaigns — we are going to strengthen the platform even further.
---

---
Having worked with two cryptocurrency exchanges for almost two years now — as a consultant, marketer, and even overseas manager — I had the opportunity to experiment. Our task was, really, to get users. And the idea was to tell users to get users.
Tell users. To get users.
This was the community-based approach that worked successfully.
Similarly, members of Hive can truly use this as an opportunity. You see, you can go all-out on the web to promote Hive.
For example:
You can come up with new ideas to promote Hive.blog — from social media updates (in local language) to making YouTube videos, or publishing content on Medium.
---
You can also look into advertising. For example: run Hive ads on websites. Or even browsers like Brave (we also have a proposal around this).
---
You can also look into promotional campaigns. For example: hosting offline events, giving away tokens, working with influencers, and so on.
---
And once you do that, you get the results. And then you convert this result into a post — present it here as a proposal.
This is a perfect basic model.
It allows individual freedom to do their best to promote Hive on the external platforms. Perhaps you can build a Hive Malaysia Twitter account — and continue sharing updates. Or create a new comparison website, or blog posts on Publish0x, Medium, and so on.
Now, for some of you, you may already know this. We had this opportunity for a long time now. Yet no one utilised it when you think about it.
Why?
Because there is always an element of uncertainty — hesitancy — knowing the proposal may not be funded. Meaning: no money for you. And it will leave you disappointed, isn't it?
Even Justine knew this. In one of her comment:
I think most of us agreed we should put much of the work in first, before asking for contributions. That way the community has something to go off of. And if the proposal doesn't get funded, I just don't receive any contributions for work done. 🙂
In other words: If the proposal doesn't get funded, you get nothing. And if you were Justine, and you knew that your efforts led to dead-end, how would you feel? Maybe you can always say:
I don't care about money.
I did it because I love Hive.
I did it because I have a good heart.
I did it because it was my responsibility.
I did it as an act of contribution.
All these are valid reasons. But not everyone is wired this way.
---

---
Based on my experience, solo efforts are great. They validate the interest of the community members to support the platform. But, as outlined above, one gets to taste disappointed — if the proposal is not funded.
It also creates another problem — few members will begin to fight while demanding for their fair share. After all, several hours were invested, isn't it?
Then there's another set of people who find no value in this. They don't see any effective results. They would rather prefer the funds, you know, going into developmental activities.
And that is why, we move to a new "guaranteed incentive" model. Here, rather than individuals working, we have a group. Each group has 3-5 members who compete every month.
Now, I know this may seem like a far-fetched idea but this was effective — and possibly a masterstroke for a platform like. Bare with me as I share the unpolished structure with you:
Phase 1: New "Promotional Fund"
---
To start with, a fixed HBD is allocated for a certain duration.
Let's take 10 months of promotional activity.
And 100,000 HBD.
This becomes our promotional fund.
Once this proposal of 100,000 HBD is passed, we now utilize 10,000 HBD (1/10th) from the promotional fund. We use it every month.
It is the prize money.
Phase 2: Creating competition
---
Before the start of the month, a group (of 3-5 members) apply for the competition. They do all the activities possible: marketing, advertising, and run campaigns.
Say we have 10 groups.
Each group works the entire month to promote Hive. They do everything they can — whatever they feel is important — and present the result at the end of the month.
Phase 3: Picking winners
---
Once the group submits the result, we vote. We go through the tasks completed — the channels — the metrics — and other significant details before casting our valuable vote.
This is where the consensus mechanism is useful.
Based on the final results, the winners are sorted and respective HBDs are distributed as follows:
Rank 1: 3000 HBD
Rank 2: 2500 HBD
Rank 3: 1500 HBD
.
.
Rank 10: 300 HBD
This way, there is a guaranteed incentive — compensation — for their efforts. No one loses. One who puts the most effort yielding effective results? Gets paid the most.
Plus, it is not just individuals promoting the platform but groups (30+ people) working towards their goal — to fight for the top spot.
As an example, group 1 can do this: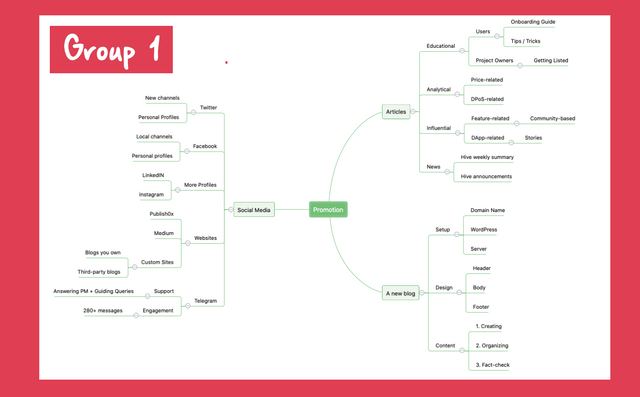 If you see the above promotional plan, I have mentioned how the Group 1 decides to promote:
By writing articles - educational, analytical, influential, and news
By creating a new blog
By creating and handling social media channels
Then we have, for example, another group: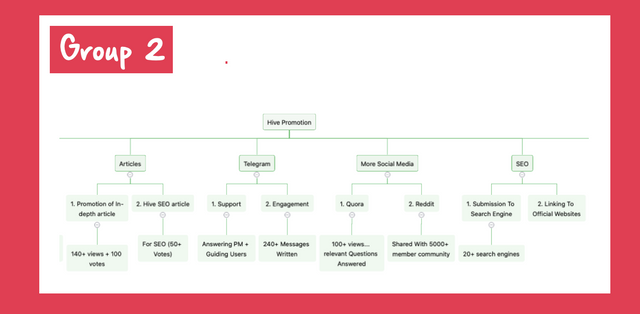 Group 2 here focusses not just on articles but also SEO and writing answers on Quora + Reddit, for example.
You see what's happening here?
We now have 10 groups doing 100s of different (or even similar) things – creating a powerful ripple effect with investment 10 times less than what marketing agencies charge... with results 10 times effective.
All this simply turns into a powerful community-based marketing agency.
And with this, we give birth to true communalization — where we not only protect our platform but also walk an extra mile to ensure it hits all the key areas — marketing, advertising, and campaigns.
We tap into our full potential. Introduce creativity. And design effective results.
Of course, this idea can be further polished. And we have to see if the promotional funds can be created – for which we need a proposal and a committee to manage this fund (long-term holders with 100,000 HP at least, for example).
I consider this idea the beginning of something new. Of course, it is unpolished – with hidden gaps – which is why I would love to hear from you.
What are your thoughts on this? Can we have a PDF (Promotional Decentralized Funds)? Do you like the idea? Maybe we can improve this further? Whatever you feel like, please share. I would love to know and see what we can do to take it forward!
Cheers,
Sid
---
TLDR: The recent non-development fund request is creating a new wave of opportunity for the community members. It also, however, comes with several issues.
Solution: So we create a new "guaranteed incentive" model that is tied to a Promotional Fund. Say this fund has 100,000 HBD. Each month 10,000 HBDs are distributed. They are distributed to groups promoting Hive outside of Hive.
.
.
PS: I am also tagging key witnesses and members here.
Key 20 witnesses: @gtg @blocktrades @themarkymark @good-karma @roelandp @anyx @ausbitbank @steempress @someguy123 @drakos @therealwolf @steempeak @yabapmatt @abit @followbtcnews @arcange @pharesim @cervantes @netuoso @ocd-witness @aggroed
Key 20 members: @theycallmedan @pfunk @jesta @darthknight @riverhead @roadscape @trafalgar @likwid @xxxxxxxxxx @tombstone @hendrikdegrote @enki @matt-a @acidyo @neoxian @abh12345 @azircon @galenkp @timcliff @kevinwong
---
Liked this article? Feel free to comment and upvote and reblog.