Dear Hivers,
As we enter a new month, I would like to share my thoughts on a little experiment. In the last 30 days, I have been active on Twitter.
I have been talking only about Hive. And I am convinced Twitter is a fantastic tool to onboard and discover new audience.
This post shows the process along with the results.
In short: Twitter and Hive = powerful combination.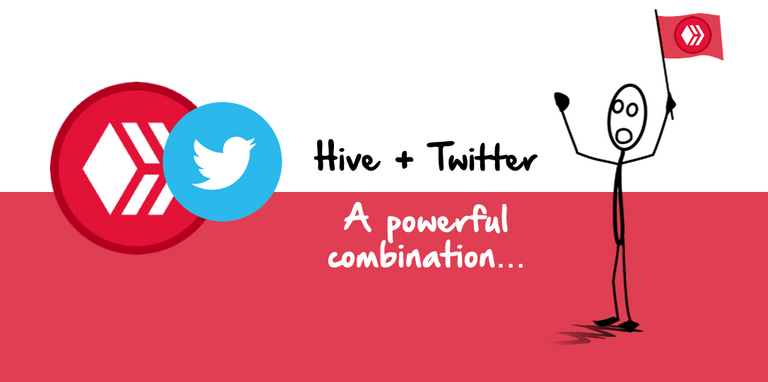 ---

---
In this experiment, I started with an anonymous account with zero friends — zero connections. I did not know anyone. This was a random account I was using to trade crypto.
In the past, I have followed dozens of influencers. Then I abandoned this account. As you can see, no engagement. No new followers.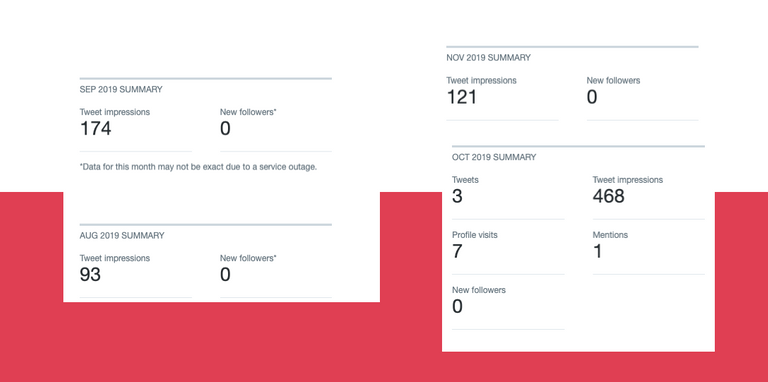 For this experiment, I felt the account was perfect. The mission was to use the power of Hive community to increase the reach.
Here are the results within 30 days:

As you can see, everything is green. From a whopping 64,000 impressions to 195% increase in profile visits... all in 30 days with a random account.
It is a drastic difference!
There were also a total of 175 tweets. Few of them worked really well. And others were buried. All in all, it was a fun experiment.
I am sure there are other accounts with massive impressions, followers, and mentions. I mention them at the end of the article.
The goal is simple:
It is not my stats that matters. It is simply the power of a social media that exists. The goal is to collectively focus on Twitter to harness its power — and then channelize this power to grow Hive.
As I did this, I also discovered few key areas worth discussing. In fact, there are 3 special areas I wish to share.
---

---
No one has been doing this because it takes time. Basically, you create a series of tweets (tweetstorms).
It took me 30 minutes to make one Twitter thread.
The first Twitter thread I did was on Medium versus Hive. Link here. It received 4000+ impressions and 292 engagements.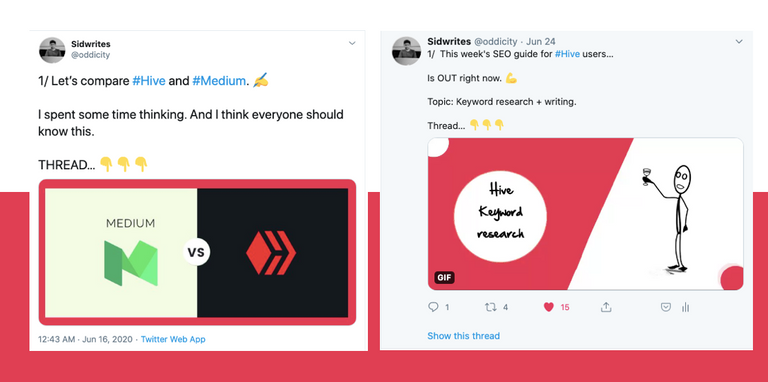 Few more Twitter threads that were successful:
---

---
I have organically built Twitter followers from 0 to 10,000 in 8 months for an exchange. During this process, I discovered tweets with images performed better.
So a simple tweet with images works really well. In my case, I also shared useful infographics. [Example 1] [Example 2]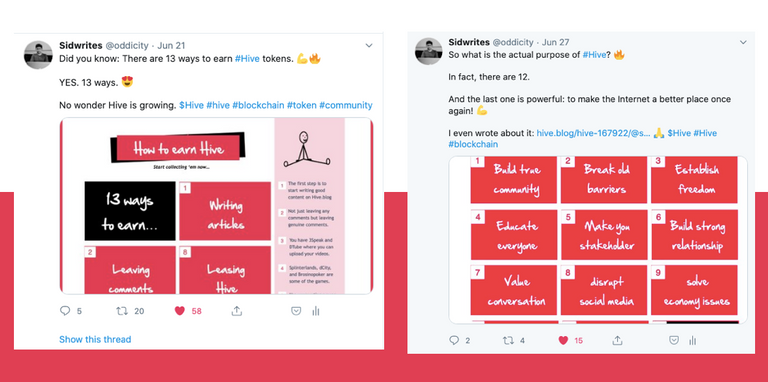 ---

---
GIFs are another form of images. People also enjoy them and retweet them.
Because I am used to creating custom images for my blog posts, I convert them into GIF (example). Takes about 5 minutes.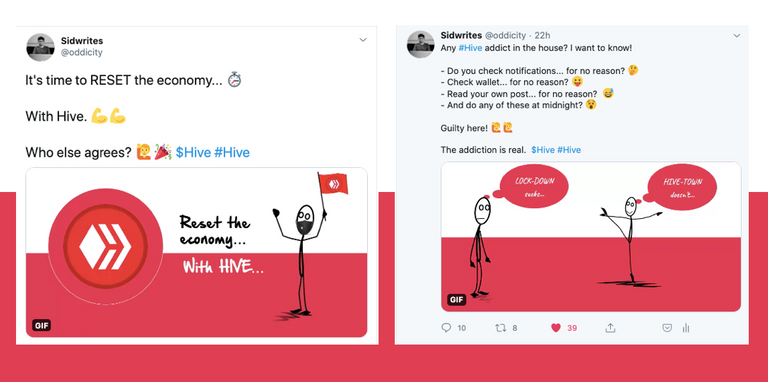 ---

---
Twitter is a fantastic place to discover new audience and also connect with the existing community.
My 10 key takeaways:
#1: Humanize content. Make it fun and easy to read.
---
#2: Change the display pic (I was using a "city" pic which was later changed)
---
#3: Add a simple bio (and use the hashtag $Hive and #Hive along with #crypto and #blockchain)
---
#4: Tweets with images work better than tweets without. And tweets with GIFs outperform.
---
#5: Focus on adding value. Don't always share links.
---
#6: Use emojis. People love anything casual and friendly.
---
#7: Like tweets — so others are notified. I always like tweets appearing on my timeline.
---
#8: Tweet in the morning (US time). As per Buffer, tweeting between 9 to 11 am is best. Though, due to lockdown, I feel any time is good.
---
#9: Follow people. I follow way too many people and didn't clean the account. But that's okay. My idea was to connect with as many as possible. Not to turn into an influencer.
---
#10: I use Emoji Keyboard extension to create emojis quickly and easily.
---
The end result, of course, is to have fun while doing so. This experiment has led to several dozens of connections, new friends and followers. As always, promoting Hive outside of Hive was the goal.
And now, I will be running this experiment forever.
So if you are on Twitter, definitely try some of these things and do let me know your thoughts.
Let's make some serious impact together... 🔥
Cheers,
Sid
---
Note: Other super-active Twitter accounts are run by @NathanMars7 @HivePeople @felt.buzz @geekgirl @mistakili @belemo @dalz @therealwolf @r0nd0n @theycallmedan @IndigoOcean @foxon @themarkymark — yeah, there are way too many active users.
Wish I could name them all. You know who you are. Each one of you are doing a fabulous job. Thank you!
---
If you liked this article? Feel free to comment and upvote and reblog.