Hi guys, Sid here. I hope and wish you are doing great. Welcome to this week's newsletter with zero drama (unlike last week). In fact, this week Hive had its first all-time-high activity (check #2 for details).

We are also noticing too many new dapps on the chain. It is certainly a good news for a 4-month old blockchain. If anything, this is a rock-solid indication of growth. With this thought, let us quickly explore all the 13 bite-sized updates.

Note: If you didn't know yet, you can sign up by clicking here. Just enter your email address to receive future newsletters in your inbox. You will receive it every Sunday. With love. ❤️

---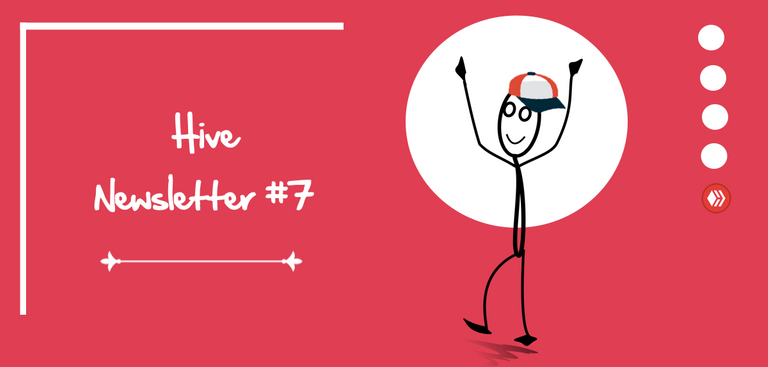 ---
#1: Good news: A brand new Hive whitepaper is here. In its first draft, the whitepaper discusses assets, block production, development, and current growth. This is written completely from scratch. [Details]
---
#2: Another good news: A new victory for Hive as it has the most number of transactions in the blockchain industry, as per Cryptomode. That's right. The highlight of the article:
"With 956,130 daily transactions, Hive is certainly the most active ecosystem out there."
---
#3: Question: Where are Hivers from? Here are the top 5 countries based on the location extracted from the profile:
United States (18.39%)

Venezuela (8.71%)

Indonesia (7.78%)

India (5.15%) 

Nigeria (4.05%)
See the entire list here. 
---
#4: In order to expand its reach, Splinterlands has partnered with GAME Credits. One can now earn GAME tokens by staking on Splinterlands. 
---
#5: Ever wanted to collect rare art? 🎨

Check out NFT Showroom. It is the first digital art marketplace on the Hive blockchain selling tokenised art.
---
#6: Did you know: Esteem is rebranded to Ecency. Both the mobile and desktop app will be released this week with a refreshing look.
On the other hand, Dapplr mobile app is out now. Though in alpha, the initial reviews are positive.
---
#7: Two more Hive updates:
Don't forget to check out this leaf artist on Hive. Who knew art-on-leaf is a profession?

Do you like manly stuff? Then check out this new community called The Man Cave.
---
#8: : We have seen Hive-based e-commerce sites, gift cards, t-shirts, mugs and now we have Hive-based shopping bags. Made out of cotton. 🛍️ 

See this image. Selling for 12 Hive each. [Details]
---
#9: The first HiveChat is happening this week (July 21st) on Twitter. The goal is to pick a topic, discuss, and interact for one hour. You can follow the hashtag here. [Details]
---
#10: Among the 3 dapps, Dapp.com selected AltYes. [Details]
If you didn't know, AltYes is a free Hive dapp designed to unify the Internet. Meaning it allows you to publish content right from your browser through its extension.
---
#11: Hive.supply is a free tool to see the rewards of your posts and comments. The design isn't great but the tool offers depth. Give it a try. [Details]
---
#12: A tiny achievement: Flote has added Reddit, TikTok, and Hive buttons. Though fairly new, Flote's mission is to create a people's platform which is inline with Hive's mission. [Twitter]
---
#13: Tweets of the week: We have three. See the best post this week listed under this Tweet. Another tweet from the @therealwolf discusses the recent Twitter attack.
If that's heavy, Nathan's Web3 revolution tweet is light and sums up the benefits of Hive. 
---
Tip of this week:

Do you have a minute to refresh your mind? Then create sound through your keyboard. Just visit Patatap. Press any key to hear the magical sound. You will surely enjoy the visuals.
That's it for this week! Hope you are resting this Sunday with a smile. 😇

See you in the next! 👌

Cheers,
@Sidwrites