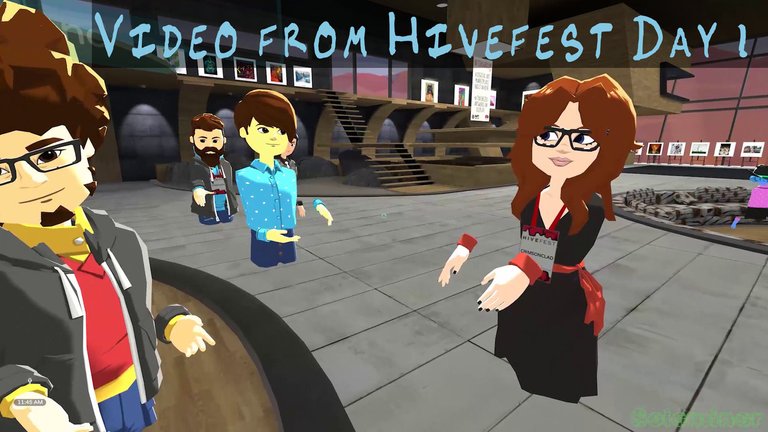 Finding my way into the NFT Showroom proved to be harder than planned. My AltspaceVR kept crashing when using the portals. So I added @r0nd0n as a friend and used the "go to" button. That worked well, as trying to use the portals took about eight tries before I was able to get there.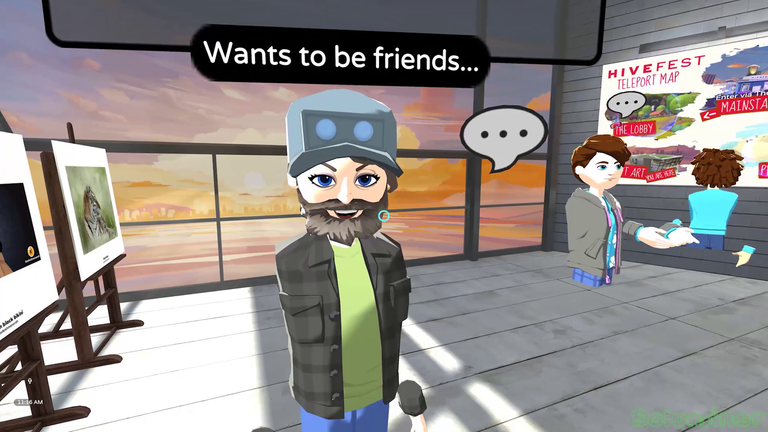 @r0nd0n was having some issues talking with @cadawg could not hear or see him. I was experiencing similar issues including during the Prepump event so I knew what he was talking about.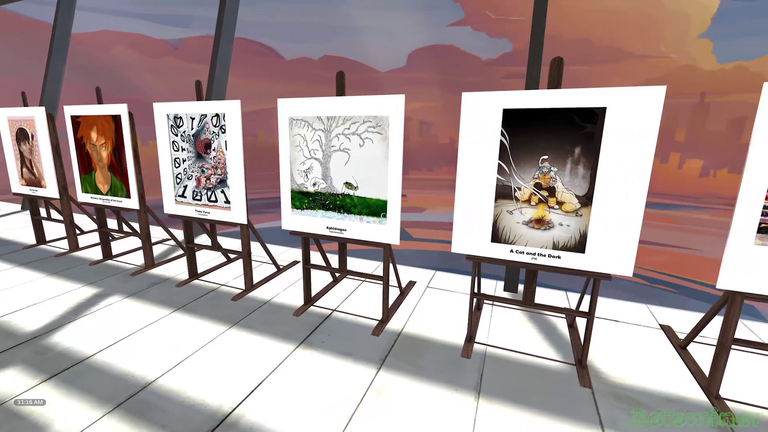 I checked out the artwork all around the showroom and was cool knowing all of it are NFTs that can be found at nftshowroom.com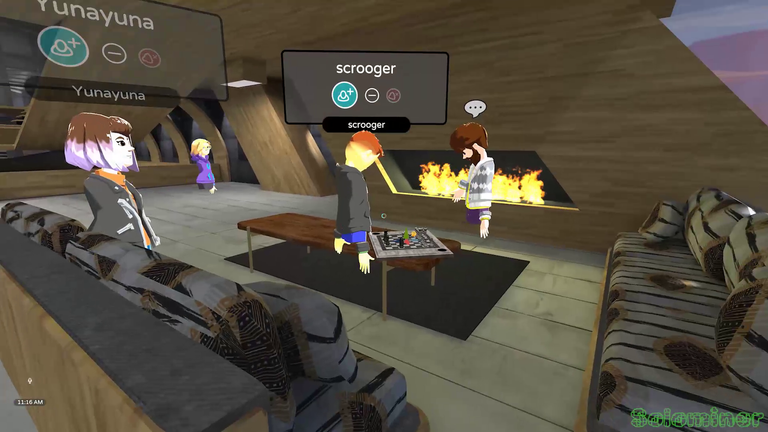 People were playing chess though the object had a weird icon by it. Similar to what I saw on the terminals to get my badge.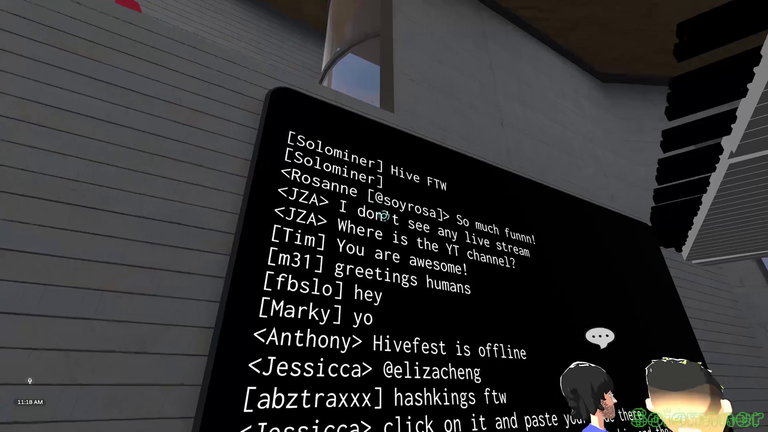 There was a big screen in the NFT Showroom that allowed people to leave messages up on the screen, so I had to add one myself.. "Hive FTW"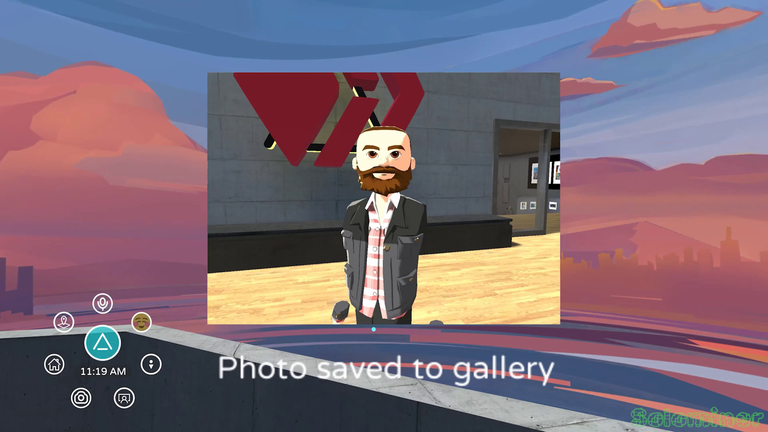 Walking out to the outdoor balcony of the NFT Showroom portal I find a Hive logo and take a selfie by it.
Tried to say hi to @castleberry but seems he did not notice me or was away of his keyboard.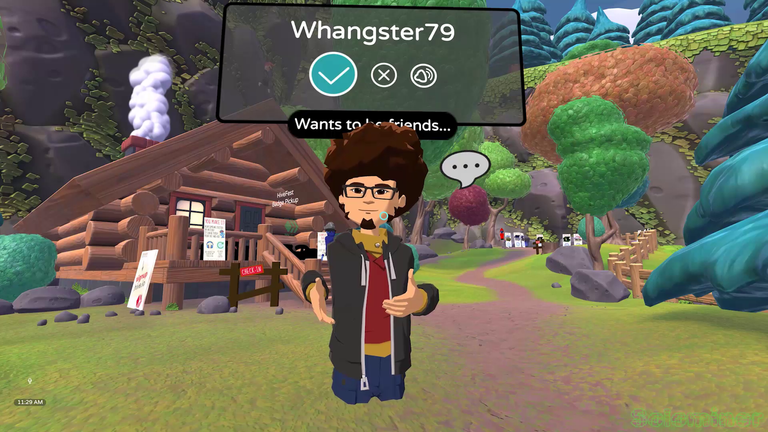 Traveling back to the main Hivefest portal I find @whangster79 walking around! Glad to see he could join, but his voice was all weird. Ends up his soundcard had some weird default that changed the voice output. But glad I finally ran into him, hes a good friend of mine in real life. Before he could figure out the voice settings he ran around the map saying hi to people like @jackmiller with his weird voice output. Some people thought there was a child running around. But my friend had no idea this was happening until I told him.. lol ooops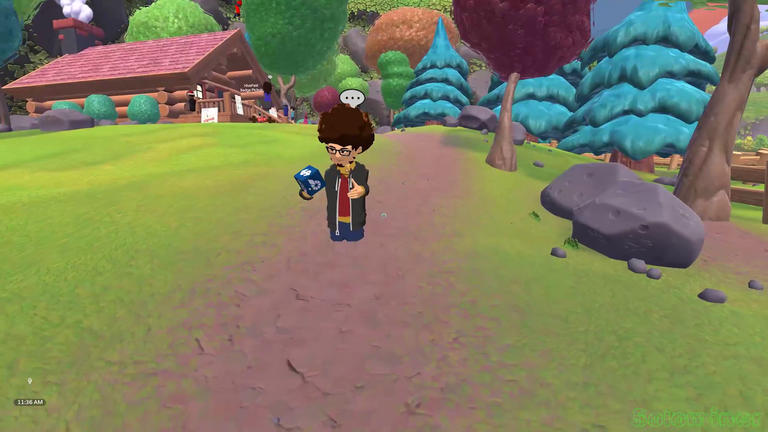 We get his voice worked out and play around with the @blocktrades cube. There were a few things to throw around during Hivefest and had fun checking out all the objects.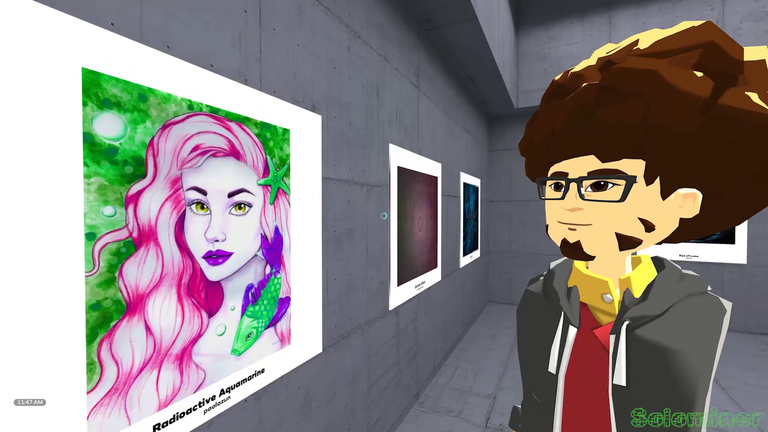 Traveling back to the NFT Showroom with @whangster79 we ran into @thegoliath and talked a bit about the glitchyness. From there we moved onto to checking out the artwork and I explained to my friend all of this art is on the blockchain.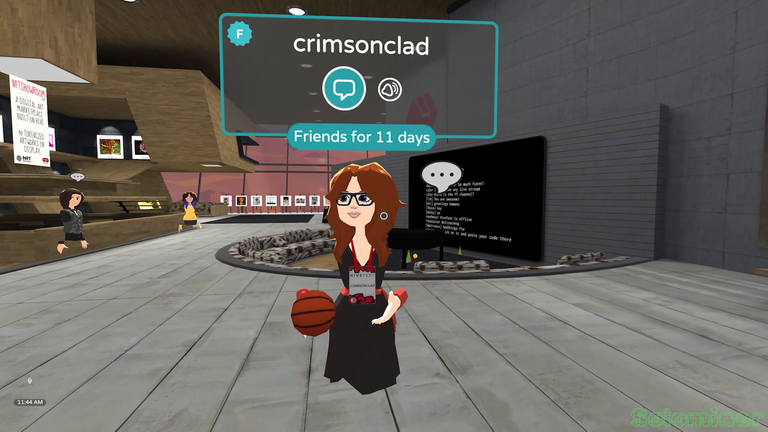 @crimsonclad comes walking in with a basketball. No idea where she got the object. She must have special spawning abilities or something. I introduce @whangster79 to her and tells him about her show she does on PAL.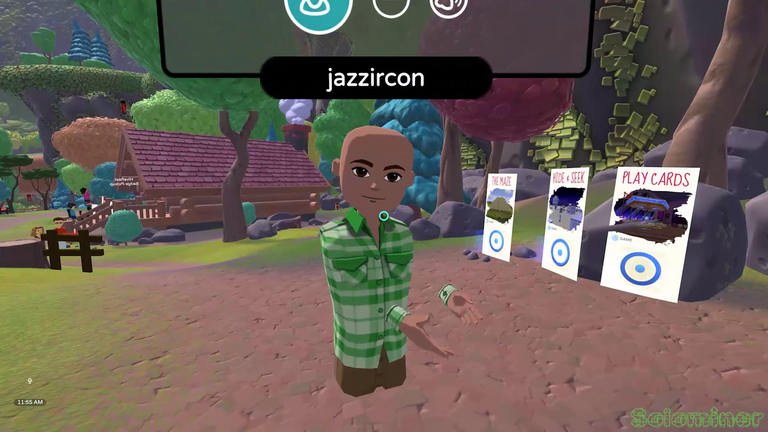 We left the Showroom and traveled back to the main area. I saw @azircon checking out the portals. We talked about some of the issues we were encountering. My application crashes and his headset issues with the USB cable plugged in while wearing his headset due to it not charging earlier. So I guess everyone had their things they were dealing with here.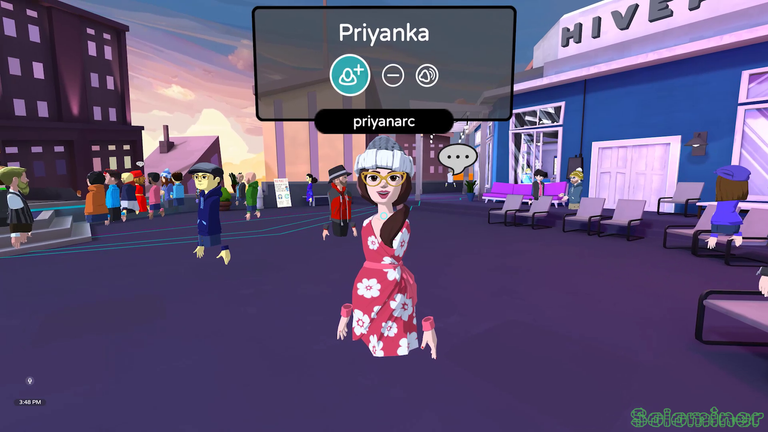 Going to the main stage I saw @priyanarc walking around so I said hi. Her microphone was having issues so I had to listen very carefully to what she was saying as it was like a bad connection on a phone call. We talk about her lab puppy and how old her dog is now.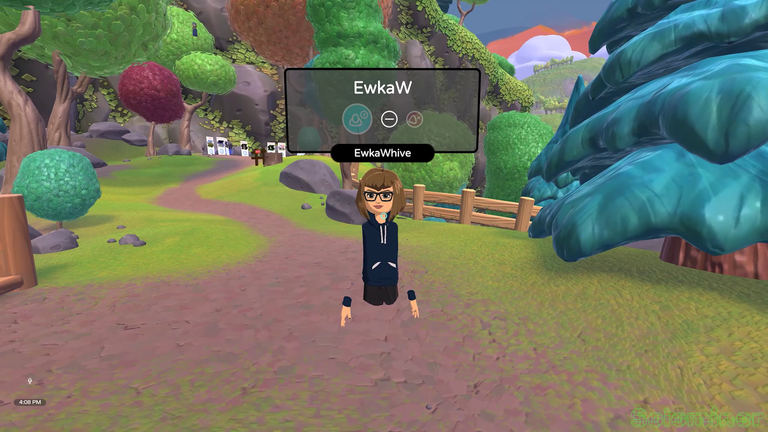 I take a break from the main stage area and travel back to the main meeting space with the campfire and log cabin. @ewkaw walks by and we chat for a bit. I thank her for all the curation she has done on my posts. We talked about the issues we were encountering on AltspaceVR and seems we are both having similar issues. We both cannot see the terminal for the badges. I teleported to the beach world, dont even know how I did that but was able to use a computer there to get my badge.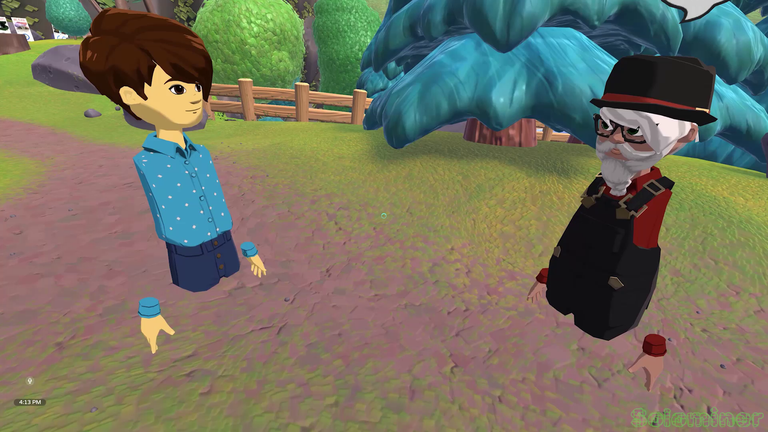 @sgt-dan stopped by to inform us what all we could do with the badges.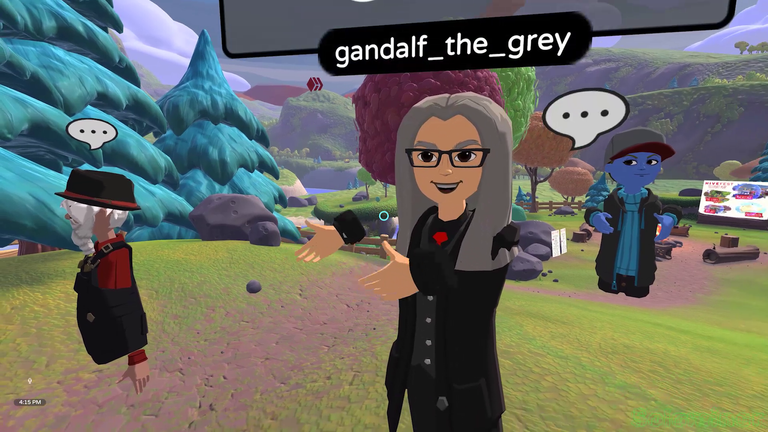 And @gtg stops by as well and lets us know we are all having issues with some of the features in AltspaceVR. I enjoyed his sense of humor and we joked about how some of the Hive dapps are just as broken as this AltspaceVR event, just kidding of course. We talk about how we can see some people but not others. And some can see me and I cannot see them. Before walking off I thank @gtg for all he has done with the hardforks and Hive in general.
@ewkaw tells me she tried talking with me during Prepump III but I could not see her and she said she realized that reading my prepump post feedback.
https://peakd.com/hivefest/@solominer/video-from-hivefest-pre-pump-iii-event
My post on Hivefest Pre-pump III
We also talk about Bees, I learn her family used to raise honey bees. We talked about how the solitary bees compared to colony based bees. I let her know I will be raising honey bees as well soon. Good chatting with you Eva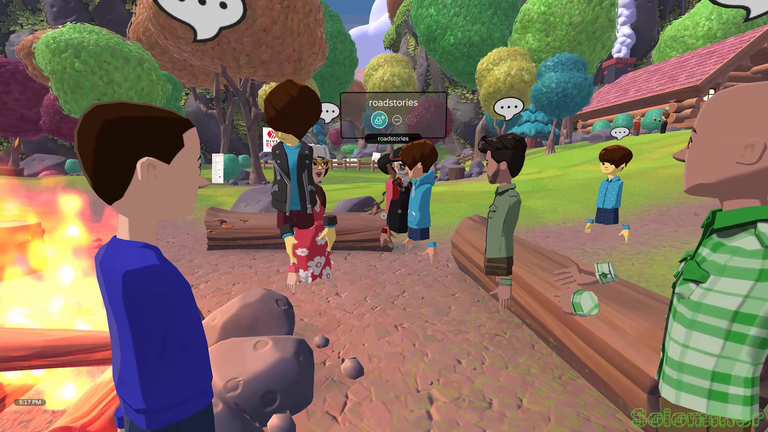 Walking over to the campfire I hang out with @priyanarc and @azircon. We all talk and introduce each other to the group. @galenkp @sgt-dan and @markkujantunen is there as well.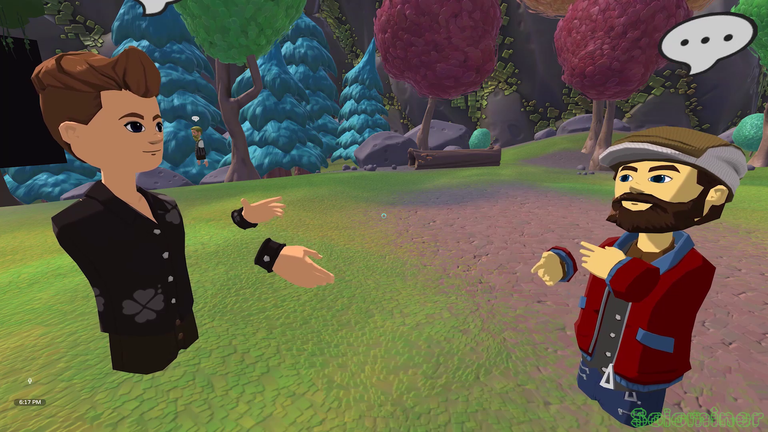 @qwoyn and I talked for a bit and we met up with @jarvie and discussed the West coast. They live pretty far from me but cool to hear about what the landscapes are like in other areas. I ask @jarvie if he has heard of Skinwalker ranch as he lives in Utah but seems unaware of the place.
For the first day in Hivefest AltspaceVR there were some frustrations for the first hour, until I figured out how to work around the glitches and crashes like teleporting using friends. Or going to different rooms to use the terminal to get my Hivefest badge. The day was mostly spent finding people I knew from the blockchain and talking with them for a few minutes. It was real cool to chat with people I normally only communicate over comments with. Really glad so many people were able to attend, last I heard @roelandp said there were over 700 people in attendance which is pretty amazing.
I will share what I did that evening when the event was settling down, a few hours before Hivefest closed for the night I checked out the maze with some friends from Hive and we also went into a cave system. Was alot of fun exploring and will upload that video soon.
@whangster79 was set as a 20% beneficiary for the rewards of this post, thanks for hanging out with me all day man!
(Unsupported https://lbry.tv/$/embed/hivefestday11225/fa38ab6f64f5cf2cead5bee4ca03d01896d91a55?r=3urrKhdN9iH7zyRX6cjYysCbSwPSAPus)