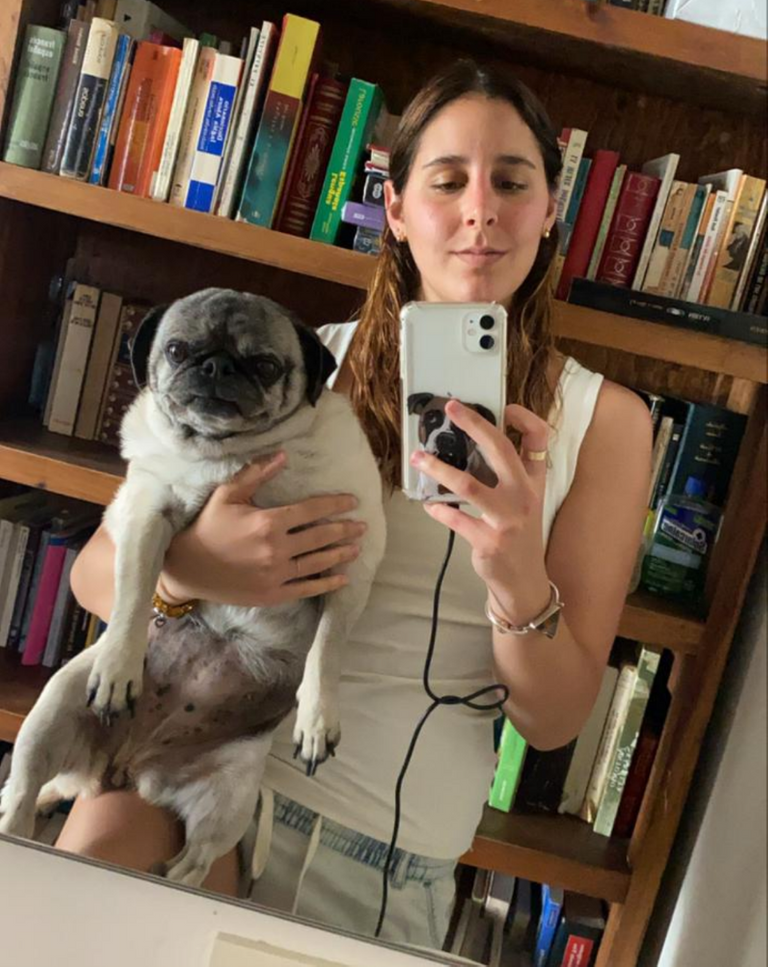 I'm told that the stories I write on Hive will stay here forever and that nobody can erase them, so everything I put here will be stored for posterity because it's very safe and nobody can hack it so, I thought of writing about my dogs and maybe in a few years I can read it and remember them just how they are today. It's a sad thought but it's somewhat great to be able to read this years after writing it.
I have two Pugs named Pancho and Noia, a Boxer called Begoña and last but not least Kira, a Chihuahua.
Noia is the oldest one, but she is also the most adventurer and explorer. Noia is 10 years old but she has perfect health for a pug, all she has is an issue with her hind legs that are a little bit weak and are already starting to falter a couple of times per day, but considering her doggo age it's obvious she can't be perfectly healthy, after all being an 60 year old is no easy task for a pug.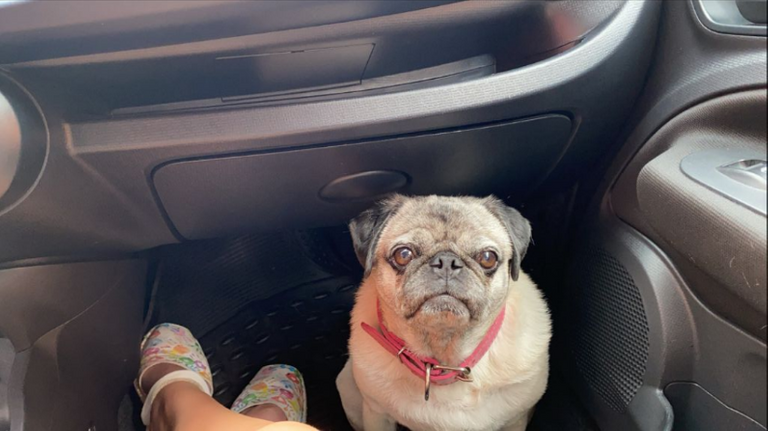 I bought Noia. I don't like buying dogs as I prefer to adopt them or save them from the streets, but 10 years ago I fell in love with her. I attended a running race with my sister, back when my knee was fully functional and when it didn't hurt at all. These races were great for us and we were highly competitive to the point that one time we both won 1st and 2nd place in a 10km race, we even got a smart watch as prize. Anyway, I was in one of these races and, in the finish line after the chaos ended, I found someone selling Pugs right there.
She was carrying a puppy pug, I came closer to see it and she mentioned she was selling them. I asked for a female and her reply was I only have one left, so I broke my piggy bank and the day after, Noia was already in my house... I couldn't wait longer or else someone else would get her and I couldn't allow that.
My mom had a dog called Lola (Short for Dolores, yes, you heard right) who was getting old, really old and she was coming close to dying so I thought of something. When Noia turned 2, I found her a boyfriend, a black Pug named Rocko and, out of the puppies that the female gets, I gave one to my mom. In hindsight I regret this because, after all, breeding a dog breed with so many genetic problems that will cause the dogs to suffer from an early age is irresponsible to say the least but, on the other hand, today Conga (my mom's dog) is my mom's adoration and she can't go anywhere without her, they're inseparable and she loves her more than anything; she takes her everywhere, even to her consulting office and Conga works with her and the patients, to the point where if one of the patients start crying (she's a psychoanalyst), Conga gets in their lap and starts brushing herself in them, and sometimes she just lays down next to them and comforts them.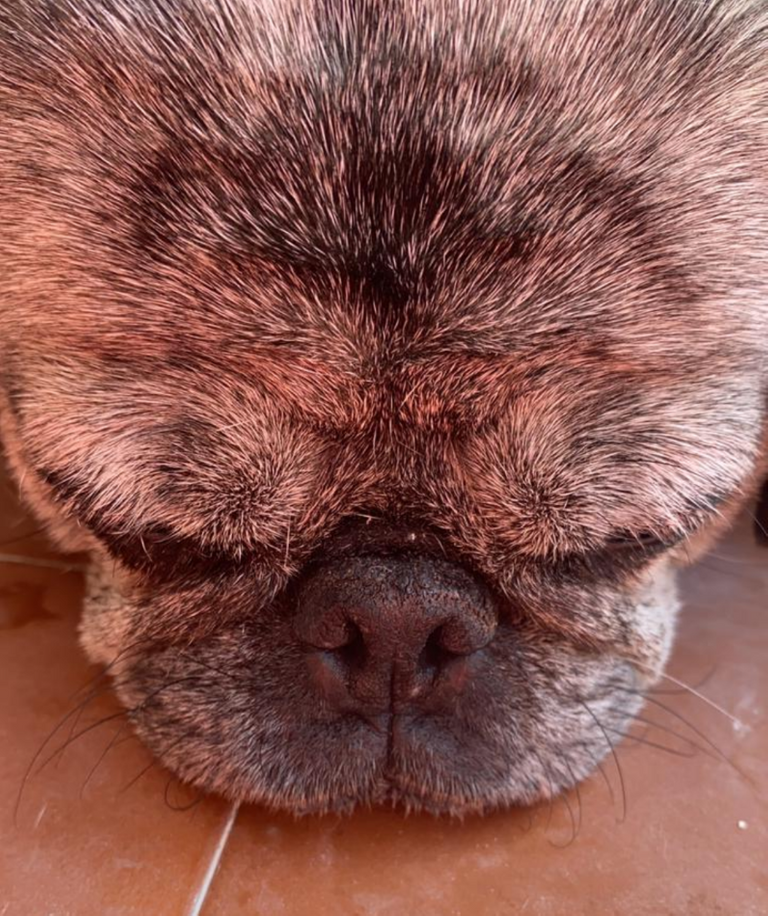 First, my mom got a black pug, but someone broke in our house and stole the TVs, jewelry and they even stole the pugs (we assume). It hurt us very badly mainly because we would never know what happened to the dogs, or if they were being taken care of or if they were even alive. Two weeks after that I called Elena, the friend who owned Rocko and who kept the Conga and asked her if she could sell it to us to what she replied something like Don't worry, one of my other Pugs is already pregnant, you can have Conga for free as I understand your mom must be devastated, so my mom received Conga, a loving dog that has already had two hip operations and she's got a bad column. Pugs after all...
| | |
| --- | --- |
Then we have Pancho (Short for Francisco, yes, you heard right), my continous worry nowadays. He had to get a surgery when he was very young due to an acute pain in the legs, in that surgery they removed both Femur heads and separated two vertebrae that were compressed between them. The veterinary doctor that operated him left both bones badly shaped and even after the surgery, Pancho's legs still hurted like hell and today, 5 years later, the Femurs are point shaped and hurt him every time he takes one step; to add to the problems, one of his knees is pretty much destroyed and we can't operate him because it won't do anything for him. Pancho will have to take meds for the rest of his life... I don't care if he can't walk anymore or has issues, as long as he can get meds so he's not suffering or in constant pain, I will pay whatever it takes.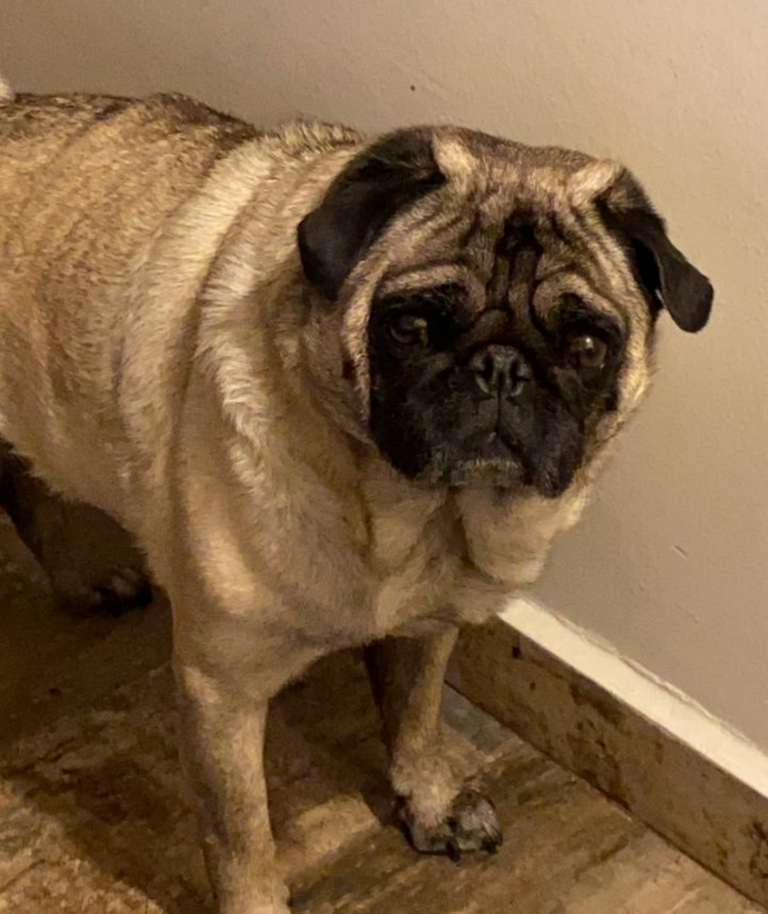 Elena gifted me Pancho (Elena is the owner of Rocko, the dog that mated with Noia, my other dog). One day she called me and said that one of her many Pugs (I think she has like 7 or 8) had had babies and one of them was too small and weak, and that he needed a lot of care and love to not stay behind. He didn't eat and he was way too small compared to the other puppies of the litter so, Elena asked me to take care of him and that she would gift it to me because she knew I would do everything for his well being and that I would love him with all my heart.
I had to bargain with my mom for days until I convinced her and she let me go pick him up. It's been complicated to have Pancho with us because of all his issues, past and present. When he got his Femur heads operated he acquired and infection and the surgery vet was out of the country, so we had to improvise to keep him alive. It was incredibly hard for Pancho to stay alive; for several weeks it was complicated for me and him, he could never fall asleep for more than a couple of hours straight and I had to constantly cuddle and pet him so he stayed calm and still (it was as if I had a newborn baby).
Pancho had to get many blood transfusions, was constantly medicated, I had to spend a lot of money on him and he was still injured and ill. I had to try alternative medicine to see if it worked... The doctor recommended to bathe him in hot vapory water with some sort of healing meat which I don't remember the name, and that got his blood levels to normal. Three days later Pancho finally got better in a really unexpected way. My mom told me several times that the wise thing to do was to let him rest, that he would suffer his whole life and that he would never be a happy, fully developed Pug. But I refused and took care of him, gave him food with my hands and water with a syringe and he eventually got better.
| | |
| --- | --- |
We were together for way too long, he slept with me many many nights and he got used to being in my arms and lap all the time so, now that he's healthy, he always wants me to hold him and carry him wherever I go and wherever I am, demanding as hell if you ask me. He's incredibly loving and he hates everyone but me, but when he starts trusting someone, he let's them pet him.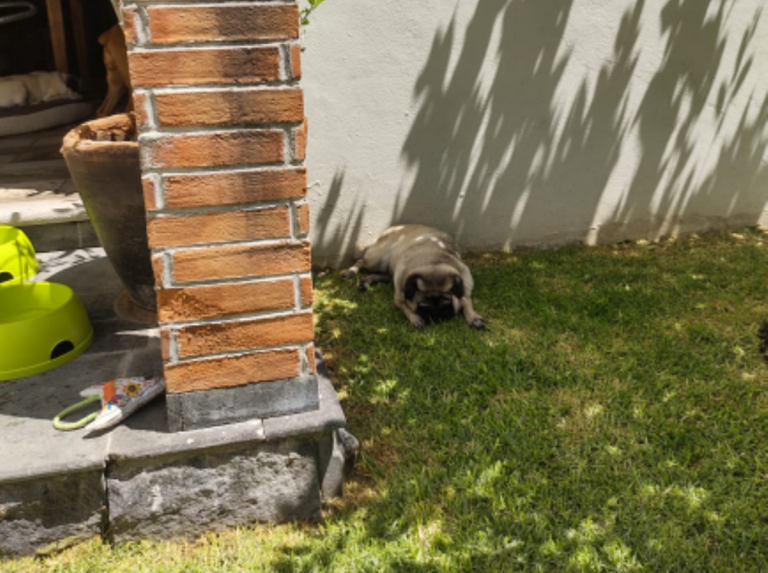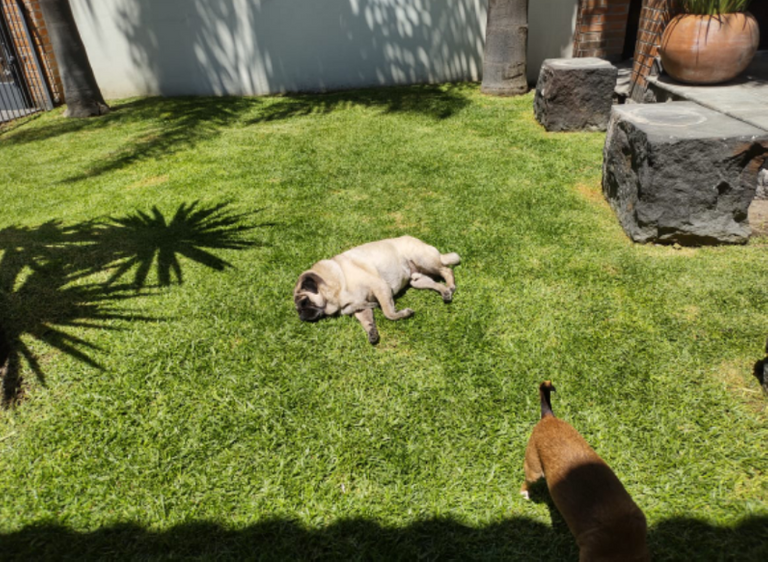 Pancho and Noia are inseparable, they love to spend time together and even though their personalities are different (if not totally opposite), they're both very good friends. Noia is independent, explorer by nature, active as hell and on the other hand, Pancho is very calm, always wants to be next to me and he's not much of an adventurer but, in the end, they grew up together and they love each other to the point where they sleep together, eat together, go to the garden together and they chill together all the time, to the point where I have tons of pictures of them just being happy together:
I hope you liked the story of Noia and Pancho!! I will tell you about Begoña and Kiri on another post :)
---
ESPAÑOL
---
Me han dicho que en hive se guardan los posts que compartes y es muy segura. Así que, qué mejor que escribir la historia de mis perros y en unos cuantos años, poderla leer y recordarlos como si fuera hoy.
Tengo dos pugs llamados Pancho y Noia, una boxer llamada Begoña y Kira, una chihuahua.
A Noia la tengo hace 10 años y está perfecta de salud, excepto que las patas de atrás, que ya le comienzan a falsear un poco, pero bueno a su edad perruna ya no podía estar tan fuerte como cuando era joven.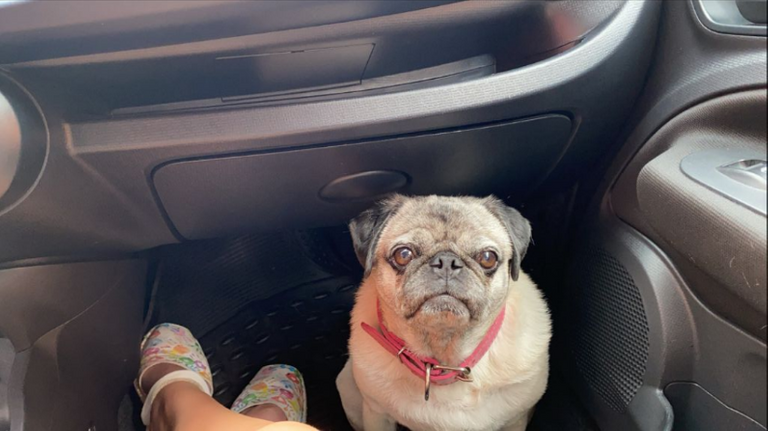 A ella la compré en una de las tantas carreras a las que iba con mi hermana cuando aún no me dolía la rodilla ni sabía que la tenía mal. Eran muy padres, siempre entrábamos a las de 5 o 10 kilómetros y en una ocasión ganamos, Natalie el primer lugar y yo el segundo y como premio nos dieron un reloj.
| | |
| --- | --- |
Pero bueno en una de esas carreras vi a una chava cargando un pug bebe, me acerque para verlo y me comentó que los estaba vendiendo. Le pregunté que si tenía hembras y me dijo que solo le quedaba una, así que saque todos mis ahorros y al siguiente día ya era mía, no me podía tardar y que pasara a ser de otra persona. Cuando cumplió dos años la cruce con el perro de una amiga llamado Rocko (un pug negro). La verdad la quise cruzar porque la perra de mi mamá llamada Lola ya estaba muy viejita y le quería regalar uno. Pero me arrepiento? En este momento si, porque era seguir reproduciendo razas que tienen muchos problemas por la modificación que les han echo durante años. Por otro lado claro que no, porque si no, no estaría aquí la Conga que es la idolatracion de mi mamá. Todos los días se la lleva a su consultorio y atiende pacientes con ella, ayer por cierto me comentó que cuando alguno de sus pacientes comienza a llorar, se pone a su lago y con la pata los comienza a acariciar o simplemente se les acuesta al lado.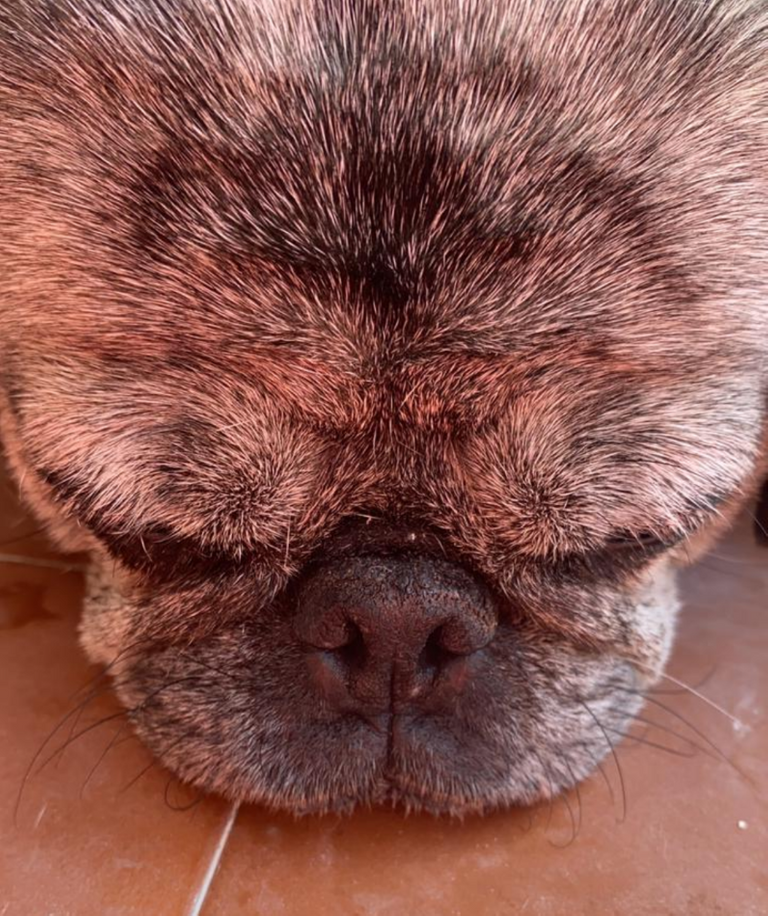 Al principio le había dado a una pug negra, pero entraron a robar a nuestra casa y los malditos rateros se la llevaron, nos dolió muchísimo a todos porque finalmente nunca íbamos a saber su paradero, si la estaban cuidando bien o no. Dos semanas después, le hablé a Elena (la amiga que me prestó a su perro para que cruzarlo con la Noia) y le pregunté si me podía vender a la Conga, porque de la camada, decidió quedarse con ella y me dijo que me la regalaba, porque una perra suya acababa de tener bebés y se iba a quedar con ellos y así fue como nos quedamos con la Conga, que mi mamá la ha tenido que operar dos veces porque venía con la cadera y la Columba mal.
| | |
| --- | --- |
Hoy de quien estoy preocupada en de mi otro perro, Pancho. Lo opere cuando tenía un año y medio porque tenía mucho dolor, así que le quitaron las dos cabezas de fémur y le separaron dos vértebras porque estaban comprimidas. La veterinaria que lo operó le dejó picos que hoy después de 5 años le duelen y una de las rodillas que tiene zafada. Es muy triste la situación porque el último veterinario al que fui a ver me dijo que ya no era recomendable operarlo y que lo tendría que medicar de por vida y ponerle inyecciones para el dolor, no me importa que deje de caminar o camine mal, lo que realmente me importa es que no tenga dolor y sufra.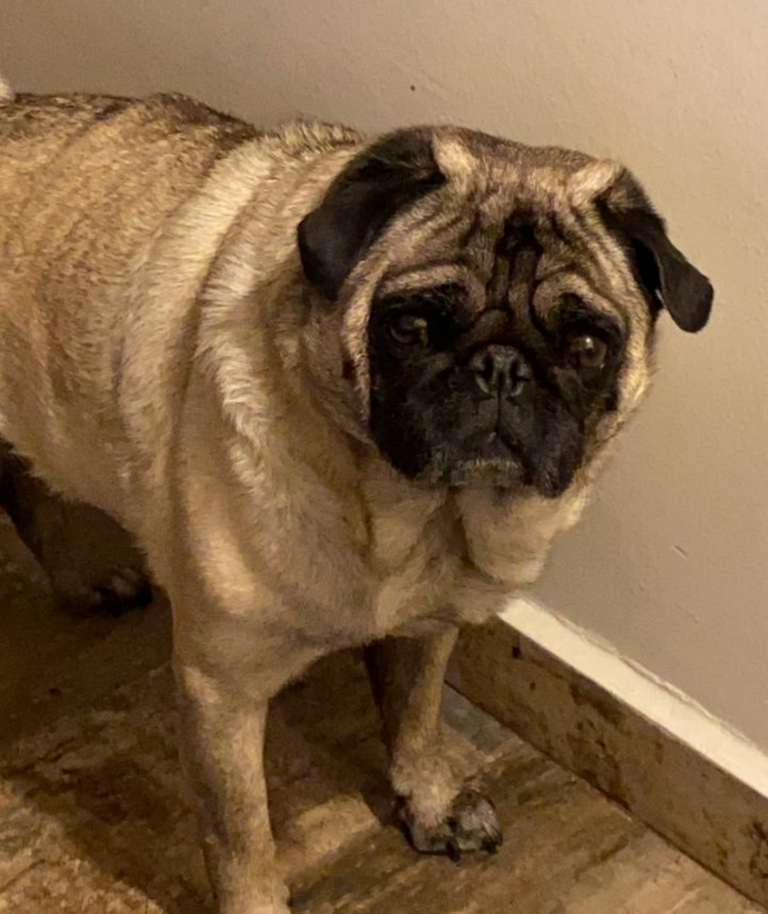 Pancho me lo dio Elena, la dueña de Rocko, con el que cruce a la Noia. Un día me marco y me comentó que una de sus perras había tenido una camada y uno de ellos estaba muy frágil, había sido el último en nacer, no comía muy bien y estaba muy chiquito en comparación a los demás. Por lo que me dijo que quería que estuviera conmigo porque así se quedaría más tranquila. Me costo días convencer a mi mamá pero al final lo logré y fui por el. A sido complicado por el problema que tuvo y tiene, ya que cuando lo operaron, se le infectó una de las heridas y la veterinaria que le hizo la cirugía, se había ido a Houston. Le costo muchísimo salir adelante, por semanas no dormía porque lloraba de dolor y lo tenía que estar apapachando para que se pudiera volver a dormir (era como si hubiera tenido un bebe). Le hice transfusiones de sangre, le di medicamentos, me gaste un dineral y no se recuperaba, hasta que fui con mi veterinario de cabecera y me dijo que pusiera una carne (no recuerdo cual) en baño María y le diera el caldo para que le subieran las plaquetas. A los tres días Pancho tuvo una mejora impresionante. Algunos días pensaba que no iba a salir adelante y por dos ocasiones mi mamá me dijo que lo durmiera, que estaba sufriendo mucho, pero me negaba y seguía obligándolo a comer y a tomar agua con jeringas para que se recuperara.
| | |
| --- | --- |
Por lo pegados que estamos, ahora que está bien, todo el tiempo quiere que lo cargue y se acuesta como bebe, boca arriba. Es increíblemente amoroso y odia a las personas excepto a mi, bueno no las odia pero es temeroso. Cuando ya tiene confianza con alguien, deja que lo carguen.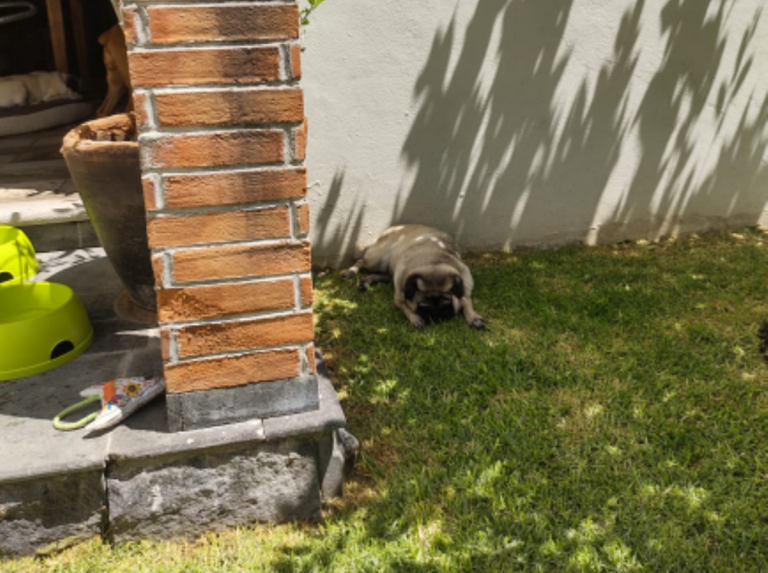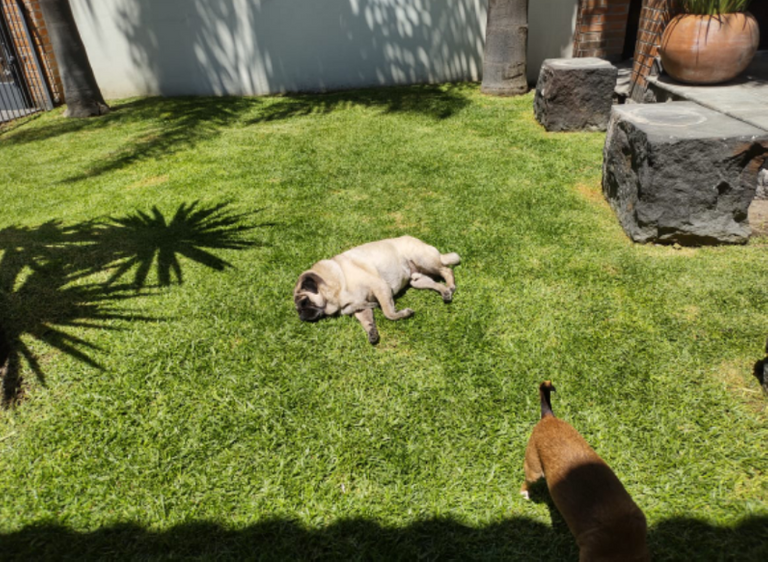 Pancho y Noia son inseparables, les encanta convivir juntos y aunque tienen una personalidad muy diferente, siendo Noia muy independiente,exploradora y activa, y por otro lado Pancho siendo un poco más tranquilo, que me busca mucho para acostarse junto a mi y es más de estar cerca de mi, ambos son muy buenos amigos y disfruten mucho de la compañía del otro, tanto así que tengo muchísimas fotos de ellos dos compartiendo momentos. Les quiero compartir algunas de estas fotos:
La historia de Begoña y Kiri, las escribiré en otro post.