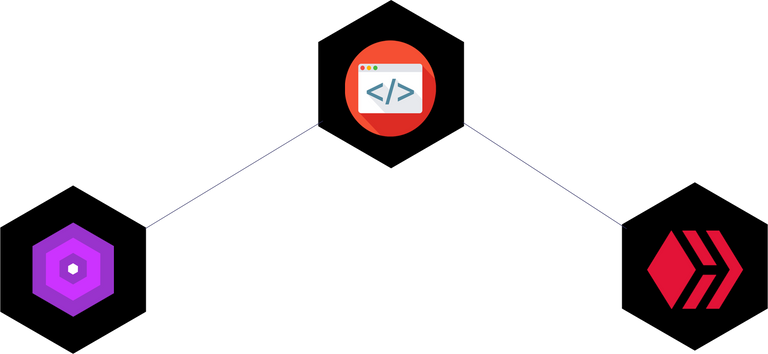 Hello,
I and my little team of the GitPlait have been planning on how we can make the Gitplait community thrive on the Hive blockchain. We aim to make the Gitplait project a centre of learning on this blockchain where people in and off the chain will be excited to stay and share their work here. We understand that this will be a mammoth task, but we are up to the task, and we will achieve this with hard work and proper planning. In the last few days, we noticed some flaws in our https://gitplait.tech/ interface and we revamped the page to make it clear. In the work, we added some simple pages/features and information which will make the site more user friendly, and clear to understand.
Improve home page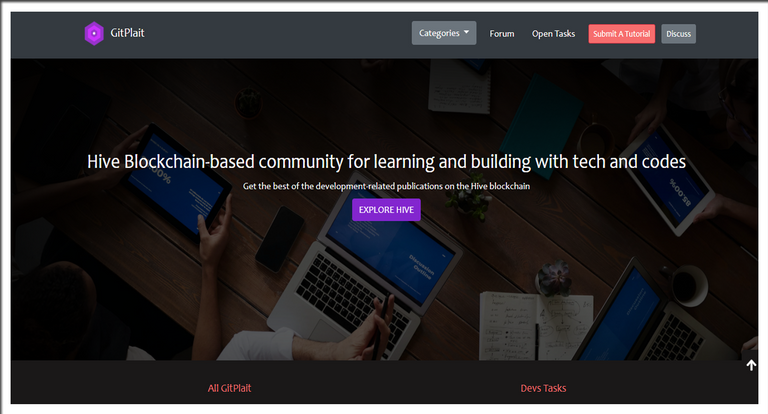 We had a simple home page with banners and publications on our previous site. We saw that this does not explain properly what we do, so I improved the interface and added more information, and a few functions.
Categories



There are many programming languages, and I thought of making categories for most languages. JavaScript, Python, Java, PHP, Ruby, HTML/CSS, C#, C++, GoLang, Swift, Kotlin and others are added to the categories. The other category will host other libraries, databases, and languages that do not have a separate category for now.
In each of the category, we will add good tutorials, and developments related publications that are published on our community on Hive. As I wrote in my last post, this is to ensure that good publications don't get hidden after the 7 days payout window.
Delegators Page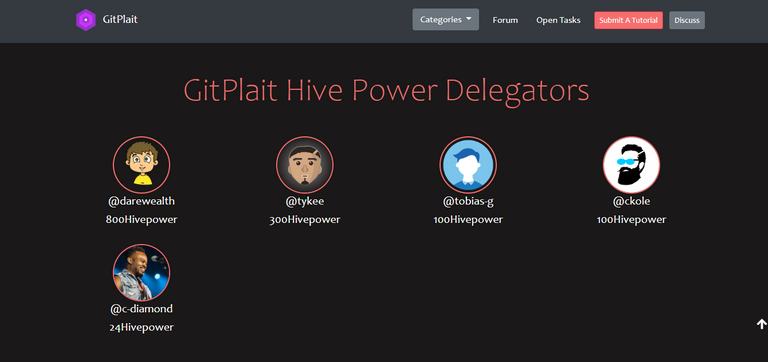 I also added a page to show our delegators on gitplait.tech. Currently, we have only 5 delegators to @gitplait account, including myself. I truly hope that we get support from the community so we can encourage people to publish and use the community for its purpose.
Increase in delegation reward
We do not plan to make Gitplait community a place to suck out funds for our personal needs, rather we want to see values and give values back to the community. We started the community delegation reward to be 40%. This I believe many projects that thrive well on Steem did years ago, but after several deliberations, I and the entire team surge the delegation reward to 80%.
Effective now, we will give our delegators 80% of the curation rewards that will come to @gitplait account.
Collaboration with communities
Hive is a community of support and love. I have been reaching out to like-minded individuals here, and many people are ready to support this community if the community becomes more lively. @reazuliqbal of the BDCommunity is already supporting this community for constant curation of contents. I have also talked to one of the big community leaders here, and they are ready to support us if the community stay active.
Our Community Reputable Delegators
@gitplait now hold 1324HivePower. Since we have not been getting many publications in the community, we decided to be curating dev related posts, and tutorials in other communities, especially, hivedevs.
We highly appreciate the delegations. To delegate click the links, 10HIVE, 20HIVE, 50HIVE, 100HIVE, 200HIVE, 500HIVE, 1,000HIVE, 10,000HIVE, 100,000HIVE
Thank you, follow @gitplait for prompt updates.
Join the Community and let's solve problems and build together.
Follow Us On Social Media