Hello Hivian,
The final frontier... These are the imaginary voyages of QuantumG as depicted on his canvases. His continuing mission: To explore fantastic new worlds.
Well, I exaggerated a little bit. At the moment I have no more canvases at all.
So I thought I'd contribute a few digitally created images to the LMAC Image Library.

Hallo Hivianer,
Der Weltraum, unendliche Weiten. Wir schreiben das Jahr 2022. Dies sind die imaginären Abenteuer des QuantumG, wie er sie auf seine Leinwände brachte und unterwegs ist, um fantastische Welten zu erforschen.
Nun gut, das war ein wenig übertrieben. Ich besitze nämlich im Moment gar keine Leinwände mehr.
Deswegen wollte ich ein paar digital erstellte Bilder zur LMAC Image Library beitragen.
---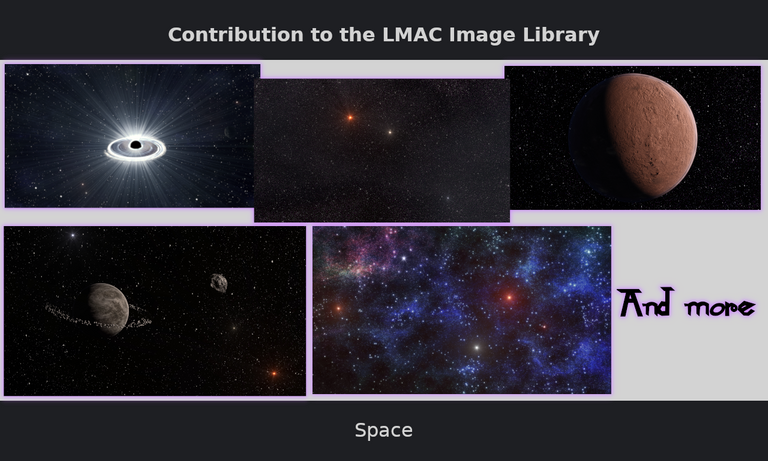 What is LIL?
LIL is the abbreviation for "Let's make a collage Image Library". It is an initiative of the LMAC(Let's make a collage) community to build a library of images that can be used as a material source for collages but also for other aspects.
The images in it are contributed by Hive users and automatically indexed by a bot. All images indexed so far can be found on lmac.gallery. They are linked there.

Was ist LIL?
LIL ist die Abkürzung für "Let's make a collage Image Library". Es eine Initiative der LMAC(Let's make a collage)-Community, um eine Bilder-Bibliothek aufzubauen, die als Material-Quelle für Collagen aber auch für andere Dinge verwendet werden kann.
Die Bilder darin werden von Hive-Benutzern beigetragen und automatisiert von einem Bot indiziert. Alle bisher indizierten Bilder sind auf lmac.gallery zu finden. Sie sind dort verlinkt.
---

What I like to contribute
The images provided here by me, are all made by myself in Gimp and Blender. And I have not used any non-free materials or technologies for them.
Herewith I make them freely available via the #LIL and hope that someday someone can use them for making an artwork from it or anything else.
All these starfields and star nebulae are done in Gimp. There are a few techniques for making this kind of things with a little effort completely in a procedural way, i.e. without using images from other people. I will report about it soon in a LMAC School tutorial.
As background images I also made starfields in Gimp for the planet images. The planets, however, I modeled in Blender.
I made the black hole completely in Gimp.
This is how I myself imagine a black hole. Of course I was a little bit influenced by the popular movie blockbuster "Interstellar", but actually it was clear to me thanks to good school education even without this movie, that a black hole can't be a hole in space, but should be three-dimensional like everything in our universe.

Was ich gerne beitragen möchte
Die hier von mir zur Verfügung gestellten Bilder, sind allesamt von mir selbst in Gimp und Blender gemacht. Ich habe dafür keinerlei unfreie Materialien oder Technologien verwendet.
Hiermit stelle ich sie über die #LIL zur freien Verfügung und hoffe, dass sie irgendwann jemand für ein Kunstwerk oder irgend etwas anderes verwenden kann.
Alle Sternenfelder und Sternennebel sind in Gimp gemacht. Es gibt für so etwas ein paar Techniken, worüber man diese Art Bilder mit ein Wenig Aufwand komplett prozedural, also ohne fremde Bildquellen zu verwenden, herstellen kann. Ich werde darüber demnächst in einem LMAC School Tutorial berichten.
Als Hintergrundbilder habe ich mir auch für die Planetenbilder Sternenfelder in Gimp gemacht. Die Planeten jedoch, habe ich in Blender modelliert.
Das schwarze Loch habe ich wiederum komplett in Gimp gemacht.
Ungefähr so stelle ich mir selbst ein schwarzes Loch vor. Natürlich wurde ich ein klein wenig vom populären Kino-Blockbuster "Interstellar" beeinflusst, doch eigentlich war es mir dank guter Schulbildung auch ohne diesen Film klar, dass ein schwarzes Loch kein Loch im Raum sein kann, sondern wie alles in unserem Universum dreidimensional sein müsste.
---
| | | |
| --- | --- | --- |
| Cosmic nebula #1 | space, stars, star, cosmic, starfield, universe, supernova, suns, cutout | |
| Cosmic nebula #2 | space, stars, star, cosmic, starfield, universe, supernova, suns, cutout | |
| Cosmic nebula #3 | space, stars, star, starfield, cosmic, universe, supernova, suns, cutout | |
| Starfield | space, stars, star, cosmic, universe, supernova, suns, cutout | |
| Desert planet #1 | space, stars, star, cosmic, universe, supernova, suns, planet, cutout | |
| Desert planet #2 | space, stars, star, cosmic, universe, supernova, suns, planet, cutout | |
| Asteroids in deep space | space, stars, star, cosmic, universe, supernova, suns, asteroids, cutout | |
| Artistic illustration of a black hole | space, stars, star, cosmic, universe, supernova, suns, asteroids, cutout | |
Best regards
QuantumG

╭━━⋞ ☙ My NFT artworks ≻≺ ♖ My dCity ⋟━━╮
╰━━━━⋞ ♫ My Rising Star(s) ⋟━━━━╯