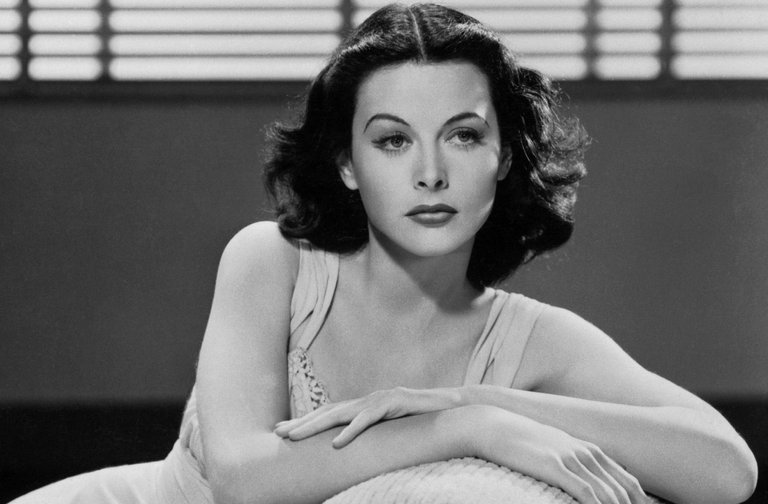 Source
Many of you may not know that it was Hedy Lamarr, a famous actress of Austrian origin from the 30s, who before leaving engineering to dedicate herself to show business, created the first version of the protocols for wireless communication that we know today as Wi-Fi.
Posiblemente muchos no sepáis que fue Hedy Lamarr, famosa actriz de origen austriaco de los años 30, quien antes de abandonar la ingeniería para dedicarse a la farándula, creó la primera versión de los protocolos para la comunicación inalámbrica que hoy conocemos como Wi-Fi.
But it took a few years until in 2000 a group of companies from the now called "WiFi Alliance", created the first WiFi standard known as IEEE 802.11, which would evolve in security and performance until the current 802.11ax known as WiFi 6.
Pero tuvieron que pasar unos cuantos años hasta que en el año 2000 un grupo de compañías de la actualmente llamada "Alianza WiFi, crean el primer estándar WiFi conocido como IEEE 802.11, que iría evolucionando en seguridad y prestaciones hasta el actual 802.11ax conocido como WiFi 6.
But all these improvements have been designed for the connection of mobile devices that handle large volumes of data that circulate on the network, so they require very generous bandwidths to function properly.
Pero todas estas mejoras han sido pensadas para la conexión de dispositivos móviles que manejan grandes volúmenes de datos que circulan por la red, por lo que requieren anchos de banda muy generosos para poder funcionar adecuadamente.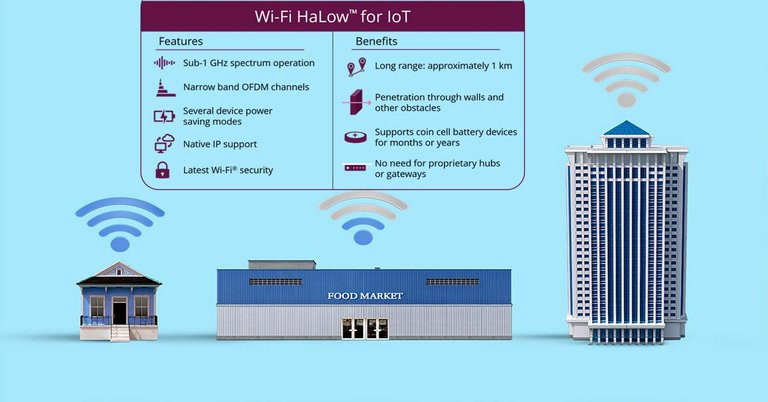 Source
In the near future, the new IoT (Internet of Things) devices do not need to transport large amounts of data but they do need to have a long range and low power consumption, which is why it has been necessary to develop the IEEE 802.11ah version designed especially for communication of IoT devices.
En el futuro cercano los nuevos dispositivos IoT(Internet of Things) no necesitan transportar grandes cantidades de datos pero si necesitan tener un largo alcance y un bajo consumo de energía por lo que ha sido necesario desarrollar la versión IEEE 802.11ah pensada especialmente para la comunicación de dispositivos IoT.
Also known as Wi-Fi HaLow, the 802.11ah protocol has been designed to operate at frequencies below 1 GHz, which provides greater range and lower power consumption, making it ideal for IoT devices that do not need much speed or handle large data packets.
También conocido como Wi-Fi HaLow el protocolo 802.11ah ha sido diseñado para operar en frecuencias por debajo de 1 GHz, que proporciona un mayor alcance y un menor consumo de energía lo que lo hace ideal para dispositivos IoT que no necesitan mucha velocidad ni manejan grandes paquetes de datos.
Having a lower frequency also implies longer electromagnetic waves, which means that the walls are not an impediment for the correct transmission of data, making it ideal for working in industrial environments or smart buildings.
Tener una frecuencia más baja también implica ondas electromagnéticas más largas por lo que hace que las paredes no sean impedimento para la correcta transmisión de los datos por lo que resulta ideal para trabajar en entornos industriales o edificios inteligentes.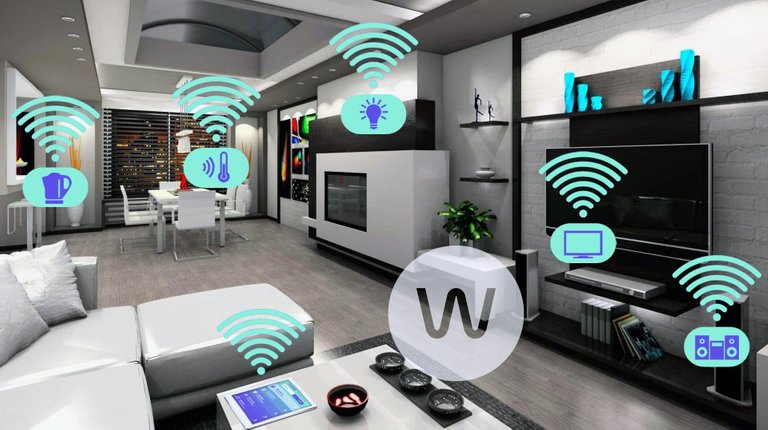 Source
Today we can already find many IoT devices in operation but each one uses a different system so interoperability between them is very difficult, this is also remedied by HaLow since it supports all the protocols used which facilitates the interconnection of IoT devices from various manufacturers .
Hoy día ya podemos encontrar muchos dispositivos IoT en funcionamiento pero cada uno utiliza un sistema distinto por lo que es muy difícil la interoperabilidad ente ellos, esto también lo subsana HaLow pues soporta todos los protocolos utilizados lo que facilita la interconexión de dispositivos IoT de varios fabricantes.
Presumably all this will contribute to massively deploying the IoT devices that are talked about a lot but it seems that things are going slower than we all wish.
Es de suponer que todo esto contribuirá a desplegar masivamente los dispositivos IoT de los que se habla mucho pero parece que la cosa va más lenta de lo que todos desearíamos.
More information/Más información:
https://www.wi-fi.org/discover-wi-fi/wi-fi-halow#:~:text=Wi%2DFi%20HaLow%20meets%20the,including%20sensor%20networks%20and%20wearables.
https://www.redeszone.net/tutoriales/redes-wifi/wi-fi-halow-estandar-que-es-iot/