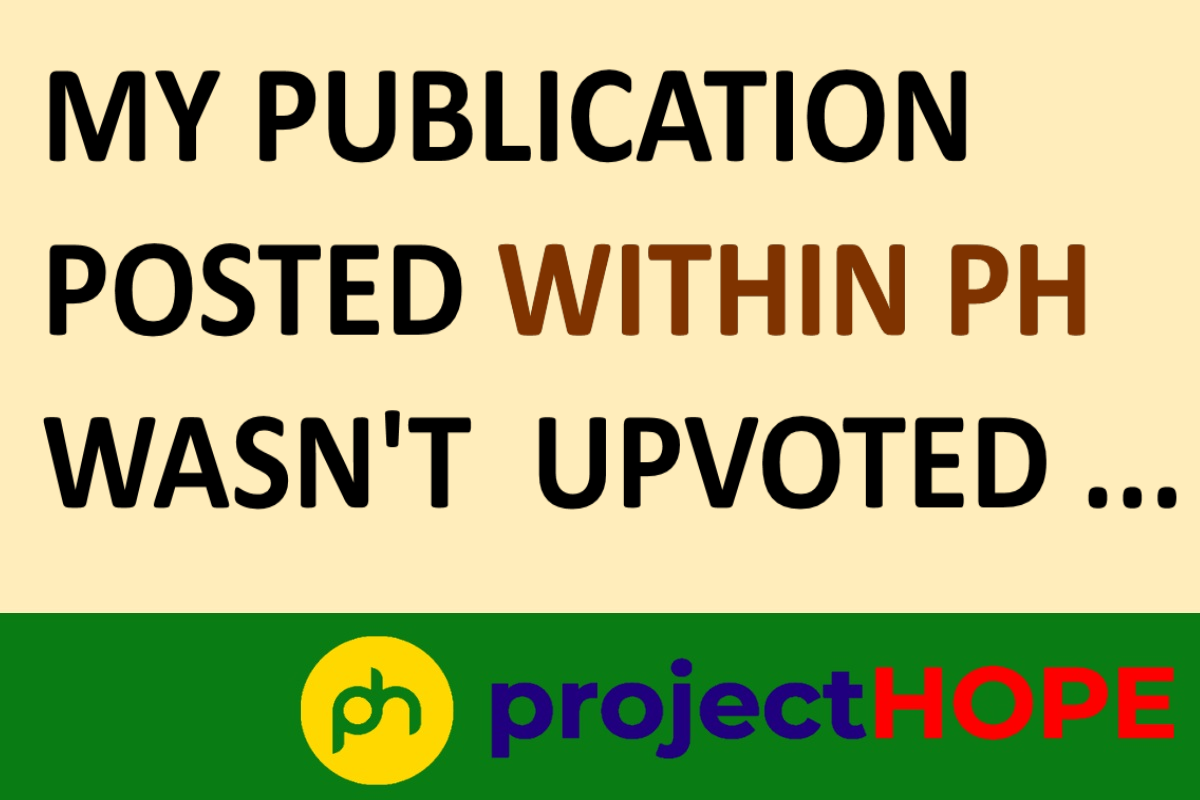 INTRODUCTION

This post is directed to all Project.hope members and content creators who are posting on a regular basis within our community on Steemit. If you're not part of PH, then you can skip this publication. Otherwise, please share a few minutes of your time to read this post and confirm reading it in the comment section.
Today, I would like to discuss a repeating scenario where some of our members are noticing that one of their publications posted in our community wasn't supported with an upvote from @project.hope / our curation trail. And I would like to inform you all on "what to do" in that situation as it seems that many new members are unsure on how to react whenever they spot one of their publications reaching 7 days payout and yet - not being upvoted.
Project.hope upvoting habits

Let me quickly start with a small explanation on how I deal with manual curation within our community:
my goal is always to allow regular members and visitors to place their own upvotes before large ones from all managed accounts (and curation trail) would follow. Thanks to the non-linear reward curve, this allows all of them to enjoy high curation rewards. I also believe that people with small voting power would not upvote posts which already have a high payout.
For that particular reason, we're always aiming to manually upvote publications within PH on 3-4th day since it's publication time.
I'm not sure if this is alright for me to do, but ...
Every now and then I receive similar messages. The polite requests usually come from one of those members who recently joined PH. It's hard not to notice some of those people are unsure on how they should react and if pointing out to me that I've missed their publication (with an upvote) is fine or not.
I would like to reassure EACH ONE OF YOU, that is it PERFECTLY fine to inform me about your publications which were not supported so far. Assuming that those posts are already 5-6 days old (not earlier).
In that case, please just send me a message via Discord and share the link with me.
We're doing our best not to miss any post published by our members - especially those who participate in our project economy by setting up beneficiaries to ph-fund. However, regardless of our efforts, it indeed does happen sometimes to miss one or two posts.
new BOT features on the way

Within the upcoming weeks, this problem should be fully resolved as we're currently building a discord bot. One that will support our manual curation. One of the upcoming features will be quite simple and direct:
it will scan all posts published within PH and report to me if there is any 5days old publication that hasn't been yet upvoted.
With that bot operating in the nearest future - similar situations should not be happening. The reality is, those bots built on top of steem and hive blockchain do not always work 100% efficiently. Sometimes nodes are down and there isn't much we could do about it.
So please always be aware and check your own post, to see if there are any of which that have not been upvoted. And remember, that it is okay to "bother me". I do not see it as "begging for upvotes" (as someone mentioned a while ago). On the contrary - it is helping me to do my job well.
So to wrap it up:
if anyone would ever notice that your own post is 5-6 days old, yet not upvoted - then assume that I've missed it accidentally. So share the link with me via Discord.
CONFIRM READING THIS POST

It would make my life easier if each one of you, dear readers, would kindly confirm (even with one short sentence) reading this post. So I would be aware of who is already aware of this procedure and who I still need to share it with.
DO NOT UPVOTE

Pretty much all our publications have been targetted and downvoted by small group of haters, who seem to take great satisfaction in flagging articles posted by me.
Truth is, that doing it they mostly target those who are supporting our efforts with an upvotes. After all, your curation rewards are being affected by them.
For that reason, I've decided to decline receiving rewards on HIVE. So please do not upvote this post.
Yours, @crypto.piotr
@project.hope founder
check out our community: https://steemit.com/trending/hive-175254

ps. Check out my recent publication:
cc:
@achim03,
@machnbirdsparo,
@gandhibaba,
@karamyog,
@mintymile,
@majes.tytyty,
@uyobong,
@ajewa,
@oluwatobiloba,
@josediccus,
@vlemon,
@awah,
@bala41288,
@unbiasedwriter,
@janettyanez,
@paragism,
@reeta0119,
@valchiz,
@tomoyan,
@mynima,
@joelagbo,
@wiseagent,
@shortsegments,
@munawar1235,
@fijimermaid,
@besticofinder,
@ritxi,
@deathcross,
@sumit71428,
@oredebby,
@belemo,
@qsyal,
@chesatochi,
@tolustx,
@mauromar,
@resiliencia,
@engrsayful,
@great-a,
@blockchainfo,
@culgin,
@monz122,
@eliorrios,
@sholly1,
@mccoy02,
@joseph1956,
@ifgiaa,
@kamranrkploy,
@gifxlove,
@filotasriza3,
@videoaddiction,
@carapthian,
@churchangel,
@rarej,
@aderyn,
@foxicoreviews,
@knowledgefruit,
@vimukthi,
@doppley,
@adesojisouljay,
@metzli,
@nonsowrites,
@talktofaith,
@tanhunter254,
@mllg,
@elgranpoeta,
@pablo1601,
@certain,
@lebey1,
@kenny-writes,
@taiwo-writes,
@hawk-eye,
@retaliator,
@mato445,
@emimoron,
@davidgutre,
@anacristinasilva,
@funmiakinpelu,
@lanzjoseg,
@fucho80,
@juanmolina,
@alokkumar121,
@gbenga,
@thetimetravelerz,
@josevas217,
@hardaeborla,
@reinaldoverdu,
@carlos84,
@samminator,
@luckyali,
@franyeligonzalez,
@adityajainxds,
@mandate,
@tfame3865,
@ramsesuchiha,
@rbalzan79,
@amestyj,
@emiliomoron,
@trabajosdelsiglo,
@menoski,
@lupafilotaxia,
@madridbg,
@sandracarrascal,
@jadams2k18,
@tocho2,
@yusvelasquez,
@roronoa07,