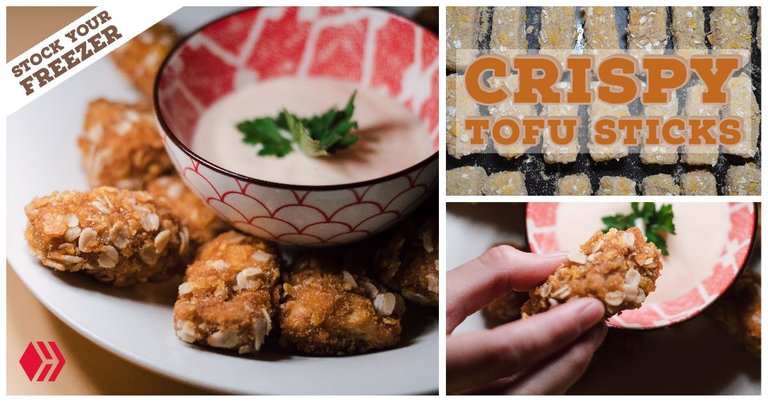 ---
HIve there, hola a todos!!!!
Today we bring you a recipe for stocking the freezer! Easy, fast, delicious. To share with friends, to accompany with a beer, to incorporate in any gastronomic venture. This last point seems very important to me. Here in Argentina being vegetarian is a problem when you choose to go out for a snack. Let alone being vegan. What is expected is to find french fries or rustic potatoes, if you are vegetarian with some cheddar sauce maybe, but if you are vegan, just potatoes and be thankful, which seems to me quite unfair since there are so many possibilities at your fingertips.
Here is one of them.
I used a block of tofu of about 700 grams, but of course you can make just a small portion. About 200 gr will be enough for a good portion even to share if you accompany it with some garnish or simply to accompany a beer with someone else.
Nowadays it is easy to find tofu in almost any health food store, but if you still have trouble getting it, you can MAKE YOUR OWN TOFU and it will even be a much more economical way to make this recipe.
ESP
Hoy les traigo una receta para stockear el freezer!. Fácil, rápida, deliciosa. Para compartir con amigos, para acompañar con una cervez, para incorporar en cualquier emprendimiento gastronómico. Éste último punto me parace súper importante. Aquí en Argentina ser vegetariano es un problema cuando eliges salir por algún piqueo. Ni hablar ser vegano. Lo esperable es encontrar papas fritas o rústicas, si eres vegetariano con alguna salsa de cheddar quizás, pero si eres vegano, sólo papas y dá gracias, lo cual me parece bastante injusto siendo que existen tantas posibilidades al alcance de las manos.
He aquí una de ellas.

Yo usé un bloque de tofu de unos 700 gr, pero claro que puedes hacer sólo una pequeña porción. Con unos 200 gr alcanzará para una buena porción incluso para compartir si la acompañas con alguna guarnición o simplemente para acompañar una cerveza con alguien más.

Hoy en día es fácil encontrar tofu en casi cualquier dietética, pero si aún te cuesta conseguir HACER TU PROPIO TOFU y será incluso una manera muchísimo más económica de realizar ésta receta.
---
---
WHAT WILL YOU NEED? // QUE VAS A NECESITAR?
ENG
ESP
Firm tofu, quantity needed.
FOR THE BINDING:
1 cup plain flour.
1/2 tsp smoked paprika.
1 teaspoon garlic powder.
1 teaspoon of onion powder.
1 teaspoon salt.
A few drops of liquid smoke.
A dash of soy sauce.
Water, necessary quantity.
FOR THE BATTER:
Bread crumbs, oatmeal and crushed corn flakes in equal parts.
Tofu firme, cantidad necesaria.
PARA EL LIGUE:
1 taza de harina común.
1/2 cdita de pimentón ahumado.
1 cdita de ajo en polvo.
1 cdita de cebolla en polvo.
1 cdita de sal.
Unas gotitas de humo líquido.
Un chorrito de salsa de soja.
Agua, cantidad necesaria.
PARA EL REBOZADO:
Pan rallado, avena y copos de maíz triturado en partes iguales.
---
AND NOW WHAT? // Y AHORA QUE?
For this recipe we will put together the Mise en place, which is the previous organization of everything we are going to need to carry out the elaboration.
| ESP | Para esta receta armaremos la Mise en place, que es la organización previa de todo lo que vamos a necesitar para llevar a cabo la elaboración. |
| --- | --- |
---
First we will make the mixture of the binder.
In a bowl we will place all the ingredients and mix to integrate them. We will add the water until a thick liquid point is reached. Thread point.
Add the soy sauce and the liquid smoke and integrate.
Set aside.
ESP
Primero haremos la mezcla del ligue.
En un bowl colocaremos todos los ingredientes y mezclaremos para integrarlos. Agregaremos el agua hasta lograr un punto líquido espeso. Punto hilo.
Agregaremos la salsa de soja y el humo líquido e integraremos.
Reservamos.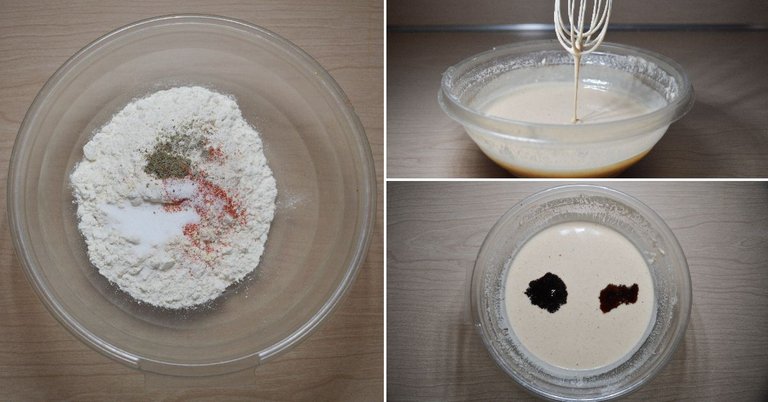 ---
On the other hand, we grind the cornflakes and integrate them in a bowl with the breadcrumbs and the oatmeal.
Reserve.
ESP
Por otro lado, trituramos los copos de maiz e integramos en un recipiente con el pan rallado y la avena.
Reserva.
---
Cut the tofu block into sticks to your liking.
| ESP | Corta el bloque de tofu en bastones a tu gusto. |
| --- | --- |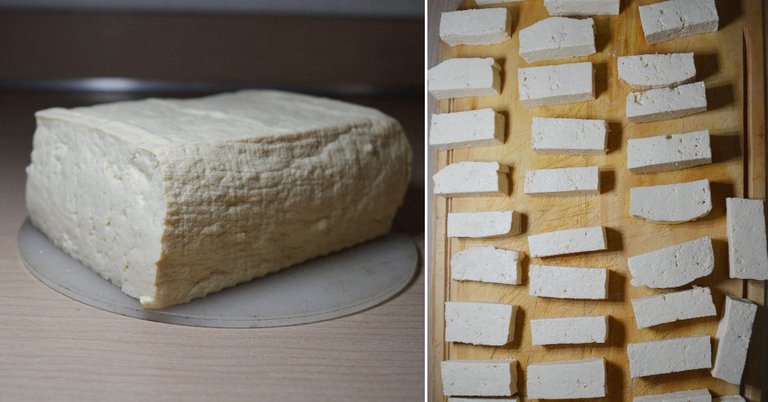 ---
Pour the mixture into a shallow and wide bowl, as we need to comfortably handle the tofu so that it does not break, I used a small roasting pan.
Turn the stick until it is completely coated in the sauce. I helped myself with a fork very carefully.
Transfer it to the bowl with the batter and bread it.
ESP
Vierte el ligue en un recipiente poco profundo y amplio, pues necesitamos manipular cómodamente el tofu para que no s e rompa, yo usé una asadera pequeña.
Gira el bastón hasta que quede completamente bañado en el ligue. Yo me ayudé con un tenedor con mucho cuidado.
Pásalo al recipiente con el rebozado y apánalo.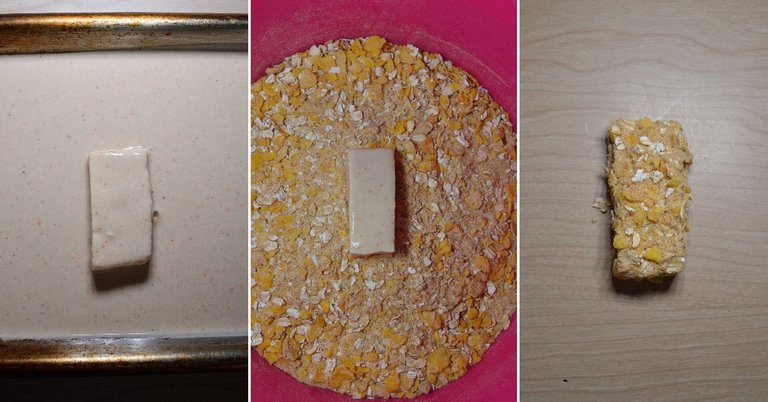 ---
Arrange the battered batons on a plate, try to separate them by at least 1 cm.
This way they will be ready to freeze. Once frozen you can put them in a bag or tupperware to save space.
ESP
Dispone los bastones ya rebozados en una placa, procura separarlos por al menos 1cm.
De esta forma estarán listos para congelar. Una vez congelados puedes meterlos en una bolsa o tupper para economizar espacio.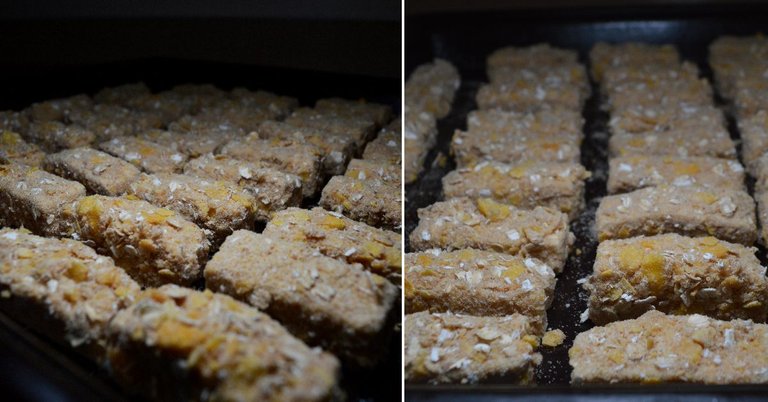 ---
AND VOILÀ!
🍺 🍺 🍺 🍺 🍺 🍺 🍺 🍺
You can cook them fried or baked, either way they are delicious!!!! Serve them with a sauce. I chose vegan garlic mayonnaise!!!!
//Puedes cocinarlos fritos o al horno, de cualquier manera quedan deliciosos!!! Acompáñalos con una salsa. Yo elegí mayonesa vegana de ajo!!!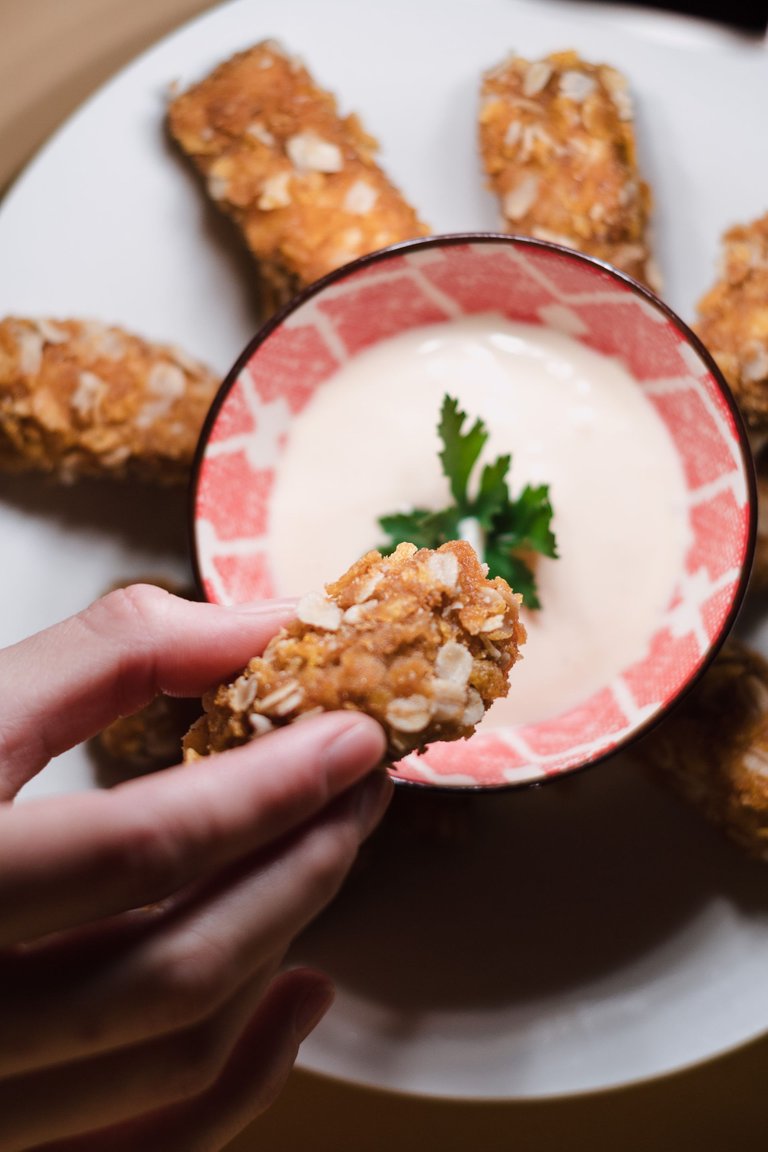 ---
---
OTHER RECIPES/ OTRAS RECETAS:
❇️ BIZCOCHUELO WITHOUT MILK, BUTTER OR EGGS. WOULD YOU NOTICE THE DIFFERENCE? [En/Sp] GO!
❇️ CREAMY LENTIL SOUP. DELI AND PROTEIC. // SOPA CREMOSA DE LENTEJAS. DELI Y PROTEICA. G0!
❇️ OAT MILK AND PASTA LUNCH RECIPE// LECHE DE AVENA Y PASTA. RECETA. [En/Sp] GO!
❇️ VEGAN PROVOLETA, MADE WITH TOFU// PROVOLETA VEGANA, HECHA CON TOFU [En/Sp]
❇️ PROTEIN COOKIES MADE WITH BLACK BEANS// COOKIES PROTEICAS HECHAS CON POROTOS NEGROS [En/Sp] GO!
❇️ HOMEMADE POTATO BREAD// PAN DE PAPA HECHO EN CASA [En/Sp] GO!
❇️ VEGAN VERSION OF SCRAMBLED EGGS// VERSION VEGANA DE HUEVOS REVUELTOS [En/Sp] GO!
❇️ HOMEMADE TOFU/ TOFU HECHO EN CASA [En/Sp] GO!
❇️ ROGEL WITH ITALIAN MERINGUE. 2 RECIPES IN 1 //ROGEL CON MERENGUE ITALIANO. 2 RECETAS EN 1 [En/Sp] GO!
❇️ GRILLED VEGAN SAUSAGES / /SALCHICHAS VEGANAS A LA PARRILLA [En/Sp] GO!
❇️ CAULIFLOWER BARBECUE WINGS //ALITAS DE COLIFLOR CON BARBACOA [En/Sp] GO!
❇️ CHEESECAKE | WITH REDFRUIT TOPPING [En/Sp] GO!
❇️ SOURDOUGH PIZZA | NAPOLETANA STYLE [En/Sp] GO!
❇️ VEGAN TUNA | ALL IN ONE RECIPE [En/Sp] GO!
❇️ VEGAN CHOCOLATE MOUSSE | WITH AQUAFABA, DID YOU KNOW IT? [En/Sp] GO!
❇️ STUFFED BUTTERNUT SQUASH | VEGETABLE MEAT RECIPE INCLUDED [En/Sp] GO!
❇️ CHIPAS | GLUTEN FREE CHEESE BREADS [En/Sp] GO!
❇️ RICE SAUSAGES | FOR VEGAN HOT DOGS [En/Sp] GO!
❇️ FATAY | VEGAN VERSION [En/Sp] GO!
❇️ OKARA PEANUT COOKIES | VEGAN FRIENDLY [En-Sp] GO!
❇️ VEGAN MOZZARELLA | MADE OF PEANUTS [En-Sp] GO!
❇️ COCHOCHIPS COOKIES | FOR TEA TIME [En-Sp] GO!
❇️ CREAMY SQUASH SOUP RECIPE [En-Sp] GO!
❇️ EGGPLANT MILANESAS | MY VEGGIE LUNCH [En-Sp] GO!
❇️ BANANA PUDDING | RECYCLED MOLD AND BANANAS [En-Sp] GO!
❇️ MUG CAKE | 10 MINUTES RECIPE [En-Sp] GO!
❇️ SNACKS DE SABADO POR LA NOCHE// SATURDAY NIGHT SNACKS [Sp/En] GO!
❇️ CLASSIC URUGUAYAN- ARGENTINIAN COOKIES // GALLETITAS CLASICAS URUGUAYAS - ARGENTINAS [Sp/ En] GO!
❇️ MASA MADRE, ¿LA CONOCIAS? // SOURDOUGH, DO YOU KNOW IT? [Sp/En] GO!
RELATED/ RELACIONADOS
❇️ MY SOURDOUGH HAS DIED?// MI MASA MADRE HA MUERTO??? [En/Sp] GO!
❇️ MY VEGAN VERSION OF EMPANADAS CRIOLLAS// MI VERSION VEGANA DE EMPANADAS CRIOLLAS [En/Sp] GO!
❇️ DAYS OF BAKING ARE BACK. SOURDOUGH BREAD // VOLVIERON LOS DIAS DE HORNEADO. PAN DE MASA MADRE [En/Sp] GO!
❇️ LONG DAY, WELL DESERVED SNACK [En/Sp] GO!
❇️ EL MATE, ESE CURIOSO RITUAL. [Sp/En] GO!
❇️ COFFE TIME | NUECES CONFITADAS, SWEET TYPICAL OF CATAMARCA. GO!