Translator
¿Qué es algo que la gente de otros lugares podría encontrar extraño en tu país o cultura?
¡Hola apreciados Hivers! Por aquí estoy de nuevo uniéndome a @crossculture respondiendo una magnífica pregunta con la que me divertí y también me resultó un poco retadora, pues tuve que clasificar y sintetizar las cosas que creo pueden resultar extrañas para otros respecto a mi cultura. Mi país Venezuela tiene muchas costumbres y curiosidades basadas en hábitos e intereses que lo hacen muy particular gracias a la impronta cultural de otros países que nos integra. Creo que las expresiones que pueden considerarse anómalas son parte de la creatividad y placeres con la que nos respaldamos diciendo "entre gusto y colores escribieron los autores". A partir de aquí podría realizar muchos post sin embargo voy a relatar algunas curiosidades que he visto y experimentado que pueden ser impactantes, simpáticas, extrañas, graciosas y hasta atrayentes para quienes nos visitan.
**Hello dear Hivers! Here I am again joining @crossculture answering a great question that I had fun with and also found a little challenging, as I had to classify and synthesize the things that I think may be strange to others about my culture. My country Venezuela has many customs and curiosities based on habits and interests that make it very particular thanks to the cultural imprint of other countries that integrate us. I believe that the expressions that can be considered anomalous are part of the creativity and pleasures with which we support ourselves by saying "between taste and colors wrote the authors ". From here I could make many posts but I will relate some curiosities that I have seen and experienced that can be shocking, funny, strange and even attractive to those who visit us.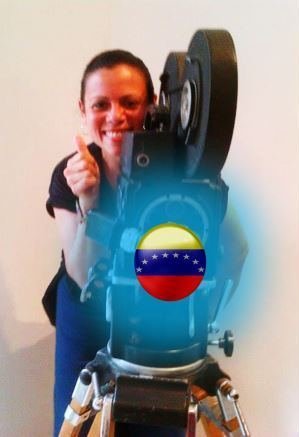 Foto de mi álbum personal tomada con cámara celular ZTE A110 y editadas en Power Point | imagen de bandera de Venezuela
Empiezo expresándome por nuestro lengua materna que es el español y a través de ella nos expresamos con cierta entonación dependiendo de la región, unos hablan muy rápido otros más pausados pero dentro de esto hay algo que está en nuestra impronta y puede resultar extraño que al dirigirnos a otros así no lo conozcamos siempre lo hacemos con una expresión afectiva o amable que nos muestran como personas simpáticas o confianzudas, por ejemplo: ¡mira mi amor!, ¡hola corazón!, ¡dime mi niña!, ¡hola bebé!, ¿Que deseas mi reina?, y también tendemos a pedir y dar la bendición en cualquier momento del día esto es costumbre y difícilmente veremos a alguien enojarse por alguna expresión de este tipo.
Quote I begin by expressing myself through our mother tongue which is Spanish and through it we express ourselves with a certain intonation depending on the region, some speak very quickly others more slowly but within this there is something that is in our imprint and it can be strange that when we address others so we do not always know them with an affective or friendly expression that shows us as nice or confident people, for example: look at my love! hello heart, tell me my child, hello baby, what do you want my queen, and we also tend to ask and give the blessing at any time of the day this is customary and we will hardly see anyone get angry at such an expression.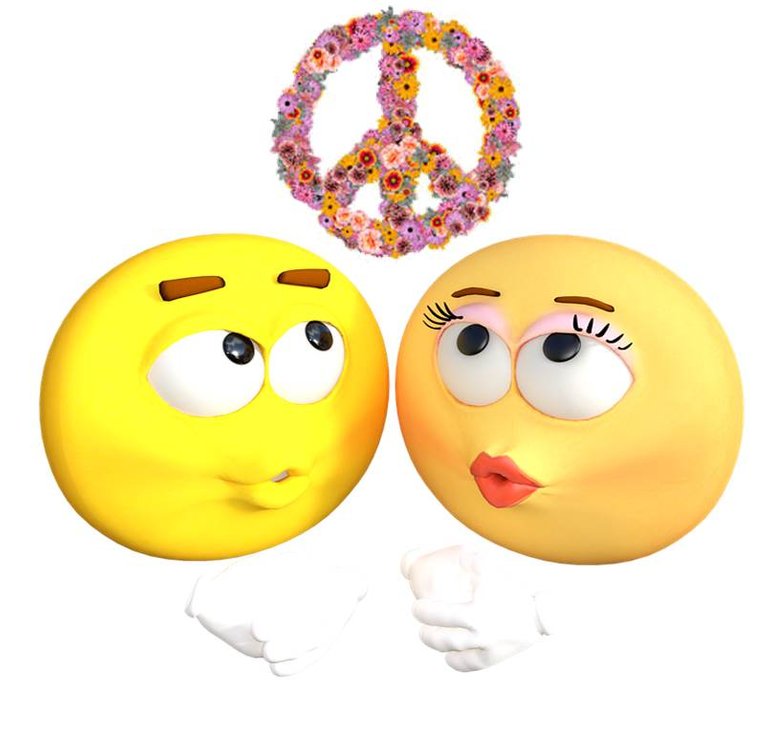 Símbolo de paz | emoji
En la parte gastronómica, hay personas que ven como acompañante ideal de sus comidas a estos dos ingredientes salsa de tomate y mayonesa tal cual un matrimonio perfecto, cuyo hijo es la salsa rosada.
In the gastronomical part, there are people who see as ideal companion of their meals to these two ingredients tomato sauce and mayonnaise as a perfect marriage, whose son is the pink sauce.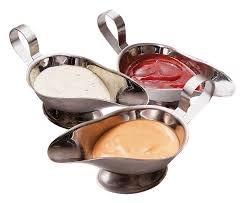 Salsas
Lo que puede resultar extraño es agregar estos aderezos a otros alimentos pues generalmente se usan para los perros calientes, hamburguesas y algunas ensaladas o también como dips. Sin embargo hay personas que buscando de darle a sus comidas mayor gusto a su paladar entre mis hermanos venezolanos he visto cosas realmente grotesco, por ejemplo estas salsas en los granos, puede parecer curioso, en especial en las caraotas negras...
What can be strange is to add these dressings to other foods as they are generally used for hot dogs, hamburgers and some salads or also as dips. However, there are people who looking to give their food a greater taste to their palate among my Venezuelan brothers I have seen things really grotesque, for example these sauces on the pimples, it may seem curious, especially in the black face ...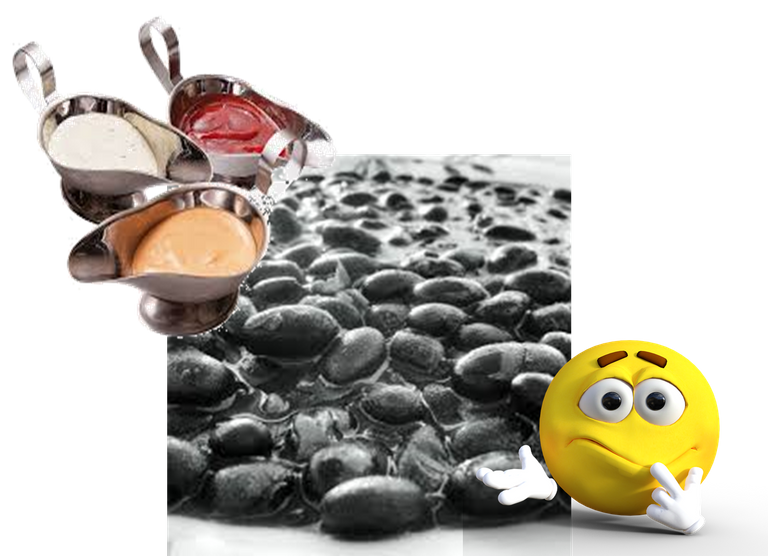 Caraotas |Salsas | emoji
Ellas forma parte de nuestro plato típico elPabellón, que contiene: arroz blanco, tajadas, carne mechada y caraotas, por su versatilidad la podemos ver a cualquier hora de la comida, algunas personas durante el guiso le agregan azúcar o papelón, patica de cochino o huesitos ahumado, cosa que considero delicioso. Bien aliñadas son apetitosas suelen ser un acompañante perfecto con arroz, pasta y rellenos de arepas, empanadas y de la tradicional hallaca que generalmente es hecha con carne de res entre otros ingredientes, pero… ¿De caraotas?, Pues sí y son las llamadas Carabinas que puede ser placentera al paladar…pero agrega la cucharada de mayonesa salsa de tomate, no sé…
They are part of our typical dish thePabellón, which contains: white rice, slices, larded meat and caraotas, because of its versatility we can see it at any time of the meal, some people during the stew add sugar or papelón, patica de cochino or smoked bones, which I consider delicious. Well seasoned are usually a perfect companion to rice, pasta and stuffed with arepas, empanadas and the traditional hallaca that is usually made with beef among other ingredients, but ... Of caraotas?, Well yes and call **Carabinas ** which can be pleasant to the palate ... but add the tablespoon of mayonnaise tomato sauce, I do not know...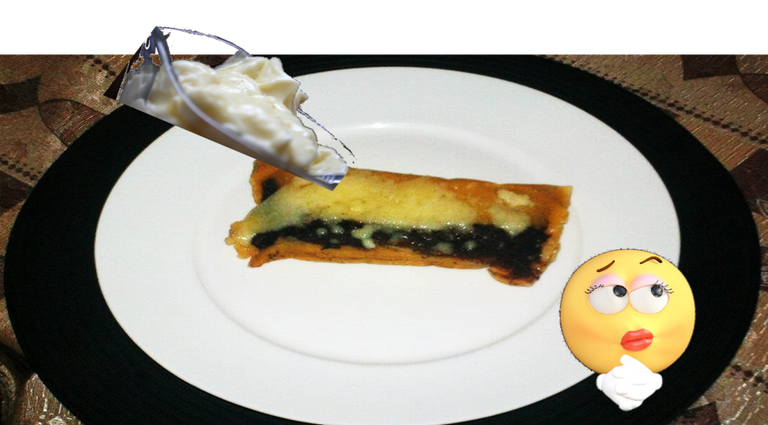 Hallaca de caraota | Emoji
Otra cosa que puede parecer extraña es que es el alimento que más se recalienta, en su primera preparación es un caldo guisado, cuando queda gran cantidad se guarda en el congelador y puede durar varios días, y si se quiere volver a consumir se fritan hasta agotarse su existencia. Hay personas que las disfrutan con huevo frito como acompañante, gusto que genera muchos gases pero aun así resulta apetecible para algunos.
Another thing that may seem strange is that it is the food that is reheated the most, in its first preparation it is a stewed broth, when there is a large quantity left it is kept in the freezer and can last several days, and if you want to consume it again it is fried until its existence is exhausted. There are people who enjoy them with fried egg as a companion, a taste that generates a lot of gas but still is desirable for some.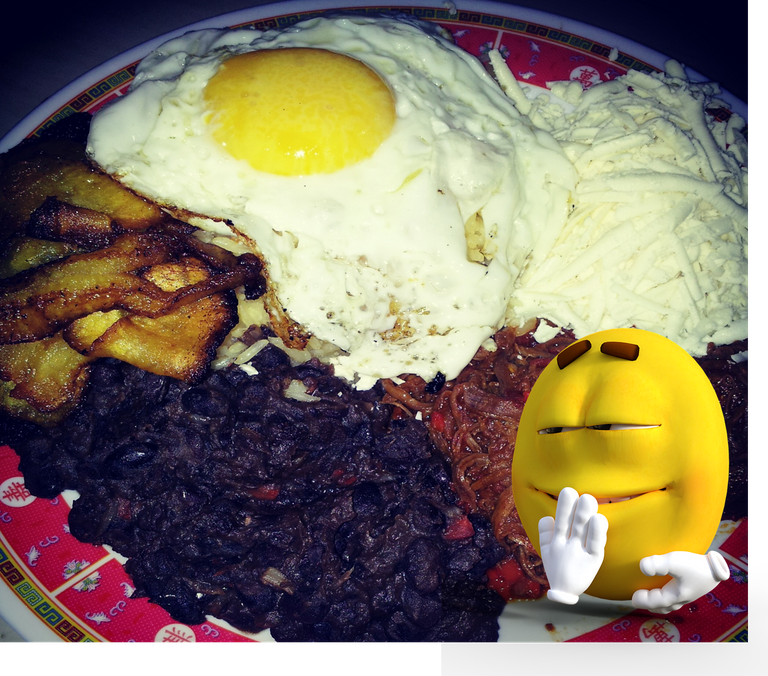 Caraotas refritas | emoji
La comida mañanera en los hogares populares con regularidad es con arepa o empanada frita hechas ambas a bases de harina de maíz, y el relleno puede variar dependiendo de lo que encontremos en la nevera, algunas veces tenemos el queso y jamón, pero también existe la posibilidad de rellenar con guisos de pollo, carne, pescado o granos. Lo extraño es cuando hay muy pocos ingredientes algunas personas acuden al refrigerador y sacan las proteínas de sobras, la integran con huevos calentándolas en el sartén creando unos deliciosos huevos revueltos, perico o revoltillo y lo que puede resultar extraño es que hay personas que lo dejan muy aguado y le añaden salsa de tomate y otras salsas.
The morning meal in popular homes regularly is with arepa or empanada fritters made both from cornmeal, and the filling can vary depending on what we find in the fridge, sometimes we have the cheese and ham, but there is also the possibility of filling with chicken, meat, fish or grain stews. The strange thing is that when there are very few ingredients some people go to the refrigerator and take out the leftover proteins, integrate it with eggs heating them in the frying pan creating delicious scrambled eggs, parakeets or scrambled eggs and what can be strange is that there are people who leave it very watery and add tomato sauce and other sauces.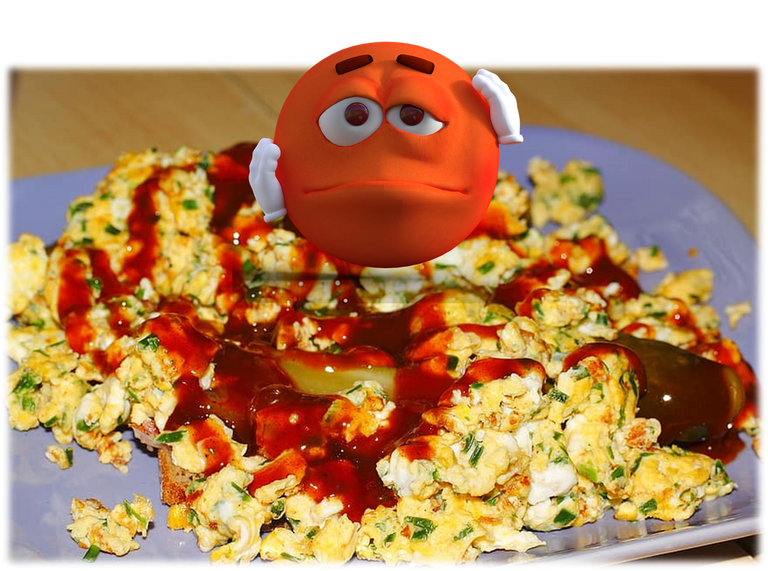 Perico con salsa de tomate | Emoji
El pan es un gran acompañante que no puede faltar en el hogar y es el que resuelve en cualquier momento quitando la ansiedad para calmar el apetito, y dicen las abuelas que cuando alguien se le queda atascado una espina en la garganta es bueno comer pan…
Bread is a great companion that can not miss at home and is the one that resolves at any time removing the anxiety to calm the appetite, and grandmothers say that when someone gets stuck a thorn in his throat is good to eat bread .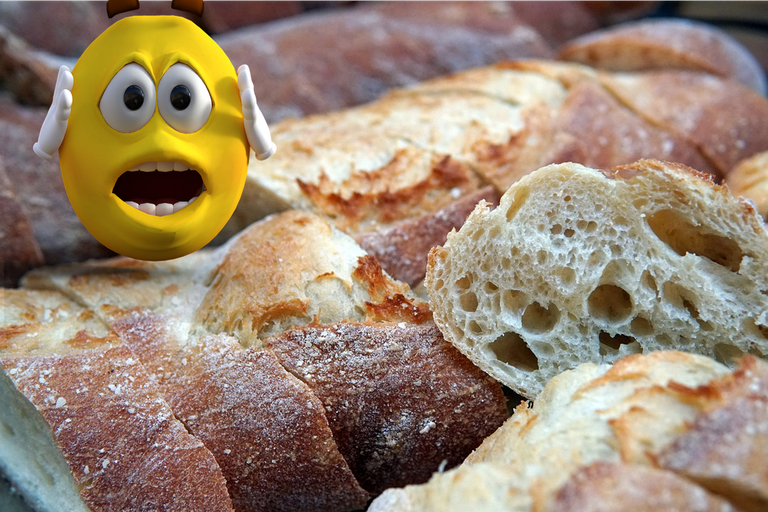 Pan | emoji
Su versatilidad no tiene límites, Lo comemos tostados y sus migajas o ralladura sirve para empanizar, Pero verlo nadar y esponjarse con queso sobre una sopa de verduras puede resultar una rareza…
Its versatility has no limits. Eating it toasted and its crumbs or grated serves to bread it, but watching it swim and fluffing itself with cheese over a vegetable soup can be a rarity...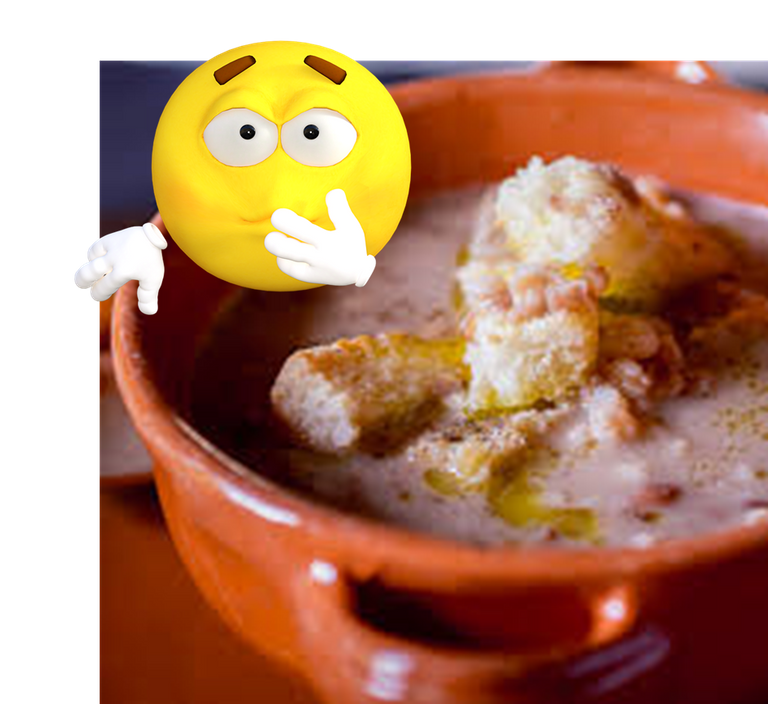 Sopa con pan| Emoji
Y el Pan cuando está muy duro, es previsto para hacer manjares, mi madre hace una torta de pan que queda como un quesillo y algunas veces prepara la "torta encontrada", resulta que si tenemos galletas, dulces y trozos de tortas caseras guardados en la nevera y aún están en buen estado, ella los mezcla y tritura muy bien, añade algunos otros ingredientes para que compacte, la introduce al horno y al enfriarse listo nos comemos una rica torta que es un híbrido de dulce caseros y acompañamos con una trozo de queso es deliciosa
And the Bread when it is very hard, is intended to make delicacies, my mother makes a bread cake that is like a quesillo and sometimes prepares the "found cake ", it turns out that if we have cookies, sweets and pieces of homemade cakes stored in the refrigerator and are still in good condition, she mixes and crushes them very well, adds some other ingredients to compact, introduces it to the oven and when it cools down ready we eat a delicious cake that is a hybrid of homemade sweets and accompany it with a piece of cheese.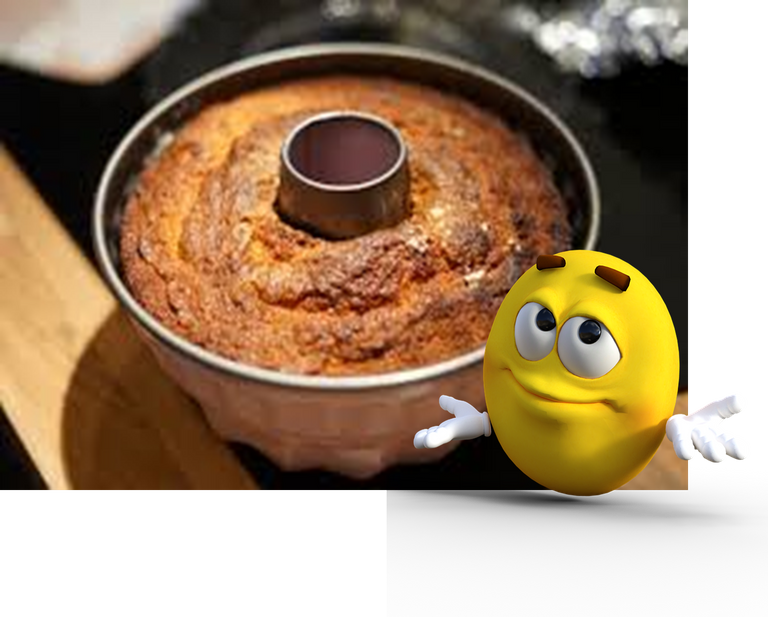 Torta casera 1 | emoji
También algo que puede parecer extraño es la diversidad de manifestaciones cultural, las cuales son muchas y en cada mes siempre hay algo para conmemorar o celebrar. Creo una de las más características y puede resultar impactante es la celebración del Jueves de Corpus Christi con los diablos danzantes que tiene un significado mágico religioso donde se reafirma el poder del bien sobre el mal, de los cuales tenemos una gran diversidad por regiones y lo particular está en que es una manifestación para pagar promesa de las cuales hay cofradías que se preparan mucho antes de la fecha y que se proyecta de generación en generación, realizándose con danzas y atuendos hechos con múltiples colores y grandes mascaras de elaboración artesanal, con representaciones grotescas de animales y monstruos de aspecto alucinantes que en su mayoría llevan cachos dependiendo de la jerarquía del danzante, haciendo semejanza a lucifer con intensión de rendirse a través de sus danzas ante el santísimo.
Also something that may seem strange is the diversity of cultural manifestations, which are many and in each month there is always something to commemorate or celebrate. I think one of the most characteristic and can be shocking is the celebration of Corpus Christi Thursday with the dancing devils that has a religious magic meaning where the power of good over evil is reaffirmed, of which we have a great diversity by regions and the particular thing is that it is a manifestation to pay promise of which there are brotherhoods that are prepared long before the date and that is projected from generation to generation, The dances and costumes are made with multiple colors and large handcrafted mascaras, with grotesque representations of animals and monsters of amazing appearance that mostly carry chunks depending on the hierarchy of the dancer, making similar to Lucifer with the intention of surrendering through their dances to the saint.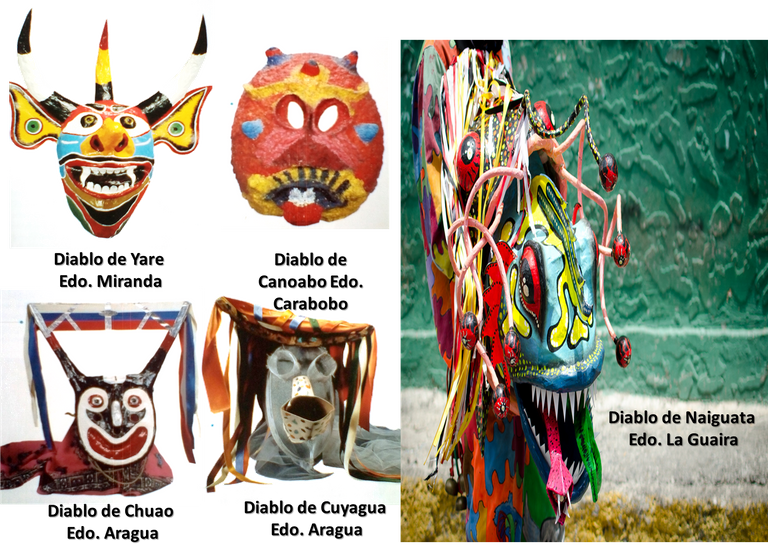 Fotos de Nelson Garrido tomadas del Atlas de Tradiciones Venezolanas con cámara celular ZTE A110 y editadas en Power Point | Diablo de Naiguata
El baile y toque de tambor, es otra de las expresiones que nos caracteriza como venezolanos, que en cualquier época del año puede sentirse con su diversidad de instrumentación y danzas. No es secreto la gran influencia africana que nos antecede y de ella nos queda su herencia cultural con sus expresión mágico religiosa y festiva la cual a través del proceso de mestizaje ha venido cambiando con el pasar del tiempos, expresada en gastronomía, costumbre, baile y toque de tambor quizá esto es lo que puede parecer extraño ya que fuera de nuestro país se conoce una sola forma de expresión de este arte ancestral, el mismo varía dependiendo de la región de donde se origina ya que a través de la diáspora, muchas pueblos africanos trajeron la esencia de su cultura y al ser distribuidos a lo largo y ancho del territorio venezolano, quedo su impronta que hoy es tan nuestra y es expresada de múltiples formas.
The dance and drumming, is another expression that characterizes us as Venezuelans, which at any time of year can be felt with its diversity of instrumentation and dance. It is not secret the great African influence that precedes us and from it we have its cultural heritage with its magical religious and festive expression which through the process of mestizaje has been changing with the passing of time, expressed in gastronomy, customs, dance and drumming perhaps this is what may seem strange since outside our country only one form of expression of this ancestral art is known, It varies depending on the region from which it originates since through the diaspora, many African peoples brought the essence of their culture and when distributed throughout the length and breadth of Venezuelan territory, it left its mark that today is so ours and is expressed in multiple ways.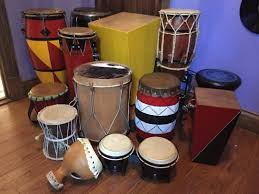 Quiero destacar el baile de tambor venezolano ha sido tergiversado y fuera de nuestro país es conocido de una forma poco autóctona que irrespeta el legado de nuestra herencia ancestral afro-venezolana, ciertamente el toque del tambor despierta el fuego y la pasión interior que llevamos dentro, pero lo que se está proyectando no es la esencia de nuestra cultura, la cual ha tocado punto vulgares y pornográficos al extremo que descalifica nuestras tradiciones. A continuación presento un video donde podemos observar solo 5 formas del baile de tambor afrovenezolano, teniendo en cuenta su variedad invito a seguir reconociendo e investigando esta divertida y cadenciosa forma de expresión venezolana.
I want to highlight the Venezuelan drum dance has been distorted and outside our country it is known in a not very native way that disrespects the legacy of our ancestral Afro-Venezuelan heritage, certainly the drumming awakens the fire and inner passion that we carry inside, but what is being projected is not the essence of our culture, which has played vulgar and pornographic points to the extreme that disqualifies our traditions. Next I present a video where we can observe only 5 forms of the Afro-Venezuelan drum dance, taking into account its variety I invite you to continue recognizing and investigating this fun and rhythmic form of Venezuelan expression.
Tambores de Venezuela 5 bailes
¡GRACIAS POR VISITAR MI BLOG!
THANK YOU FOR VISITING MY BLOG!