---
Cooking Sweet and Spicy Shrimp using Firewood.
Ingredients:
Shrimp
Salt
Sugar
Oil
Siling Spada (green chili)
Onion
and Garlic
INSTRUCTIONS:
Heat oil in a pan and sautee onion, garlic, and green chili.
Put the shrimp and stir fry for 2 to 3 minutes until the color changes to orange.
Add salt and brown sugar.
Wait for 2 min and then it's ready to serve
Transfer to a serving plate. Then put on top with green chili.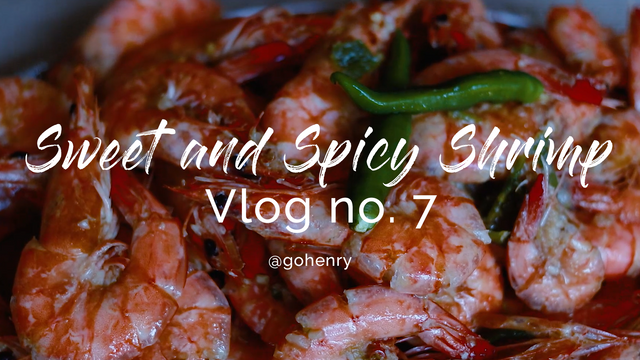 Thank you for watching this video! Please subscribe to see more from me, give this video a thumbs up if you enjoyed it. Comment down below If you have any suggestions or feedback. I hope you find the video useful.
Let us be connected always. Please check and follow me also on my other social media handles.
INSTAGRAM: https://www.instagram.com/gohenryeverywhere/
TWITTER: https://twitter.com/gohenry4
FACEBOOK: http://facebook.com/minimalistprintcreatives
Gears:
DSLR Camera: Canon eos 80D, Canon 5D mk2
ACTION Camera: GoPro Hero 4 Silver, GoPro Hero 5 Black
Lens: Canon 18-135mm kit lens, Canon 50 mm 1.8 STM , Canon 40mm 2.8 STM lens, Yongnuo 35mm 2.0
Tripod: Andoer
Gimbal: DJI Ronin S, Zhiyun crane for Action Camera
Music:
Kevin MacLeod (incompetech.com)
Licensed under Creative Commons: By Attribution 3.0 License
http://creativecommons.org/licenses/b...



Please watch my Vlogs
Simple Way To Save Mother Earth | Vlog no. 6
Sweet Potato - a survival food | Vlog no. 5
First Time To Parasail And Ride A Jetski | Vlog no. 4
There's Joy in Having the Family Together | a cinematic breakfast | Vlog No. 3
TIME FLIES SO FAST - a cinematic video clip | Vlog No. 2
A Healthy Sweet Potato Fries | Vlog No. 1


---
▶️ 3Speak