Taro y Capa
This song covers the story of two lovers. In 1933 they met. Photography united them and turned them into one of the most important couples in the history of photo-reportage.
Gerda Pohorylle, better known as Gerda Taro, arrived in Paris fleeing from Nazism. There, she managed to work as a typist. At that time Taro met André Friedmann, a photographer. He taught her what he knew and she learned... She taught him what she knew and he learned. They managed to be the eyes of the war and through photojournalism they told the world what was happening on the battlefield.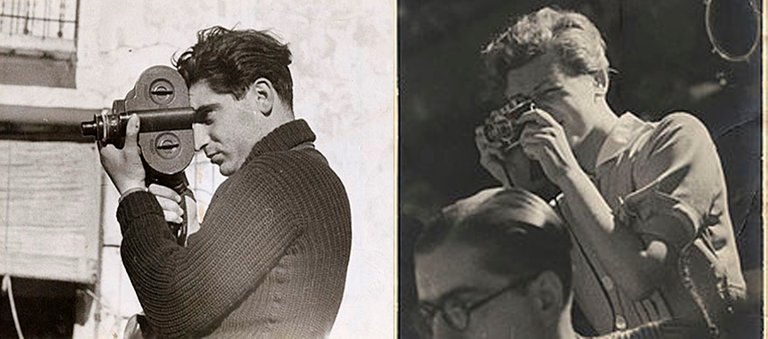 Since life as photographers did not meet their financial needs, Gerda proposed to André to create Robert Capa, who was supposedly a renowned photographer who came from the United States to work in Europe. This fictional character got so famous that he sold his photos through his representatives: Friedmann and Pohorylle, for three times the price of a French photographer. They managed to hold different photo exhibitions, as well as recognition in the most important magazines of the moment.
Taro learned and grew professionally showing through war photographs his passion for photography: she approached reality to tell it better, giving her works spontaneity and soul. And sadly, this cost Taro her life.Tragically, in 1937 while covering the Spanish Civil War, Gerda died in the middle of the withdrawal from the Brunete front, after suffering an accident with a military tank.
Robert Capa remained oblivious to the tragedy. They had arranged to meet in Paris to celebrate her birthday before he left for China. But Gerda Taro never arrived.
Capa continued with his passion for the war for 17 more years. In 1954, while covering the Indochina war, Capa got out of a jeep to get ahead of the coverage, but stepped on a mine that blew his leg off and gave him a fatal wound in his chest.
This is when the song starts:
Capa sings of the jeep, of the war and its images; of their relationship; of Taro waiting for Capa; and of their meeting afterlife.