Hello brethren, want to make a suggestion that we can follow while we are posting on the MCGI Cares (Hive) community. The following topic will discuss these points;
Hive Power accumulation

Hashtags

Following the Curation trail vote

Adding the invitation message to the MCGI Cares (Hive), community insert below our post
Hive Power accumulation
If we are in the community for quite some time I guess you already heard about Hive Power, but for all our brethren including those who freshly joined on Hive.
What is Hive power?
Short answer is; Hive Power = influence token.
Long answer; Hive Power is the token that can impact and influence the payout of one post. In a nutshell, the more Hive power you have, it means the more influence you have on the blockchain and we can help other people by upvoting their post/comment. The benefit for the Hive Power holder is you can earn interest at the same time on earning curation rewards.
Having our Hive powered up is beneficial to the community overall, so we suggest powering up much Hive as we can. I have faith that helping people will never go wrong with the help of God.(Proverbs 19:17)
We are using https://hive.blog/trending/hive-182074 to easily identified a 100% Hive Power up post that we can support, in my opinion, I find it a noble act of charity to power up our hive for the goodness of others.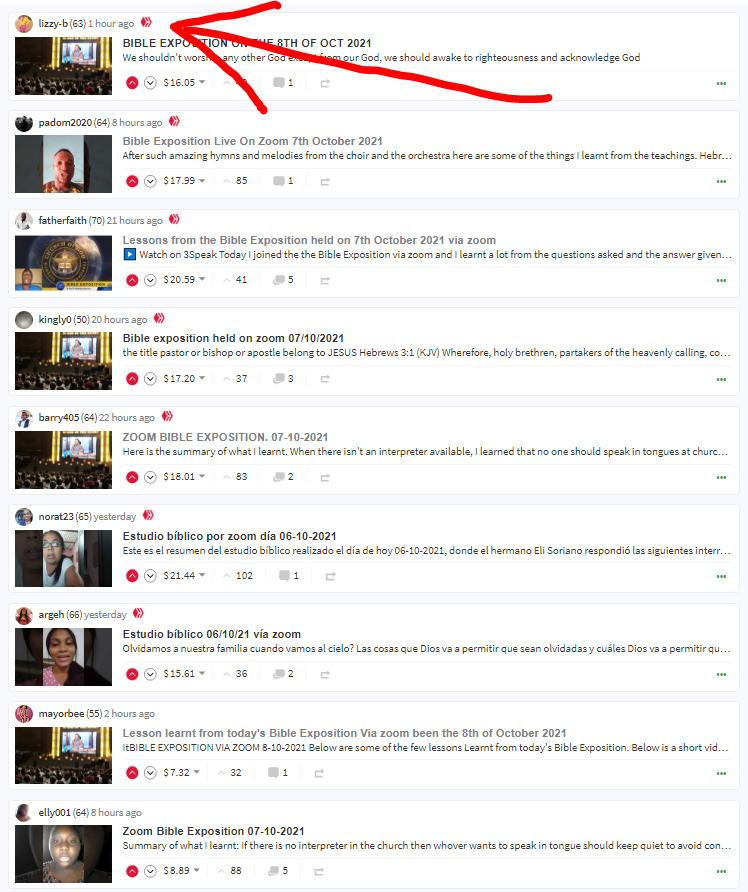 On peakd setting, we can make it a default setting to 100% Hive Power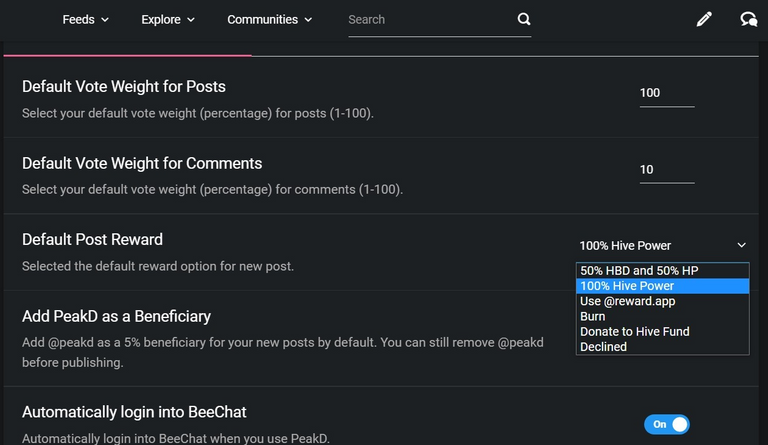 On hive.blog, we can configure it on setting to make it a default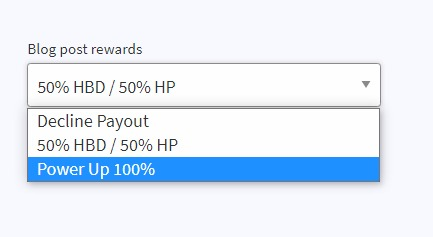 Or else, you may want to configure it on every post we make which is according to your choice.
Hashtags use cases
Just like other popular social media, Hive is also using hashtags. May we suggest using the following hashtags in our post so we can target the right people on the blockchain, the 3 important ones are #broelisoriano, #mcgi, and #midi.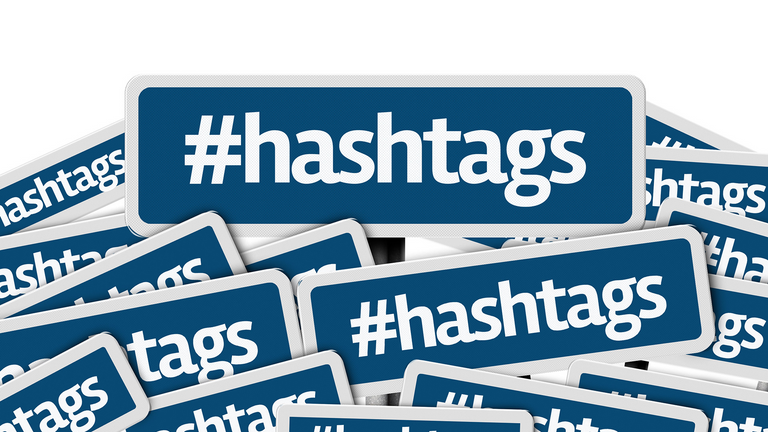 Source
Following the curation trail
We suggest following the community voting trail on this link: https://hive.vote/dash.php?trail=fatimajunio&i=1
What is the Curation trail?
It is an automated curation system that automatically votes the post whoever the trail you follow. Following the community trail and growing Hive power will mean that we are supporting the whole community as we are using @fatimajunio account to vote for all your post participation.
We can follow this simple step
First, go to this link https://hive.vote/dash.php?trail=fatimajunio&i=1
Then you can see this, and click follow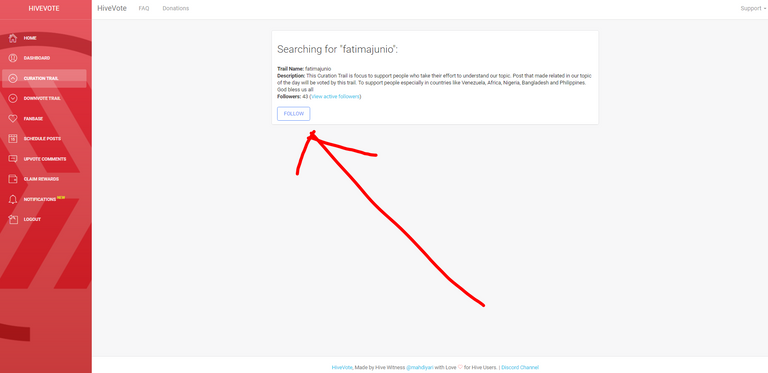 Once you followed it, it is good if we can set it up to 100% voting power. We can follow these 3 steps to change it to 100%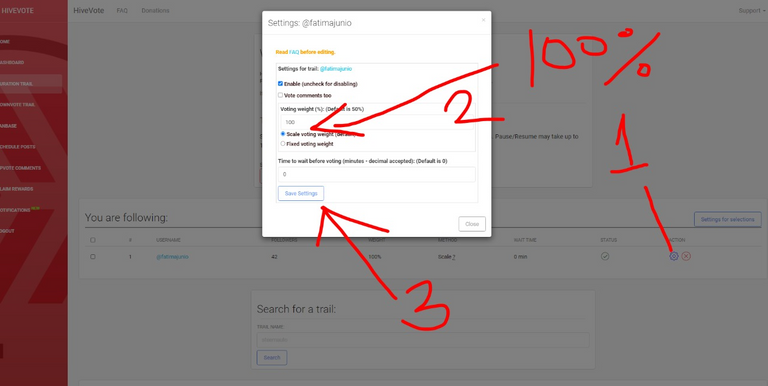 Adding invitation message to the community
We are suggesting that if we can add the invitation message to the community. We want many people to hear the doctrine of the Lord Jesus Christ, I believe we can do it together as like what is written in Galatians 6:2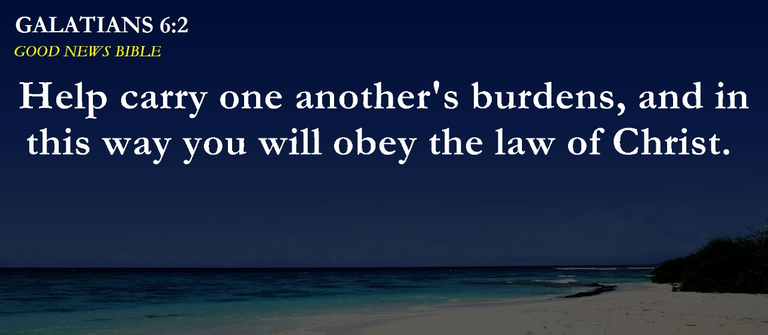 How to do this?
Just copy this text(image included) and paste it below every post
We are inviting you to join the MCGI Cares (hive) community that study the words of God and also earn some reward by making our reactions on it. We can check this link https://peakd.com/c/hive-182074/trending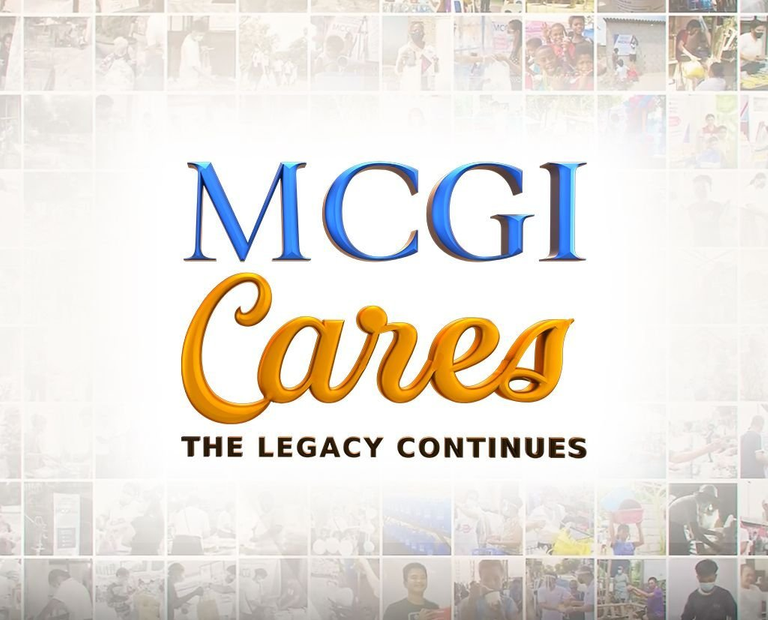 If we have any questions, please reach us on Whatsapp +971523490523
May God help us all, brethren

Hola hermanos, quiero hacer una sugerencia que podemos seguir mientras publicamos en la Comunidad MIDI Cuida (Hive). El siguiente tema discutirá estos puntos;
Acumulación de poder de la Hive

Hashtags

Siguiendo el voto del rastro de Curation

Añadir el mensaje de invitación a la Comunidad MIDI Cuida (Hive), insertar debajo de nuestro post
Acumulación del poder de la Hive
Si estamos en la comunidad desde hace tiempo supongo que ya habréis oído hablar del Hive Power, pero para todos nuestros hermanos, incluidos los que acaban de unirse a Hive.
¿Qué es el poder Hive?
La respuesta corta es: Poder de la Hive = ficha de influencia.
La respuesta larga es que el Poder de la Hive es la ficha que puede influir en el pago de un puesto. En pocas palabras, cuanto más poder Hive tengas, significa que más influencia tienes en el blockchain y podemos ayudar a otras personas al votar su post/comentario. El beneficio para el poseedor del Hive Power es que puede ganar intereses al mismo tiempo que gana recompensas de curación.
Tener nuestro Hive potenciado es beneficioso para la comunidad en general, por lo que sugerimos potenciar todo el Hive que podamos. Tengo fe en que ayudar a la gente nunca saldrá mal con la ayuda de Dios (Proverbios 19:17).
Estamos utilizando https://hive.blog/trending/hive-182074 para identificar fácilmente un puesto de 100% Hive Power up que podemos apoyar, en mi opinión, me parece un noble acto de caridad para potenciar nuestra Hive para la bondad de los demás.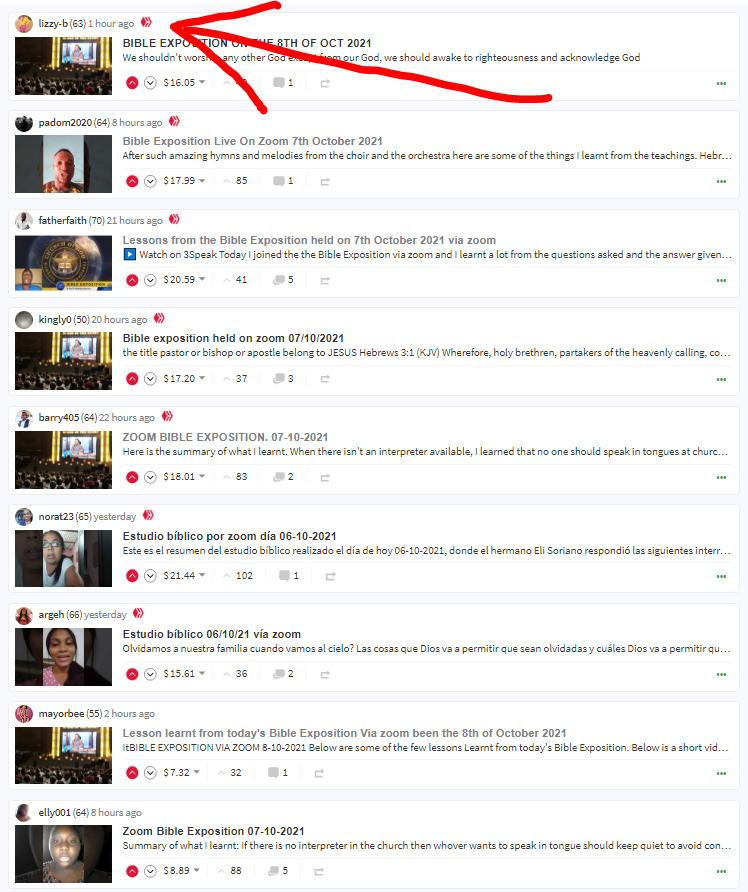 En la configuración de peakd, podemos hacer que se configure por defecto el 100% de la potencia de la Hive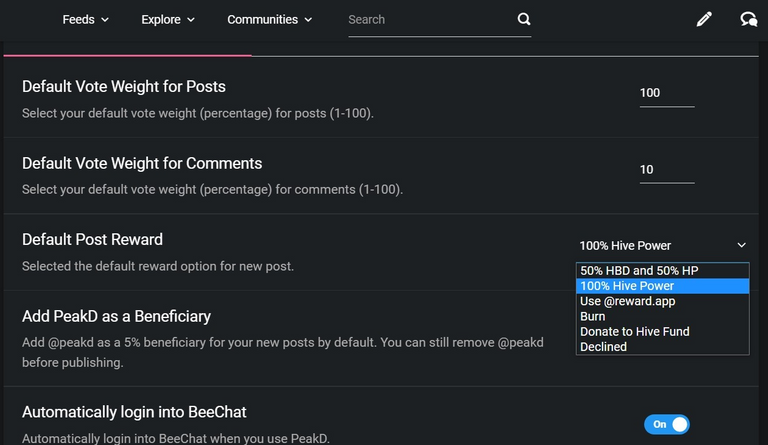 En hive.blog, podemos configurarlo en el ajuste para hacerlo por defecto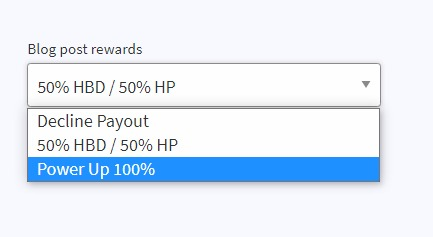 O bien, configurarlo en cada post que hagamos que es según su elección.
Casos de uso de Hashtags
Al igual que otras redes sociales populares, Hive también utiliza hashtags. Podemos sugerir el uso de los siguientes hashtags en nuestro post para que podamos dirigirnos a las personas adecuadas en la cadena de bloques, los 3 importantes son #broelisoriano, #mcgi, y #midi.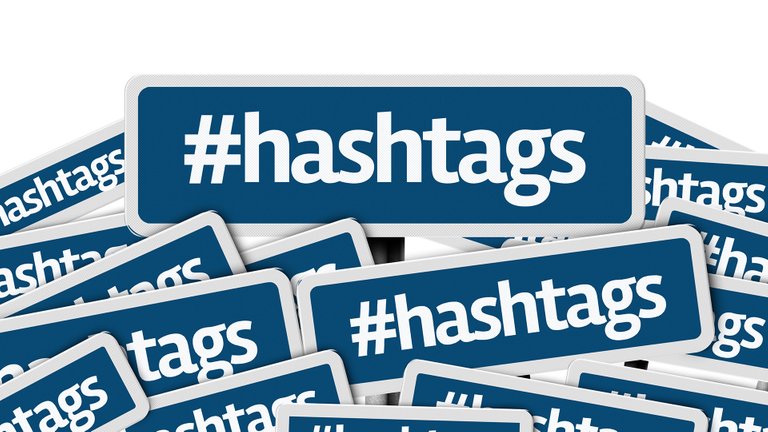 Fuente
Siguiendo el rastro de la curación
Sugerimos seguir el rastro de las votaciones de la comunidad en este enlace: https://hive.vote/dash.php?trail=fatimajunio&i=1
¿Qué es la ruta de curación?
Es un sistema de curación automatizado que vota automáticamente el post de quien sigue el rastro. Seguir el rastro de la comunidad y hacer crecer el poder de Hive significará que estamos apoyando a toda la comunidad ya que estamos utilizando la cuenta de @fatimajunio para votar todos sus post de participación.
Podemos seguir este sencillo paso
Primero, ir a este enlace https://hive.vote/dash.php?trail=fatimajunio&i=1
A continuación, podemos ver esto, y hacer clic en seguir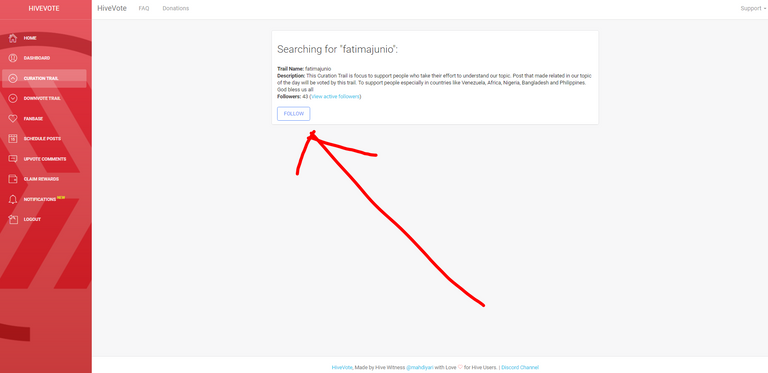 Una vez que lo hayas seguido, es bueno si podemos configurarlo al 100% de poder de voto. Podemos seguir estos 3 pasos para cambiarlo al 100%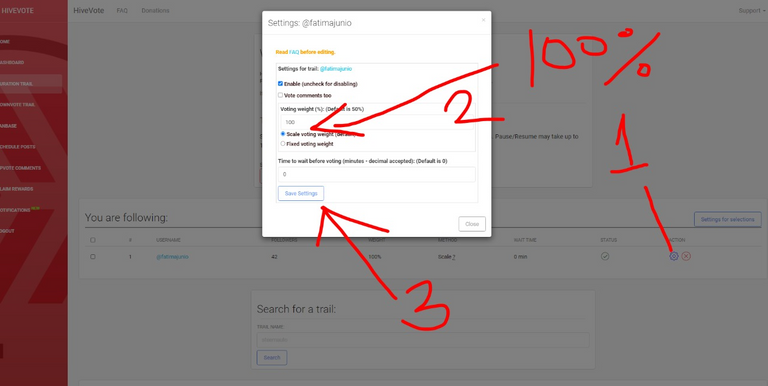 Añadir mensaje de invitación a la comunidad
Estamos sugiriendo que si podemos añadir el mensaje de invitación a la comunidad. Queremos que muchas personas escuchen la doctrina del Señor Jesucristo, creo que podemos hacerlo juntos como lo que está escrito en Gálatas 6:2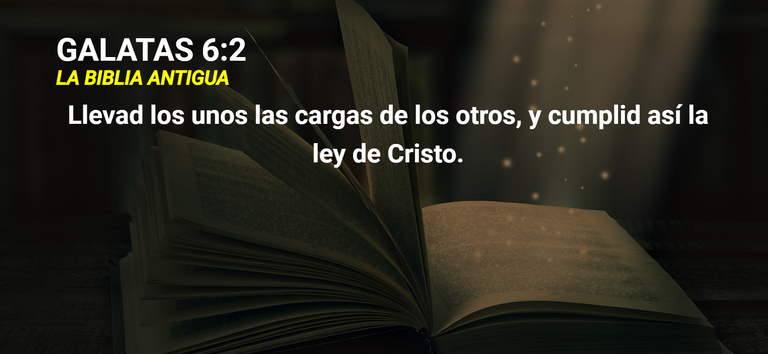 ¿Cómo hacer esto?
Sólo tienes que copiar este texto (imagen incluida) y pegarlo debajo de cada post
Te invitamos a unirte a la Comunidad MIDI Cuida (Hive) que estudian las palabras de Dios y además ganar alguna recompensa haciendo nuestras reacciones al respecto. Podemos consultar este enlace https://peakd.com/c/hive-182074/trending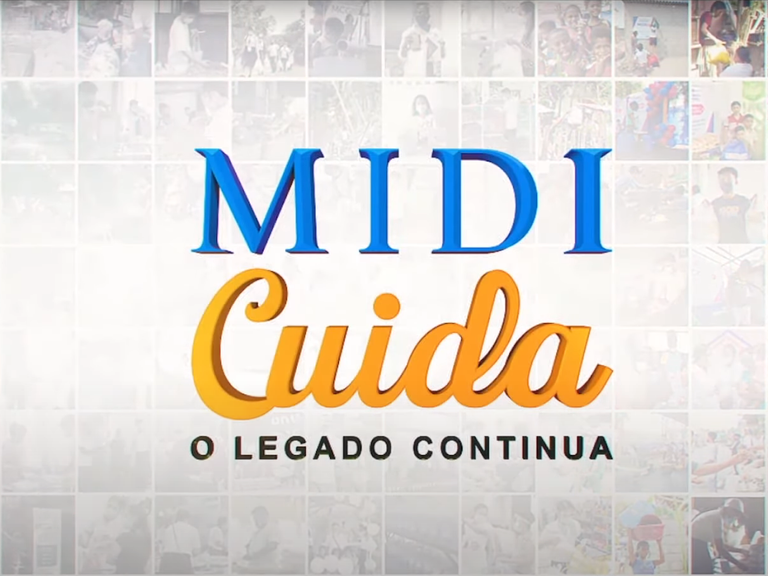 Si tenemos alguna pregunta, por favor comuníquese con nosotros en Whatsapp +971523490523
Que Dios nos ayude a todos, hermanos