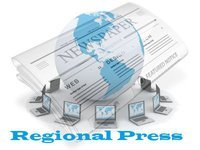 What Is the REGIONALPRESS Community About?
We are a new community whose main target is to disseminate local regional and international information using the Web 3 Networks strategies and protocols.
We have chosen to integrate the HIVE community for several reasons which will be presented in our various publications.
We will privilege the synthesis or the presentation of articles made by the members in the various communities.
We defend the principes of an inclusive economy where the human and social value prevails over all the other values.
We hope to contribute to the dynamics and evolution of the HIVE ecosystem.
What type of posts are welcome?
If we had to explain what type of journalism we favor, here is a non-exhaustive list of our preferences:
Hive Journalism (about Hive communities) / Web 3 Journalism / Participatory journalism / Investigative journalism / Passion Journalism / Citizen journalism / Social journalism / Local journalism / Regional journalism / Event journalism / International journalism / Global journalism / Photojournalism / Business journalism / Thematic journalism / Socio-economic journalism / Political journalism / Science & Technology Journalism / Health & Medicine Journalism / Sport and well-being Journalism/....
Who can post here?
There are no strict rules here (juste recommendations). Anyone can post in the Regiolapress community.
Our Rules
Plagiarism and violation of copy rights are highly discouraged.
Posts in one language only. "One post - One language": But, the same message can be posted several times in different languages, provided that: (a) the language (other than English) is indicated in the title; (b) A clear translation, not limited to automatic translators (human translators, can be made available to members); (c) Translated posts must be interconnected by links; (d) Different hashtags are allowed for each language.
We strongly recommend using the Duo-hashtag or Trio-hashtag technique to better categorize your articles (see #Solo-Hashtag #Duo-Hasthag, #Trio-Hashtag)
We accept summary post, on condition that the references are clearly cited;
We accept articles containing advertising messages outside the Hive community, provided that 10% of the profits generated are redistributed to our members via our curators
Hate speech is not allowed, offensive comments and statements will not be tolerated.
Benefits of Posting on REGIONAL PRESS Community
We have awesome Challenges and rewards every days, week and Month Based on the Web 3 strategies and inclusive economy principles
Please do use the tag #Regionalpress or #RP on your post so is easily found by other users and our curators.
Today our community is small, but we will grow rapidly as we are interconnected with very important external communities.
Link to the community if you want to subscribe: [Direct link]