Hola, hola queridos lectores bienvenidos a un nuevo inicio de semana y muchas bendiciones para todos.
Hello, hello dear readers, welcome to a new start to the week and many blessings to all.
Quiero compartirles hoy mi pequeña travesía subiendo una montaña que se encuentra muy cerca de donde vivo y que curiosamente no suelo visitar tanto como visito el Ávila que se encuentra acá en la Ciudad de Caracas pero no tan cerca de donde habito.
I want to share with you today my little journey up a mountain that is very close to where I live and that curiously i don't usually visit as much as i visit Ávila that is here in the City of Caracas but not so close to where i live.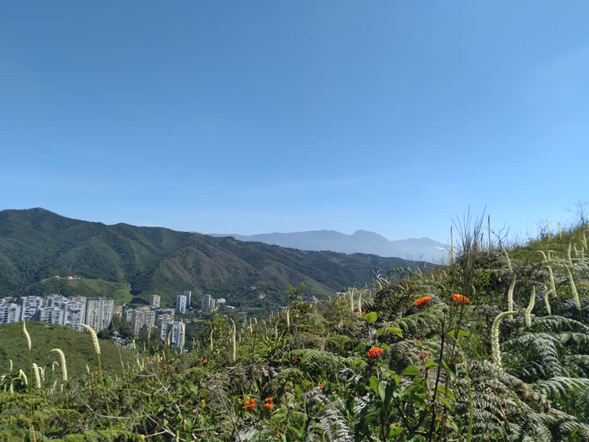 Este día me animé a subir la montaña para despejarme un poco además que llevaba todo el año sin subir una montaña (coa impensable en mí que soy mochilera) pero bueno, la situación de la pandemia requirió que todos nos mantuviésemos en casa resguardados hasta ahora que muchos ya hemos podido empezar a salir y respirar un poco más de aire puro. Subí la montaña con dos amigas,el novio de una de ellas y su mamá, nuestra meta era llegar hasta la cruz porque como buenos mochileros y senderistas decimos: Si subes una montaña y hay una cruz debes llegar hasta ella jajaj. El caso es que no pudimos llegar hasta ella porque la mamá de mi amiga tenía un fuerte dolor de cabeza producto del sol y estaba bastante roja así que decidimos llegar hasta unos pinos que encontramos y nos brindaron suficiente sombra. Allí comimos un poco, conversamos, nos reímos, recordamos buenos momentos, nos sacamos fotos y regresamos.
This day i was encouraged to go up the mountain to clear up a bit, besides that i had not climbed a mountain all year (unthinkable in me that i am a backpacker) but hey, the situation of the pandemic required that we all stay at home sheltered until now that Many of us have already been able to start getting out and breathing a little more fresh air.
I climbed the mountain with two friends, the boyfriend of one of them and her mother, our goal was to get to the cross because as good backpackers and hikers we say: If you climb a mountain and there is a cross you must get there hahaha. The fact is that we couldn't get to it because my friend's mother had a severe headache from the sun and she was quite red so we decided to go to some pine trees that we found and they gave us enough shade. There we ate a little, we talked, we laughed, we remembered good times, we took photos and we returned.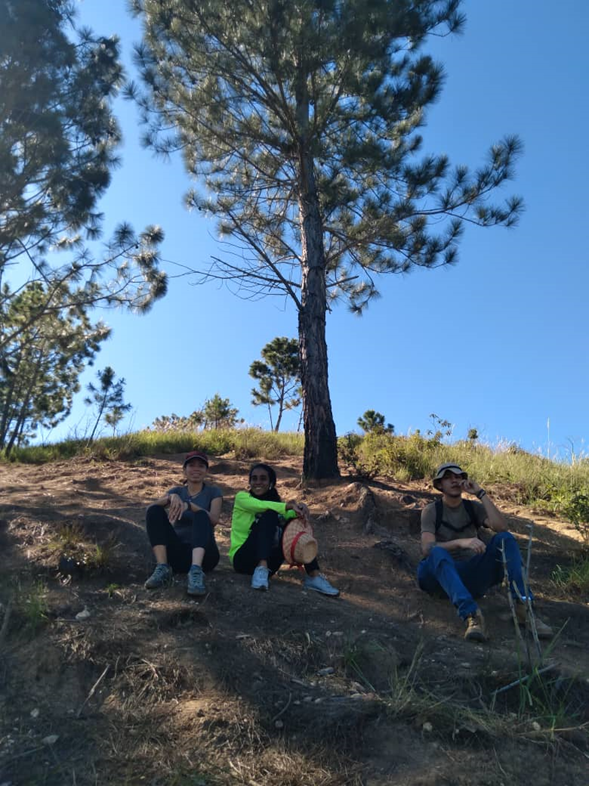 Debo decir que el camino es bastante despejado, no hay muchos árboles en la ruta trazada aunque sí se pueden observar partes de la montaña con vegetación las cuales suponemos que tienen agua y sabemos por boca de una persona que también subía que hay por allí pozos y pequeñas cascadas para echarse un baño regenerador. Pero bueno, nuestra visita a esas cascadas será producto de una nueva entrada para este blog.
I must say that the road is quite clear, there are not many trees on the route, although you can see parts of the mountain with vegetation which we assume have water and we know from the mouth of a person who was also climbing that there are wells there and small waterfalls to take a regenerating bath. But hey, our visit to those waterfalls will be the product of a new entry for this blog.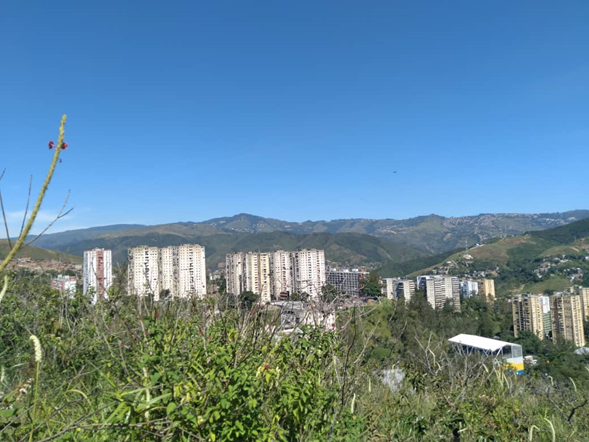 Desde la altura a la cual nos encontrábamos se podían vislumbrar los edificios así que nos pusimos a localizar cada uno el edificio en el cual vivimos y otros lugares que podían verse desde la montaña a medida que íbamos subiendo.
From the height at which we were, the buildings could be seen so we began to locate each one the building in which we live and other places that could be seen from the mountain as we went up.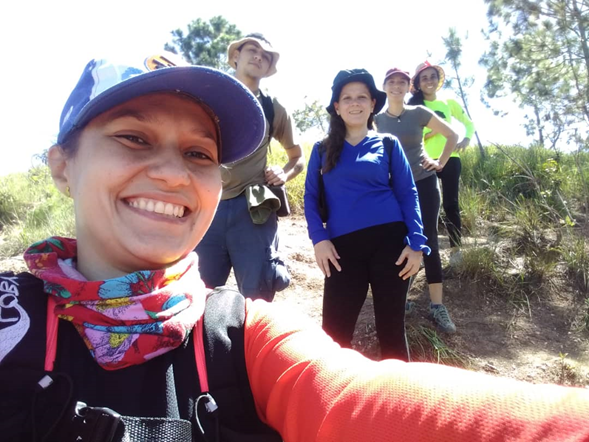 Acá estamos nosotros en una de nuestras paradas, la verdad debo admitir que los meses sin pisar una montaña pasaron factura porque la subida se nos hizo algo empinada y el calor nos deshidrató bastante rápido pero continuamos hasta donde consideramos que podíamos.
Here we are at one of our stops, I must admit that the months without stepping on a mountain took their toll because the ascent became somewhat steep and the heat dehydrated us quite quickly but we continued as far as we thought we could.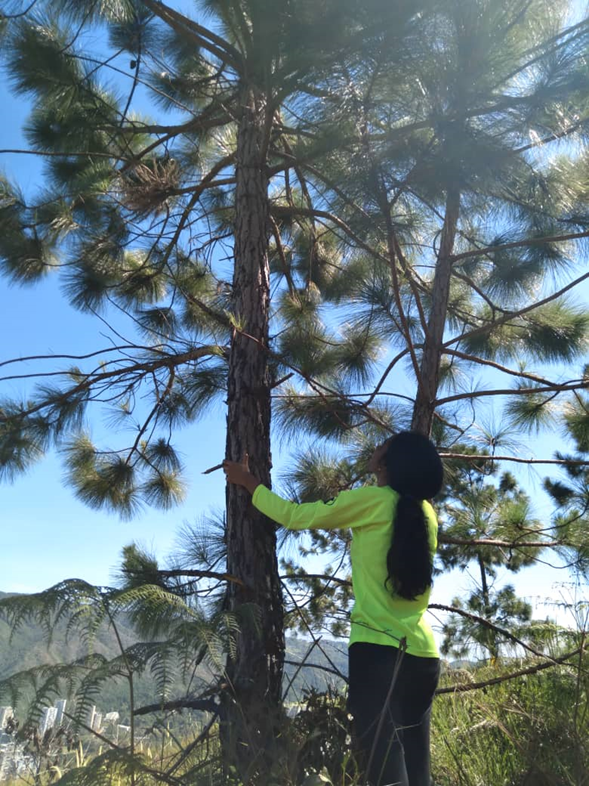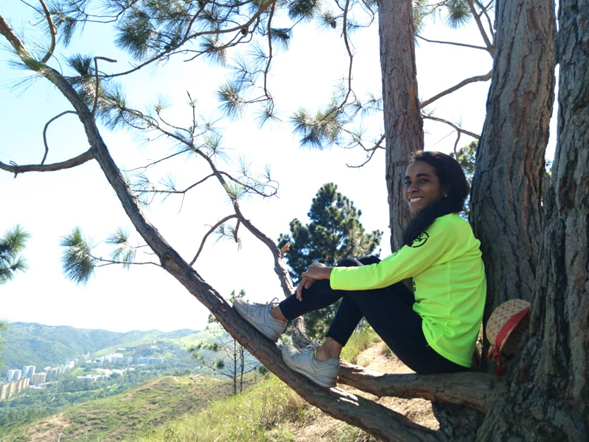 Me gustan mucho los árboles especialmente abrazarlos, si no has hecho esto aún te invito a abrazar un árbol y luego me dices que tal. Si cierras tus ojos mientras lo abrazas, mejor.
I really like trees, especially hugging them, if you haven't done this, i'll still invite you to hug a tree and then tell me how. If you close your eyes while hugging him, the better.
Me gustaría como es de costumbre invitarlos a darse un paseo por mis redes sociales:
As usual i would like to invite you to take a walk through my social networks: