I can't believe I haven't done a post about our Alaskan/Rocky Mountain Adventure yet! I was going back through photos today and reliving one of the best holidays we have ever been on. Alaska is incredibly beautiful!
This vacation happened over 20 days so will be broken down into four parts. This first part takes place in Alaska, so strap yourselves in. This will take a while. haha!
---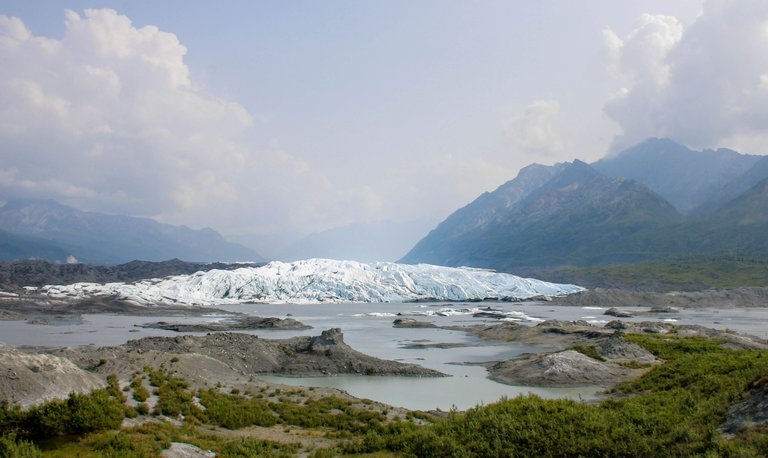 ---
Back in July 2019 we travelled with Ryan's mum on her dream holiday. We flew to Alaska from our home in Vancouver, where we explored for a few days before jumping on a Holland America cruise from Anchorage back to Vancouver. We then jumped on the Rocky Mountaineer train from Vancouver to Jasper, and after exploring the Rocky Mountains for a few days we booked a luxury backcountry hut for us all in Mount Assiniboine Provincial Park. We aren't usually the type to book on organised tours but this was still an experience I will never forget.
On July 10 we flew from Vancouver to Anchorage (via Seattle), arriving around midnight. We picked up our hire car and drove straight to our hotel arriving at about 1am, where we went straight to bed so we could be up early to start our big adventure.
---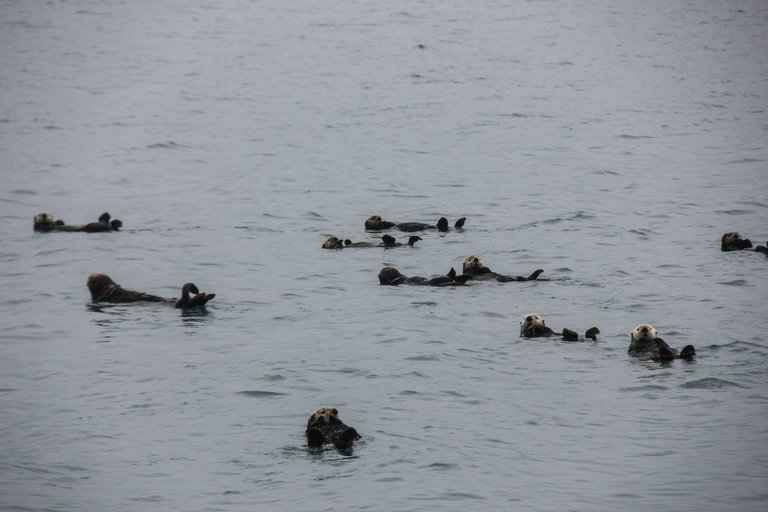 (Part of the huge otter raft we saw)
---
Day One
After our free hotel breakfast we drove to Whittier to do a glacier cruise in Prince William Sound. Throughout the day we spotted two otter rafts with 50+ sea otters in each, LOTS of glaciers carving, and chubby little seals on ice floes. One of the glaciers was so actively carving that we were able to get footage of it. It was unbelievably blue too!
Once back on land we jumped in the car and drove 5hrs to Denali National Park where we had booked some cute cabins at Denali Grizzly Bear Resort.
---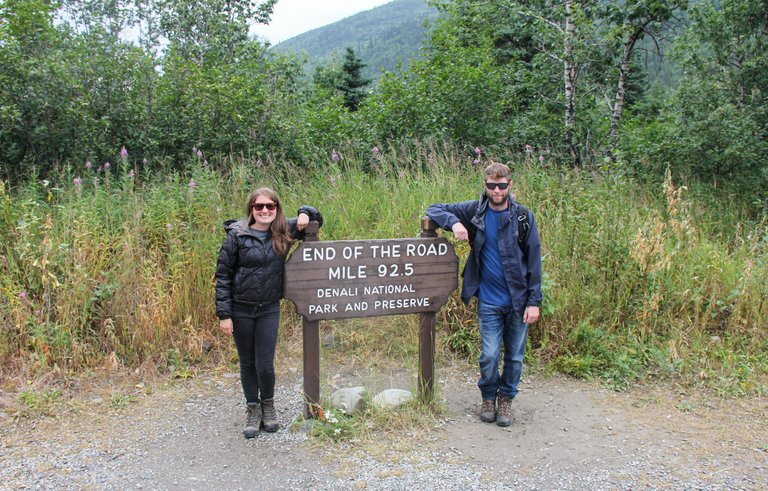 (End of the Road - Denali National Park)
---
Day Two
We woke early again the next morning because we had booked on a 12 hour Denali bus tour! Ryan and his mum were both worried that 12 hours would be too long but I was more worried we had travelled all that way and would miss something. Throughout the day we were able to spot caribou, moose and sheep. It was extremely cloudy and we couldn't see any of the mountains, let alone Denali, but we were still blown away by the beauty. All the mountain passes were narrow with barely enough room for two vehicles, which just added to the excitement and adventure. We eventually made it to the "End of the Road".
On the drive back we spent time with a giant caribou herd of 50+ individuals! I would highly recommend this tour, or even one of their shorter tours if 12 hours is too long for you. This really is the only way to see Denali National Park, and you see some really incredible scenery, even when it's cloudy.
---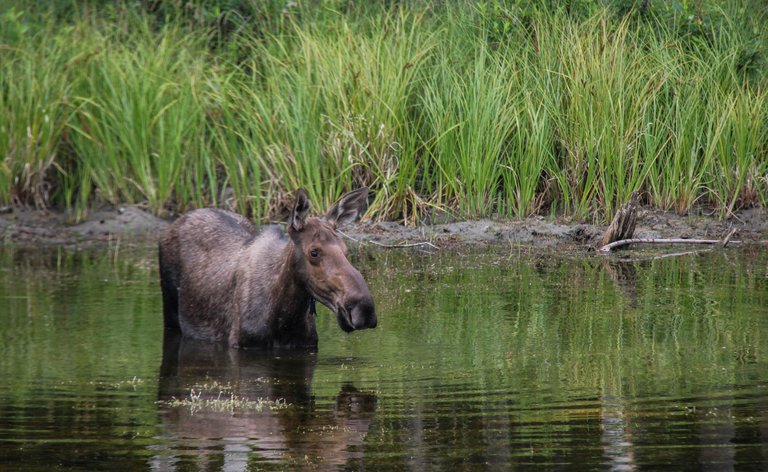 (A moose eating aquatic plants from a lake)
---
Day Three
Day 3 was our first day to sleep-in. After a slow morning we drove to Matanuska Glacier. According to the website it is the largest glacier in Alaska that is accessible by vehicle. We spent a couple of hours walking around and exploring on the glacier. It was super slippery and we spent a good amount of time watching everyone slipping over.
This ended up being one of our more relaxing days in Alaska and after Matanuska we went back to our cabin and spent the rest of the afternoon relaxing.
---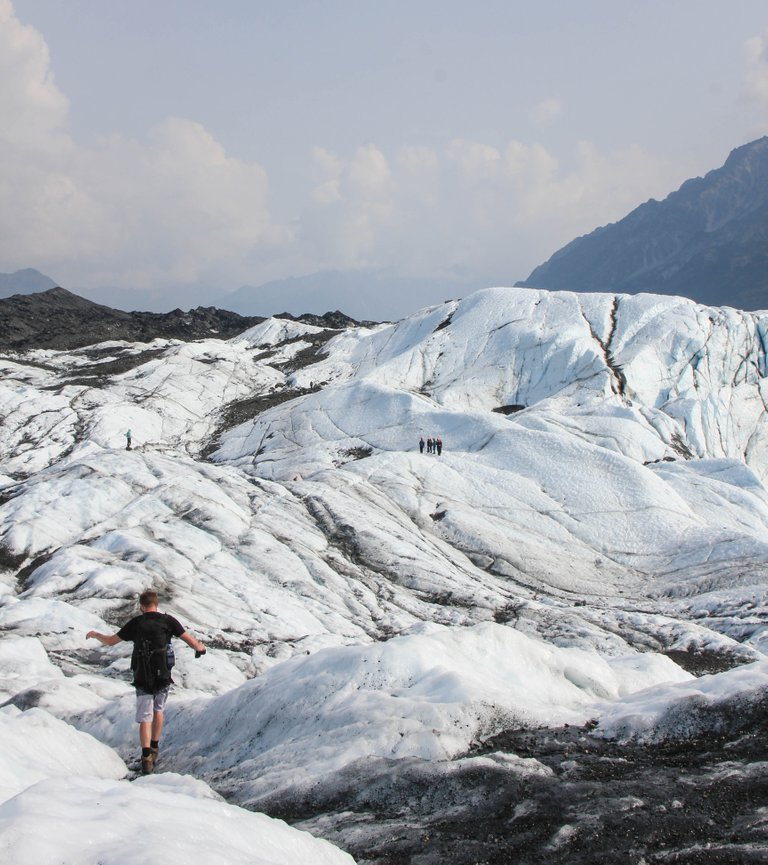 (Ryan walking on Matanuska Glacier)
---
Day Four
On day four we woke early again. We had a lot to fit in before boarding our Holland America Cruise in the afternoon. On our way to Seward we stopped at the Alaskan Wildlife Conservation Centre (AWCC) in Portage. They had an array of rescued animals; porcupines, moose, bears, bison etc. The park is self-guided and you can choose to tour the Centre on foot, by bike or in your car. They also offer guided tours for an extra fee. We really enjoyed our time at the park and I know Ryan's mum did too as she got to see many animals that she would not have had the chance to see otherwise.
After our drive back to Seward we dropped off our rental car and headed towards our cruise ship: The MS Noordam. We spend the afternoon checking in to our room and organizing ourselves before meeting up again for an afternoon drink and some dinner.
---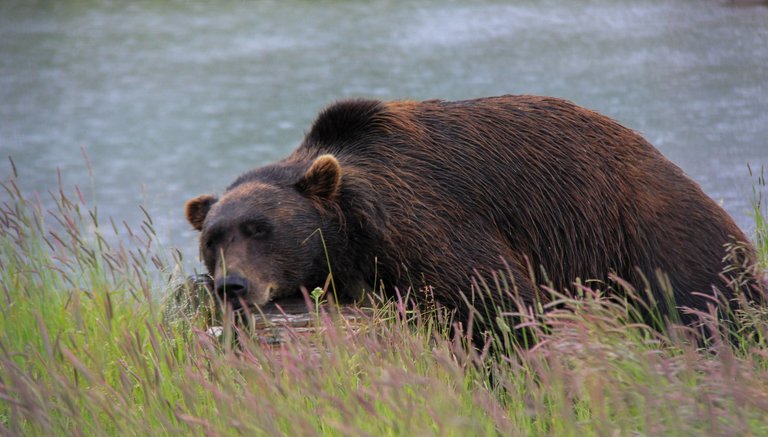 (A sleepy bear at the Alaskan Wildlife Conservation Centre)
---
I have split this story into four posts; the first being our land-based Alaskan adventure, the second being our Holland America cruise, the third being the Canadian Rocky Mountains, and the fourth being our Mount Assiniboine backcountry adventure. I will post the second leg of this journey in a couple days, so keep an eye out for it!
---
All images in this post were taken by and remain the Copyright of Bree Plater unless stated otherwise.

You can see more photos at:
website: https://saultphotography.com/
Instagram: @roaming.rammie and @saultphotography
Twitter: @sault_photo

If you'd like to learn a bit more about some of the photography featured on our page you can read an interview Ryan did with Photofeed here.