This portion of my story takes place in the Canadian backcountry, specifically Mount Assiniboine Provincial Park, located on the Provincial border of British Columbia and Alberta, Canada. This is the fourth and final post of our Alaskan & Canadian adventure. You can read about my previous posts here: Part 1, Part 2, Part 3
---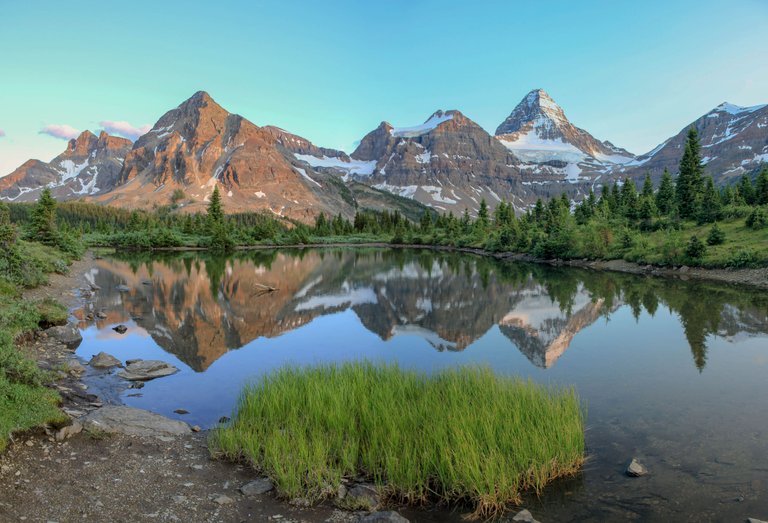 (Stunning mountain reflections on our hike to The Nublet)
---
Day Sixteen
On the morning of day sixteen we woke early to drive to Canmore where we had a helicopter waiting to fly us to the lodge in Mount Assiniboine Provincial Park. Ryan and I have hiked to this lodge a few times but at 27km (17miles) and 400m (1500ft) elevation gain it wasn't something Ryan's mum was up to doing. so, after the safety briefing we had all our stuff loaded into the cage underneath and we piled into the helicopter. The flight was stunning, as predicted, with views of the mountains and glaciers and lakes. Always breathtaking no matter how many times you fly.
We had the cutest cabin! The best cabin in my opinion. It had uninterrupted views of Mount Assiniboine and our deck was facing the mountain and lake. The showers were hot and ran off a micro-generator, which was nice.
That evening we met everyone in the mess-hall cabin for dinner.
Ryan began to feel sick and ended up napping most of the day and didn't come to lunch.
---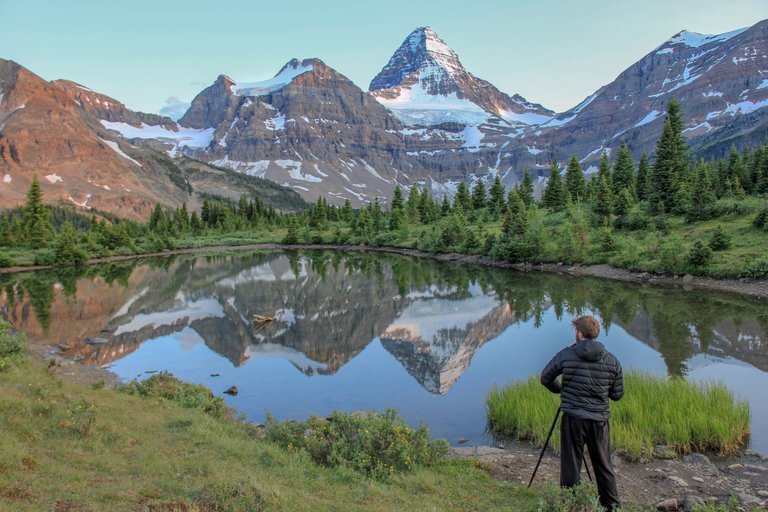 (Ryan photographing Mount Assiniboine)
---
Day Seventeen
We spent most of the day relaxing and reading but the lake. I had a pretty bad headache and took some pain killers. I became unbelievably tired, to the point where I couldn't fight it and had a sleep. Turns out I'd taken drowsy painkillers haha.
That afternoon someone said they had spotted bears near our cabin but we had never seen them, which is annoying because we were there the large majority of the day (let's be honest, we were probably sleeping). It would've been really cool to see some bears!
---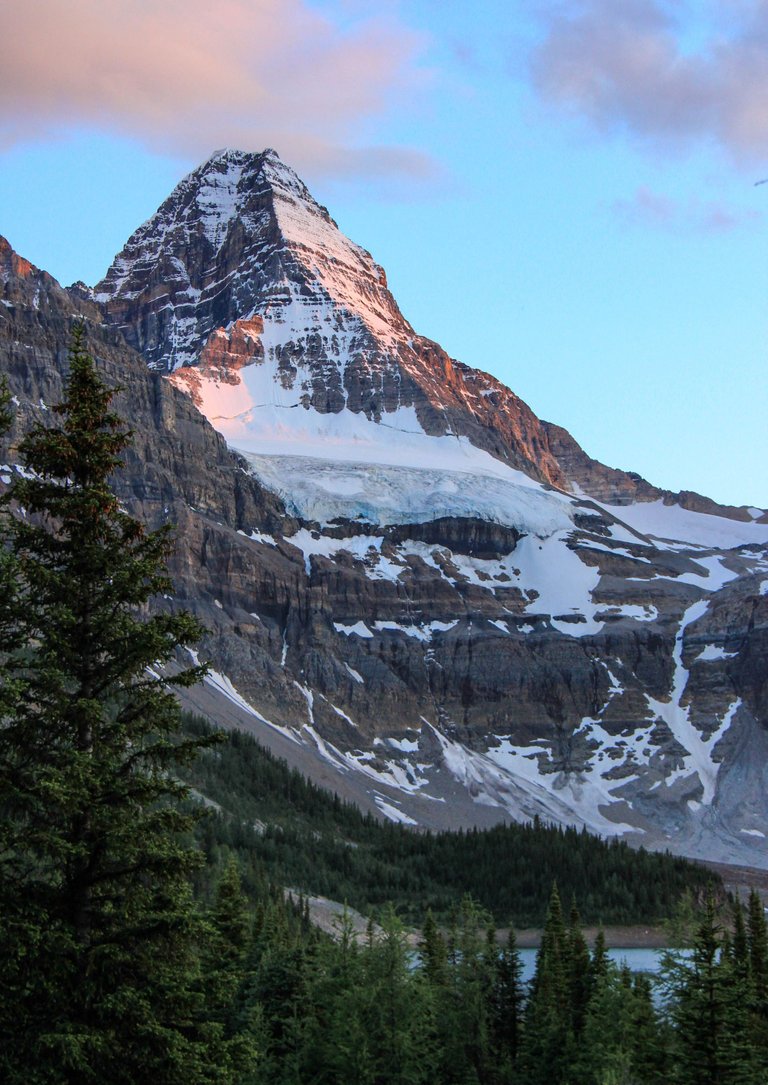 (The impressive Mount Assiniboine)
---
Day Eighteen
After breakfast Ryan and I hiked up one of the trails to The Nublet. We stopped at a beautiful reflection pond that was filled with tiny snails and some kind of bird poop-looking insect. Ryan did a time-lapse with his camera while I hiked up a bit further. We stayed out hiking for most of the day and enjoyed sunset but didn't want to wait until it was too dark too come back to the cabin. The view was spectacular and it was such a beautiful clear day with not a cloud in the sky, which wasn't great for Ryan's time-lapse, but it was beautiful nonetheless.
---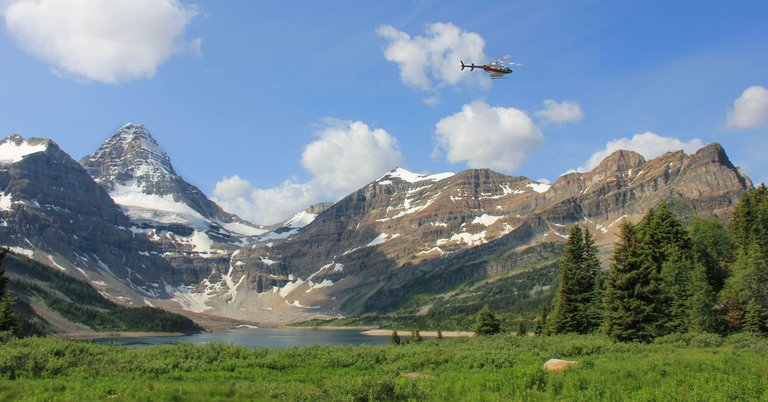 (The helicopter we took to and from Mount Assiniboine Lodge)
---
Day Nineteen
The last full day of our 20 day holiday. We went on one last hike before we flew out in our helicopter. Ryan's Mum came with us up to The Nibbles (the name of the hiking trail) and she did really well. There were so many wildflowers and a marmot! It was another splendid day but with a bit of cloud cover, which made for some nice photos. From the top we could see Sunburst Peak with Mount Assiniboine in the background. From the angle we were viewing Sunburst looked much bigger than Assiniboine but it didn't have any snow on it so you know it's much smaller.
On the way back down we spotted so many little creatures, a hare, squirrels, marmots, grounds squirrels, chipmunks, and birds.
Once back at the mess-hall lodge we had a snack while we waiting for our helicopter out.
While waiting a 71 year old lady rocked up with a guide. She had just finished an assent and decent of Mount Assiniboine!! Keep in mind that this mountain has an elevation of 3618m! And she is 71!! She slammed a beer and sat their crying in disbelief, the whole time looking back at the mountain.
On the flight down I got the front seat! Yay!
Once back at the car we drove back to Calgary for our 8:40pm flight back to Vancouver and the end of our holiday.
---
If you made it to the end of this series, thank you! I don't think I'm the most in-depth or exciting writer, and this adventure did happen in 2019, so good job to you for making it through to the end. I hope you enjoyed it!
---
I have split this story into four posts; the first being Alaska, the second being our cruise, the third being The Rockies, and the fourth being our Mount Assiniboine backcountry adventure.
---
All images in this post were taken by and remain the Copyright of Bree Plater and Ryan Sault unless stated otherwise.

You can see more photos at:
website: https://saultphotography.com/
Instagram: @roaming.rammie and @saultphotography
Twitter: @sault_photo

If you'd like to learn a bit more about the photography featured on our page you can read an interview with did with Photofeed here.