Magdalena Bay is located about a five hour drive north of Cabo San Lucas in Baja California Sur. San Carlos is the port town and where you will stay if you decide to visit. Mag Bay, as it is known locally, is renound for marine wildlife, and that is exactly why I was visiting. It is marlin season at the moment and seeing them was the last thing on my list of things to see while I'm still here in Mexico.
---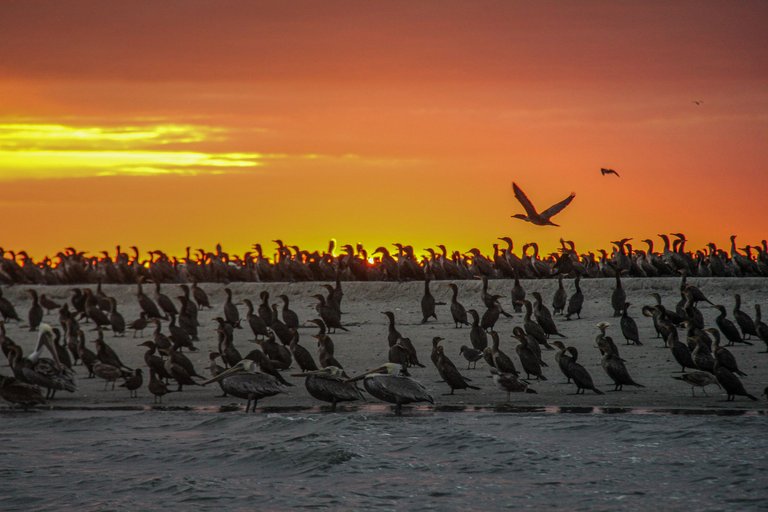 Bird Island at sunrise
---
I arrived at our hotel with a few friends late in the night and went straight to sleep. We had to wake early the next morning ready to be at the boat by 6am. We set out as the sun was rising, a beautiful way to start the morning. It's about a one hour boatride to get out of the bay to where the marlins are usually found, but it can take longer if you see any other cool things, like Bird Island, or a pod of five to six humpback whales, or a pod of dolphins. It ended up taking us around two hours.

Sometimes it can also take a while to find the marlin. You need to look for the bait balls of sardines that the marlin feed on, and the reason they come here every season. By the time we found the marlins it was about 11am. We were the first boat there and we jumped in the water as soon as instructed. What we saw was incredible!
---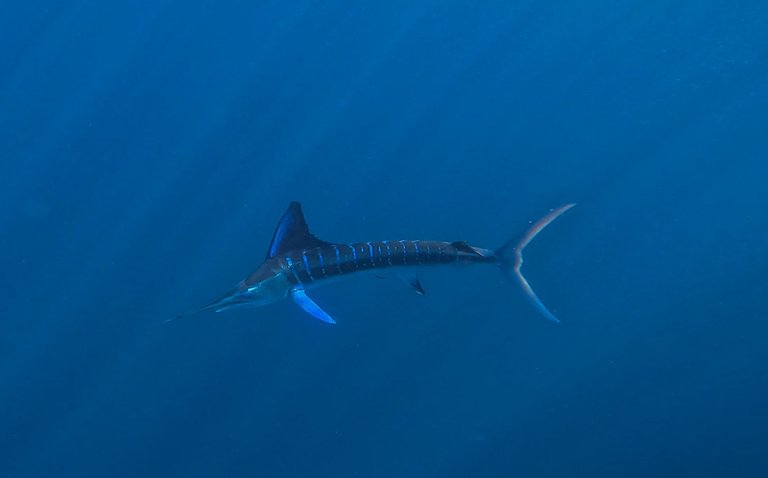 How beautiful are the Striped Marlin
---
After swimming as fast as I could towards the bait ball I settled to the side of it. During our briefing we were told not to dive into the baitball, to give the bait ball space, and to swim out of the way if the sardines decide to use you as shelter. This unlocked a new fear in me: being skewered by a fish haha. I floated a few meters to the side of the large bait ball and watched as marlin shot up from below, birds dived from above, and sealions came in from everywhere else. It was the most incredible expereince.

After a little time other boats turned up with snorkelers. I counted 14 boats in total! Full of snorkellers that did not seem to get the same breifing that we did on how to act around the marlins and sardines. After about an hour in the water watching the chaos I grew a bit tired of fighting to see them so I returned to our boat. The rest of our crew did the same within about 15 minutes and we started our journey back to port.
---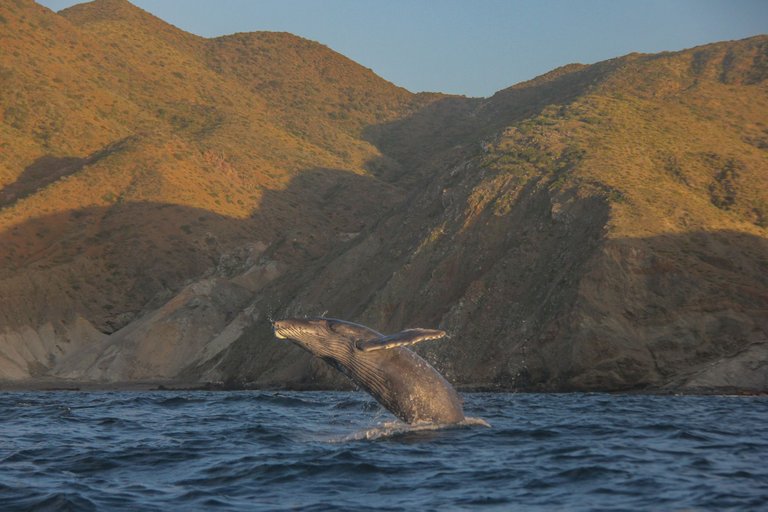 It doesn't look it but this whale calf was so small
---
It took us three hours to return to port. The sea had become choppy which made it hard for our boat to go at a decent speed. but we were treated to the smallest little humback calf splashing and playing in the waves, which made the three hour bumpy ride worth it.

We arrived back in town after sunset, topped up with coffee, and drove straight back to Cabo San Lucas, getting into bed at about 1am. I got into bed exhausted but full of happy memories. And, the chaos with all the other boats towards the end of the day did not spoil my experience. I saw an amazing natural event and came away with wonderful stories and memories.
Unfortunately it's very hard to get photos on my DSLR camera while I'm in the water so I didn't get many. But I did get a lot of video footage, which I can't share here. But take my word for it when I say it was amazing!
---
All images in this post were taken by and remain the Copyright of Bree Plater unless stated otherwise.

You can see more photos at:
website: https://saultphotography.com/
Instagram: @roaming.rammie and @saultphotography
Twitter: @sault_photo

For this adventures I went out with Cabo Excursions. You can find their website here: Cabo Excursions