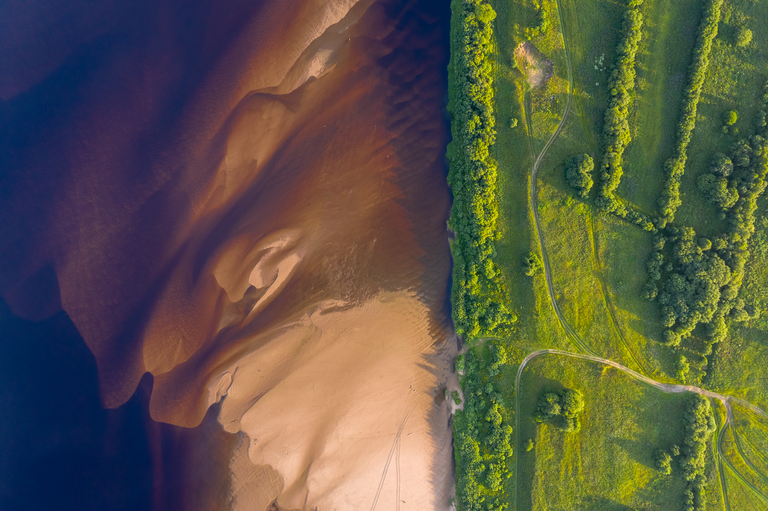 Some interesting details of the surrounding landscape are sometimes visible only when viewed from above. It's good when there is a mountain, a hill, or at least a high building that you can climb up and look around. But this is not always the case, and the height of an ordinary tree growing nearby is still not enough. And I haven't climbed trees for a long time :)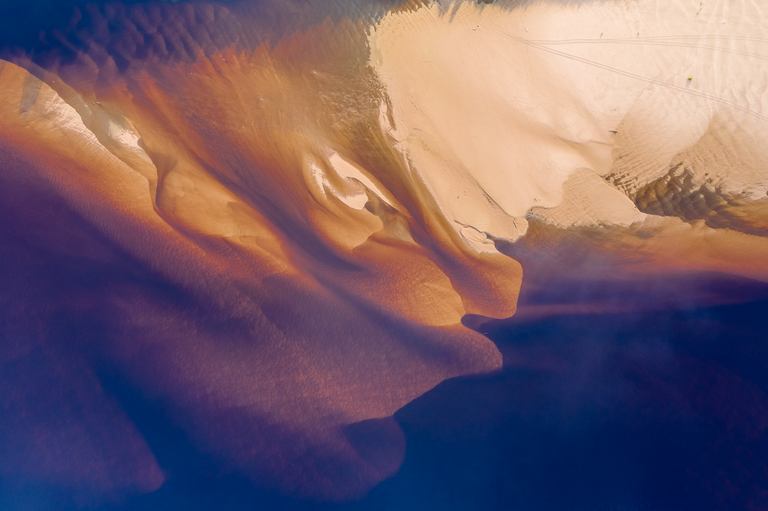 For example, it is difficult to notice such wonderful patterns of a sandbank on a river, translucent through the water, from ground level — you need to be higher, you need a scale. Therefore, in the last few years I have been photographing very often using a drone in addition to the camera (and it is also much easier and faster than climbing a mountain 😅).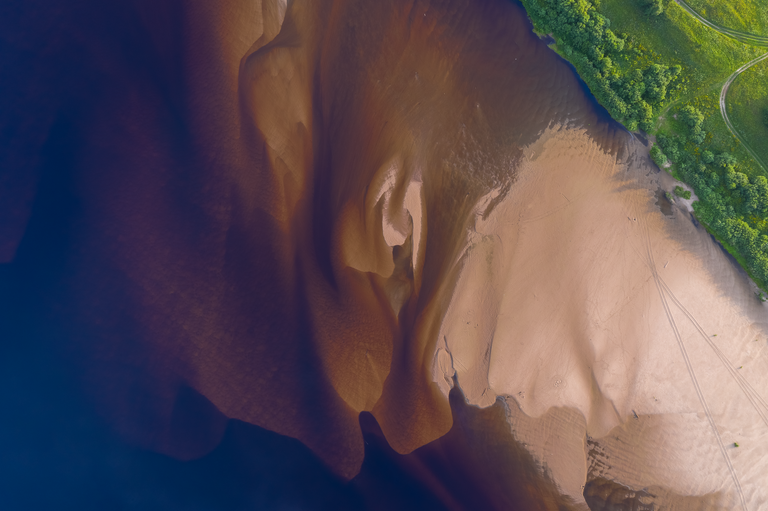 In some places, as in this case on the river, I didn't get my camera out at all — from ground level it all looked far from being so impressive. But we can imagine for a while that we are birds and look at everything from a height, right? I was very happy that I launched the drone there, even though the weather and the light weren't always ideal for photography.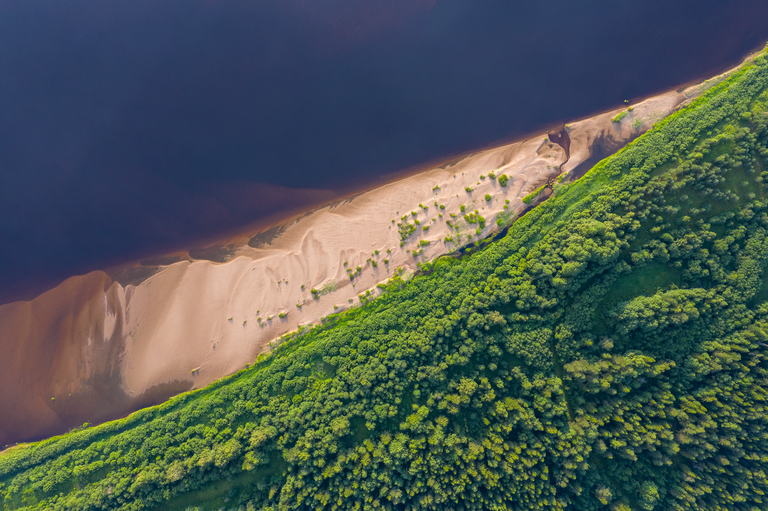 I walked along one large sandy part that was above the water at the time of our visit, and this was quite interesting — you seem to be already on the territory of the river, the sand is wet under your feet, in some places the traces are already filled with water and in general the border of the coast a little lost to feel. And someone on this place even drove a car! Take a closer look, in the photo below you can see the traces of the wheels. I would not risk it, I am always afraid to get stuck in such a places :)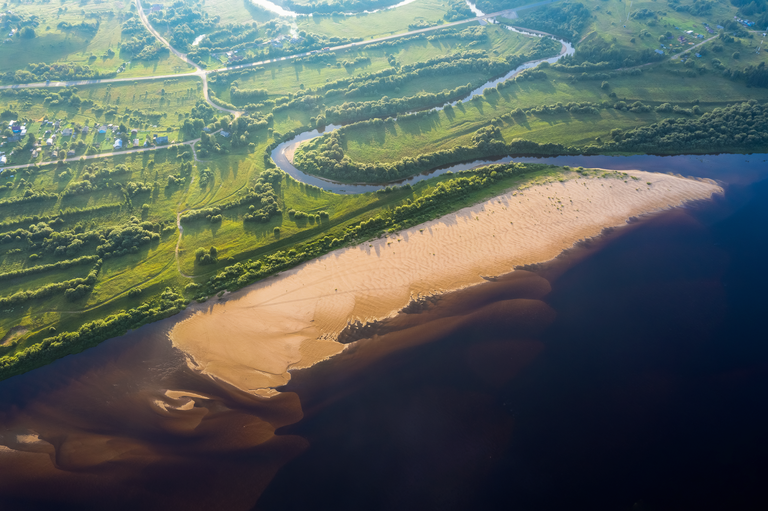 And if you go down even lower, under the water, closer to these sandy layers at the bottom, then the view is rather boring there — solid sand, there's not even much to see. I didn't swim there much myself, but my girlfriend then, for the sake of interest, swam with a mask and snorkel along the shore, including these sandbanks. Although just splashing near them in shallow water was a lot of fun, there was nothing to watch and photograph :)
We also tried to fish there both in the thickets of grass near the shore, and where it was deeper (and looking at several boats near the shore, we were not alone in our entertainment), but this did not end with success. Apparently, local fishermen know the fishing spots better — and we are almost complete beginners in fishing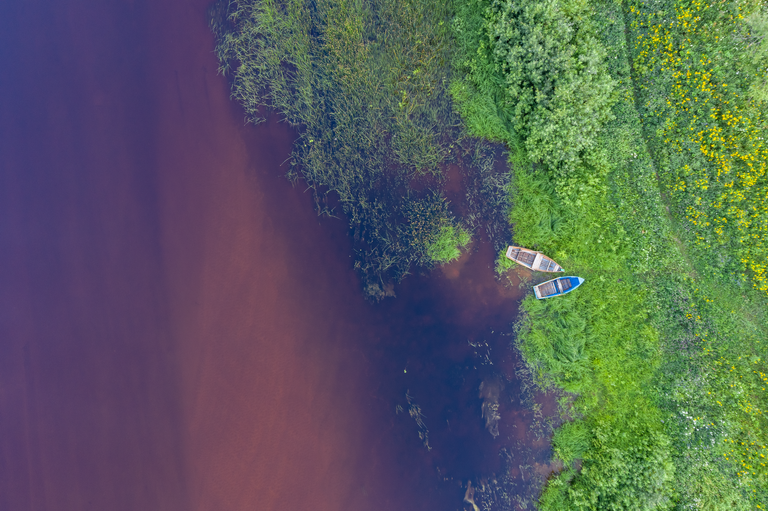 Anyway, it was still a nice couple of days that we spent by the river. In that place, I liked the views from a height more, and somewhere the landscapes fascinate me from any chosen level. Most importantly, I love to see the beauty around — in any kind. And take pictures of it :)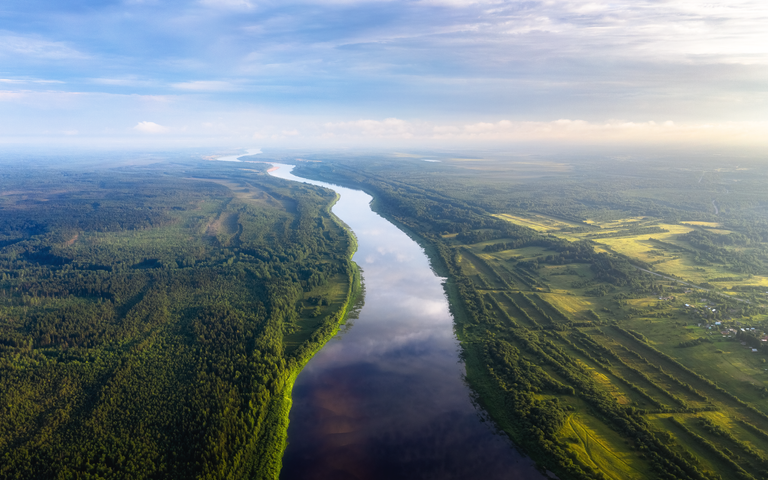 All photos were taken on the Vaga River in the Arkhangelsk region, Russia.
It's better to watch the photos in high resolution.
---
Camera: DJI Mavic 2 Pro
---
You can also see my photos in my blog LJ and in my profile on NatGeo. You can read a short interview with me here.
---