---
Heyah Hivers!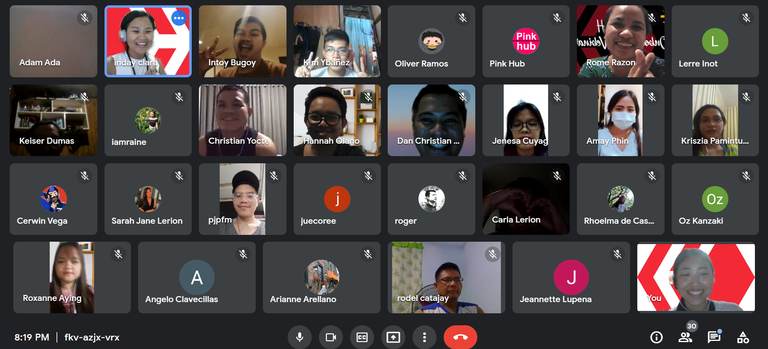 Photo credits: @chillwithshanna
Are you one of the newbies who also thirst for more learning here in Hive? Then you must have attended as well the onboarding seminar prepared by the @ocd team last Saturday, Nov. 20, 2021. This was not my first time joining a webinar, in fact, I've also attended the Hive talks: Beyond Blogging last October. I've been a Hiver for 2 months now. Since then, I've only posted a few blogs because I'm always in doubt of my writing and insecure about it but then after joining talks after talks and the encouragement of my hive mentor @intoy.bugoy and the guidance of @indayclara, my motivation escalated because as long as my intentions are to tell my story and create quality content, then I'm good to go. Everything will just follow as long as I'll be able to practice it consistently.
So what happened to the 3RD HIVE PH ONBOARDING WEBINAR?
---
Learning the Basics
The main topic of the webinar is the Basics of Hive. How hive works and how you can earn from it. The host of the event is the energetic and lovely @indayclara. She gracefully welcomed us all with a hell yeah and gave us an overview of what to expect in the webinar.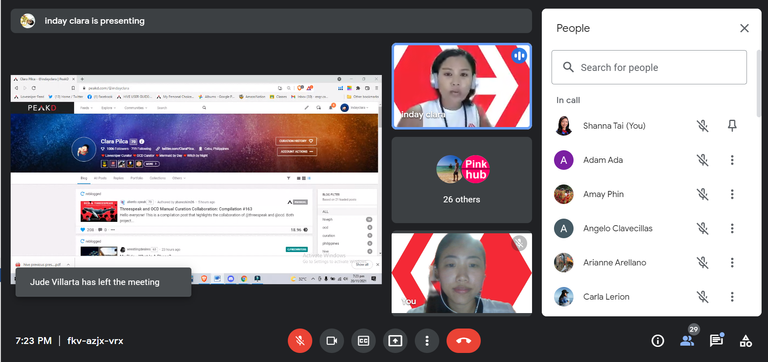 Photo credits: @chillwithshanna
She put it simply by taking social media platforms as an example of how Hive works. It's the same with other social media platforms because you'll have a profile, a feed, you post then you'll get a like or heart but what makes hive special is that every heart or like is equivalent to hive dollars, in short, you can earn in the likes or hearts in Hive unlike in other platforms. Sounds interesting right?
How to navigate
So to make it more understandable, @indayclara allowed us to see the PeakD interface as she navigates her own profile. There you can see tabs like how you see the feed, your profile, her blogs, and of course your wallet (where you can see your earnings!).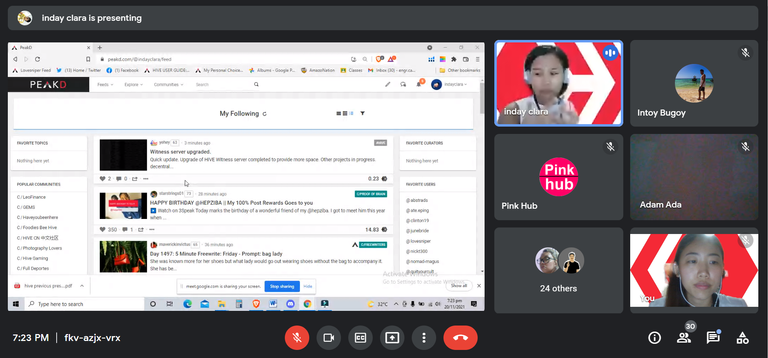 Photo credits: @chillwithshanna
She also introduced to us about different communities in Hive that would spark your interests. As for me, I subscribed to Architecture+Design Community because I'm in the design field, and you can also subscribe to more communities like Haveyoubeenhere for travels, Foodies Bee Hive for food lovers, or Freediving if you're into under the sea adventure and many many more.
How to create a post
After familiarizing the tabs in the PeakD interface, @chillwithsanna discussed with us how to create a post. She illustrates examples of her blog and shared with us how she arranged and format the texts and photos. She recommends @ybanezkim26 formatting technique blog as a guide when drafting our blog. She reminds us as well to always, like always keep in mind the rules of blogging: only post original content and to follow rules of the community where you are posting. You can also check out this blog on how to make your post more curatable by @livinguktaiwan.
How to earn in Hive
The best part. Haha, kidding aside, my friend @intoybugoy shared the reward system in Hive. Still, this is not easy money. You will be rewarded for the hard work you put into your blogging. In every post and in every upvote you get, you will receive an equivalent hive dollars.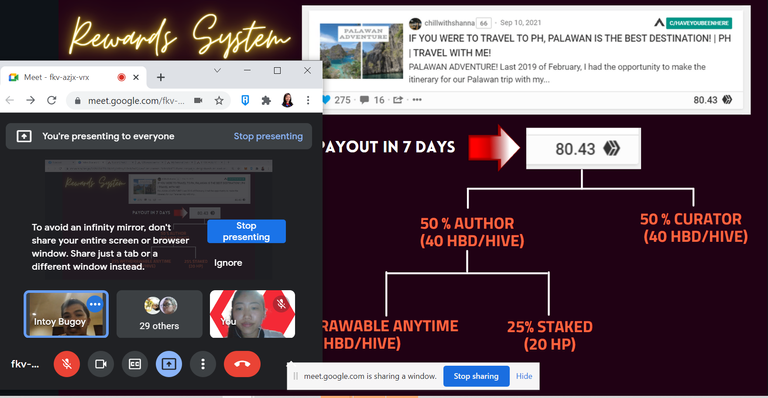 Photo credits: @chillwithshanna


The reward will mature for 7 days and then you'll be able to claim your rewards into HBD (Hive-backed dollars). It will be divided into 50-50, to the author and the curator. The 50% of the author will then be divided to 50-50 again, which goes to your HBD (withdrawable anytime) and to the staked hive tokens (Hive power that gives you high voting power but it is also withdrawable but it would take time unlike HBD). In my experience, I tried withdrawing my HBD and it really works! Complicated at first but then you'll get to familiarize it along the way. Thanks to my mentor @intoybugoy for being patient with me. I have a lot of questions lol. To cash out your HBD, you need to simply make an account at Binance. Check @glecerioberto 's detailed blog about it here.
Wait there's more!
OCD Projects
The veteran @ybanezkim26 explained the OCD projects, like communities incubation program, other niche communities curation, and onboarding projects. He also answered all questions asked during the webinar.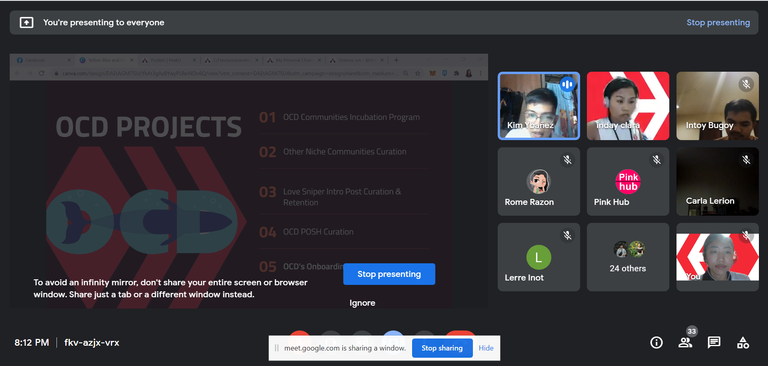 Photo credits: @chillwithshanna
I am grateful to the @ocd team for webinars like this, it always gives me the confidence to be better in blogging and share this with others. Speaking of others, I'm very happy to see my two invites who joined the webinar (we are planning to post their intro within the week haha). They said it was clear, concise, and fun (thanks to the raffle for the invites, one of my invites won haha).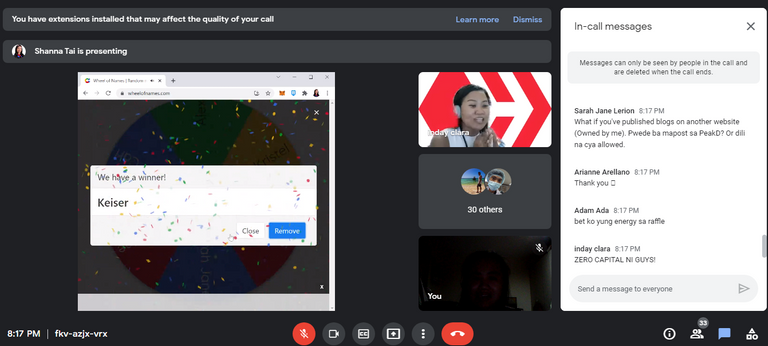 (The only screencap I took during the webinar lol)


They never thought it was just blogging but there are also games where you can play and earn. After the webinar, they immediately messaged me that they will begin drafting their self-introduction and that they were very excited to start. Indeed, seeing them encouraged also made me more motivated to create more quality content here in Hive.
How about you? Did you join the last Onboarding Webinar? If so, leave a comment below and share what you've learned.
See you next time Hivers, until then! Annyeong!
---
Hello! Thanks for reading.
@arkicarls here and see you in my next blog Hivers!
---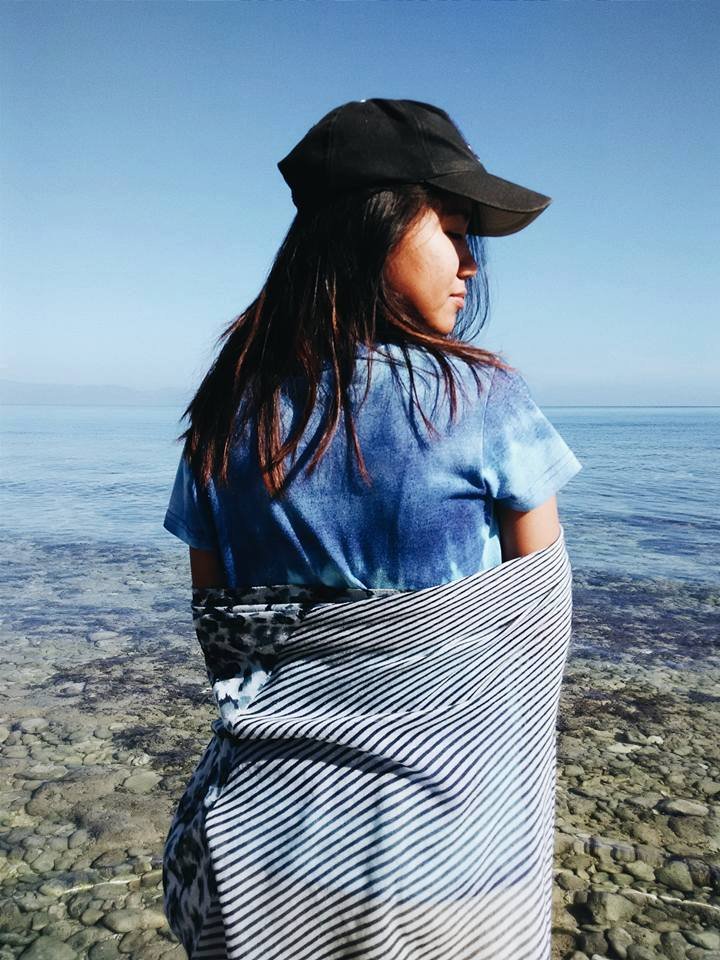 arkicarls
Hi I'm Carla, an Architect by profession but a real-foodie in nature. I'd like to see the world as an art, full of mystery, wonder, and beauty worth living and exploring. I believe that each of us has unique gifting that could help make this world a better place.
Thanks for reading! If my content made you 😁, then drop some ❤️ by upvoting and leaving a comment. Also, click the Follow button to keep posted on my journey here on Hive.
Fighting!