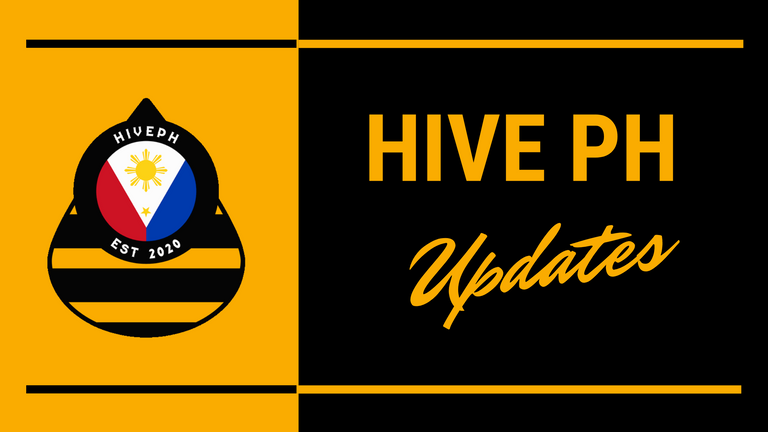 Hello, Pinoy Hiveians! Hope your week started beautiful and productive. We are here once again to give some exciting updates about our community!
Hive PH Bootcamp
First things first. We have officially opened our Hive Bootcamp which is open to all Pinoy Hivers wanting to learn more about Hive. In line with this, we have also posted articles helpful for the Hiving journey of our newbies. Please feel free to contact @ybanezkim26 or @romeskie if you have any questions and wish to learn more about this program.
The main focus of the boot camp is to make sure our newbies will be thoroughly guided from the very beginning of their Hive blogging journey. They will also be taught how to improve their content creation as well as how to grow their account.
Hive PH Power Up Day
This coming October 1st, we are inviting you to join the Hive PH Power Up day! This is in partnership with the Hive Power Up day conducted monthly by @traciyork.
Thanks to our sponsors, @themanualbot, @ybanezkim26, @romeskie, and @markjason, we have a total reward pool of 1300 HP delegation. The winners will receive three weeks of delegation as follows:
1st Place: 600 HP
2nd Place: 400 HP
3rd Place: 300 HP
Full details will be discussed on our update next week so please keep a heads up!
We initially offered an upvote service through the @hivephilippines account. Each delegator receives a corresponding upvote per day. So far, we have a fair amount of delegators but after some thought, we decided to shift into another direction with regard to rewarding our delegators. We are coming up with a better reward system.
Hive PH Contest
Our latest contest Your Post Pandemic List have received 6 wonderful entries. Thank you so much for joining, we really appreciate it. We hope that you continue to participate in the next contests.
Currently, our prizes come from donations from @bearone, @ybanezkim26, and @romeskie. We are looking for more ways to earn more liquid Hive for our Hive PH Contest prizes. Thus, the changes in the delegation from @bayanihan. Half of the @bayanihan HP will be invested to earn Hive for the prizes while the remaining half will be delegated back to @hiveph to help increase the account's voting power for curation.
We will keep you posted on our next steps so make sure to follow @hiveph.
We are also inviting you to subscribe to Hive PH to help with the curation and post promotion.
Don't forget to follow Hive PH trail on hive.vote as well.
Chat and interact with our fellow Filipinos in our discord channel.
Follow us on Twitter and Facebook
Thank you and see you again on our next Curation Post!
°º¤øº°°°º¤øº¤øº°°°º¤øº°