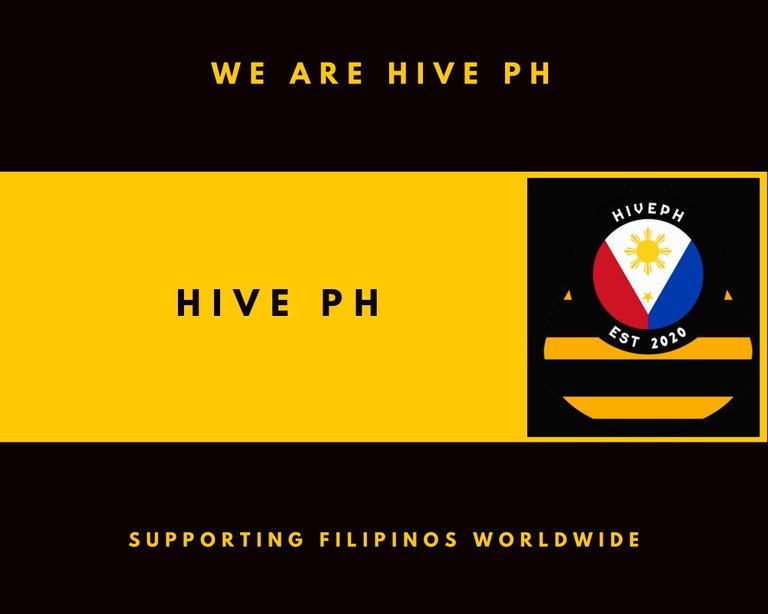 We live in a country with 7600 islands (with more and more islands being discovered). Each of which promises exquisite beauty and serenity. We speak more than a hundred languages rich in culture and heritage. Each of us has a thousand stories and a million photos we can share to Hive and to the world. Even with the diversity all around us, we are able to come together as one with the goal of sharing our talents to everyone in the Hive Blockchain.
Filipinos people have been bombarded with several challenges, some extreme, some hardly bearable, some we just shrug off. Whatever challenges we may face, Filipinos have been known to get around and overcome them so long as we face them together.
Supporting Filipinos Worldwide
Filipinos are known to always help each other, be it our family, friends, even our neighbors even with the very little that we have. It is in our nature to pull each other up, encourage each other, help each other. That's the beauty of Hive PH. We are embodying this culture where we make sure that nobody is left behind. Wherever you are, whatever language you speak, as long as you have the Filipino blood in your veins, you are Hive PH.
Our Vision
We support Filipinos Worldwide.
One of the challenges of having several thousands of islands in a country is uniting them. But with Hive PH, we aim to unite every Filipino hivers in one community, supporting and encouraging each other.
With the support that we currently have, we are helping not only the old and small accounts, but also newly onboarded Filipino members.
Part of our long term plans are onboarding the masses, promoting the Hive Blockchain, and integrating the blockchain to form real use-case systems.
We envision a community of diverse Filipino bloggers, vloggers, crypto experts, photographers, DIY-ers, artists, musicians, writers, programmers, and developers, all united in Hive PH. We envision a community of support, encouragement, unity, and success.
We are in need of support!
Current Support - Currently, @hiveph has 2K delegated hive power on its account coming from the previous sub-communities. It is not enough to reward authors posting genuinely, so to make it more uplifting to users, we established a curation trail for some consumers and sub-communities to follow.
We would like to thank the following users delegating to @hiveph:
@ausbitbank
@jazzhero
@steemph
@steemph.manila
@steemph.uae
Incoming Support - The Bayanihan account which was established first in steem commits its power in helping the efforts of @hiveph to support Filipino authors worldwide. Thus, its Hive power and steem tokens that will soon be converted into Hive power will be delegated(in a few hours) to the new community account. With this, we are preserving its integrity and corrects its lapses from the past.
More support needed - While most of the Filipino authors here are quite successful and well-established from other communities, there are still some who struggle on the other side especially the incoming influx of new users. With this, we set some goals to achieve more delegation as support coming from various individuals and community members. We are ready to put things into reality as soon as we get those resources but for now, we will be maximizing our every efforts for the community with the little influence that we have.
Onboarding new members!
We are also taking action of spreading the good news of Hive and we are so thankful to those old yet active users who keep on onboarding new members and authors to the community. We will continue to onboard masses to the community and hopefully, bring some investors too. We realize the challenge of interacting in the blockchain because of Resource Credits limitations for the newbies. Which is why we are very grateful to our members who willingly delegated to these newly onboarded hivers encouraging them to share their talents to the world.
Curation works
We are curating content exclusively from the Filipino authors but not limited to ex-pats, foreigners living or working in the Philippines and other foreign users that are related to Filipino people.
We are too limited with our power that's why we are in need of much more support from options like delegation and curation trail. But we are not stopping by at that point of our limitations that's why we are so grateful for our curators in the community. They're always looking for an unrewarded post coming from the community. We are delightful to have them.
Education and Awareness
Hive PH strives to attract new blood into the blockchain. We are actively writing educational posts through our @hiveph account. Some to refresh the knowledge of our tenured members like our write up about The Importance of Powering Up. And some about A Guide to Creative Writing which was written in tagalog. We have a plenty more articles that we will share with the entire community.
Increase Engagement and Activity
We will be making initiatives for the community to engage from one another. Initiatives that will be rewarding and provide the user-experience level they're looking for.
We are encouraging all Filipino authors to repopulate the Filipino Community with activities and engagements. We strongly believe that the more transactions crossing on the blockchain makes it more resounding and buzzing on a blockchain level activity. We also encourage them to post content written in Filipino language as we also want everyone in the community be comfortable to interact.
Interaction and communication is the key to a successful community. That is why we have our discord server where Hive PH interacts with each other. We also have our official Hive PH Twitter account and our recently created Hive PH Facebook Page which aims to attract new members, as well as gather our already existing fellow Filipino Hivers.
The People Behind Hive PH
As mentioned in our pilot post Hive PH: Supporting Filipinos Worldwide
, SteemPH is rebranding as Hive PH. We bring with us the lessons from the past, giving us a much clearer vision of our future.
@bearone founded the community and is rebranding it to HivePH with @romeskie as the Lead.
So far, we have our Curators. We would like to thank them giving their time to look the best articles in the Filipino community.

@arrliinn
@czera
@dashand
@jemzem
@leoneil
@mrnighmare89
@romeskie
@themanualbot
We also have our writers that share their knowledge in their perspective fields. Thank you!
@guruvaj
@jemzem
@themanualbot
In closing, we would like to thank you for taking your time to get to know us more.
We are the Filipinos
We are the Pearl of the Orient
We are Hive PH
@alishaarif, @appleskie, @arrliinn, @bearone, @benedict08, @beyonddisability, @bien, @bloghound, @braddvon21, @charlocked, @coolarth, @czera, @dashand, @debilog, @divinekids, @emafe, @fycee, @gheghenrv, @guruvaj, @harulovesanime, @hiddenblade, @hiveph, @jab1987, @jancharlest, @jemzem, @jrxplorer, @juanvegetarian, @judyannegamis, @juliettana, @june21neneng, @jurich60, @kennyroy, @kramgelo, @kristianoako, @kulzz1137, @lapilipinas, @leoneil, @looserwin, @mahalo, @mami.sheh7, @markjason, @milayosawa, @monkeypattycake, @mrnightmare89, @mrxplorer, @olivia08, @photophile, @pingcess, @pinoysports, @romeskie, @sarimanok, @shikika, @steemph.cebu, @steemph.uae, @straykat, @tegoshei, @themanualbot, @unlisteemersph, @ybanezkim26
We are calling all active Filipino users, from minnows or newbies to long-time users. We are inviting you to subscribe to Hive PH and follow the Official Twitter Account of the community. We encourage you to post through the community as well and share and tag us on your tweet. Don't forget to follow Hive PH trail on hive.vote as well. Chat and interact with our fellow Filipinos in our Hive PH discord channel.