Olah Hivers! It's been a while since I haven't posted my blogs here, it's because I wanted to give my full-blast comeback with our hive first meet-up! Yes you read it right! Our first ever hive meet-up as bloggers.
I have been so grateful and honored in joining this group, with this I found new friends that turned into a family now.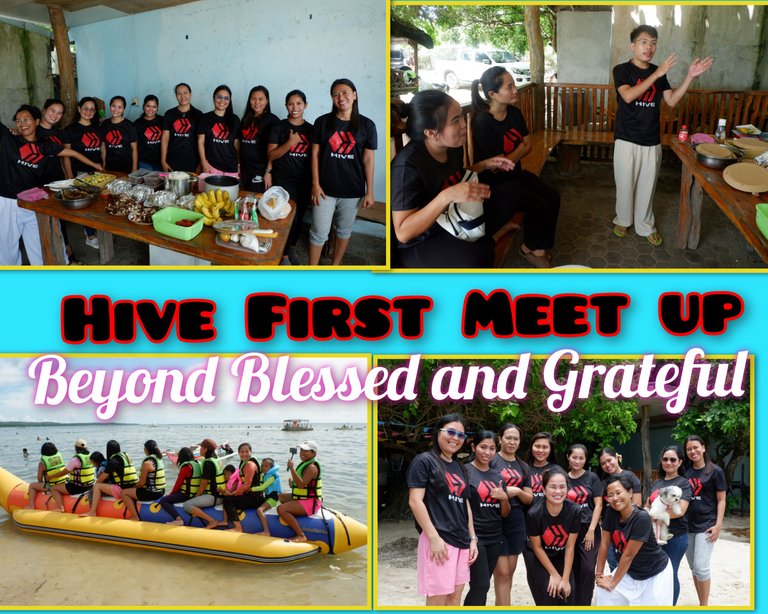 @indayclara initiated the meet-up through Messenger. Without any doubt, we agreed right away since we also wanted to see everyone in person. We agreed on what to bring and everyone wrote the things and food to bring. I pledged lettuce and cucumber with dressing. I reminded my husband to buy lettuce from the farm, however, he had seen none so I replaced it with watermelon, then cucumber.
The bunos is Indayclara invited @ybanezkim26! Can you imagine that? One of the curators of OCD will be coming with us! Such privileged and honored, truly!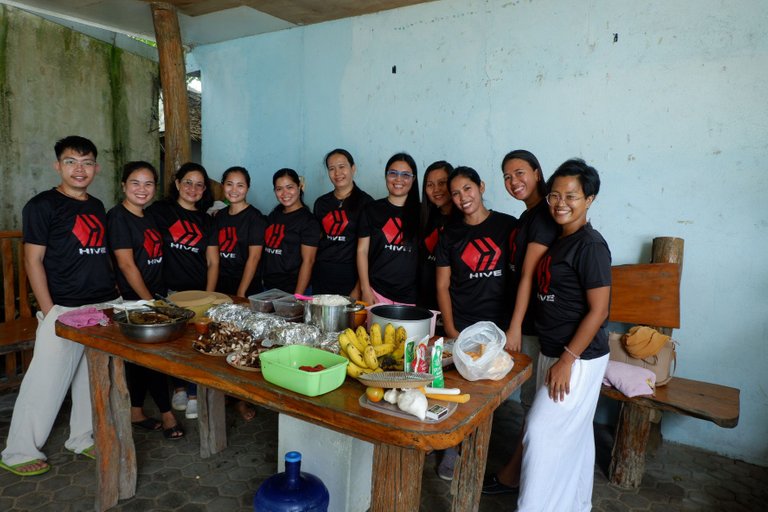 From left to right handsome and humble one sir @ybanezkim26,co-teacher/bloggers @callmesmile, @naymhapz, yours truly, @selflessgem, @dehai, @missleray, @amoreyl, @missjoycee, @simplechalyns and the beautiful inside and out @indayclara.
I cannot contain the happiness I have felt as I'm waiting the day to come. I am also excited to know behind the beautiful names of bloggers.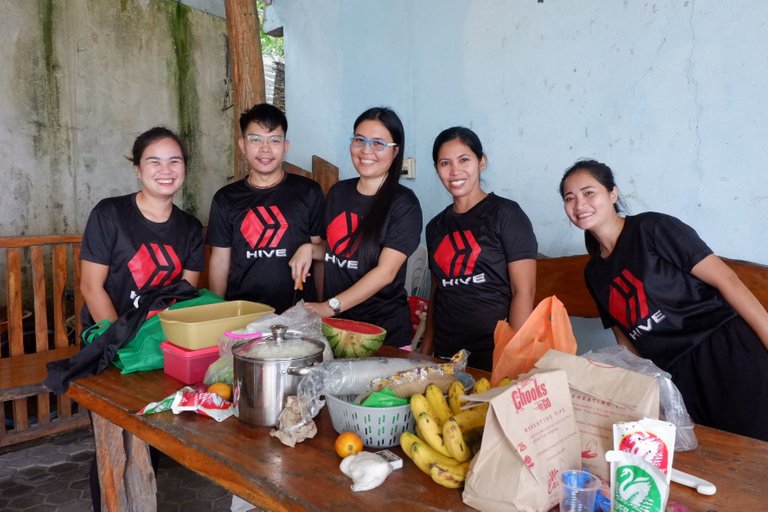 This is us preparing the food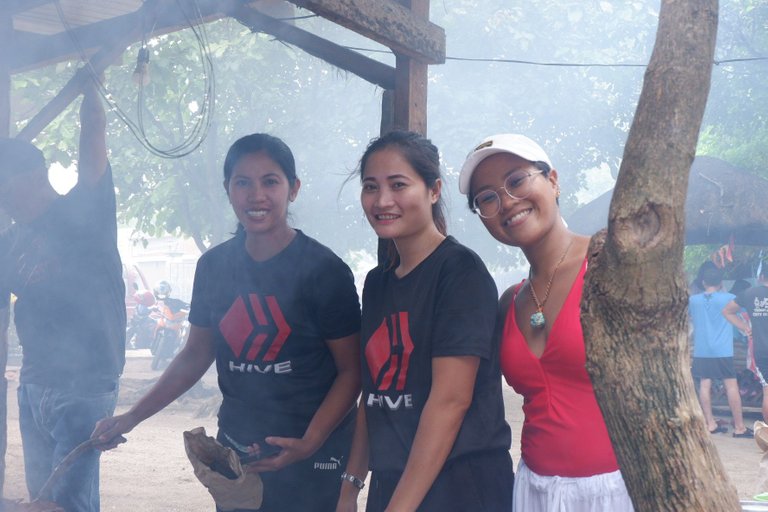 I and @missleray arrived earlier, meanwhile, @indayclara was the earliest bird. She prepared a lot of things including the venue and the cottage. I can't believe how she handled it despite of hectic schedule. Anyway, their family owned the three parallel resorts so it's hard for her to choose which one. The first option was Goopio Beach Resort, however, there's a change of plan, finally in Halfmoon Beach Resort. What's the biggest idea is she shouldered the cottage, OMG!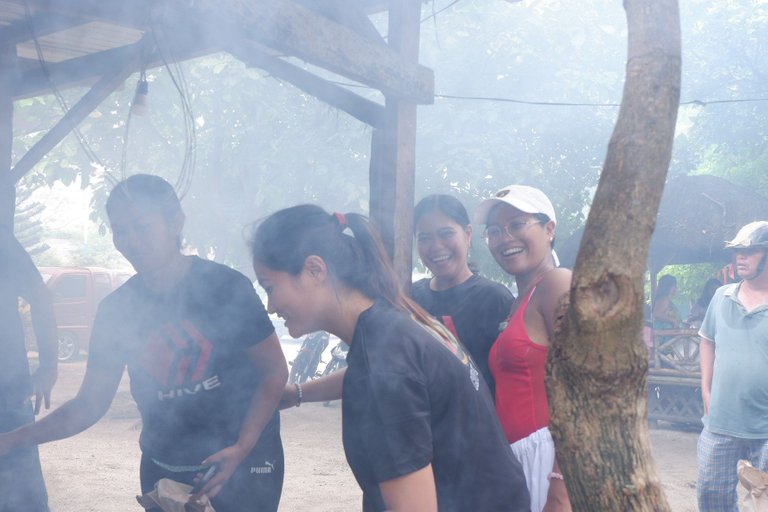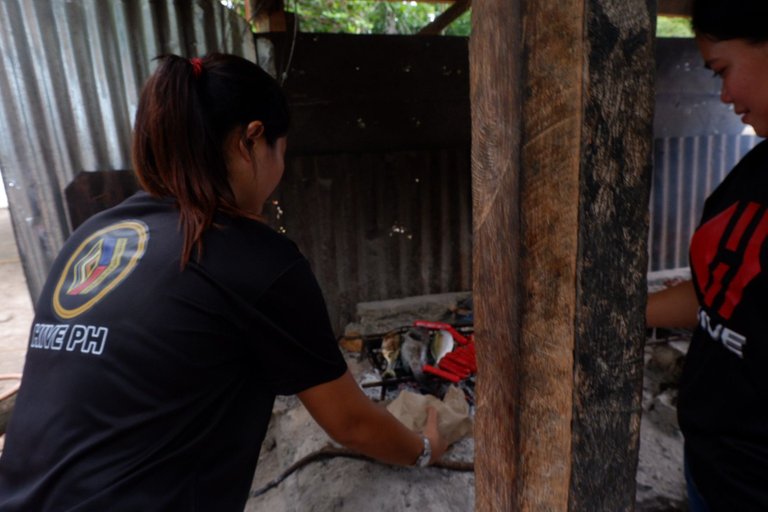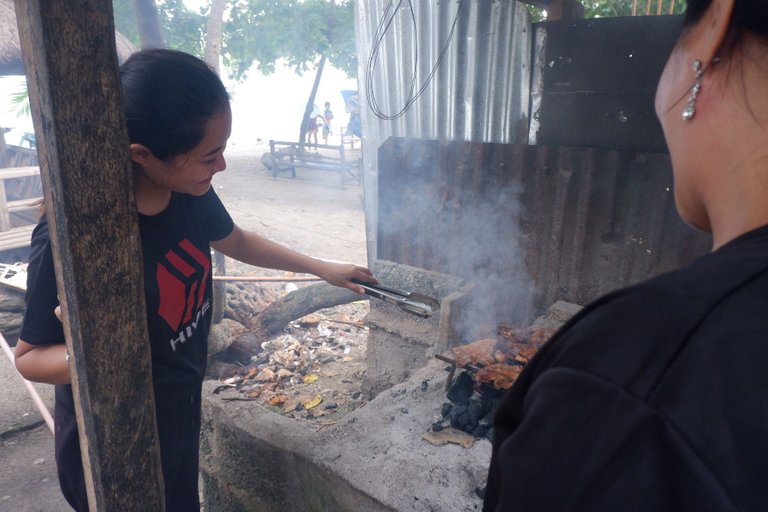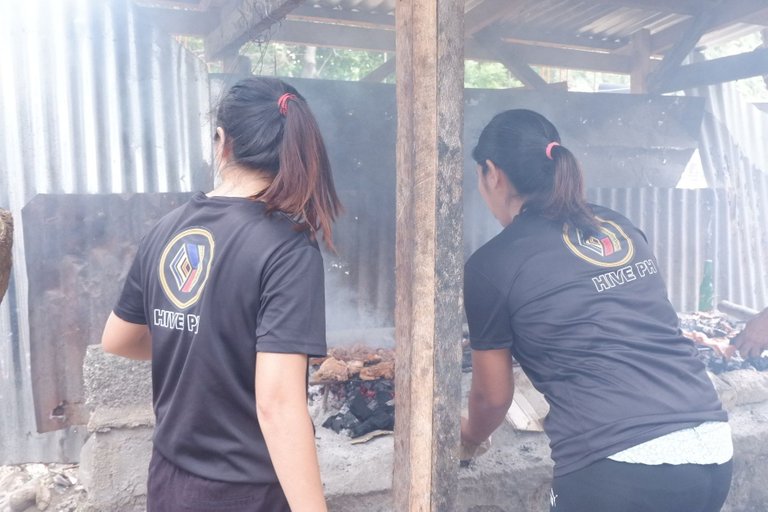 @missjoycee, @selflessgem, and I volunteered to cook grilled pork (from @missjoycee and @selflessgem), fish (@callmesmile), and hotdog (@simplechalyns). There's a certain grilling area for the beachgoers for them to be comfortable cooking with. We enjoyed grilling while talking about the hive, how was our experience with the hive, and other features of the hive.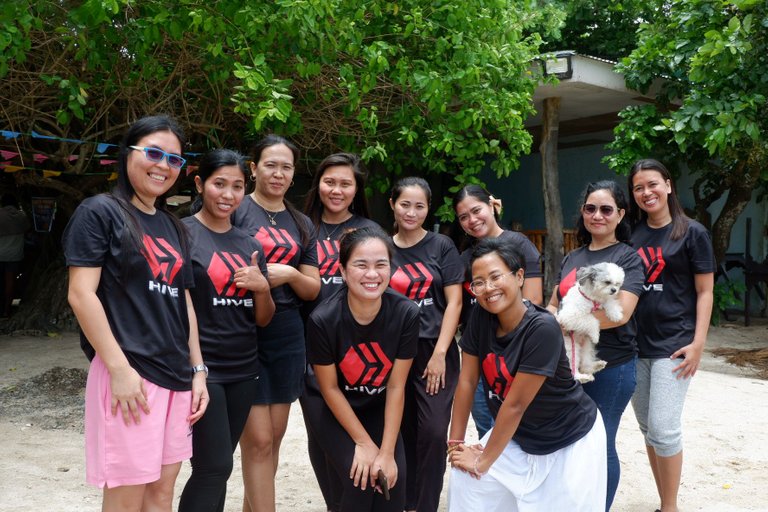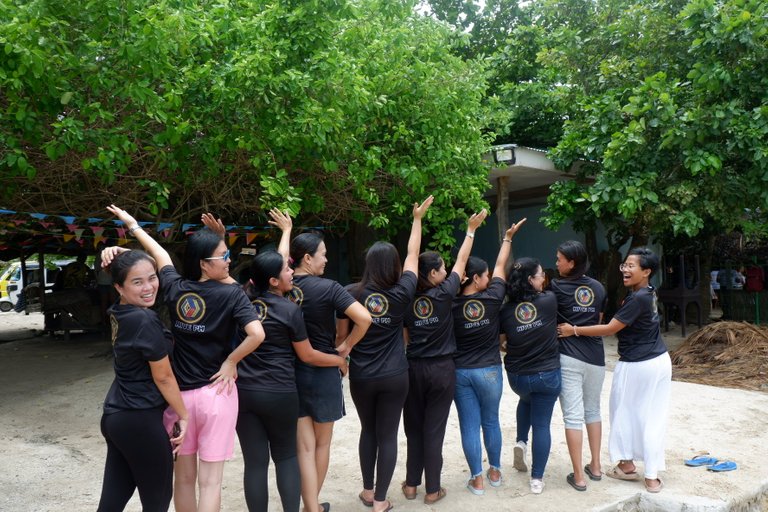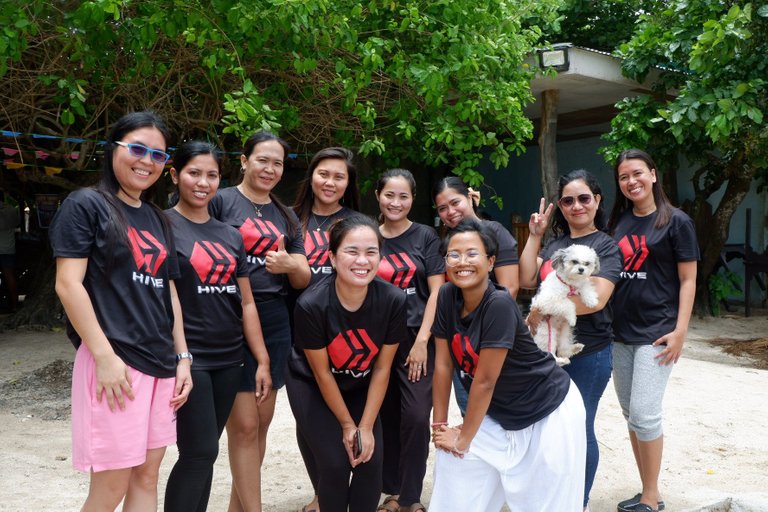 After cooking, we decided to take photos nearby the seashore. We wore the best smiles we could have. We enjoyed the presence of everybody and no one can question that. Every time there's a pictorial, @indayclara is the one who choreograph the posing and where we should be put accordingly. She's a systematic and organized person as I concluded.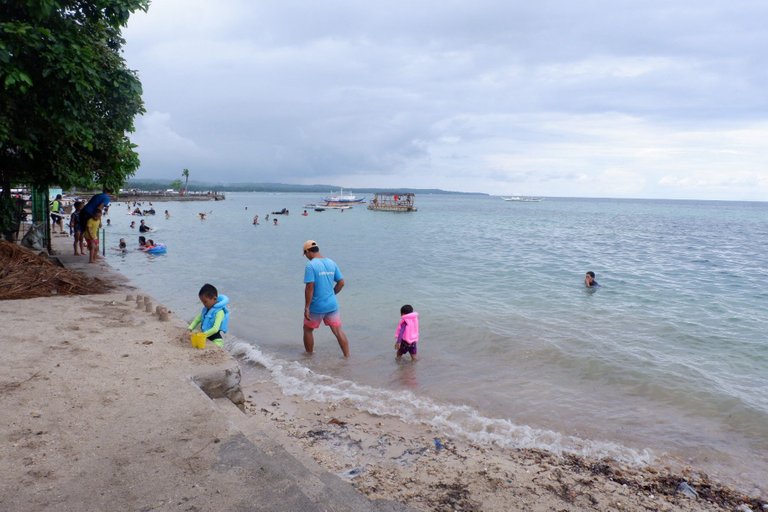 Meanwhile, my kids were having fun swimming together with my husband being the nanny for a day. He didn't take his eyes off them even though their wearing life vest, it's not guaranteed. Thanks husbee! Thanks also to Inday who encouraged and allow us to bring our little family to the meet-up. We never regretted appearing that day.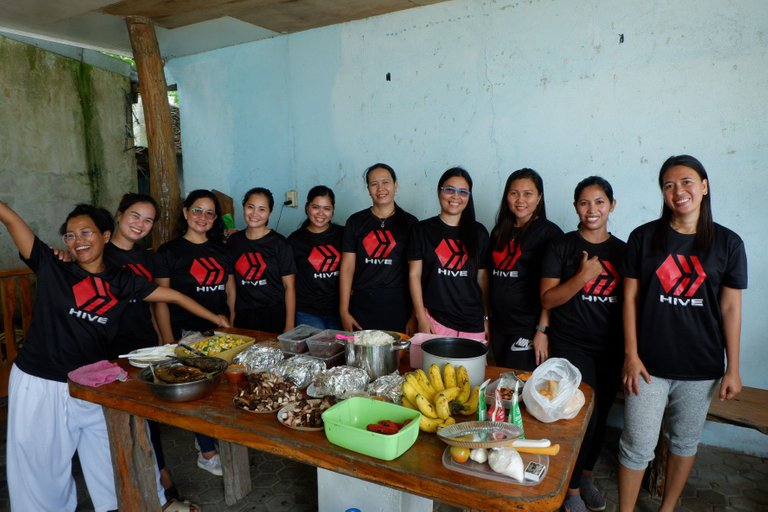 Everything is set now, and another set of pictorials as well😁. The fresh fruit salad was prepared by @ybanezkim26, four whole roasted chickens from @missleray and @amoreyl, shrimp and lumpia from @dehai, bread, hotdog, soft drinks from @simplechalyns, C2 from @netswriting (she didn't make it due to conflict of schedules), banana, rice, and kitchen utensils are from @indayclara and empanada from @mommyjane who came late because it's church day.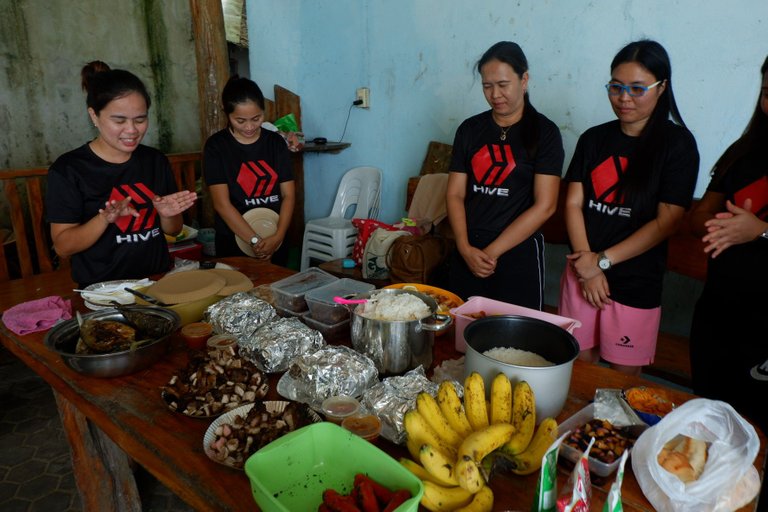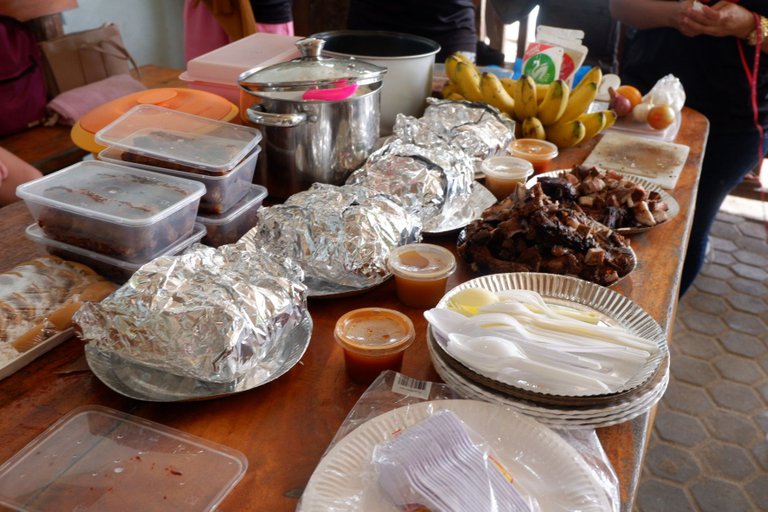 It was blessed and prayed by @callmesmile. I can feel the solemnity of her prayer because it absorbed in my heart and turned me goosebumps, that's how incredible prayer is.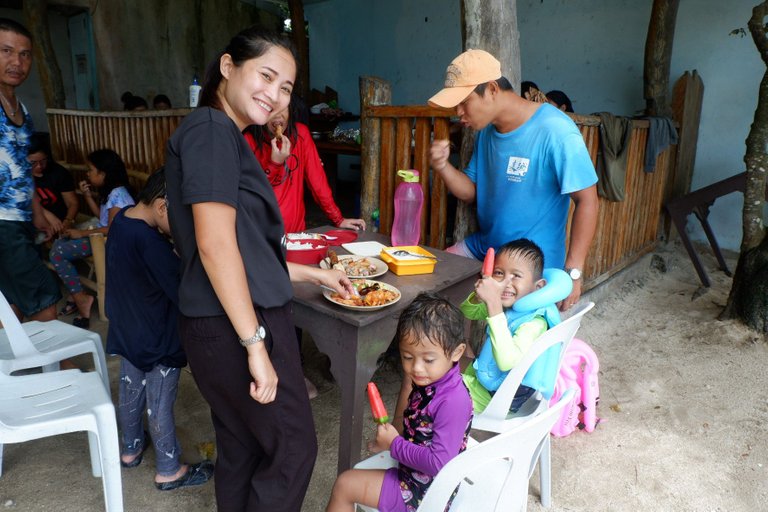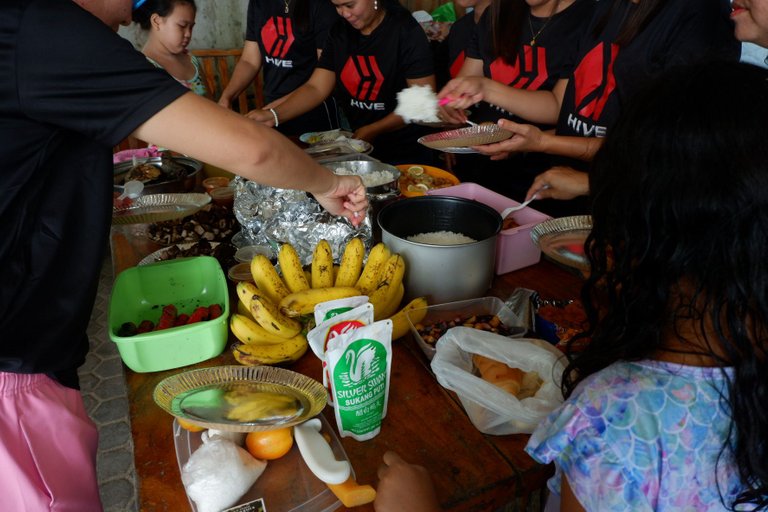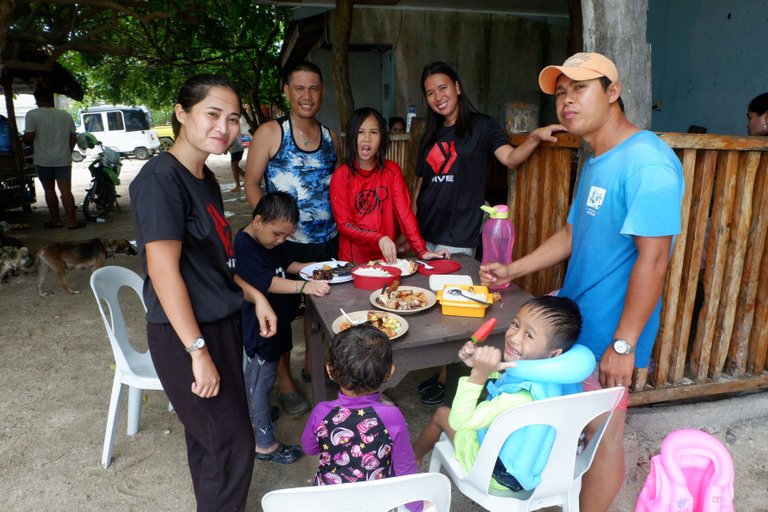 It's eating time! Look how we enjoyed the food. Honestly, I brought extra rice and viand for my family, thinking that our brought food would not suffice everyone, however, it's excess. Like, when we're almost done, there is a lot of food left and we have to bring them home. We were so full and happy.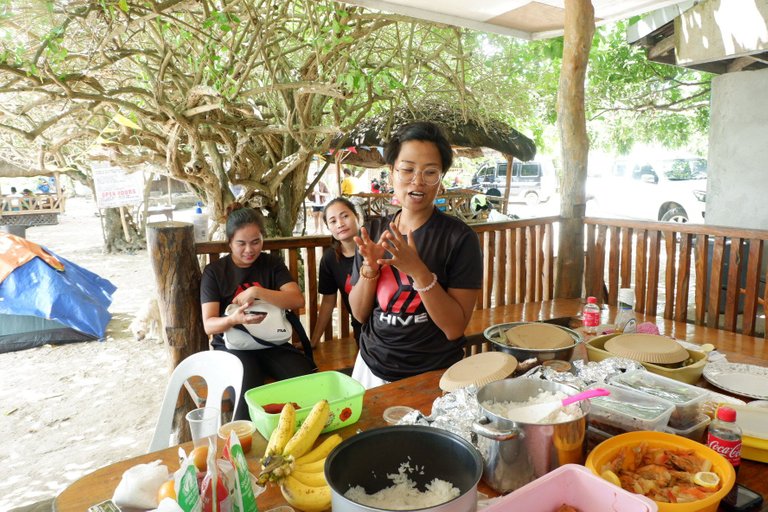 This is the moment of truth where @indayclara and @ybanezkim26 bring good news. Before anything else, @indayclara gives her welcome remarks.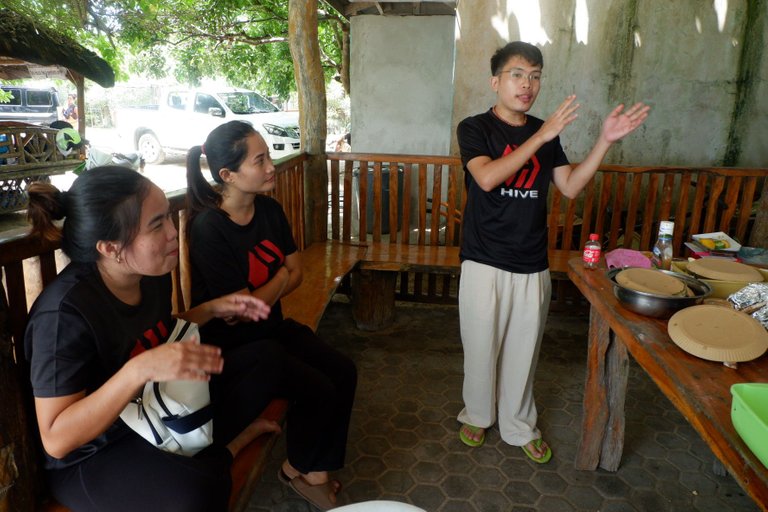 @ybanezkim26 introduced his name and speak about his experiences on Hive way back in 2017 up to now. Hive has been a big impact on his life since it is his bread and butter, with this, he's been traveling afar. The good news is we can be the onboarder. We can invite our prospects and tell them the good news. We already know the basics however if our onboard have questions that we don't know, we have to ask our onboarder then. Everything during the onboarding process should also be followed to avoid issues.
Everyone raised some queries about the hive, Kim and Inday patiently answered the questions. After no inquires were raised, then we decided to go swimming.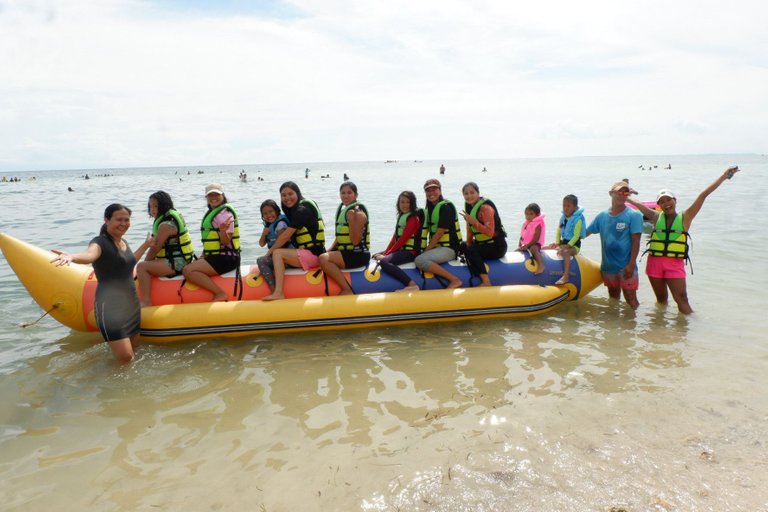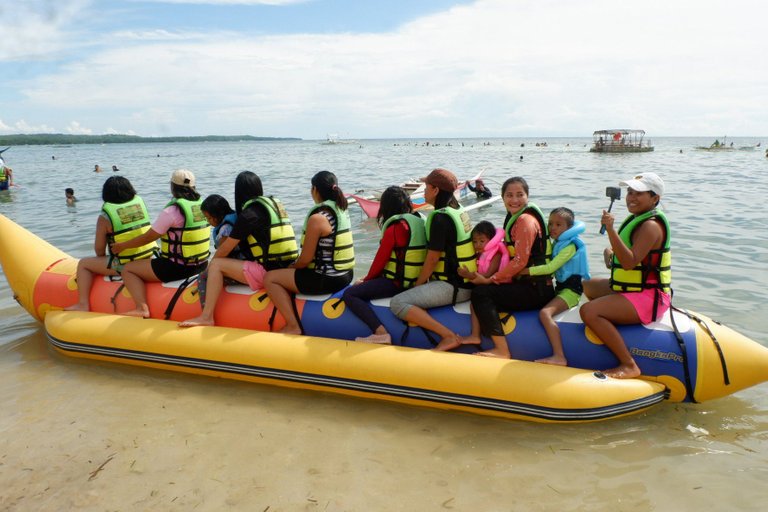 It's swimming time!. This hive meet-up won't be complete without enjoying the saltwater. I don't know how to swim but I'm confident enough with my vest😁. Anyway, we ride a banana boat (which is a dream come true, hehe, where I only see this in social media and news. Together with a transparent Kayak and floating cottage) together with co-bloggers however my 2 kids will also be riding with me (they love the sea, hmmm). It is 100 pesos or 1.79 USD only per ride, then from afar, the boat will stop for I think 20 minutes for the swimmers to swim deeply.
I was amazed by my son who took the courage to swim in a deep sea with Inday. The sea is tempting me so I let my daughter be @simplechalyns so I can dip for a while, however, when I was the one in the sea, I cannot stabilize my body and I think I am going to drown! After a while, I can control through kicking the water, ahh better.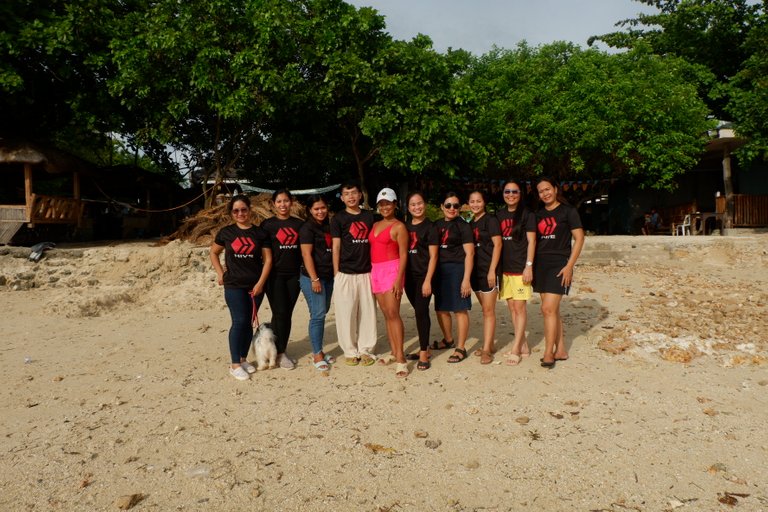 Ending our day with another pictorial and this time with @mommyjane, she's in between me and @callmesmile.
I was so blessed to hear such encouragement from the two famous bloggers in Hive and go home with learnings and motivated to stay in Hive. Thank you so much everyone for the time and effort, especially to Inday for the accommodation. God bless us all. And I'd say I do believe in the hive!
---
Photo grabbed from @indayclara. Thank you so much😘.