---
SET DE ENTRENAMIENTO PARA EL TREN SUPERIOR
UPPER BODY TRAINING SET
---
| Spanish | English |
| --- | --- |
| Rutina de ejercicios | Exercise routine |
---
Saludos queridos amigos de la comunidad @fulldeportes, En esta oportunidad quiero compartir con todos ustedes, una rutina completa para trabajar todo el tren superior y muy buena de combinar tus rutinas de ejercicio y no trabajar siempre los mismos músculos, te invito a que te unas a este set de entrenamiento que realice en la mañana de hoy.
Greetings dear friends of the @fulldeportes community, In this opportunity I want to share with all of you a complete routine to work the entire upper body and very good to combine your exercise routines and not always work the same muscles, I invite you to join to this training set that I did this morning.
---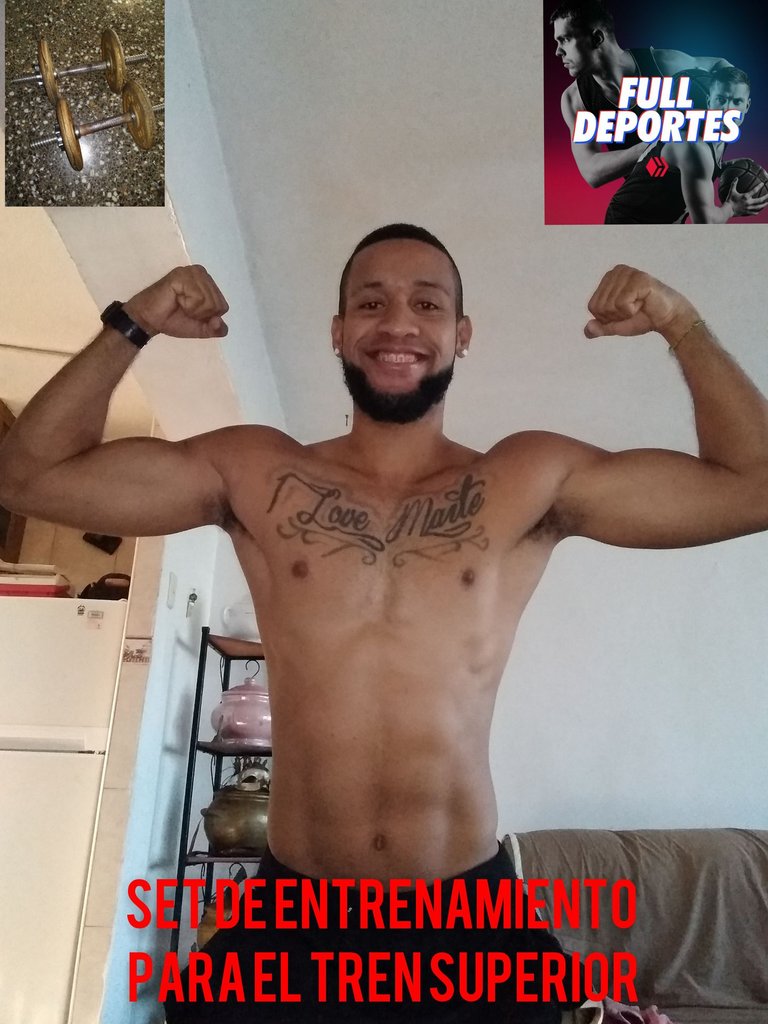 ---
Para esta rutina de entrenamiento, solo necesitamos dos mancuernas, una toalla y las ganas de entrenar 💪🏽 una rutina práctica y muy sencilla de hacer. Para los que no poseen mancuernas, puedan usar dos botellitas de refresco de plástico y llenarlas de tierras y usarlas como mancuernas y les aseguro que les funcionara.
For this training routine, we only need two dumbbells, a towel and the desire to train 💪🏽 a practical and very simple routine to do. For those who do not have dumbbells, you can use two plastic soda bottles and fill them with earth and use them as dumbbells and I assure you that it will work for you.
---
| Trabajando todo el tren superior💪🏽 | Working the entire upper body💪🏽 |
| --- | --- |
---
| Set de entrenamiento | training set |
| --- | --- |
---
| Flexiones y press con mancuerna | Push-ups and dumbbell presses |
| --- | --- |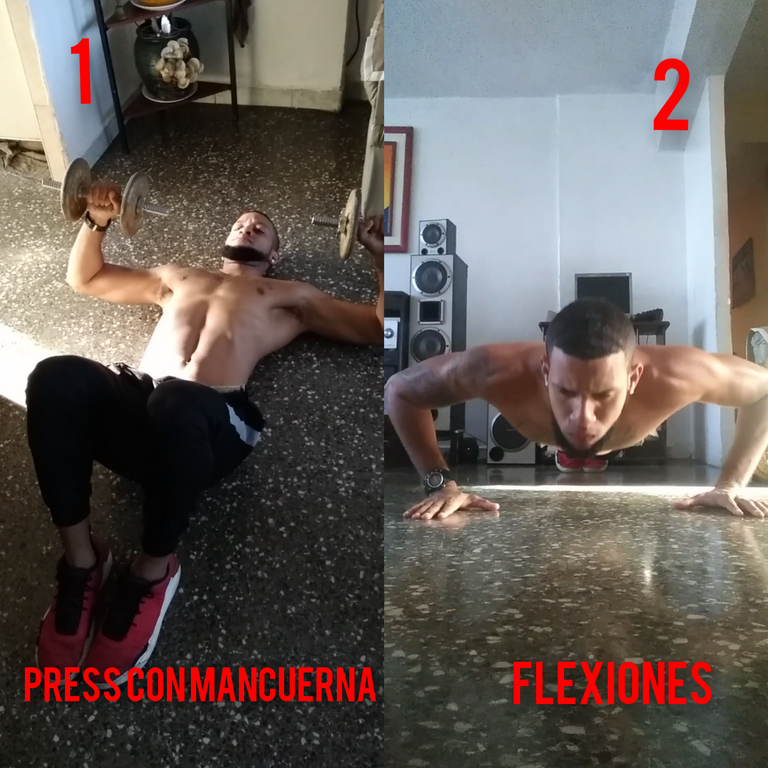 ---
Trabajaremos press con mancuerna seguido de unas flexiones por 4 series de 15 repeticiones.
We will work press with dumbbell followed by push-ups for 4 series of 15 repetitions.
---
| Bíceps martillo y antebrazo | Biceps hammer and forearm |
| --- | --- |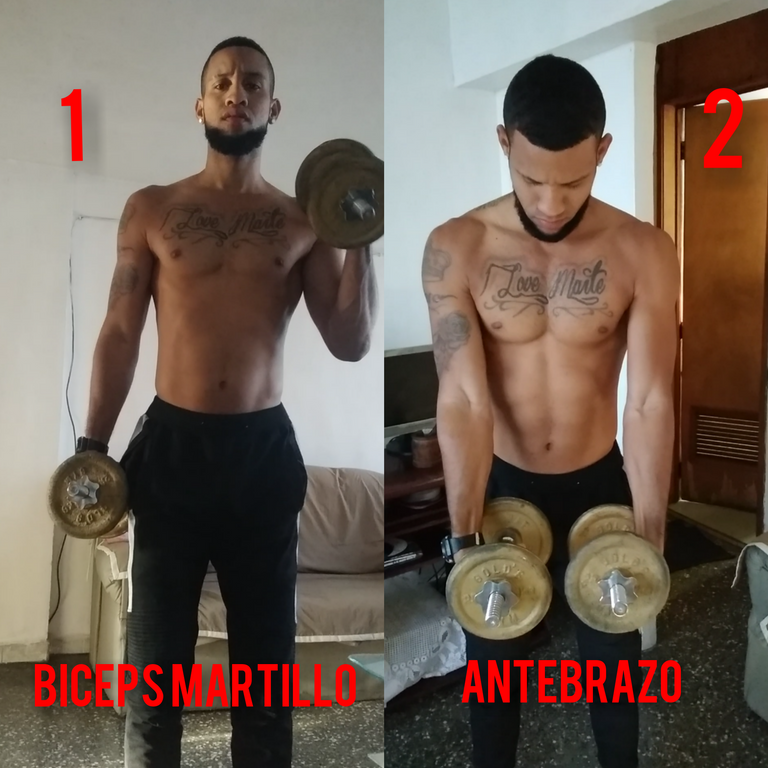 ---
Segundo ejercio del día sera curl de biceps martillo haremos 4 series de 12 repeticiones seguido de antebrazo con mancuerna pero esta vez al fallo.
Second exercise of the day will be biceps hammer curls we will do 4 sets of 12 repetitions followed by dumbbell forearm but this time to failure.
---
| Copa en tríceps y fondos en banco desde un solo brazo | Cup in triceps and dips on the bench from a single arm |
| --- | --- |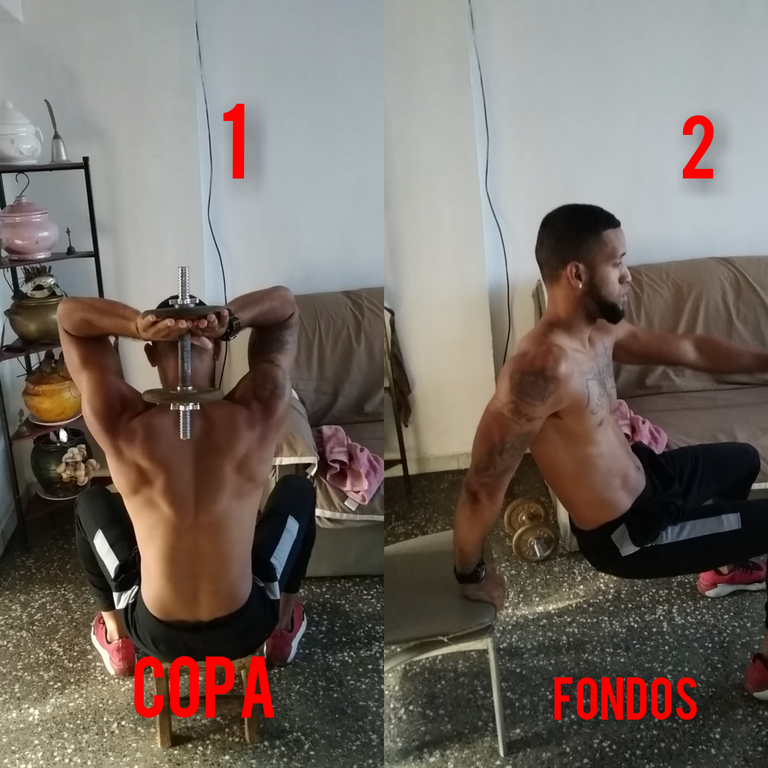 ---
Trabajaremos sentados y a una mancuerna trabajaremos copa en tríceps, sujetamos la mancuerna con las dos manos haciendo 12 repeticiones seguido de fondos a un solo brazo por 12 repeticiones de 4 series cada una.
We will work seated and with a dumbbell we will work the cup on the triceps, we hold the dumbbell with both hands doing 12 repetitions followed by single-arm dips for 12 repetitions of 4 series each.
---
| Jalones para la espalda + flexiones montañeras y abdominales | Jalones para la espalda + flexiones montañeras y abdominales |
| --- | --- |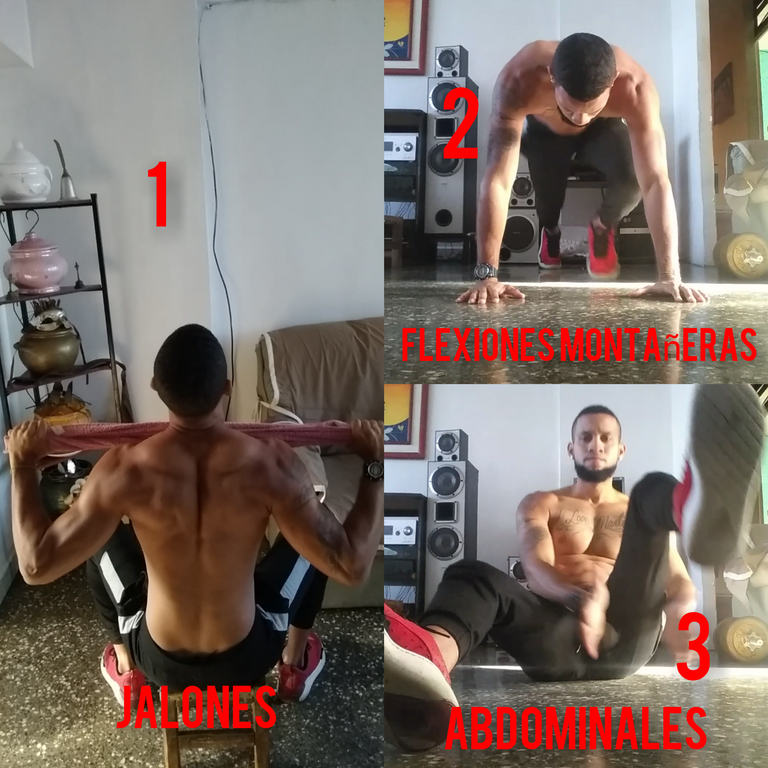 ---
Último ciclo del set de entrenamiento, para este último circuito, haremos uso de una toalla donde trabajaremos sentados o de rodillas como te sientas más cómodo, trabajando jalones con una toalla donde trabajaremos la espalda, seguido, seguido de unas flexiones montañeras y para ponerle más intensidad a esta rutina culminamos con unos abdominales desde el suelo, haciendo extensiones y subiendo con cada palmada.
Last cycle of the training set, for this last circuit, we will use a towel where we will work sitting or on our knees as you feel more comfortable, working pulldowns with a towel where we will work the back, followed by some mountain push-ups and to add more intensity to this routine we culminate with some abdominals from the ground, doing extensions and going up with each clap.
---
---
Esta rutina es súper completa para el tren superior, está compuesta por la ejecución de una serie de ejercicios, donde trabajamos con uso de mancuernas y con el peso corporal, entre los que podemos mencionar: Curl de biceps martillo, flexiones, fondos, abdominales, jalones con una toalla, antebrazo, copa en tríceps, press con mancuerna desde el suelo.
This routine is super complete for the upper body, it is composed of the execution of a series of exercises, where we work with the use of dumbbells and with body weight, among which we can mention: Hammer biceps curls, push-ups, dips, abdominals, pulldowns with a towel, forearm, cup on triceps, dumbbell press from the floor.
---
***
---
***
| Ejercicio | Exercise |
| --- | --- |
| | |
| Ejercicio | Exercise |
| | |
---
***
---
---
| La música usada en la producción del video esta libre de derechos de autor | The music used in the production of the video is free of copyright |
| --- | --- |
| El contenido es totalmente original de @athleticactivity | The content is totally original from @athleticactivity |
---
Muchas gracias por su tiempo y lectura, Soy Jherome Vargas.
Thank you very much for your time and reading, I'm Jherome Vargas.
---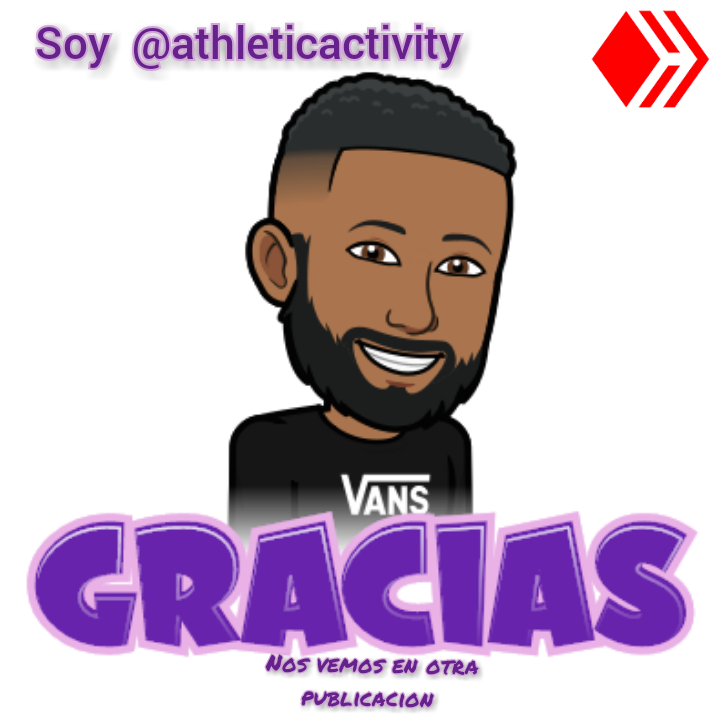 ---
Nos vemos en una próxima publicación.
See you in a future post.
---

---
---
▶️ 3Speak