Seattle es una de mis ciudades predilectas en el gigante del norte. No es secreto para quienes me leen a diario. Y ese vínculo nació en 2015 en una visita personal que hicimos a la urbe donde reina el Space Needle, una torre de diseño vanguardista la cual es coronada por un restaurante giratorio, entregando vistas de suspiro. Lluviosa por excelencia, la conexión se cimentó con visitas a espacios jamás vistos por este servidor, como el extraordinario mercado popular que se encuentra en la zona de los muelles o el museo jardín Chihuly de arte murano, donde bellezas de vidrio soplado alegraron nuestra pupilas.
Seattle is one of my favorite cities in the northern giant. It's no secret for those who read me daily. And that bond was born in 2015 in a personal visit we made to the city where the Space Needle reigns, a tower of avant-garde design which is crowned by a revolving restaurant, delivering sighing views. Rainy par excellence, the connection was cemented with visits to spaces never seen by this server, such as the extraordinary popular market located in the area of the docks or the garden museum Chihuly of Murano art, where blown glass beauties delighted our pupils.
     El haber comprendido la complejidad de la urbe y su relación con sus equipos deportivos, me dio a entender como el lanzador venezolano Félix Hernández se convirtió en uno de los hijos preferidos en esa ciudad del estado de Washington. Y quizás lo único que le quedo debiendo a Seattle es el conocimiento de su gentilicio. Al sol de hoy, desconozco cómo se le dice a un originario de allí y podría mi caro lector ayudar en eso, si deja un comentario más abajo respondiendo tal interrogante.
Understanding the complexity of the city and its relationship with its sports teams, gave me to an understanding of how the Venezuelan pitcher Felix Hernandez became one of the favorite sons in that city in the state of Washington. And perhaps the only thing I still owe Seattle is the knowledge of its people. As of today, I don't know how to call a native of Seattle and my dear reader could help me with that if you leave a comment below answering that question.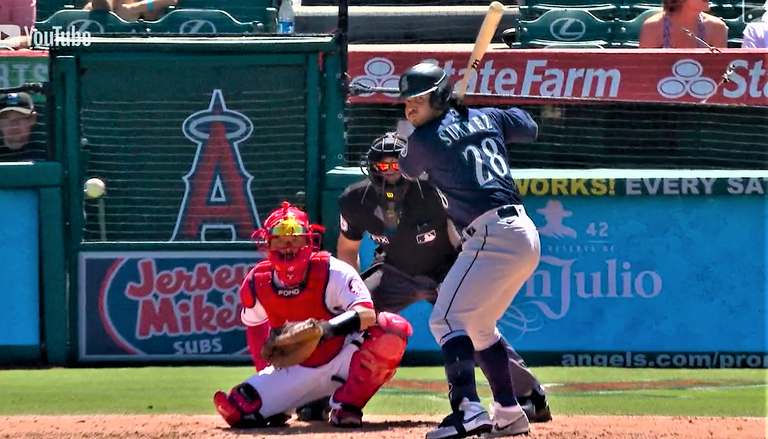 Screenshot from source

     Hace poco comentábamos nuestra alegría por dejar de sufrir los problemas de conexión por fallos de velocidad, dada la contratación de un plan de fibra óptica a 100 Mbps. Y hemos estado explorando maneras de visualizar partidos de la MLB. Además del plan gratis desde mediados de temporada, con juegos de Jueves a Domingo vía streaming en la página oficial de las grandes ligas, hay una opción menos conocida que consiste en la transmisión de un juego semanal por el canal de YouTube de dicha organización.
We recently commented on our joy at no longer suffering connection problems due to speed failures, given the contracting of a 100 Mbps fiber optic plan. And we have been exploring ways to watch MLB games. In addition to the free plan from mid-season, with games Thursday through Sunday via streaming on the major leagues' official website, there is a lesser-known option that consists of streaming a weekly game on the organization's YouTube channel.
      Dicho esto, ayer nos dispusimos a ver el partido entre los Marineros de Seattle y los Angelinos de Los Ángeles, disputado en el Angel Stadium de Anaheim. Las razones que nos llevaron a ello fue ver en acción al tercera base venezolano Eugenio Suárez y al bateador designado japonés Shohei Ohtani. Ninguno de los dos nos defraudaron. Pero antes de entrar en el detalle, la otra razón tenía que ver con la espectacular remontada protagonizada por los nautas en la segunda mitad de la temporada...nadie daba nada por ello a mediados de Junio.
That being said, yesterday we set out to watch the game between the Seattle Mariners and the Los Angeles Angelinos, played at Angel Stadium in Anaheim. Our reasons for doing so were to see Venezuelan third baseman Eugenio Suarez and Japanese designated hitter Shohei Ohtani in action. Neither disappointed us. But before we get into the details, the other reason had to do with the spectacular comeback the Nauts staged in the second half of the season...no one was giving anything away about it in mid-June.
      Y son demasiados los factores que han contribuido, en especial el pitcheo. Sin embargo, no solo se vive de él y la ofensiva también ha explotado cuando se le ha requerido. Y ayer fue un ejemplo de ello. A veces los partidos de béisbol se pueden volver fastidiosos cuando hay tantos batazos: 18 carreras y 20 hits combinados entre ambos conjuntos nos dan la razón. Pero la más remarcable fue ver a Eugenio sacándola de jonrón (20) e impulsando dos carreras para la causa de los Marineros. Con la victoria, los chicos de la costa oeste arribaron a la punta en la clasificación de los comodines para la liga americana, toda una proeza.
And there are too many factors that have contributed, especially pitching. However, the offense has also exploded when required. And yesterday was an example of that. Sometimes baseball games can get tiresome when there are so many hits: 18 runs and 20 hits combined between the two sides proved us right. But the most remarkable was seeing Eugenio get a home run (20) and drive in two runs for the Mariners' cause. With the win, the boys from the West Coast moved into the lead in the American League Wild Card standings, quite a feat.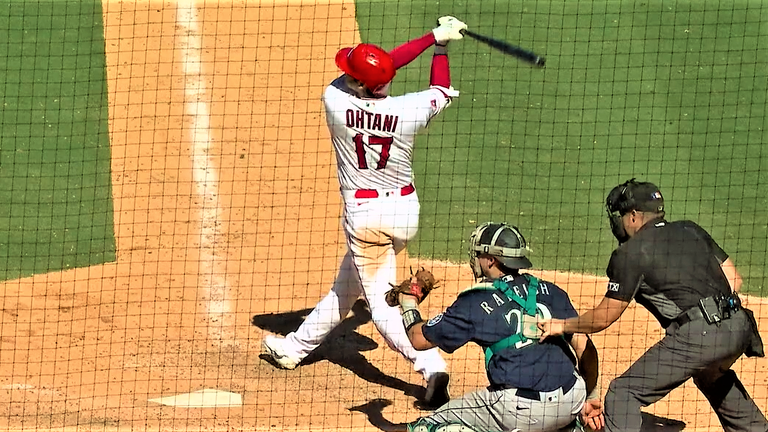 Screenshot from source

     Y en el medio del festival de batazos, Ohtani siendo Ohtani. El japonés venía de batear de 4-3 antier, para coronar un juego de 5-4. Imaginen ustedes: siete hits en nueve turnos incluyendo dos triples, un jonrón, dos anotadas y cuatro impulsadas. Ha bateado en los últimos siete partidos para una línea ofensiva de AVE .407, OBP .484, SLG .778 y un astronómico OPS de .1264. La verdad, no se cómo le podrán negar el JMV para cuando termine la temporada, pero el problema se llama Aaron Judge y está jugando para un equipo contendiente.
And in the middle of the slugfest, Ohtani being Ohtani. The Japanese were coming off a 4-3 performance the day before yesterday to cap a 5-4 game. Imagine seven hits in nine innings including two triples, a home run, two runs scored, and four RBIs. He has hit in the last seven games for an offensive line of AVE .407, OBP .484, SLG .778, and an astronomical OPS of .1264. Truth be told, I don't know how they can deny him the MVP by the end of the season, but the problem is Aaron Judge and he's playing for a contending team.
     No puedo imaginar de donde sacaron fuerza éstos Marineros para remontar espectacularmente del modo como lo han hecho. El lanzador dominicano Luis Castillo podría explicar el desempeño de Agosto, pero los nautas comenzaron la escalada en Julio. En cualquier caso, la liga Americana tiene un nuevo líder del comodín y será difícil bajarlo de allí. Por ello, no tenemos miedo en decir que los Marineros están en el cuadrilátero..!
I can't imagine where these Mariners got the strength to come back spectacularly the way they have. Dominican pitcher Luis Castillo might explain the August performance, but the Nauts started the climb in July. In any case, the American League has a new wild card leader and it will be difficult to move them down from there. Therefore, we are not afraid to say that the Mariners are in the ring..!
---
P.S. English is not my native language, apologize for that.
I used a web translator for English text (DeepL)

Las estadísticas y referencias usadas para el artículo son extraídas de MLB //
Statistics and references used for the article are extracted from MLB

---