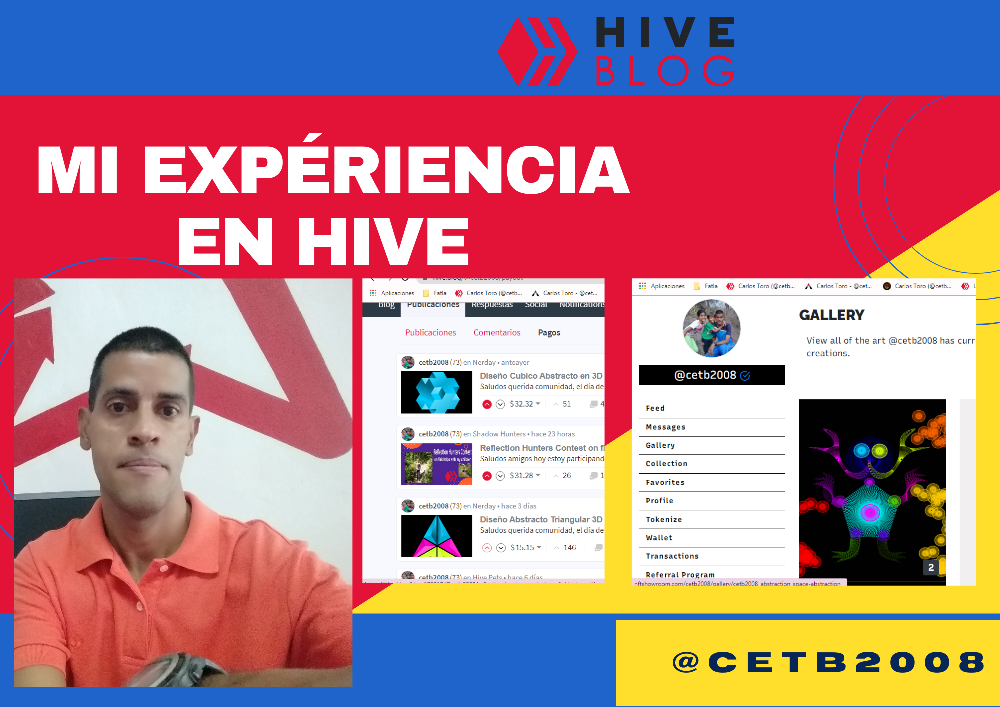 Saludos amigos de Hive, hoy estoy participando en esta iniciativa promocionada por
@ambarvegas
, en donde vamos a expresar mi experiencia con Hive, respondiendo varias interrogantes, este concurso es una forma interesante de dar a promocionar nuestro blockchain en la cual podemos mostrar cómo ha sido el camino recorrido en esta red social. A continuación voy a comenzar a responder las preguntas. > Greetings Hive friends, today I am participating in this initiative promoted by
@ambarvegas
, where we are going to express my experience with Hive, answering several questions, this contest is an interesting way to promote our blockchain in which we can show how it has been the path traveled in this social network. Next I will begin to answer the questions.
¿Qué es Hive?/ What is Hive?
Es una red social descentralizada, en donde nos brinda la oportunidad a todas las personas que podamos publicar nuestros talentos en diversas comunidades, es decir cuenta con diferentes espacios de tu elección preferida como comida, manualidades, arte, literatura, cine, deporte, ciencia, en fin de acuerdo con tus habilidades, uno muestra con tus contenidos en donde uno se sienta identificados, permitiendo además tener la oportunidad de ser curado y obtener ingresos por las publicaciones. Es una plataforma interesante también si te gustan los juegos existen diferentes Dapp para juegos como Splinterlands.
It is a decentralized social network, where it gives us the opportunity to all people that we can publish our talents in different communities, that is, it has different spaces of your preferred choice such as food, crafts, art, literature, cinema, sports, science, In short, according to your skills, one shows with your content where one feels identified, also allowing the opportunity to be curated and obtain income from the publications. It is an interesting platform also if you like games there are different Dapp for games like Splinterlands.

Cómo supe de Hive / How I found out about Hive:
Yo era usuario activo de la red social Steemit, luego en el mes de marzo ocurrió la bifurcación en donde la mayoría de los usuarios decidimos retirarnos de esta plataforma y nació Hive, una nueva red social descentralizada y sin censuras, en donde existen las diferentes comunidades con sus orcas, ballenas, delfines, minios y peces.
I was an active user of the social network Steemit, then in March the fork occurred where most of the users decided to withdraw from this platform and Hive was born, a new decentralized and uncensored social network, where the different communities exist with their killer whales, whales, dolphins, minions
¿Cuáles eran mis dudas al ingresar a Hive?/ What were my doubts when entering Hive?
Al ingresar a Hive, ya tenía un recorrido en la anterior red social de un año, sin embargo había muchas expectativas, y si algunas dudas, pero con la gran cantidad de información que se mostraba en esta red social y con un gran equipo de desarrolladores, Witnesses, y creadores de contenidos, esta plataforma ha salido adelante y ha tenido un gran impulso en este año 2021. Cuando tengo alguna interrogante busco información referente a las dudas que se me presentaba a través de los diferentes contenidos de tutoriales, vídeo, que me permiten aclararla, sino realizo la pregunta a otros usuarios con una mayor experiencia en el blockchain.
Upon entering Hive, I already had a one-year tour of the previous social network, however there were many expectations, and if some doubts, but with the large amount of information that was displayed on this social network and with a great team of developers , Witnesses, and content creators, this platform has come forward and has had a great boost in this year 2021. When I have a question I look for information regarding the doubts that were presented to me through the different content of tutorials, video, that They allow me to clarify it, but I ask the question to other users with more experience in the blockchai.
¿Cuál ha sido mi experiencia hasta el momento?/ What has been my experience so far?
Ha sido bastante satisfactoria, cuando inicie en Hive tenía como 800 Hp, hoy en día tengo más de 5000 Hp, convirtiéndome hace dos meses en Delfín de la plataforma de Hive, gracias al apoyo recibido por las diferentes comunidades y curadores que valoran mi publicaciones, estos contenidos estaban enfocados sólo en diseño gráfico, pero después fui comenzando a crear nuevos contenidos de manualidades en una de las comunidades de Build-It. También por primera vez publique mis primeros diseño en la plataforma de nftshowroom, el cual es una de esto ya fue vendido, es una puerta abierta que te permite crecer cada día más. Por otro lado estoy comenzando a realizar publicaciones en la plataforma de Leofinance, que es donde podemos mostrar todos los relacionados en criptomonedas, en inversiones, finanzas, en otros temas de gran importancia.
It has been quite satisfactory, when I started in Hive I had about 800 Hp, today I have more than 5000 Hp, becoming a Dolphin of the Hive platform two months ago, thanks to the support received by the different communities and curators who value my publications, These contents were focused only on graphic design, but later I began to create new crafts content in one of the Build-It communities. Also for the first time I published my first designs on the nftshowroom platform, which is one of these that has already been sold, it is an open door that allows you to grow more every day. On the other hand, I am starting to make publications on the Leofinance platform, which is where we can show all those related to cryptocurrencies, investments, finance, in other topics of great importance.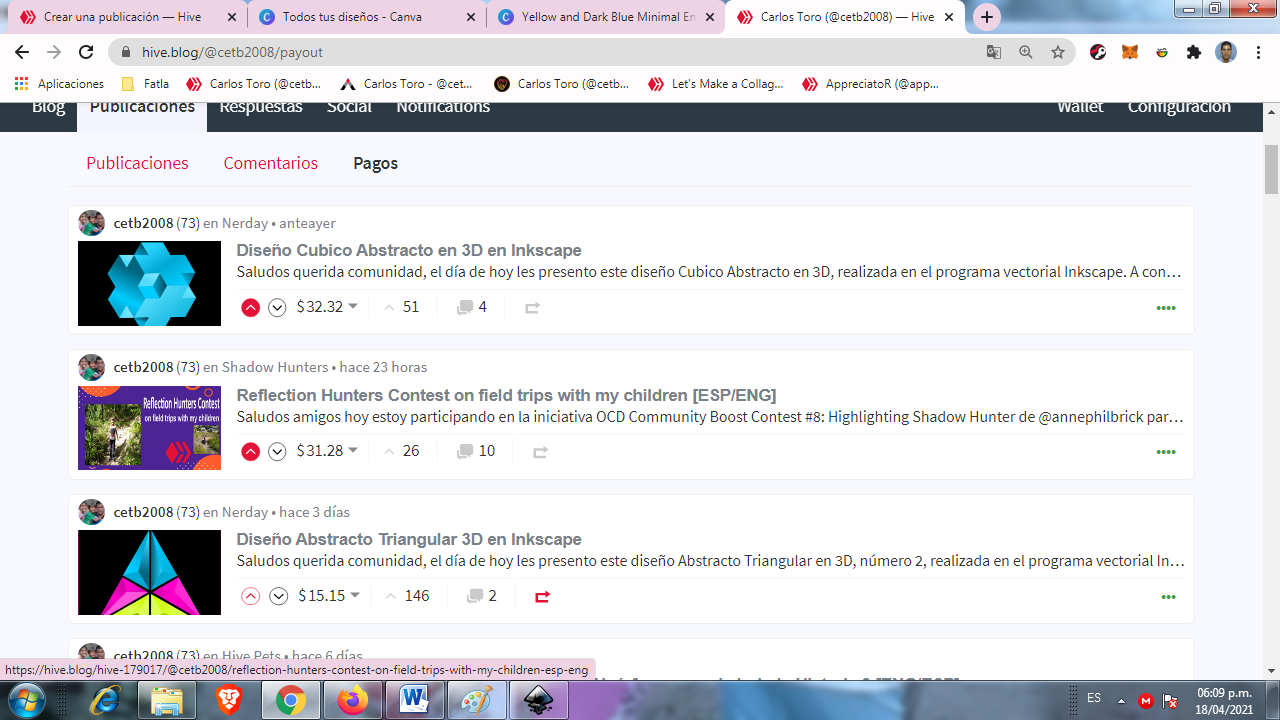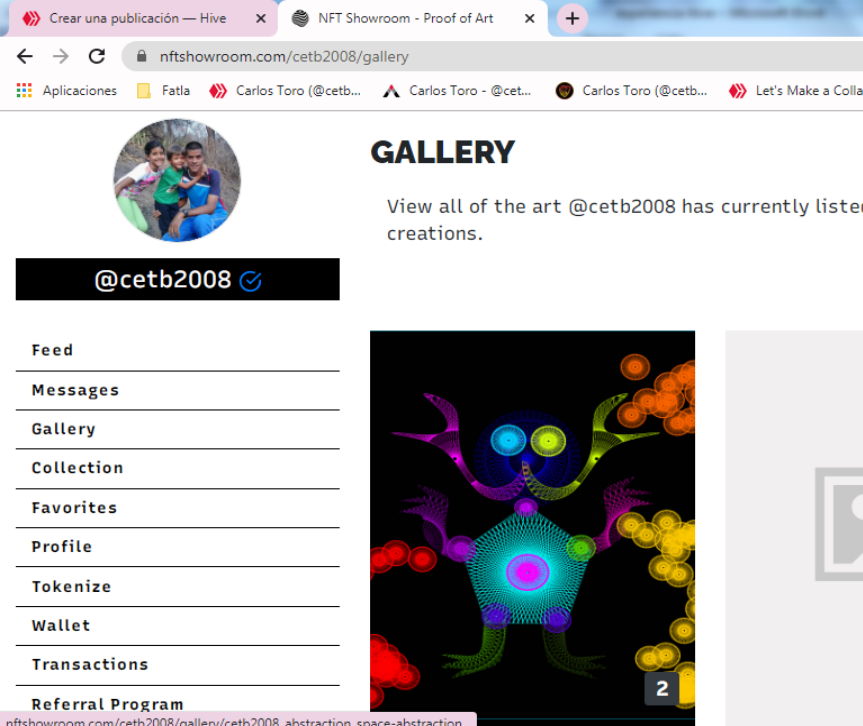 Quiero destacar que es importante ser perseverante y constante para poder lograr alcanzar el éxito en esta red social. Es necesario que los nuevos usuarios que ingresan a la plataforma conozcan como son los lineamientos para hacer las publicaciones de sus contenidos respetando el derecho de autor, y el punto de vista de cada una de las personas que hacemos vida dentro del blockchain, tratando con cortesía y respeto a los demás.
I want to emphasize that it is important to be persistent and constant in order to achieve success in this social network. It is necessary that new users who enter the platform know how are the guidelines to publish their content respecting copyright, and the point of view of each of the people who make life within the blockchain, treating with courtesy and respect for others.
Para finalizar quiero decirle a ustedes, que todos somos propietarios de esta bella red social, por esto debemos cada día hacerlo mejor para poder mostrar a otras personas que con constancia y perseverancia podemos llegar al éxitos.
Finally, I want to tell you that we are all owners of this beautiful social network, so we must do better every day to show other people that with perseverance and perseverance we can achieve success.
Invito a @tormenta para que participe en esta iniciativa.
I invite @tormenta to participate in this initiative.
Esta es toda participación en el concurso, si deseas participar aquí te dejo el enlace.
This is all participation in the contest, if you want to participate here I leave the link.