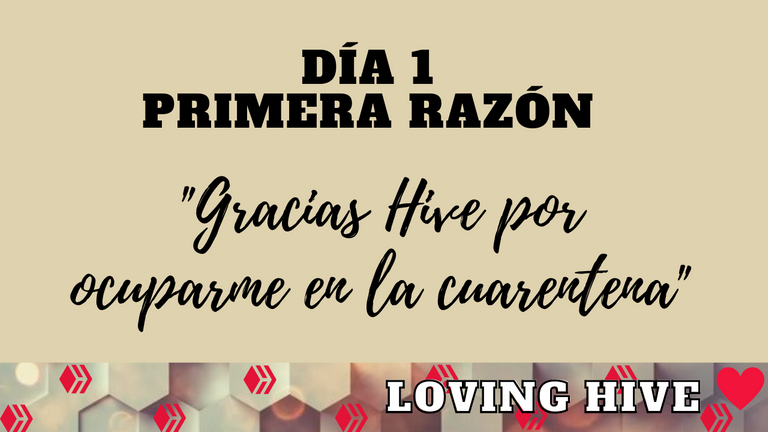 I've already seen many of you sharing your posts about this new challenge. I am very excited to read them and observe how everyone, from the same topic, from their different perspectives and realities, expresses their gratitude and love for Hive. With all my heart, thank you for your openness and participation, as this is what this community is all about, showing our love for Hive.
Ya he visto a muchos de ustedes por allí compartiendo sus publicaciones de este nuevo reto. Me emociona mucho leerlos y observar como todos, partiendo de un mismo tema, desde sus perspectivas y realidades diferentes, expresan su agradecimiento y amor a Hive. De todo corazón, gracias por su receptividad y participación, ya que de esto se trata esta comunidad, mostrar nuestro amor a Hive.

Most of my recent jobs have been related to being a Freelancer or working from home, that is why, since governments announced the measures to avoid spreading the virus, being the quarantine one of the main, it was not a great change for me; however, I thank Hive because I could focus on something else.
La verdad es que la mayoría de mis últimos trabajos han estado relacionados con ser Freelancer o trabajar desde casa, es por ello que, desde que anunciaron las medidas para evitar el contagio del coronavirus, liderando como una de las principales la cuarentena, para mí no hubo un gran cambio; sin embargo, si le agradezco a Hive el haya cambiado en mí el enfoque que había en mí.

When the pandemic started, I was obsessed with it. I suffer from anxiety and I went out only if necessary. I still do not go out very often, I try to take care of myself when I do, but the focus I had previously was watching the news and everything related to this. I always opened the little map in the browser that showed the global cases of the disease and it distressed me how people were dying everywhere and I was worried, mentally I was exhausted and on the verge of collapse paying attention to WhatsApp, videos on YouTube, news on the phone.
Cuando empezó la pandemia, estaba obsesionada con ella. Sufro de ansiedad y salía solo en caso de emergencia, aún no salgo muy a menudo, trato de cuidarme cuando lo hago, pero el enfoque que tenía anteriormente era ver noticias y todo lo relacionado con esto. Siempre abría en el navegador el mapita que mostraba los casos globales de la enfermedad y me angustiaba como la gente se estaba muriendo en todos lados y realmente estaba preocupada, mentalmente estaba agotada y al borde del colapso viendo cadenas por WhatsApp, videos en YouTube, noticias en el teléfono.

Thanks to Hive, I was busy during quarantine doing something positive, to express my emotions and devoting them to something that I really love, which is writing. Hive showed up at the precise moment. When I was on Steemit, I left it out due to discouragement and I was really focused on other personal projects that gradually pushed me away, until I had a point of no return.
Gracias a Hive me ocupé durante la cuarentena en hacer algo positivo, en drenar mis emociones y avocarlas en algo que realmente amo qué es escribir. Hive apareció exactamente en el momento oportuno. Cuando estuve en Steemit, lo abandoné por desánimo y también porque realmente me enfoqué en otros proyectos personales que me fueron alejando poco a poco, hasta tener un punto sin retorno.

I remember that @danielvehe contacted me one afternoon, since Ruteros Especiales of Rutablockchain server https://discord.gg/ would interview @arcange in relation to a controversy that occurred with some users who published on Steemit and Hive at the same time.
Recuerdo que @danielvehe se comunicó una tarde conmigo, ya que en el programa de Ruteros Especiales del servidor de Rutablockchain https://discord.gg/ le harían una entrevista a @arcange en relación con una polémica que hubo con algunos usuarios que publicaban tanto en Steemit como en Hive.

The program was held and I already had the curiosity to begin again, I needed to write again and I wanted to do it, but I had not found the way. Thanks to that initiative, I reconnected with the blockchain, I found very positive changes and I was delighted to get back into writing.
Pasó el programa, y para ese entonces, ya yo tenía la espinita de querer regresar, me hacía falta volver a escribir y quería hacerlo, pero no había encontrado la forma. Gracias a esta iniciativa, volví a relacionarme con la blockchain, me encontré con cambios muy positivos y me ha encantado volver.

I feel that Hive is much more advanced and focused on what is desired, creating community. There are many initiatives in which everyone can find their niche and be included, new communities are being created and there are many more ways you can network within Hive and I love that because there is variety to choose from. In fact, sometimes it is difficult for me to keep up with all the activities that are on Hive, however, on Steemit, many times my inspiration was gone. I love seeing a lot of motivated and active people on the platform. We undoubtedly owed all of this to Hive.
Siento que Hive está mucho más adelantado y enfocado en lo que se quiere, hacer comunidad. Hay muchas iniciativas donde todos pueden encontrar su nicho e incluirse, además que se están creando nuevas comunidades y hay mucho más formas en las que puedas relacionarte dentro de Hive y eso me encanta porque hay variedad para escoger. De hecho, a veces se me es difícil llevar el ritmo de todas las actividades que hay en Hive, cosa que, por ejemplo en Steemit, muchas veces se me iba la inspiración. Me encanta ver mucha gente motivada y activa en la plataforma. Todo esto se lo debemos sin duda alguna a Hive.