❣️¡Hola amigos de hive!❣️
❣️Hello friends of hive!❣️
Animada en participar en esta iniciativa que lleva a cabo @rutablockchain, en esta oportunidad nos pide que escriba que es lo que amamos a #hive, soy una usuaria que anda navengando en este oceano de aventuras todos os días y lo hago por la gran razón que me gusta mi trabajo aqui, por lo tanto amo a #hive.
Encouraged to participate in this initiative that takes place @rutablockchain, this time he asks us to write what we love to #hive, I am a user who is sailing in this ocean of adventures every day and I do it for the great reason that I like my job here, so I love #hive.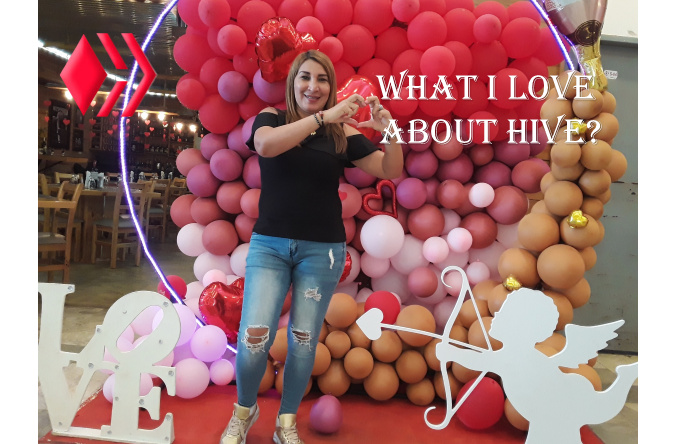 No quise dejar pasar la oportunidad de expresar mi amor por #HIVE.
Primero que todo quiero decir que pertenecer a la gran comunidad de hive es satifactorio en muchos sentidos para mi.
Es como mi trabajo que asumo con compromiso y responsabilidad, escribiendo a diario, cumpliendo mi horario y expresando mis sentimientos, conocimientos y cada vez indagando sobre temas tanto conocidos como desconocidos, por esta razón me documento y con esto aprendo sintiendome activa.
I didn't want to miss the opportunity to express my love for #HIVE.
First of all I want to say that belonging to the great hive community is satisfying in many ways for me.
It's like my job that I assume with commitment and responsibility, writing daily, fulfilling my schedule and expressing my feelings, knowledge and every time inquiring about topics both known and unknown, for this reason I document myself and with this I learn feeling active.
---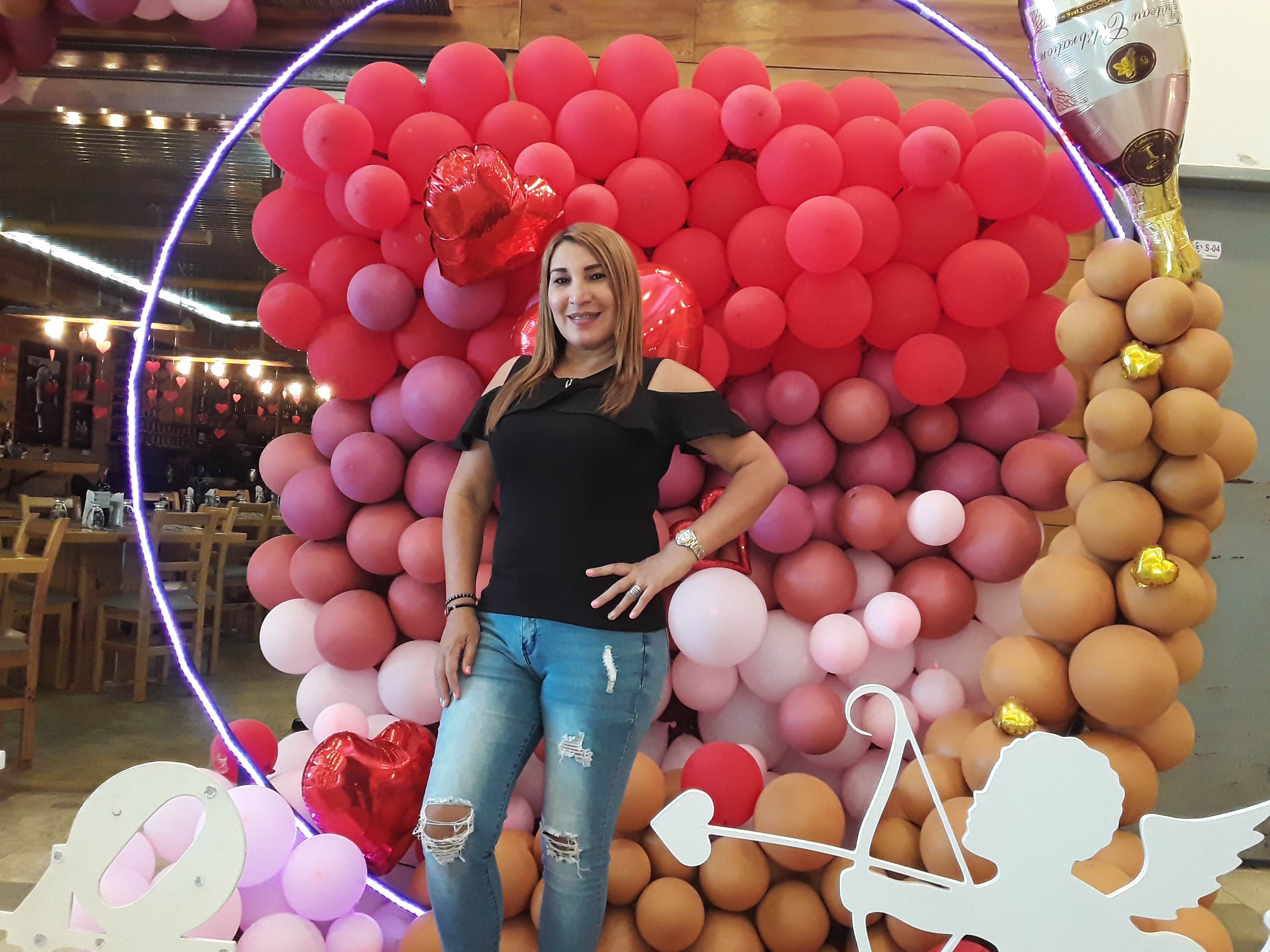 ---
Amo la interacción y conexión que todos los usuarios que hacemos vida aquí tenemos, sintiendome cada vez más unidos como amigos desde una pantalla y asi compartir nuestros talentos.
Me gusta sentirme libre de expresar lo que reamente quiero, porque la diversidad de temas que hay aquí son muchos y podemos escoger para desarrollarlos con facilidad y asi aportar a crecimiento de la plataforma.

Los retos, concursos e iniciatiavas son excelentes para expresar nuestros conocimientos y asi nace la creatividad que tenemos y también nos unimos como familia.
I love the interaction and connection that all the users that make life here have, feeling more and more united as friends from a screen and sharing our talents.
I like to feel free to express what I really want, because the diversity of topics that are here are many and we can choose to develop easily and thus contribute to the growth of the platform.
The challenges, contests and initiatives are excellent to express our knowledge and thus the creativity that we have is born and we also unite as a family.
---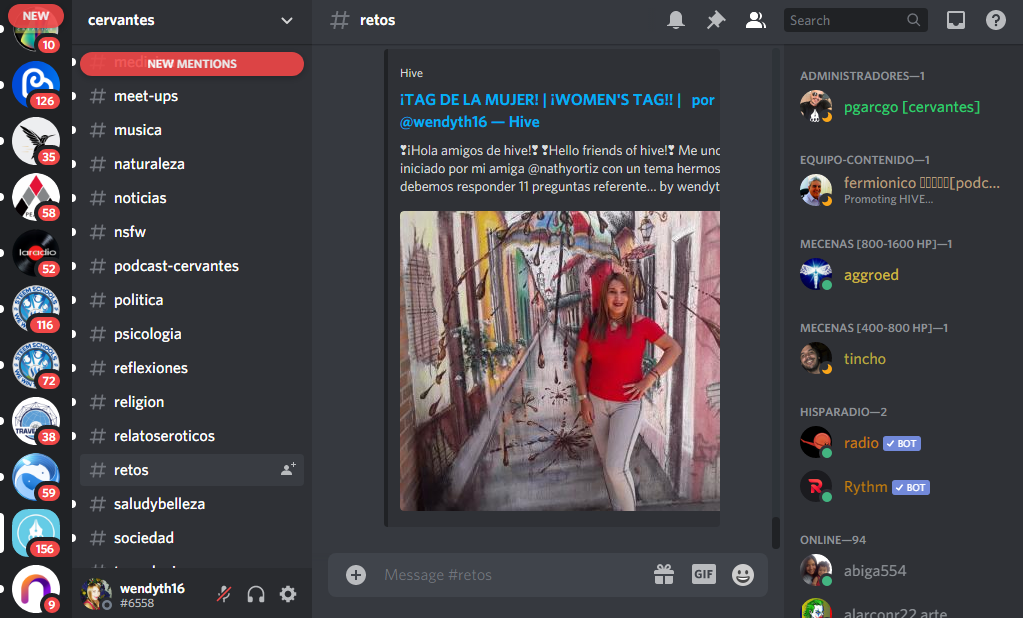 ---
Me gusta el apoyo que recibimos siempre contando con los curadores que valoran nuestras publicaciones y las diferentes comunidades, las cuales nos animamos en escribir que gracias a mi empeño por continuar activa, y por supuesto al apoyo de @appreciator en mis publicaciones, así como el de @theycallmedan @qurator @rutablockchain @upmewhale @bocktrades @ocd @rocky01 @trafalgar y diferentes proyectos como @enlace @voto.vzla @entropia @erarium y el apoyo de todos aquellos que me leen.

Me encanta y agradezco que mis contenidos sean valorados y obtener ganancia, aportando económicamente bien a mis gastos personales.

Conocer más de la blockchain, canales como el discord interactuar otras redes como en el telegran y twitter.
I like the support we receive always counting on the curators who value our publications and the different communities, which encourage us to write that thanks to my efforts to remain active, and of course the support of @appreciator in my publications, as well as that of @theycallmedan @qurator @rutablockchain @upmewhale @bocktrades @ocd @rocky01 @trafalgar and different projects such as @enlace @voto. vzla @entropia @rutero.vzla @erarium and the support of all those who read me.
I love and appreciate that my content is valued and get profit, contributing financially well to my personal expenses.
Learn more about blockchain, channels such as discord, interact with other networks such as telegran and twitter.


---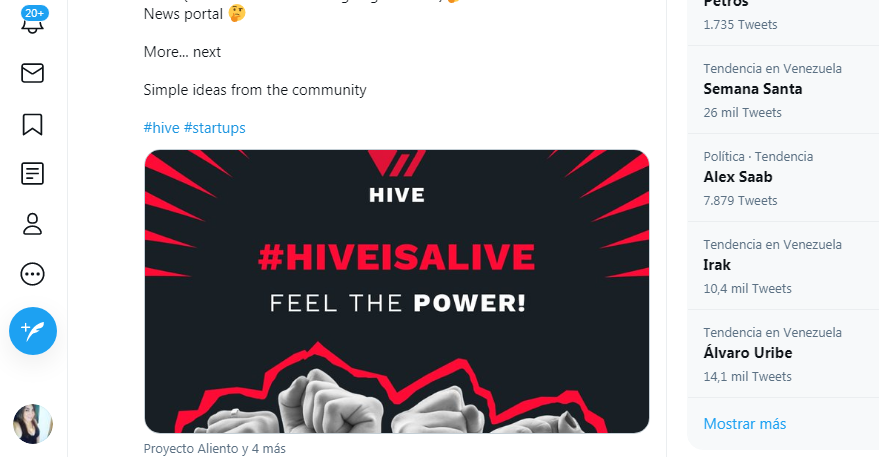 Amo y confio cada día en #HIVE, porque ha cambiado mi vida para mejor, También agradecida ya que siento que tengo un buen trabajo, nuevos conociemientos, nuevos amigos y una hermosa experiencia.
I love and trust every day in #HIVE, because it has changed my life for the better, I am also grateful because I feel I have a good job, new knowledge, new friends and a beautiful experience.
Te invito a expresar tu amor por Hive en esta maravillosa comunidad Loving HIVE ❤ a mis amigas @carla.spain @fabianag @cristzullys
Visit Loving HIVE ❤
Cámara: Celular Samsung j core 2
Localidad: Venezuela / Cumaná/Sucre
Autor: @wendyth16
Saludos amigos hasta la próxima entrada.