I own this book by Ben Carter named mastering the potters wheel. It is a really good source of information for techniques tips and tricks for potters.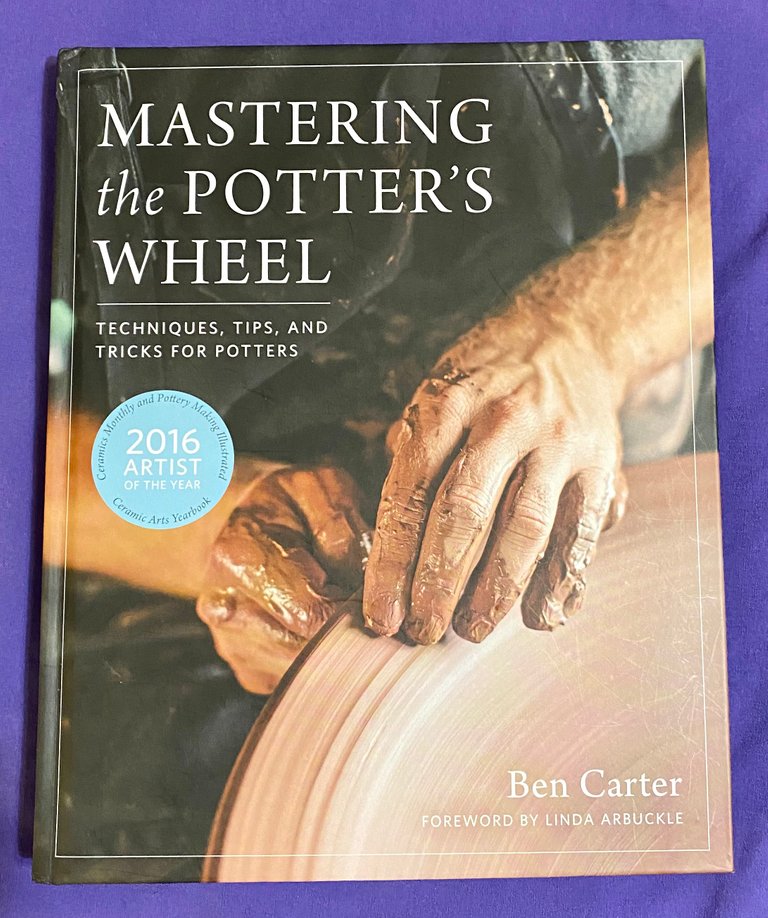 I decided to throw clay for most of the day yesterday. At one point, I took a break and referred back to my book to get some tips. I also watched a few YouTube videos to watch other potters techniques. I learned several things which helped me in my work to produce better vessels. My goal was to use larger amounts of clay so that I could move beyond the small bowls, plates and cups that I normally make on the wheel.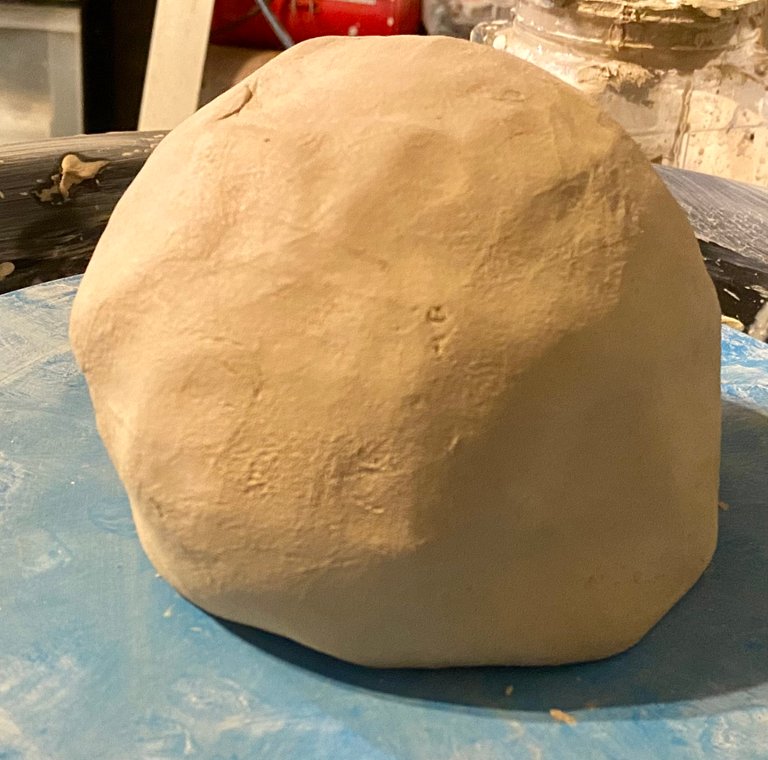 I started off with 6 pounds of clay, which for me is a lot to handle right now. Another goal that I wanted to accomplish was too vary the shapes of the vessels that I created. I wanted to make taller and wider shapes that I could then trim and decorate or carve into something different.
The first vessel that I made was different from my usual bowls.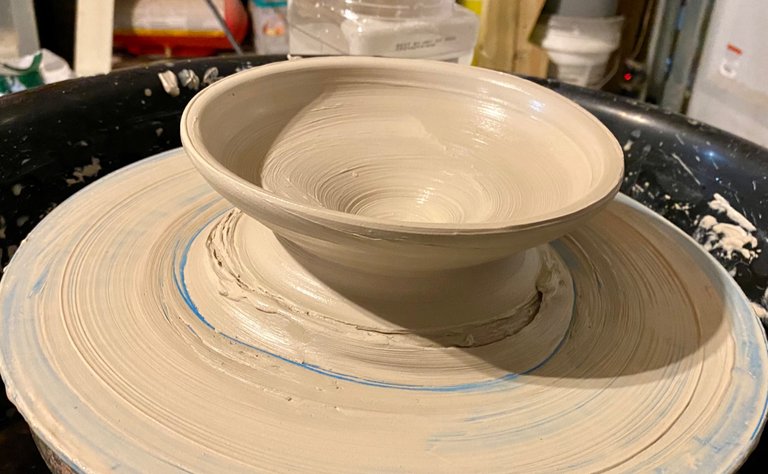 I flared out the bowl, but I was afraid to stretch it any further because I thought that the walls would collapse. I later learned by watching the YouTube videos, that I should work more with my ribs. I also noted that master potters typically throw clay directly on the wheel and not necessarily on a bat.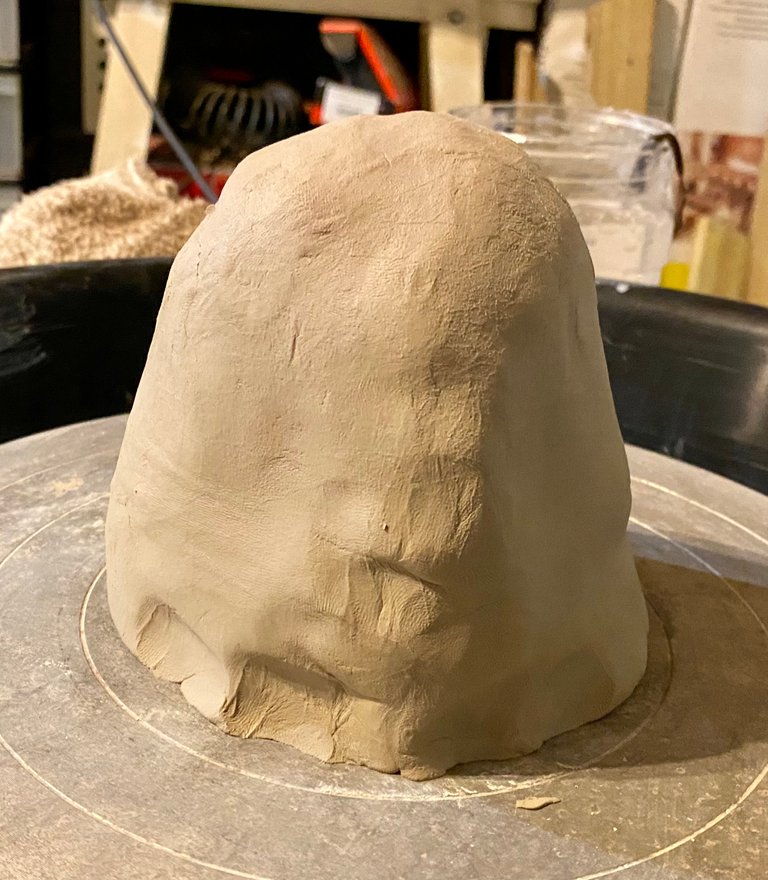 I tried that and I was able to successfully center 6.2 pounds of clay. My challenge was that I was not able to use my CPVC tool to open the clay the way I wanted. I discovered that the bat pins got in the way of the CPVC tool. I had to then struggle to open that large lump of clay with my hands and I am still learning.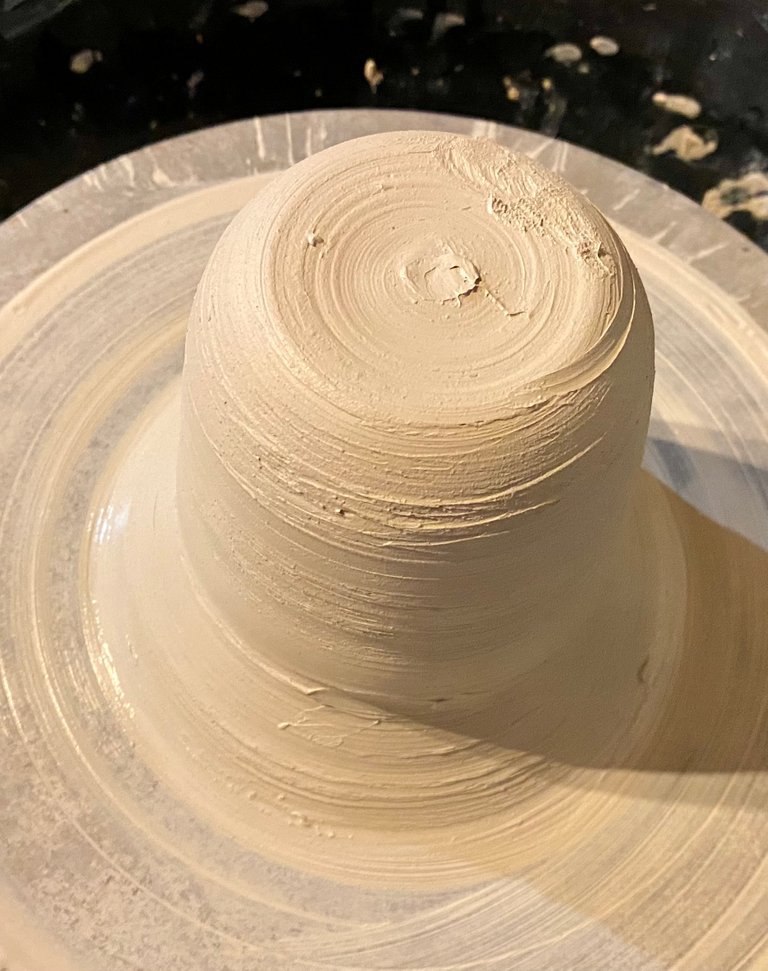 The more that I work on the potter's wheel, the greater my upper arm strength gets. A strong man has no trouble centering large heavy lumps of clay.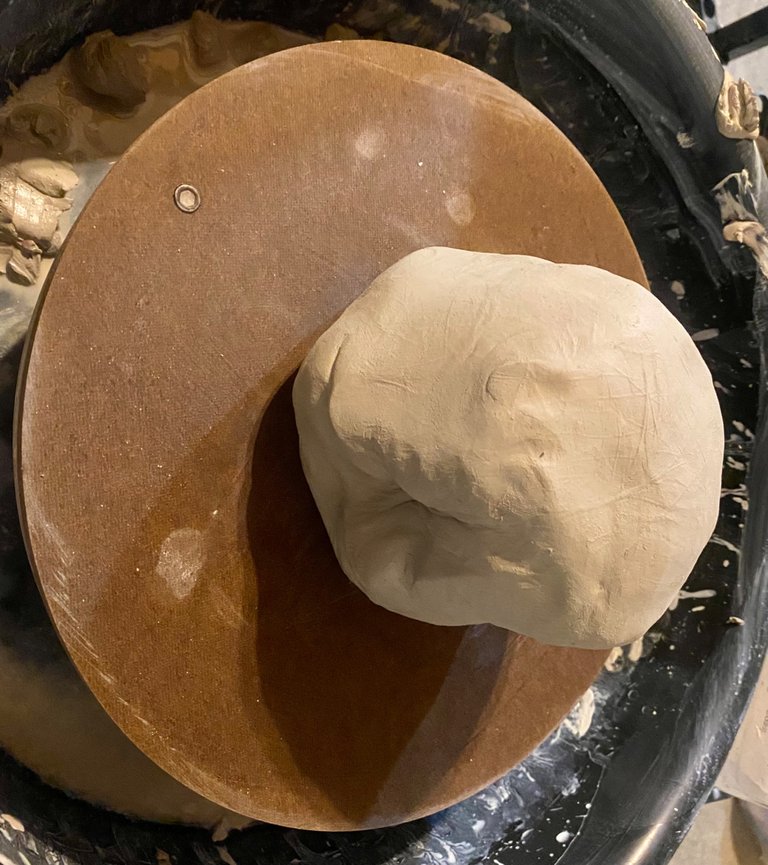 I used a bat for my next ball of clay, but I was not paying attention to the fact that the pins are still exposed on top of the bat. My blue bats conceal the pins. I still struggled to open that large lump of clay.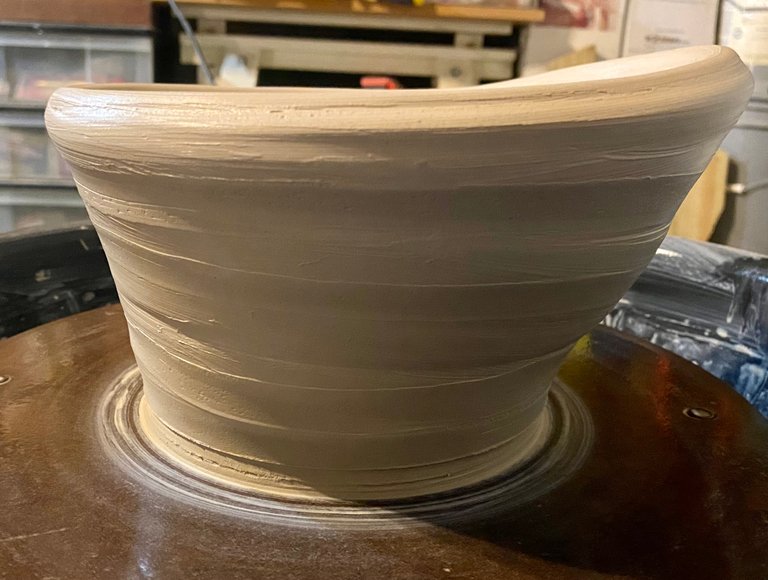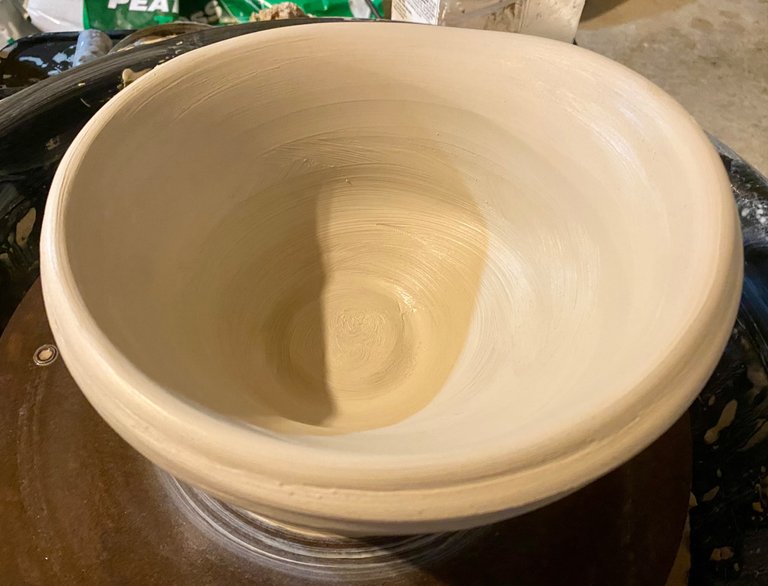 I did it, but I was still having trouble keeping my shape even without the bowl becoming distorted. I finally decided that I liked that look and I did not work on it anymore. I am going to make something very unique with that shape once I trim the excess clay away and carved into it. It kind of looks like a water pitcher without a handle right now.
I finally grabbed a blue bat which covers the pins on the wheel. I was able to use my CPVC opening jig to make the most beautiful bowl that I have ever made yet.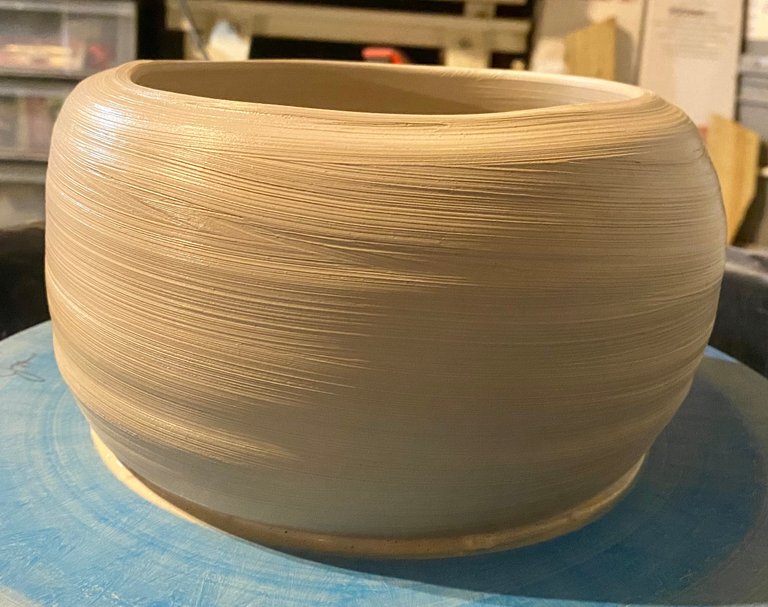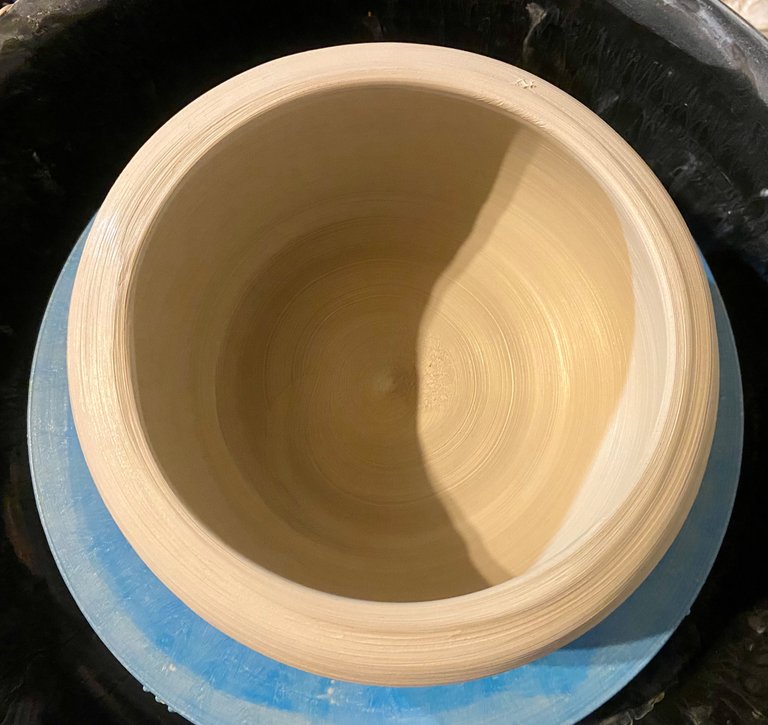 The bowl is large, and its shape is completely round. I used my metal rib and my small wooden rib to help me shape the bowl. I finally quit after that bowl because I had thrown enough clay for the day.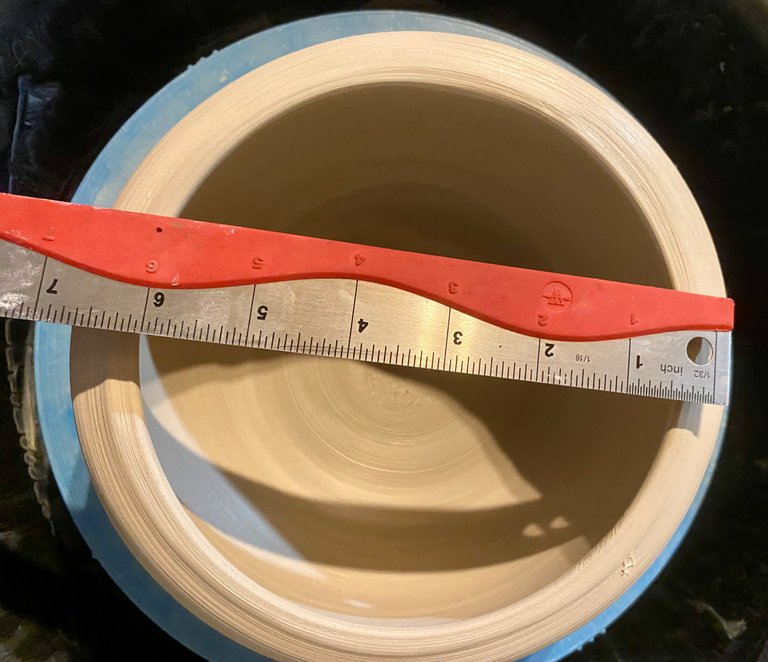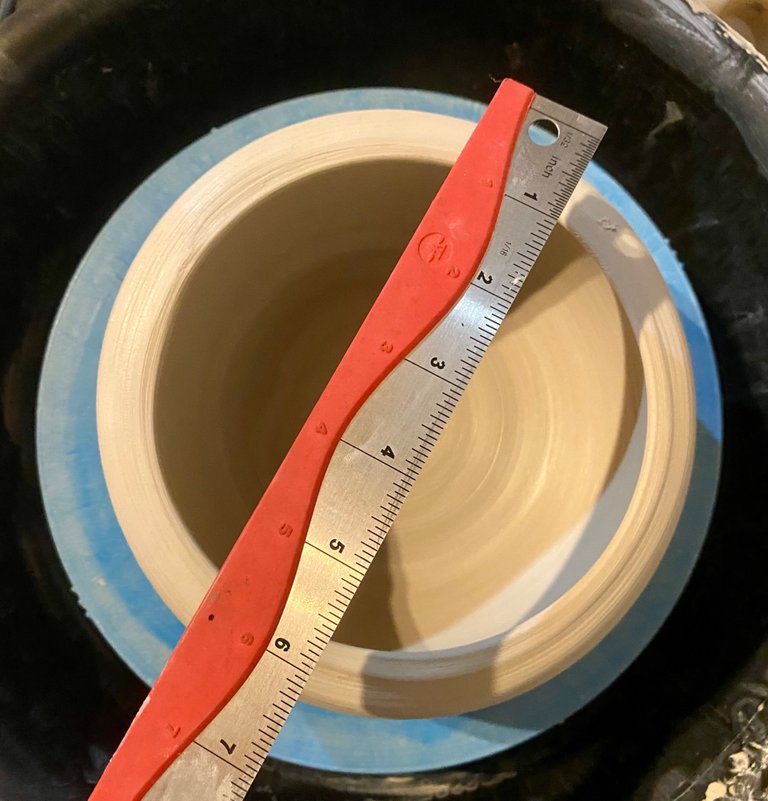 Today, I will trim, clean up and glaze the pieces that I have already made. It should be more relaxing and not as tiring as working with a large, heavy lump of clay. Don't get me wrong. I thoroughly enjoy throwing clay on the wheel, but I can't do too much in one day without wearing myself out.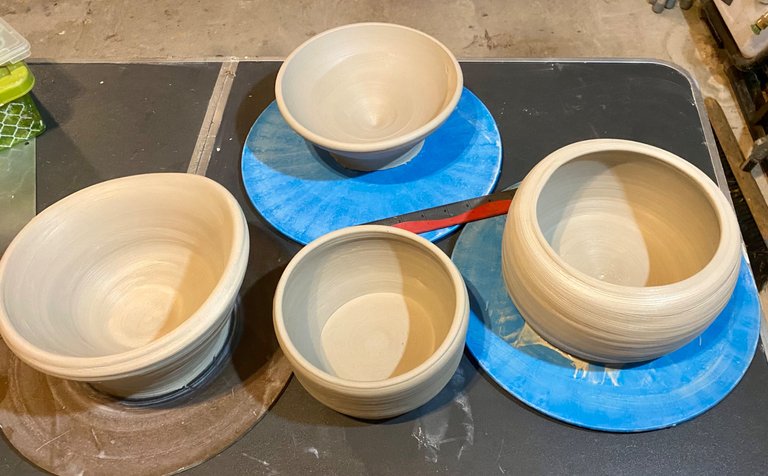 Working with clay reminds me of being a creator. It is amazing that a lump of clay can end up being a beautiful vase, bowl, or cup, that is shiny and new instead of just dirt. The creator has the ability to mold and shape the dirt into another creation that looks nothing like it's original form.
Enjoy your day.