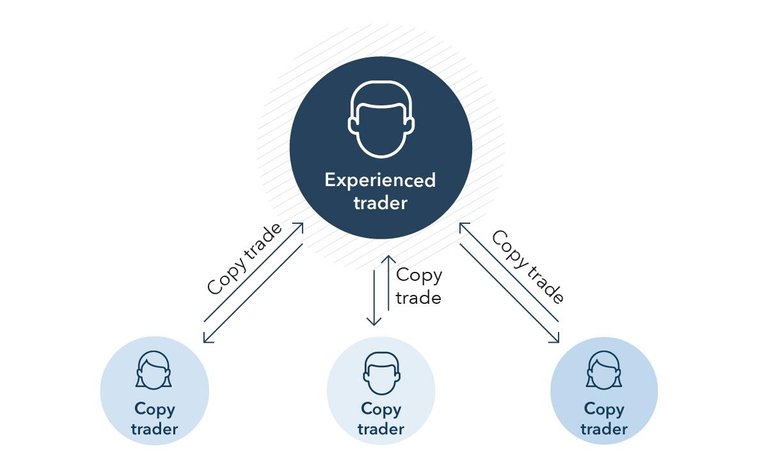 The world of cryptocurrency has been booming recently and although the first cryptocurrency Bitcoin was created in 2009, more cryptocurrencies are being created now. More people are starting to understand just how awesome the world of cryptocurrency can be but do not know exactly how to go about it or what trading entails. These days, with technology all that can be easily solved by Copy trading. Copy trading just like the name implies is simply Copy and trading. A special technology that allows people emulate or mimic expert traders on different trading platforms.
Copytrading doesn't require a special degree or license but simply a good phone or laptop, good internet, copytrading platform and the right amount of money. But first you have to choose the right copytrading platform. Some companies capitalize on the boom in crypto to create copytrading platforms with ridiculous transaction fees. Finding a good platform and understanding it's requirements as well as it's rates are very important. When you have figured what copytrading platform you want to use, you can register and get familiar with the platform.
Finding successful professional traders is the next step to take. The last thing you want to do is hitch a ride with a wanna be expert and loose all your money. Pay attention to their risk scores, successful trades, profit made both in long term and short before making your final decision. Only after deciding on the most eligible candidate or candidates you can decide the amount of money you intend to invest. It isn't wise as a newbie to invest a huge sum, try smaller amounts like $100-200 or even a demo account to help you get familiar with how copytrading platforms work. It is more advisable that you don't put all your eggs in a basket and diversity your portfolio.
After the first couple of trades you can determine if you want to keep investing or switching to better traders by studying your profit and loss over different time periods. It is critical that you get this sorted out sooner because you might likely be charged whether or not you are making profit by these copytrading platforms. If the results are satisfactory you could increase your investment and if not switch to a better trader.
Copy trading doesn't mean you follow blindly, it is always better that you study these positions, patterns and try to understand how trading works even while copytrading. That way you would become better at trading so you could ditch these platforms and their fees. As a beginner this is a very convenient way to learn the ropes quickly and reduce the amount of loss you would have made trading blindly. Copytrading might expose you to tactics and positions that you would have never understood learning on your own. Whatever you decide to do it is still important that you make enough research before you take any decision in cryptocurrency.