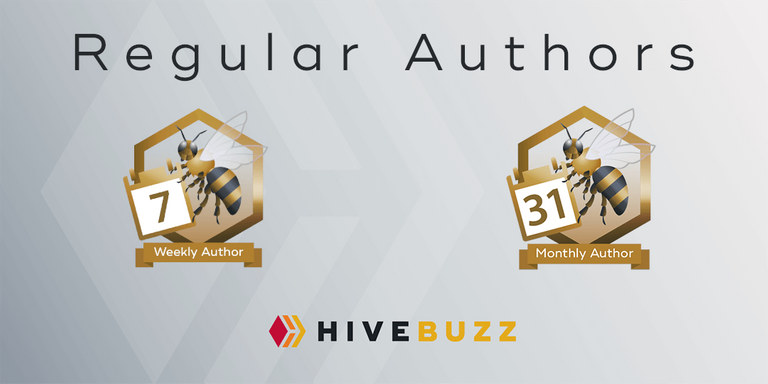 Since its creation, the HiveBuzz project has aimed to support users' engagement on the Hive platform. With this in mind, we created two badges that reward those who are committed and publish their posts on a regular basis:

The Weekly Author
This badge is awarded to regular authors. Each time you publish a post every day of the week, you will receive this badge.

The Monthly Author
This badge is awarded to very regular authors. Each time you publish a post every day of the month, you will receive this badge.
The number displayed on the badges indicates how many times you have successfully completed these goals.
The ISO and UTC drama
To find out if you are entitled to receive a Weekly Author badge, Hivebuzz uses ISO week dates for weekdays, meaning a week begins on Monday and ends on Sunday!
Furthermore, to validate when you published your post, HiveBuzz uses the time of the blockchain which is UTC (Coordinated Universal Time)!
If you post at the wrong time, i.e. taking into account your local time or way of considering weeks, you may miss both badges and will have to wait till the next Monday or month to be able to earn your coveted badge.
These particularities in the validation rules have led to many users contacting us to ask us why they have not received their badge.
Updates to the Hivebuzz Website
To help authors know if they're still on track to earn their award, we've added progress indicators below these two badges: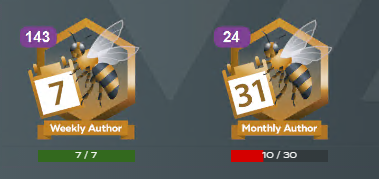 They will let you know about how many days you published a post this week or this month.
If the gauge is green, it indicates that you are on your way to earning the badge.
If the gauge is red, it means you missed one or more days of the week or month, or you still haven't posted today.
In the above example (picture taken on Sunday 20th of the month), the user has successfully posted every day of the running week but unfortunately missed to post for 10 days on the month. He will get one more Weekly Author badge, raising its score to 144, but won't get the Monthly Author badge at the end of the month.
We hope this helps and inspire you to post on Hive regularly.
Let's have some fun
We are offering 10 HIVE to the first one who finds out which is the account we took the screenshot from above. If you look at his score, you will notice that he has been a very regular author for 2 consecutive years! But be aware that we tampered with the monthly gauge for our example, so don't use it for validation.
Write your guess in a comment on this post.
one guess per account
blockchain time to decide between the winners
Stay commited!
---

Une version en français de ce post est disponible - ici
HiveBuzz is a project created by @arcange